Do you realize that the 4th of July is right around the corner?  It's sneaking right up on us!  Last year around this time, I did a week full of red, white and blue recipes.  (If you want more red, white and blue ideas, check out the sidebar to the right!)  I thought about doing it again this year.  And I do have some red, white and blue treats for you in the next few weeks.  But I'm not devoting a whole week to them this year.  But I do have some great summer recipes in the queue, and of course lots of sugar coming your way!
I normally try not to go too crazy on the desserts, so please bear with me as I fill your plate with sweet treats for the next little while.  Besides – summer meals are usually the easy, no-brainer recipes, so if you're like me, we tend to do super simple meals in the summer.  But we can all use more sweet recipes, right??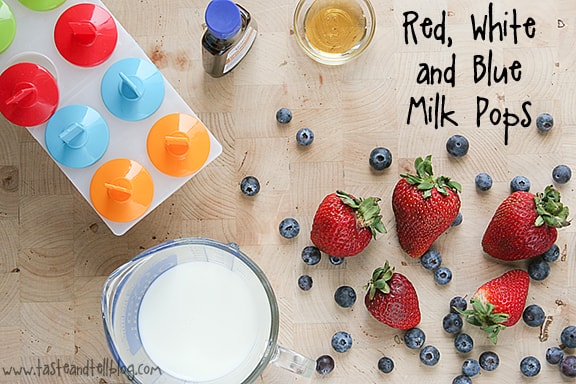 And since I've got so many sweets coming up, I thought I'd start off with a cool treat that's actually pretty good for you.  No added sugar – these babies are sweetened with honey and the berries.  And you get a bit of calcium from the milk.  This was my first time making a milk pop. When I first saw the idea, I was intrigued.  Ice cream is made with milk, so why not popsicles?
I was pleasantly surprised with how much I liked these.  Not too sweet.  But still cold and refreshing.  And I felt good about sending the kids into the back yard with these!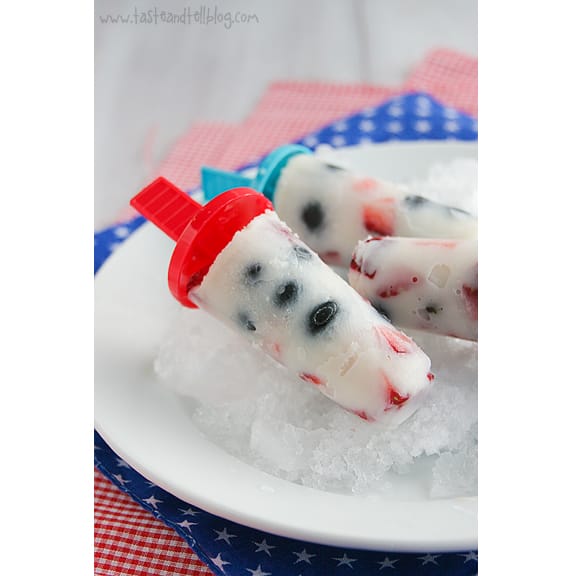 Red, White and Blue Milk Pops
A healthier 4th of July treat! Fresh blueberries and strawberries are frozen in a milk mixture, sweetened with honey.
Ingredients
1 3/4 cups milk
1 tablespoon honey
1/4 teaspoon vanilla
6 oz. blueberries
6 oz. strawberries, diced
Instructions
In a bowl, whisk together the milk, honey and vanilla. Set aside.
In another bowl, combine the blueberries and strawberries. Evenly divide the berries into 10 ice pop molds or paper cups. Pour the milk mixture over the berries. Top with sticks or holders.
Freeze until frozen solid.
----------------
Adapted from Taste of Home June/July 2012
http://www.tasteandtellblog.com/red-white-and-blue-milk-pops/
Recipe from www.tasteandtellblog.com
More frozen treats – perfect for the 4th of July:
4th of July Popsicles from Itsy Bitsy Foodies
Red, White and Blue Ice Cream Sandwiches from Taste and Tell
Red, White and Blueberry Yogurt Pops from Back to Her Roots
Red, White and Blue Ice Cream Cupcakes from Annie's Eats