Make it at home! This Candy Corn Recipe is easier than you would think, and is a great way to customize your own colors for different holidays or events!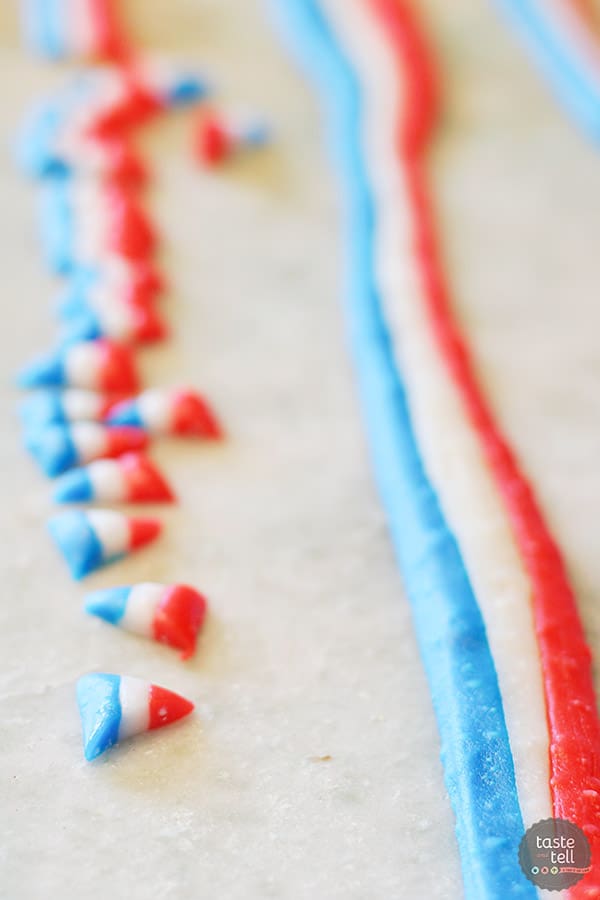 Yum


Who says candy-making is only for Christmas or Valentine's Day? Not me!!
I couldn't let the 4th of July pass without posting yet another patriotic treat. The first time I looked through this month's Cookbook of the Month and saw that there was a recipe for a homemade candy corn recipe, I knew I wanted to make a patriotic version! I am a total candy corn addict. I don't really know why, though, because I don't necessarily love the taste of it. I guess it's just the novelty. But I still always end up eating so much that it makes me sick. But still, I wanted to make my own!!
I will gladly report that this doesn't taste just like the store bought stuff. But that's a good thing! It's still super sweet, and it will still make you sick if you eat too much, but it tastes much better than what you can buy. It has a buttery taste to it. I would love experimenting with this for different holidays, and also by adding different extracts or flavorings. This could be a really fun recipe to have around!!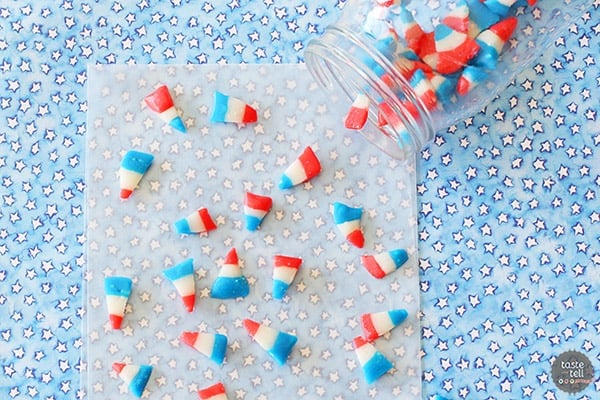 I was afraid at first that this candy corn recipe would be really hard, but it was much easier than I expected. It did take a little bit of time to cut the candy, but that was the only part that took very much time. I do have a couple of notes about the recipe, though:
Next time, I would sift the confectioners' sugar and powdered milk together. I had some lumps in my mixture that mostly worked out when I kneaded in the color, but I wasn't able to get rid of them all.
The recipe says to make the ropes 1/2-inch each, but I went much smaller than that. I figured if you did 1/2-inch ropes, your final candy would be 1 1/2″, and I didn't want mine that big.
Unless you have huge counter tops, I would suggest splitting each color into fourths, and making four separate ropes. That way you won't run out of room!
I found that these were easier to cut into pieces after the ropes had set for about 30 minutes to an hour. The candy corn is a little sticky at first, so by waiting, the pieces didn't stick together as much.
I sprayed my counter with non-stick cooking spray so that the candy wouldn't stick. It worked perfectly!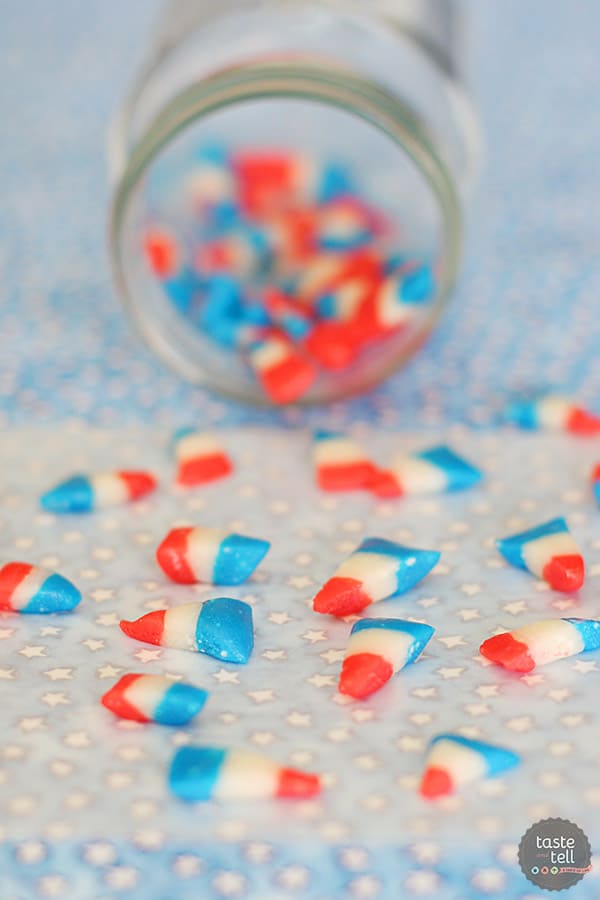 Like what you see here? Make sure you are following Taste and Tell for more recipes and ideas!
Facebook | Pinterest | Instagram | Twitter | Google+ | Weekly Newsletter | Feedly | Bloglovin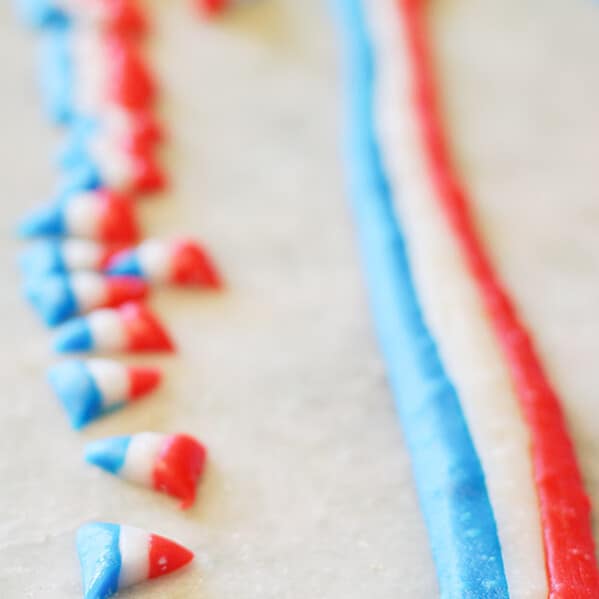 Homemade Candy Corn
---
Prep Time: 20 mins
Cook Time: 10 mins
Total Time: 30 mins
Yield: 80 pieces 1x
---
Scale
Ingredients
2 1/2 cups confectioners' sugar
1/4 cup dry powdered milk
1/4 teaspoon salt
1 cup sugar
2/3 cup corn syrup
1/3 cup unsalted butter
1 teaspoon vanilla extract
food coloring
---
Instructions
Combine the confectioners' sugar, powdered milk and salt in a bowl. Set aside.
In a large saucepan, combine the sugar, corn syrup and butter. Cook over high heat, stirring constantly, until it boils, then turn the heat down to medium and cook for an additional 5 minutes, stirring occasionally. Remove from the heat and stir in the vanilla extract.
Stir in the milk mixture until completely combined. Let it sit for a few minutes until it is cool enough to handle.
Divide the mixture into thirds. Add desired food coloring(s). Knead each portion of dough until the color is distributed and the dough is smooth.
Roll each section of dough into a rope about 1/2-inch thick. Place the 3 ropes side by side and press lightly together. Roll a rolling pin over the top if needed to get the ropes to stick together.
Use a sharp knife to cut the rope into triangles. Transfer to a baking sheet. Let sit for at least an hour.
Don't miss a thing! Follow me on Pinterest to see what I'm pinning!
Visit Taste and Tell's profile on Pinterest.