Vanilla fudge comes together in a festive red, white and blue design – a tie dyed fudge perfect for the 4th of July.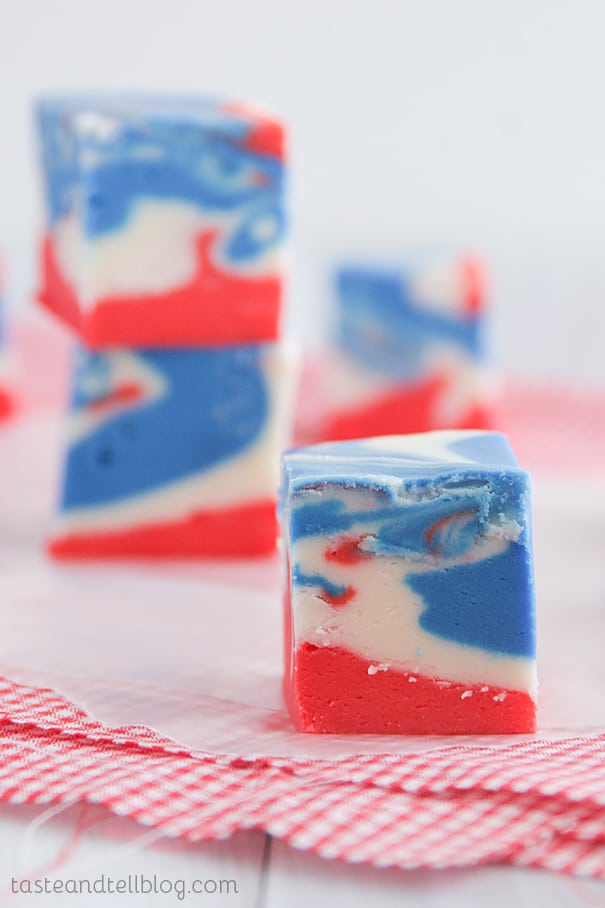 I love being a mom. And I love that I get to work from home. But sometimes, they just don't mix. My daughter is 3. And whoever said that they are the "terrible twos" must have never had a child who turned 3. Two was a breeze, but the temper tantrums have definitely been in full swing this year.
I was in the kitchen, planning on making some festive fudge. The original plan was to just make a layered fudge – like the Candy Corn Fudge I did a couple of years ago. I had planned on making the layers, then topping the fudge with some fun sprinkles. (That is why there are sprinkles in the ingredient photo – but they didn't quite make it into the final product!!)
The one thing about this fudge recipe is that you have to work fast. The fudge starts setting up pretty quickly, and if you don't have everything ready to go, it's not going to work. I'm making the fudge, mixing the colors, and that is the moment my daughter decides to throw one of her epic tantrums. So there she is, on the kitchen floor, crying and screaming while I'm trying to layer the fudge. I'm so distracted that I don't make the amount of each color even. I put the red layer down, and that's when I realize that I didn't make the mixtures even at all. And the fudge is quickly setting up while I'm trying to attend to my daughter. It's just not working. I throw the different layers into the pan, frustrated with the whole thing. In all honesty, I thought it was ruined. In a last ditch effort, I grab a knife and swirl the mixtures together, thinking that I couldn't ruin it any more at this point.
Later, when I went and cut into the fudge, I was pleasantly surprised. In fact, I think I liked this version even better than what I had originally planned!  I'm glad to see that a tantrum can turn a recipe right around!!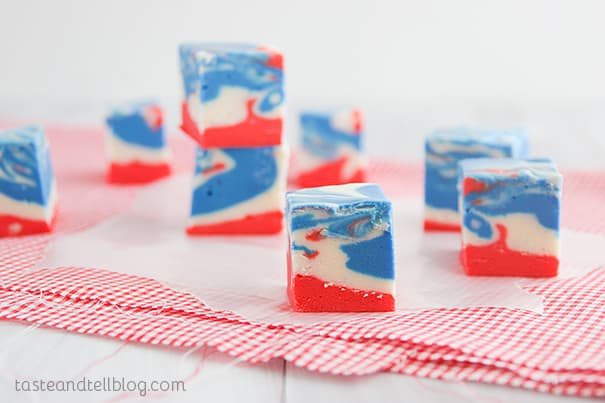 Like what you see here? Make sure you are following Taste and Tell for more great recipes and ideas!!

Facebook ** Pinterest ** Twitter ** Instagram ** Google+
or you can subscribe to my newsletter or Feedly or Bloglovin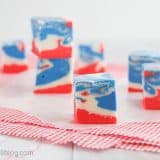 4th of July Tie Dyed Fudge
---
Prep Time: 7 minutes
Cook Time: 8 minutes
Total Time: 1 hour
Yield: 40-60 pieces 1x
Description
Vanilla fudge comes together in a festive red, white and blue design – perfect for the 4th of July.
---
Scale
Ingredients
2 1/2 cups sugar
1/2 cup butter
5 oz evaporated milk
2 cups marshmallow creme
8 oz white chocolate chips
red and blue food coloring
---
Instructions
(For thinner fudge, use an 8×8-inch baking dish. For a thicker fudge, use an 8×5-inch baking dish.)
Line a baking dish with foil. Spray the foil with non-stick cooking spray. Set aside.
In a large pot, combine the sugar, butter and evaporated milk. Cook over medium heat, stirring frequently. When it comes to a boil, stir constantly for 5 minutes. Add in the marshmallow creme and the white chocolate chips. Stir until smooth.
Divide the mixture into 3 bowls. Tint one red, one blue, and keep the third white. Pour the red fudge into the prepared baking dish, followed by the white fudge, then the blue fudge. Use a knife to drag through the mixture, combining to form the marbled effect. Let cool completely before cutting.
More 4th of July candy creations:
4th of July Chocolate Covered Marshmallows from Mountain Mama Cooks
Homemade Candy Corn from Taste and Tell
Red, White and Blue Candy Apples from Tidy Mom