Show off your red white and blue with this festive 4th of July Cake Roll. Your guests will be amazed when you cut into it, revealing the patriotic colors.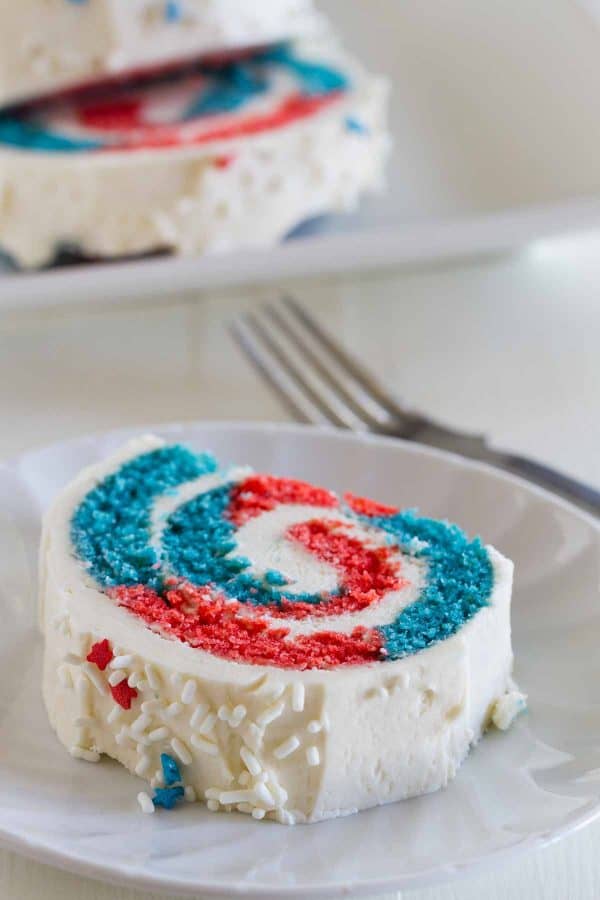 Is anyone else wondering how it is that the 4th of July is already less than 2 weeks away? I couldn't hardly believe it when I looked at the calendar last week, and realized just how close it is. And how unprepared I am.
The truth is – this year is going to be a little different than years past. Our normal tradition is to go to the balloon festival early in the morning, followed by the parade. Then, that evening, we meet up with my family and watch a fireworks show where we sit so close that we are covered in ashes by the time we leave. (It really is amazing, and the best way to watch a fireworks show!!)
But this year, we're not even sure if Easton will be well enough to be out in the crowds. Or if he'll even have the energy. And half of my family will be out of town, so the fireworks show won't be quite the same.
If you can't tell, I like tradition. But even though things will be a little different this year, it doesn't mean that it's going to be any less fun or less exciting. Because I love the 4th of July, and as long as I'm with my little family, I know we are going to have a great time.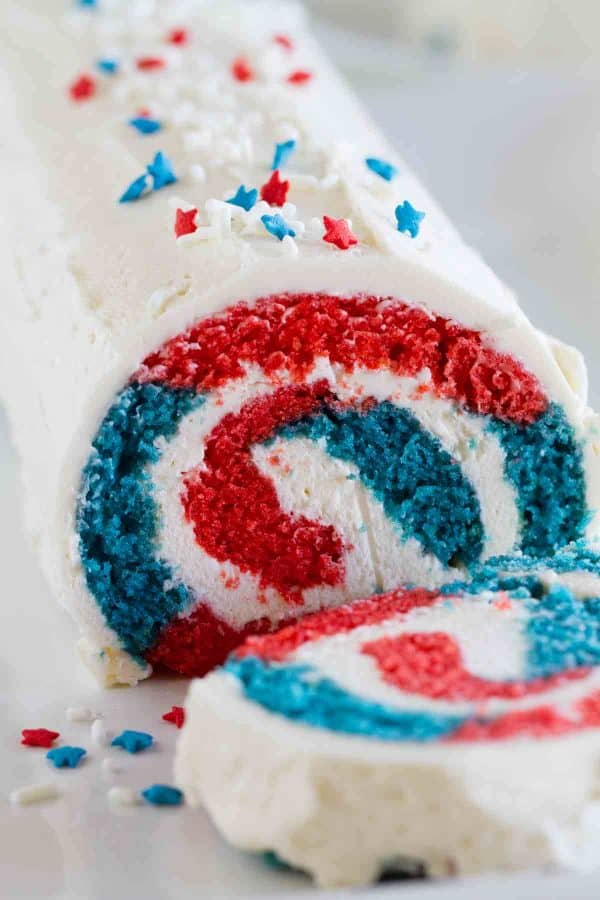 And cake. We are also going to have cake. I actually saw this 4th of July Cake Roll in a Food Network Magazine a year ago. I didn't have a chance to make it last year, but I also knew I didn't want to forget about it this year. So it has been sitting on a shelf next to my desk for the last year. I almost didn't get to it this year (time has not been on my side lately) but I managed to make it last week. And I'm so glad I did, because how fun is this 4th of July Cake Roll? The colors weren't as saturated as they were in the magazine, but I actually ended up loving the color because they ended up matching my sprinkles. 🙂
This 4th of July Cake Roll is the perfect patriotic dessert, and one that all of your guests or family will go crazy over. Friends, family, fireworks… and cake. That's what it's all about!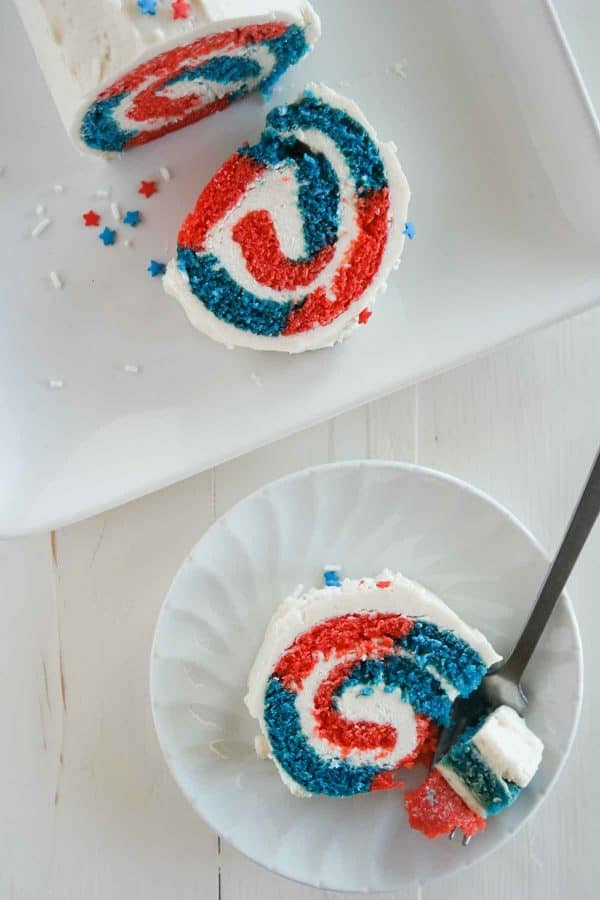 More 4th of July Favorites:
Candy Corn Recipe
4th of July Tie Dyed Fudge
Red, White and Blue Baked Donuts
Or these recipes from around the web:
No Bake Strawberry Blueberry Trifle from Natasha's Kitchen
Red White and Blue Patriotic Peppermint Patties from Mom on Timeout
Fireworks Cookies and Cream Cookies from Inside BruCrew Life
Like what you see here? Make sure you are following Taste and Tell for more recipes and ideas!
Facebook | Pinterest | Instagram | Twitter | Google+ | Weekly Newsletter | Feedly | Bloglovin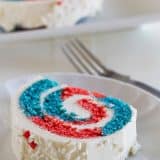 4th of July Cake Roll
---
Author:
Prep Time: 30 mins
Cook Time: 15 mins
Total Time: 45 minutes
Yield: 10-12 servings 1x
Category: Dessert
Description
Show off your red white and blue with this festive 4th of July Cake Roll.  Your guests will be amazed when you cut into it, revealing the patriotic colors.
---
Scale
Ingredients
Cake:
1/2 cup vegetable oil, plus more for the pan
1 2/3 cup all-purpose flour, plus more for the pan
1/2 teaspoon baking powder
1/2 teaspoon baking soda
1/2 teaspoon salt
1 1/4 cup granulated sugar
1/2 cup milk
3 large eggs
2 teaspoons pure vanilla extract
1 teaspoon red gel food coloring
1 teaspoon blue gel food coloring
powdered sugar, for dusting
Frosting:
1 1/2 cups (3 sticks) unsalted butter, at room temperature
pinch of salt
3 cups marshmallow creme
2 teaspoons pure vanilla extract
1 1/2 cups powdered sugar
2–4 tablespoons milk
---
Instructions
Preheat the oven to 350ºF.  Brush vegetable oil on the bottom on the sides of a half sheet pan (18"x13")*.  Line with parchment paper, then brush vegetable oil on the parchment paper.  Sprinkle flour over the pan, then tap out the excess, coating the oil with the flour.
Whisk the flour, baking powder, baking soda and salt in a large bowl.  In another bowl, whisk together the 1/2 cup of oil, sugar, milk, eggs and vanilla.  Add the wet ingredients to the dry ingredients and whisk just until the mixture is combined.  Pour half of the batter into another bowl (about 1 1/2 cups of batter).  Add the red food coloring to one bowl and the blue to the other.  Stir just until combined.
Spread the red and blue batter in the pan in alternating stripes, 3 of each color.  (I transferred the batter to ziplock bags and then cut off the tip.  I think this made less of a mess for me, but you can also pour the batter!)  Each stripe will be about 2 inches wide. Don't worry if they aren't completely straight.
Bake in the preheated oven until the top springs back when pressed, about 15 minutes.  Let the cake sit for 3 minutes, then loosen the edges  from the pan with a knife, if needed.  Generously dust the top of the cake with powdered sugar, then place a kitchen towel over the top. DO NOT use a terry cloth towel.  Place a cooling rack on top, then invert the cake over onto the towl and rack.  Remove the parchment paper, then roll the cake up with the towel, rolling the long end of the cake.  Let the cake cool completely, at least 1 1/2 hours.
To make the frosting, beat the butter and the salt in a stand mixer until light and creamy, about 1 minute.  Add the marshmallow cream and vanilla and continue to beat for 2-3 minutes longer.  Add in the powdered sugar, then start adding the milk, 1 tablespoon at a time, until you reach a spreadable consistency.
Gently unroll the cake and spread half of the frosting over the entire surface of the cake, all the way to the edges.  Re-roll the cake (without the towel).  Trim the edges.  Using the remaining frosting, frost the outside of the cake.
SHOP THIS POST
Don't miss a thing! Follow me on Pinterest to see what I'm pinning!
Visit Taste and Tell's profile on Pinterest.


**This post contains affiliate links. If you purchase an item from Amazon from the link Taste and Tell receives a small commission. Thank you for supporting Taste and Tell through your purchases!**