A delicious vanilla baked donut takes on red, white and blue for a patriotic breakfast treat.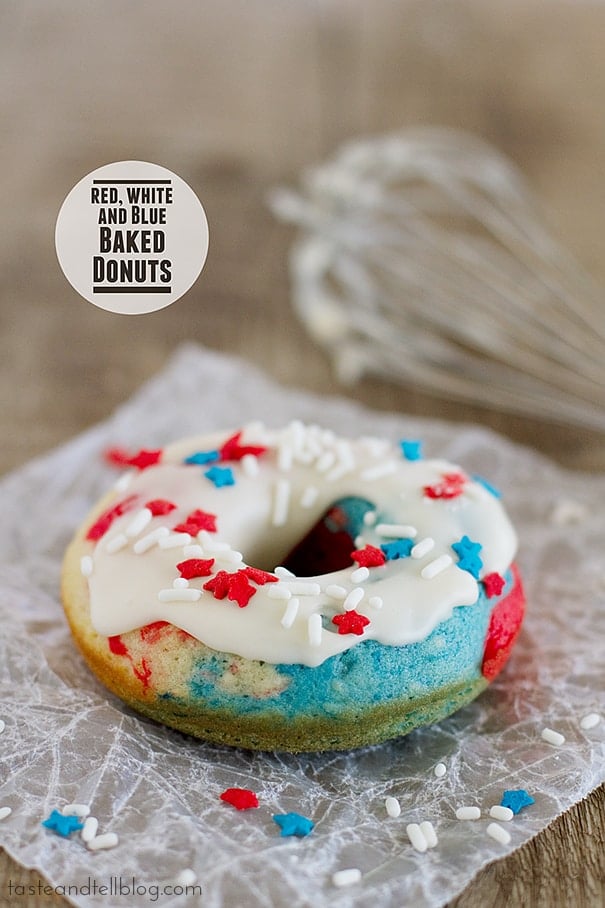 I feel like a bit of a broken record right now. First, this is the third sweet recipe I've posted in a row. And second, out of those 3 recipes, this is the second baked donut. And third, technically all three recipes can qualify as breakfast recipes.
So sorry there hasn't been a lot of variety going on here, but let's be honest, you can't really complain when donuts are involved, right?
I really didn't plan to have another donut recipe so soon. But I started thinking this past weekend that I'd really like to post another red, white and blue recipe before the holiday on Thursday. And since I do love donuts so much, I just couldn't resist making a patriotic version.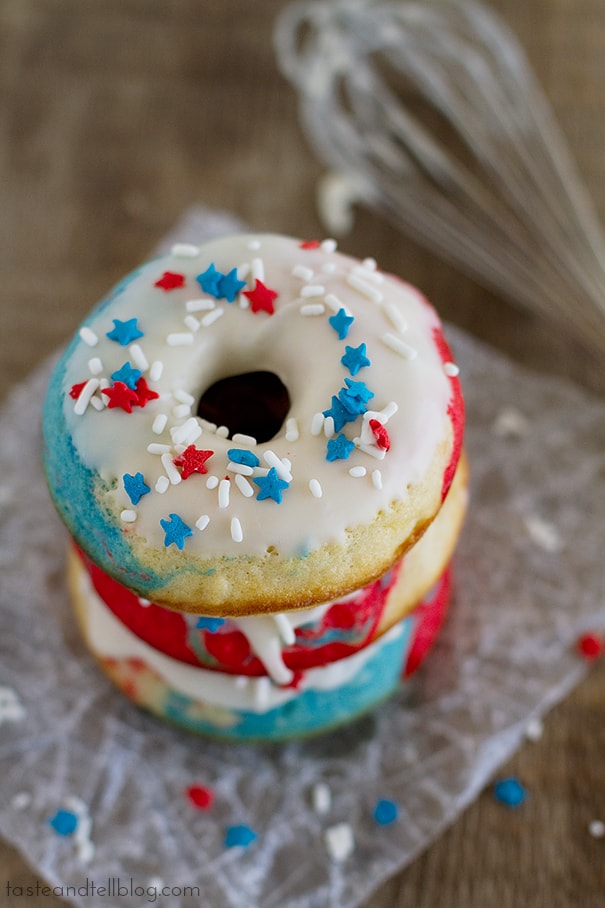 If you remember last year, I did try to make a red, white and blue donut, but without food coloring. What I ended up with were some amazingly delicious donuts, but red, white and blue – they were not. This year, I stuck with the food coloring. 🙂
These are just a basic vanilla donut, with a vanilla glaze. Sometimes I think I over-think things, and forget that often, simple is the best. So these donuts would really be perfect year-round – just skip the food coloring.
So if you are looking for a great idea for breakfast on the 4th, I've got you covered!!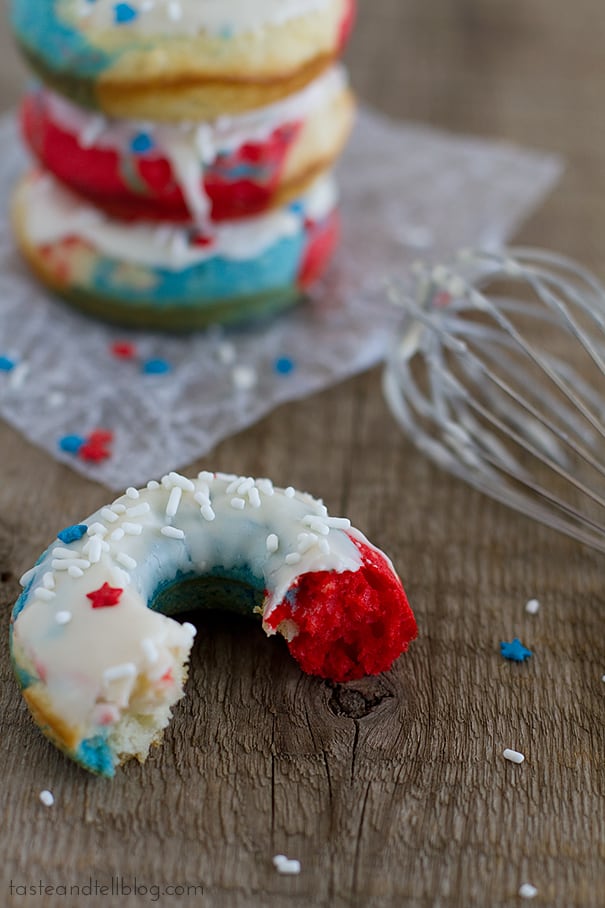 Red, White and Blue Baked Donuts
---
Prep Time: 10 minutes
Cook Time: 10 minutes
Total Time: 30 minutes
Yield: 18 donuts 1x
Description
A delicious vanilla baked donut takes on red, white and blue for a patriotic breakfast treat.
---
Scale
Ingredients
Donuts
4 tablespoons melted butter
1/4 cup vegetable oil
3/4 cup sugar
2 eggs, lightly beaten
2 teaspoons vanilla
1 1/2 teaspoons baking powder
1/2 teaspoon salt
1/4 teaspoon baking soda
2 2/3 cups all-purpose flour
1 cup buttermilk
red and blue paste food coloring
Glaze
1 cup powdered sugar
1 teaspoon vanilla
3–4 tablespoons heavy cream
---
Instructions
Preheat the oven to 425F. Grease a donut pan.
In a bowl, mix together the melted butter, vegetable oil and sugar. Mix in the eggs and vanilla. In another bowl, combine the baking powder, salt, baking soda and flour. Mix the dry ingredients into the sugar mixture alternately with the buttermilk. Mix just until combined.
Transfer one-third of the mixture into a pastry bag or ziptop bag. Divide the remaining batter into 2 bowls. Tint one bowl with red food coloring and the other with blue food coloring. Lightly mix to distribute the color. Transfer each of the colored batters into separate pastry bags.
Pipe an equal amount of each colored batter into the donut pan. If desired, drag a toothpick through each of the colors to create a tie-dyed effect.
Bake the donuts until the centers spring back when lightly touched, 8-10 minutes. Allow the donuts to cool completely.
To make the glaze – combine the powdered sugar and vanilla. Add in the cream, one tablespoon at a time, until you reach the desired consistency.
Dip the cooled donuts into the glaze. If the glaze starts to harden before you are finished dipping the donuts, mix in more cream. Allow to set up for a few minutes before serving.
More breakfast ideas for the 4th: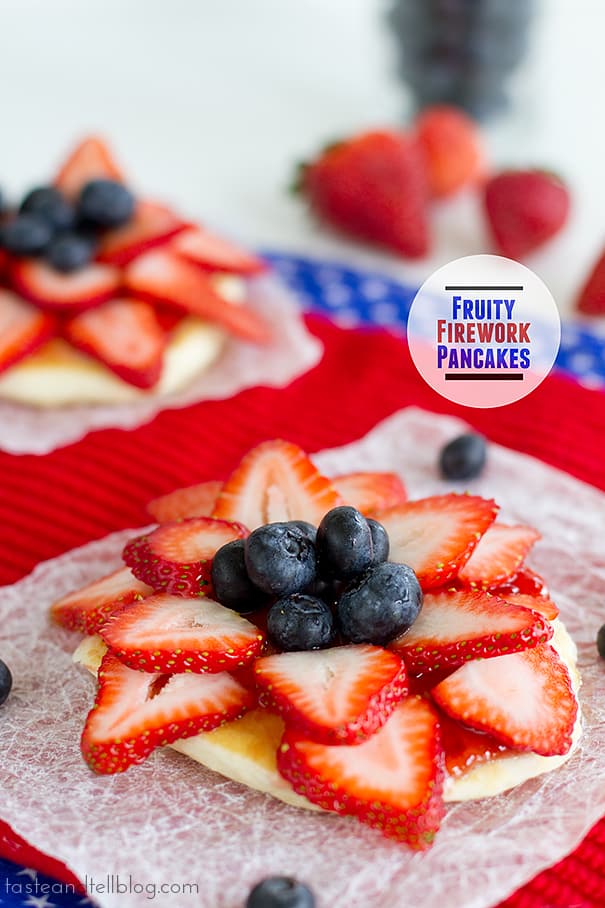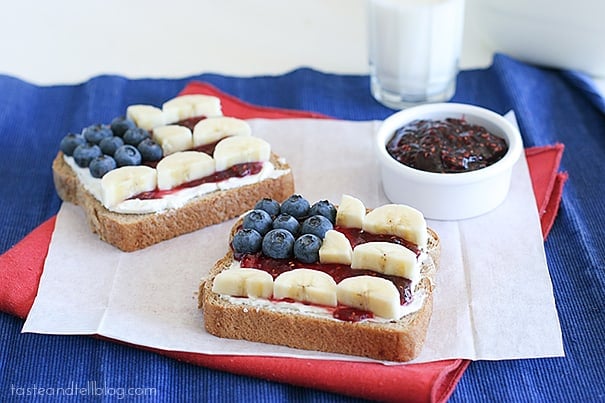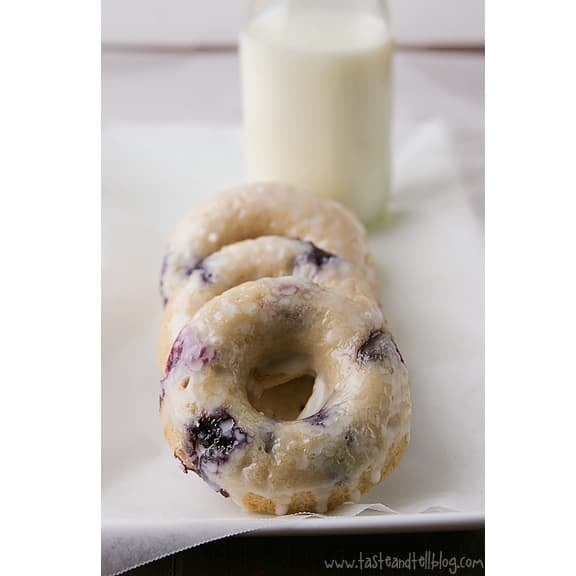 Around the Web:
Strawberry Shortcake Doughnut Muffins from Kevin and Amanda
Breakfast Shortcake from Cooking with My Kid
Red, White and Blueberry Muffins from Your Cup of Cake