Strawberries are dipped in chocolate and sugar for festive dipped strawberries, a perfect 4th of July dessert.
It's 4th of July Week here on Taste and Tell! All week, I'll be bringing you festive red, white and blue recipes that will be perfect for the celebrations coming up.
I grew up in a smallish town. But when I was little, it didn't feel that small. In fact, I remember the 4th of July festivities, and I always thought that the fireworks show was so big. I couldn't imagine another town having as many fireworks as we had! I remember the whole family piling into the car, and then finding a spot on the side of the road with the masses to watch the show. The fireworks show was coordinated with some patriotic music on one of the local radio stations, so here you would see the roads packed with people pulled off to the side, and everyone's radios blaring patriotic music. Many people would be out with lawn chairs, while others would pull out blankets. There were always people that would sit right on top of their cars as well. This was one of the events that I looked forward to all year. I have such great memories of the 4th of July when I was a kid.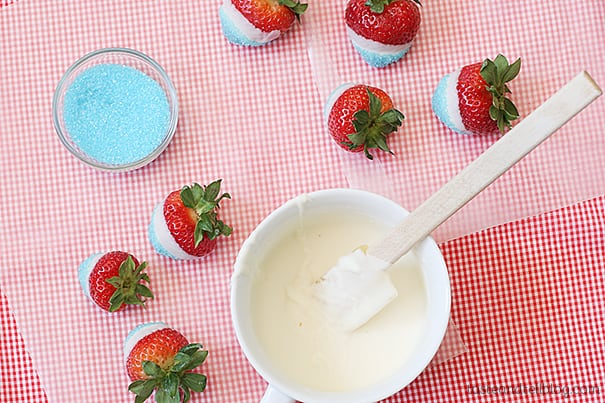 I wish that I could take credit for the idea for these strawberries. They are so simple, yet so festive and beautiful – I had one of those "why didn't I think of that" thoughts go through my head when I first saw them. But I knew immediately that I wanted to make them. This is one of those dessert ideas that anyone could make, but an idea that you know everyone will love. Who doesn't love strawberries, white chocolate and sprinkles?? I was barely able to photograph these because Abbi kept wanting to pull them off the table to eat them!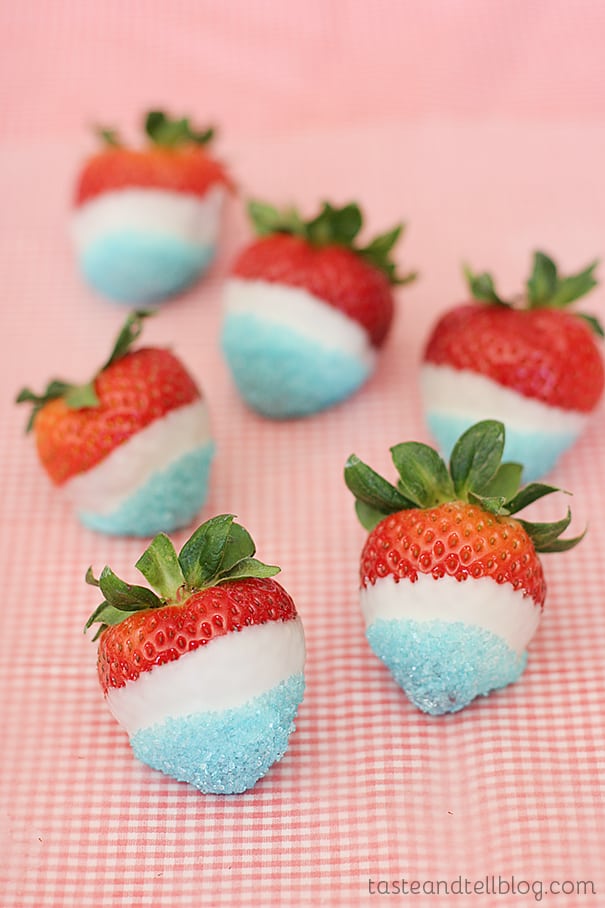 This one doesn't even take a recipe to figure out. All you need are strawberries, white chocolate or almond bark, and blue sanding sugar. Make sure your strawberries are dry, then dip them in the melted chocolate and then in the sugar. Easy as can be!!

Like what you see here? Make sure you are following Taste and Tell for more great recipes and ideas!!

Facebook ** Pinterest ** Twitter ** Instagram ** Google+
or you can subscribe to my newsletter or Feedly or Bloglovin