Pin It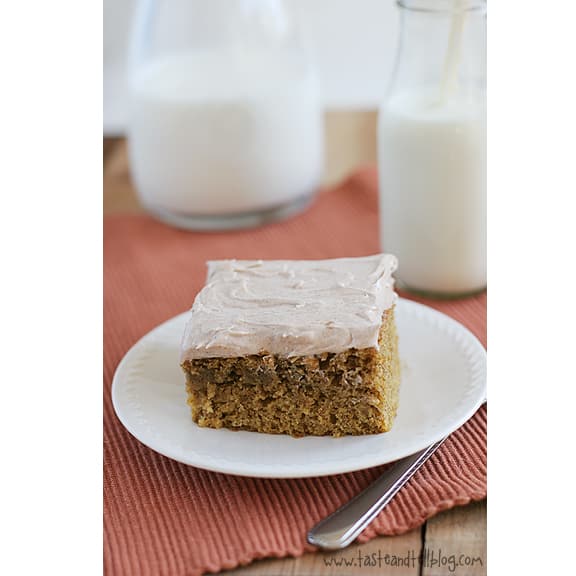 I keep hearing that people are having a hard time finding pumpkin because of a pumpkin shortage. Luckily, I've been able to find it (although only the large cans), but it makes me wonder if I should even be posting pumpkin recipes to tempt any of you that can't find any!! But, fall wouldn't be fall without pumpkin recipes, so I apologize if you are one of those that can't get your hands on pumpkin!
The good thing about only having large cans of pumpkin on hand is that it means that I am forced to make more pumpkin goodies. And the bad thing is that I end up making sweets and end up eating too much! But, while I would never categorize this cake as healthy, it is a bit healthier than some others out there – using some whole wheat flour, and less oil and the addition of applesauce. That just means an extra slice, right??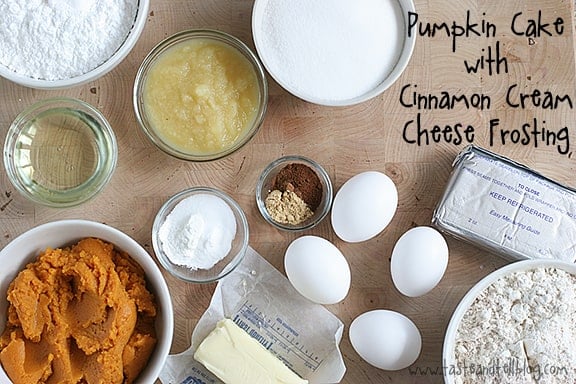 I'm calling this cake, even though the original recipe called them pumpkin bars. This definitely has a cake texture. And holy cow – this recipe is a keeper. I took it to a family dinner, and while I was trying to be good and not eat a lot of sweets, I couldn't stop myself from going back for "one more" little slice of this. I had to give it all away before going home, because I knew that if I took it home, I'd eat it all myself. In fact, it might have not even made it home because I would have been tempted to snack on it in the car the whole way home!
And I have decided that I'm going to start adding cinnamon to everything. I loved the cinnamon kick in the glaze in the pumpkin doughnuts I made, and the addition of cinnamon in this cream cheese frosting totally made it stand out. Definitely an ingredient that you don't want to skip!!
Are you experiencing a pumpkin shortage, or are you filling your house with the smell of fall?
—————————-
More pumpkin recipes that you need to check out!
Pumpkin Cheesecake with Caramel Sauce from Taste and Tell
Pumpkin Chocolate Chip Bars from Two Peas and Their Pod
Pumpkin Caramels and Chocolate Pumpkin Cupcakes from I Am Baker