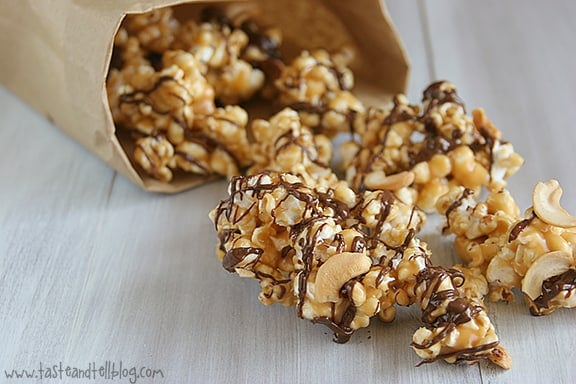 We all know that peanut butter and jelly go perfectly together.  But do you know what else goes perfectly with peanut butter?  Chocolate.  Oh yeah, and cashews.  Combine them all together, and what you have is the absolute perfect snack.
I'm not going to lie – this was by far my favorite of the peanut butter recipes that I did for Tablespoon.  Between my husband, daughter and I, we devoured this all in less than 24 hours.  It's that dangerous.  And that delicious.
Here's how you make it: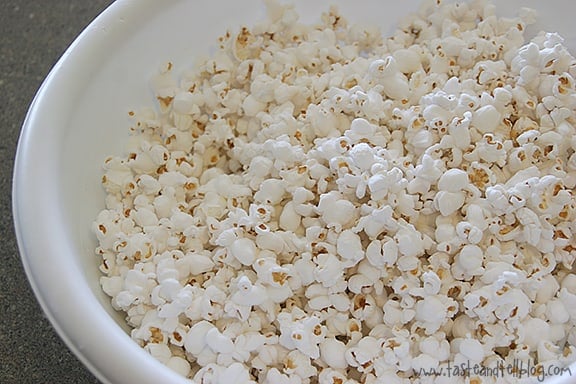 Start with some air popped popcorn. You can use microwave popcorn, but I prefer air popped.  (And you save a few calories – not that it matters that much, because you are going to be drenching it in peanut butter and chocolate!)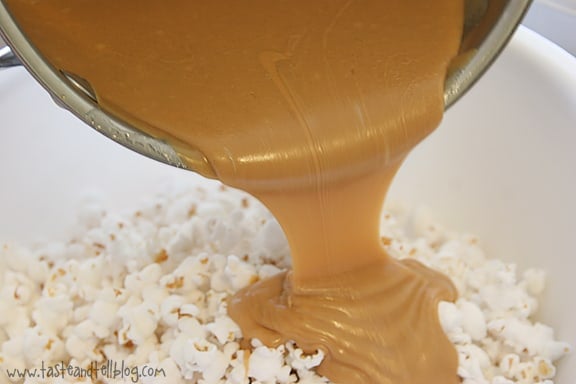 The peanut butter mixture is just a mixture of peanut butter, honey, corn syrup, sugar, and vanilla.  Cook it up, and pour it over your popcorn.  I poured it over the popcorn in a bowl, but it would be way easier to put your popcorn on a sheet pan and pour the peanut butter mixture over.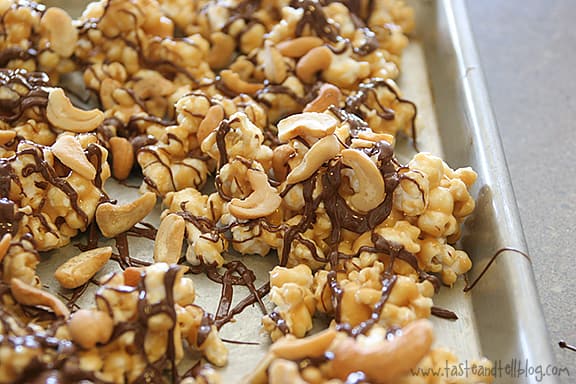 Melt some chocolate chips, and drizzle the chocolate over the peanut butter popcorn.  Add in some cashews, and if you have the patience, wait for the chocolate to set up.   Or dig right in – because that's what I did!!
Make sure you check out the recipe over at Tablespoon, along with my other peanut butter recipes.  And I have one more coming to you tomorrow!!



20 Flares
Tweet
Email to a friend
20 Flares
×