Photo updated May 2012

I took a break from the kitchen this past weekend. Besides a salad and some breakfast for dinner, I didn't do any cooking. Although I love to cook, it is sometimes nice to take a break from the ordinary. Today was a rough day as well, so I was looking for something easy to make for dinner. I have been talking about making Monte Cristos for Josh for a long time now, so I decided that tonight would be the night.
I have to admit – I actually have no idea what goes into a real Monte Cristo. All I know is that one day, my brother came home after living away from the house and made these wonderful sandwiches. At first, I thought – powdered sugar and raspberry jam on a sandwich with meat?? But I fell in love at first bite. I have since had them at a few restaurants where they were deep fried, but it seems to me like the constant ingredients (and most important, in my opinion) are the powdered sugar and raspberry jam. Most that I have eaten have had ham, turkey and swiss, but since Josh is not a fan of swiss, I did ham, turkey, provolone and some gouda. They turned out quite nicely!! No recipe for this one – I just dip the bread in an egg/milk mixture, pile in the fillings, and grill until brown and toasty. Then serve with powdered sugar and raspberry jam. An easy, filling, and easy dinner!!
**Update** Recipe added May 2012 **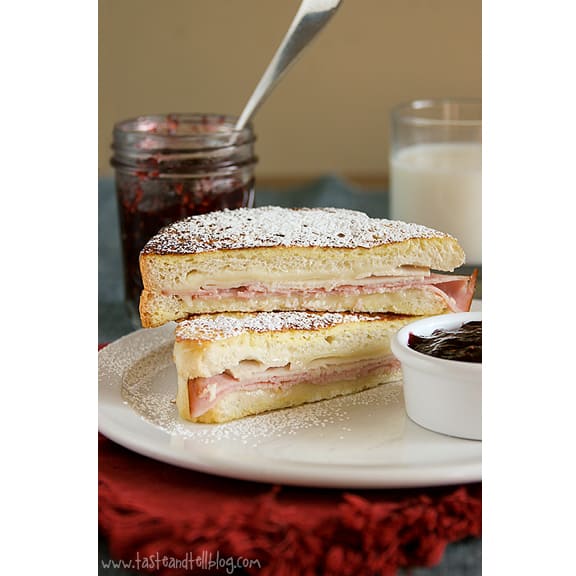 A turkey, ham and cheese sandwich served between 2 slices of French toast, dusted with powdered sugar and served with raspberry jam.
Ingredients
2 eggs
1/4 cup milk
1 tablespoon butter
8 slices white bread
4 slices deli ham
4 slices deli turkey
8 slices swiss or provolone
powdered sugar, for serving
raspberry jam, for serving
Instructions
In a shallow dish, whisk together the eggs and milk.
Melt the butter in a large skillet over medium-low heat.
Lay the slices of bread out. Put one slice of cheese on 4 of the slices of bread. Layer 1 piece of ham and 1 piece of turkey on 4 of the pieces of bread. Top with another piece of cheese, then another piece of bread.
Dip each sandwich into the egg mixture, then onto the hot skillet. Cook, turning once, until the sandwich is browned on both sides and the cheese is melted.
Serve sprinkled with powdered sugar and with jam for dipping.
http://www.tasteandtellblog.com/monte-cristo-sandwiches/
Recipe from www.tasteandtellblog.com
Original photos from 2007

4 Flares
Tweet
Email to a friend
4 Flares
×