Change up your sandwich routine – these Monte Cristo Waffle Sandwiches are made on the waffle maker!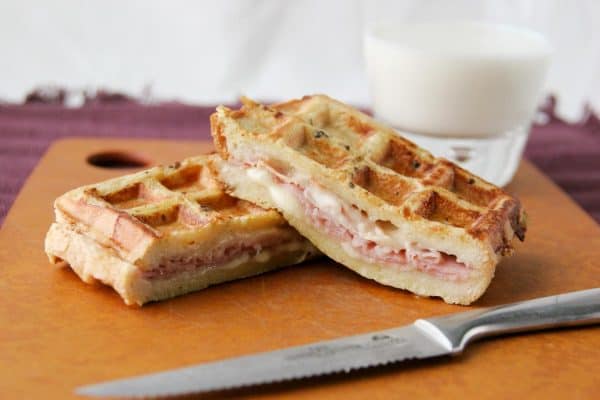 I have been obsessed with food for as long as I can remember.  I remember as a child, seeing infomercials for these electric sandwich makers.  I'm sure many of you remember them – the infomercial showed that you could put sandwich bread in, put some pie filling on top, then top with another piece of bread.  Cook in the little machine, and you have almost-instant mini pies!  Or fill the sandwich with lunch meat and cheese for a warm, gooey sandwich.  (And wow, I must live under a rock, because they still make these machines today!  I had no idea!)  I remember watching those infomercials, and wanting one so badly.  I wanted those little hand-held pies.  I wanted to feel like a rock-star in the kitchen, whipping up gourmet sandwiches.  As I recall, my mom did eventually end up buying one, and I don't think we made very many sandwiches in that machine.  Turns out, they just weren't as good as they looked on those infomercials.  (surprise, surprise!)
Today, give me a panini press, and I'm sure I could whip up a pretty good sandwich.  I think that the panini press is today's version of that sandwich maker that was so popular when I was a kid – but I think the panini press is much more successful at making a good sandwich.  But guess what?  You don't even need a panini press to whip up a darn good lunch – as long as you have a waffle maker!!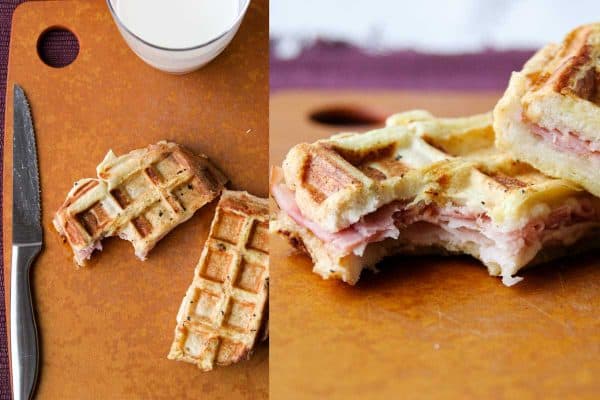 I love monte cristo sandwiches, so I was really excited to see how today's waffle creation would pan out.  Turns out, it's a simple monte cristo – just cooked up on a waffle maker!!  I have to admit that I would have never thought to use the waffle maker as a grill like this, but it totally works!!  If you don't have a panini press, and you've been jealous at the sandwiches you've seen out there, just pull out your waffle maker!!
My biggest complaint with this sandwich is that it's missing my favorite part of a monte cristo – the jam and the powdered sugar.  That is what sets a monte cristo apart from other sandwiches to me.  And I totally would have added them both, but I was sad when I opened up the fridge and didn't have any raspberry jam.  So we just enjoyed them as is.  But really, I'm not complaining because they were pretty darn delicious.  They were perfect for lunch, and super easy and fast to throw together.
So next time you are craving a warm sandwich for lunch or dinner, forget the panini press, forget the griddle – pull out the waffle maker!!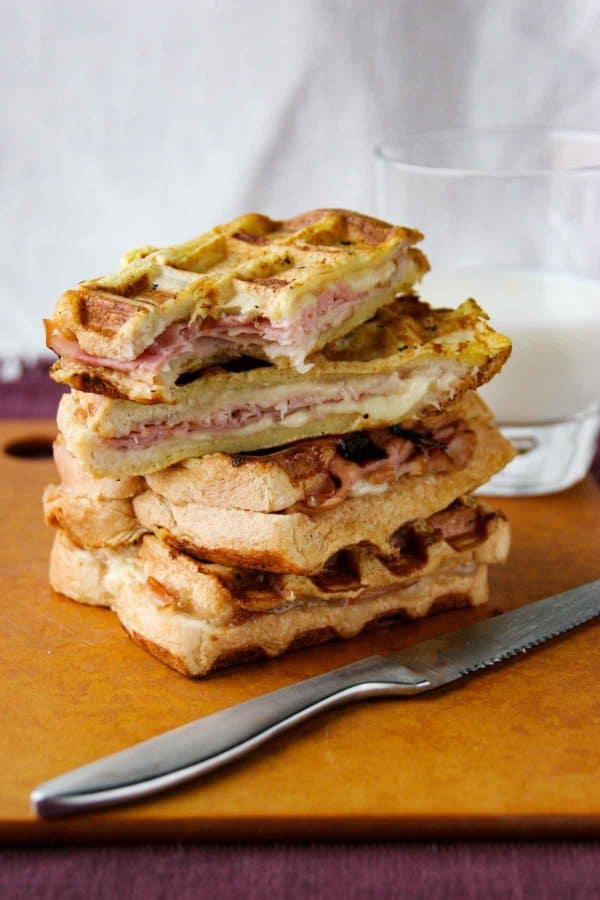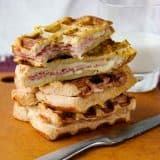 Monte Cristo Waffle Sandwiches
---
Author:
Prep Time: 10 minutes
Cook Time: 5 minutes
Total Time: 15 minutes
Yield: 4 servings 1x
Category: Main Dish
Method: Waffle Maker
Description
Change up your sandwich routine – these Monte Cristo Waffle Sandwiches are made on the waffle maker!
---
Scale
Ingredients
4 eggs
1/2 cup milk
2 tablespoons Dijon mustard, divided
salt and pepper
2 tablespoons melted butter
8 slices bread
1 cup shredded Gruyere
1/4 lb deli sliced ham
1/4 lb deli sliced turkey
---
Instructions
Preheat the waffle iron.
In a shallow bowl or dish, whisk together the eggs, milk, and 1 tablespoon of the Dijon. Season with salt and pepper.
Brush the waffle maker with the melted butter. Lay out 4 slices of bread. Top each with some cheese, ham, turkey, then more cheese. Top with another slice of bread.
Dip the sandwiches in the egg batter then place on the waffle maker. Close the top and cook until the sandwich is browned and the cheese is melted.