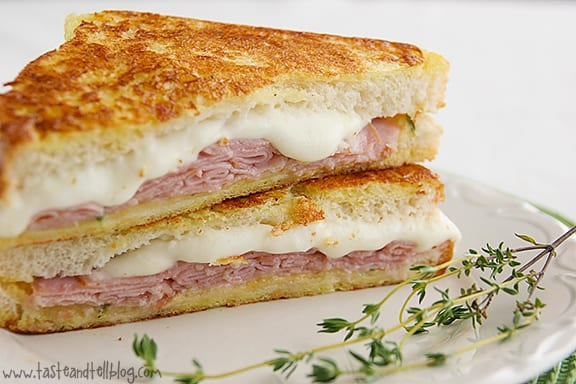 There is just something about the warming weather. For some reason, once June hits, it's so hard for me to menu plan. It should be easier, because the fresh fruit and veggies that are in season, but the long days and warm weather make it harder to get into the kitchen and cook up a big meal. Plus, in the heat, I really don't even want to be eating a big meal.
So through the summer, we turn towards a lot of easy meals. And sandwiches are right on the top of that list!! A little while back, I had the Rachael Ray Show on in the background while I was working, and I heard the magic words – "Monte Cristo" – and I immediately stopped what I was doing and I turned my attention toward the tv. Did you all know that I love monte cristos – and pretty much any form of monte cristos? You should, because I've made quite a few versions!!
I put this sandwich on my list right away. It doesn't scream monte cristo to me, but it definitely gives a wink and a nod to that delicious sandwich. The original sandwich was made with prosciutto, but I know my kids wouldn't eat them if I used prosciutto. So I substituted deli sliced ham, which we really loved. And I really loved the melty mozzarella.
This was totally my idea of a great, summertime dinner!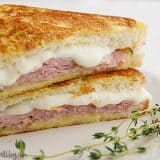 Italian-Style Monte Cristos
---
Prep Time: 10 minutes
Cook Time: 10 minutes
Total Time: 20 minutes
Yield: 4 sandwiches 1x
Description
Monte cristo sandwiches take an Italian twist with ham, mozzarella, and a honey mustard and thyme sauce.
---
Scale
Ingredients
3 eggs
1/2 cup half-and-half or cream
salt and pepper
freshly grated nutmeg
1/2 cup grated Parmesan cheese
1/8 cup honey
3 tablespoons Dijon mustard
1 tablespoon fresh thyme, chopped
1/2 tablespoon lemon juice
8 slices good quality white bread
1/2 pound deli ham
2/3 – 3/4 pound fresh mozzarella cheese
butter
---
Instructions
In a shallow pan, beat the eggs with the half-and-half, salt and pepper and nutmeg. Beat in the parmesan cheese.
In a small bowl, combine the honey, Dijon, thyme, and lemon juice; mix well.
Spread the honey mustard on one side of the bread slices. Build the sandwiches with the ham and mozzarella cheese.
Heat a griddle or large skillet over medium heat. Melt butter. When the butter is melted, dip the sandwiches in the egg mixture, turn to coat. Place on the griddle and cook until the sandwiches have browned and the cheese has melted. (You may need to cover the pan with foil so that the cheese will melt without the sandwich getting too brown.) Cut the sandwiches corner to corner and serve.
——————-
adapted from The Rachael Ray Show