Ok, so I'm really almost tempted to not even talk about this recipe, but to tell you to run right out and buy yourself a copy of this month's Cookbook of the Month – Easy Chinese Recipes
. This is the only recipe I've made from the book so far, but if they are all this good, this book is going to be worth it's weight in gold! And this recipe was so good, I would easily make this at home over going out for Chinese. Not to mention that it really is done faster than it would take to get take-out. And, I'm sure it's much better for you.
It seems like Chinese recipes are the ones that people are most interested in trying to re-create at home.  (This General Tso's Chicken recipe is still one of the most popular on my blog.)  And if you are looking for Chinese food that is as good as going out, you really need to look no further.  I don't know what else to say except that this recipe rocked.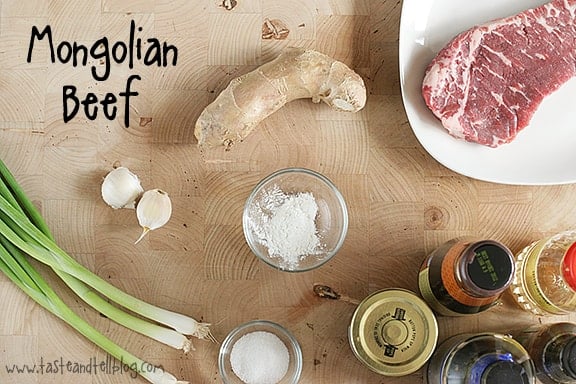 I was actually surprised to find that I had almost everything on hand for this recipe. (I didn't think I had oyster sauce, only to discover after I bought some that I already had a full, unopened bottle at home…)  The original recipe calls for both light and dark soy sauce, but I didn't have dark.  I just upped the amount of light soy sauce, but I'm thinking that I need to invest in dark soy sauce.  Many recipes in this cookbook call for it, plus I was watching a show on tv, and the Chinese cook said that dark soy sauce is one of the 5 pantry staples for making Chinese food at home.  But even without it, this recipe was amazing.  A-MAZ-ING.
So do yourself a favor – put this on your menu plan.  It's easy.  It's fast.  And it's downright delicious.  You can't ask for more than that!
Recipe Rating: 9.75 out of 10
——————————
Want some more ideas to make your own take-out?
Orange Chicken from Smells Like Home
Sweet and Sour Chicken from Taste and Tell
Honey Walnut Shrimp from Handle the Heat
Vegetable Chow Mein from Food52