2.2K Flares
2.2K Flares
×
Eggs benedict made easy!! An overnight casserole with the flavors of eggs benedict is served with an easy blender hollandaise sauce poured over the top.
This post has been sponsored by The American Egg Board
The holiday season is well under way. Can you believe that it's less than one week until Christmas? I have actually checked quite a few things off of my holiday baking list, but still have so many that I want to try before Christmas!!
One thing is for sure, though – one of the most versatile ingredients I have been using this holiday season (and beyond) is the egg. One of my favorite ways to use eggs during the holiday season is making overnight breakfast casseroles. Perfect for feeding company, perfect for feeding a crowd, and it's always a plus when most of the work can be done the night before!!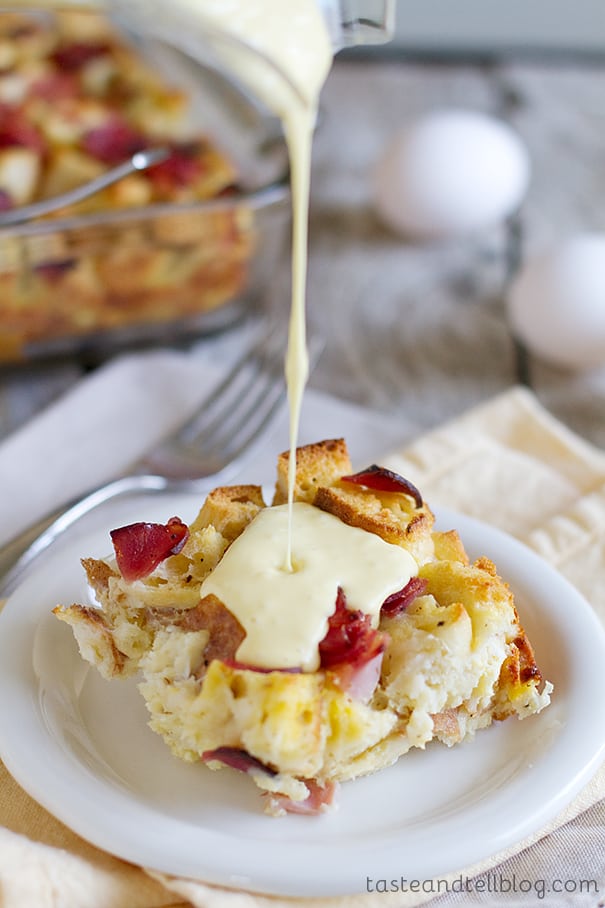 Growing up, we had lots of different holiday traditions. But Christmas breakfast was not one of them. In fact, I can't even remember right now what we did have on Christmas morning. Candy from our stockings – that was for sure

– but there wasn't one thing that we always had on Christmas morning. I think it was probably because my mom was tired. With 5 kids, you can guess that sleeping in on Christmas morning didn't happen until we were all quite a bit older. And now that I'm a parent, I know that Christmas Eve is a very late night.
But I like the idea of having a Christmas morning tradition. So after my husband and I got married, we started our own tradition of having German Scones on Christmas morning. They are his favorite, but I usually only make them once or twice a year – Christmas morning being one of those days. It's a tradition that will keep on with us, (my husband would kill me if I didn't make them), but this year, I'm thinking that we need to add to the mix. And I have had breakfast casseroles on the mind.
This Eggs Benedict Strata may be my new favorite. I adore eggs benedict, but this is so much easier!! You have a simple casserole made up of English muffins and Canadian bacon, doused with a mixture of milk and eggs. Refrigerate that overnight, then all you have to do is cook it up in the morning. Then you make a simple blender hollandaise to pour over the top. If you have ever been intimidated by making hollandaise at home, this method is for you. It's nothing new and has been done plenty of times before, but that's because it's so easy, delicious, and basically fail proof. If you aren't a Dijon mustard fan, feel free to leave that out, but I love the extra something that it gives the sauce!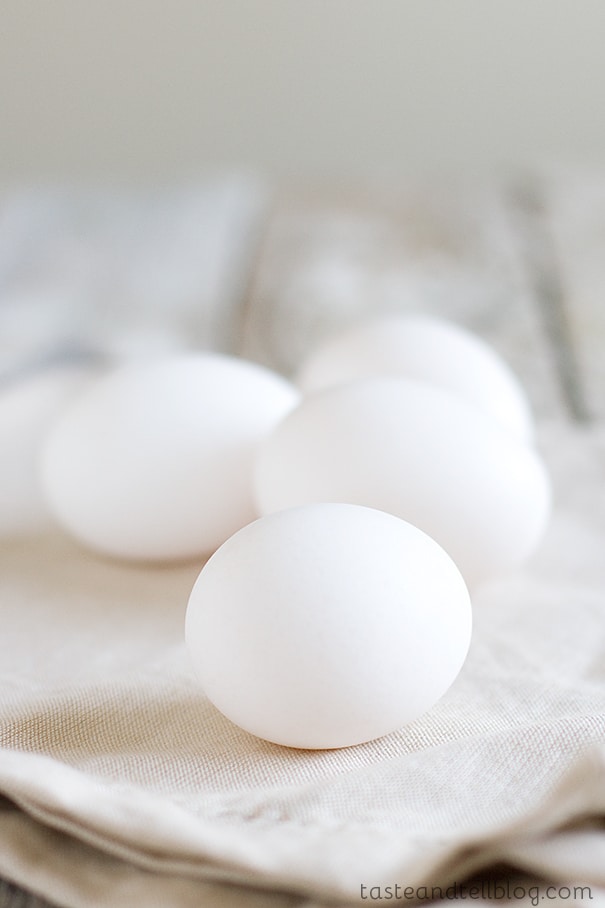 This recipe is just one of the many recipes that you need for the holiday season. And with the Incredible Edible Egg, your holiday recipes are made even better!! In everything from cookies to breads to appetizers and beyond, the egg is nutritious, versatile and affordable.
This year, the American Egg Board has teamed up with one of my favorite charities – Share Our Strength, for their No Kid Hungry Bake Sale. You can join America's egg farmers and Share Our Strength in the fight against childhood hunger by signing up to host your own Share Our Strength Bake Sale – it's the perfect time of year for one, and you can sign up here!!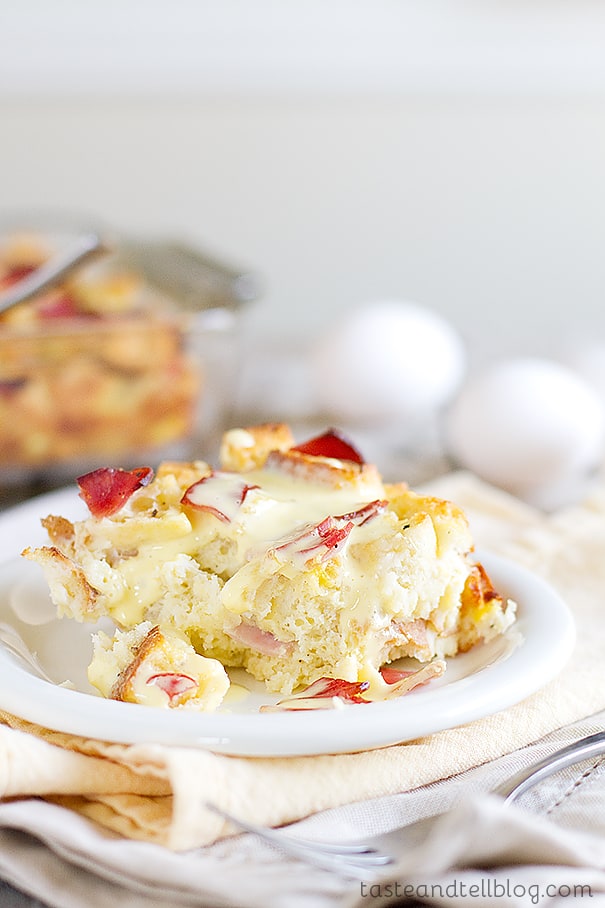 What will you be making for Christmas morning?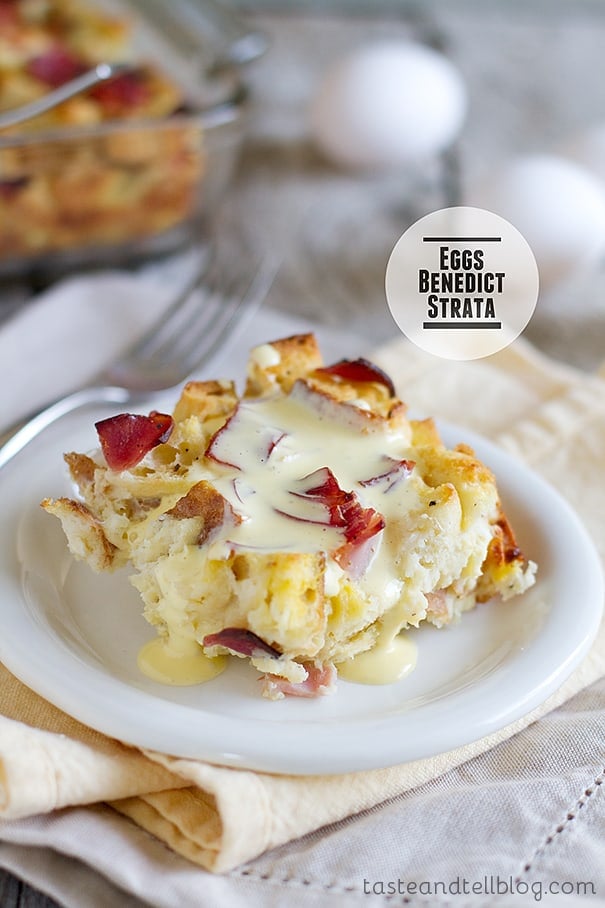 Eggs benedict made easy!! An overnight casserole with the flavors of eggs benedict is served with an easy blender hollandaise sauce poured over the top.
Ingredients
Strata

6 whole English muffins
6 oz Canadian-style bacon, chopped
6 eggs
1 1/2 cups milk
salt and pepper

Hollandaise Sauce

3 egg yolks
1/2 teaspoon Dijon mustard
1 tablespoon lemon juice
dash of hot sauce
1/2 cup butter, melted and very hot
Instructions
Spray an 8-inch baking dish with nonstick cooking spray. Cut the English muffins into 1-inch cubes. Place half of the cubes in the prepared baking dish, then sprinkle with half of the Canadian bacon. Top with the remaining English muffin cubes and then the remaining Canadian bacon.
Whisk together the eggs and the milk. Season with salt and pepper. Pour the egg mixture evenly over the top of the bread. Use your hands to press down the bread to make sure that it has all been soaked with the mixture. Cover and refrigerate for several hours, preferably overnight.
Preheat the oven to 350F. Remove the strata from the oven and let it sit on the counter while the oven comes up to temperature. Bake, uncovered, until puffed and golden and a knife inserted in the center comes out clean, 50-60 minutes.
When the strata is almost finished baking, prepare the hollandaise sauce. Place the egg yolks, Dijon, lemon juice and hot sauce in a blender. Blend for several seconds. Very slowly, stream the hot butter into the sauce, keeping the blender on the entire time. Blend until the sauce is thick.
Serve the strata warm with the hollandaise poured over the top.
Notes
http://www.tasteandtellblog.com/eggs-benedict-strata/
Recipe from www.tasteandtellblog.com
More Christmas morning breakfast ideas: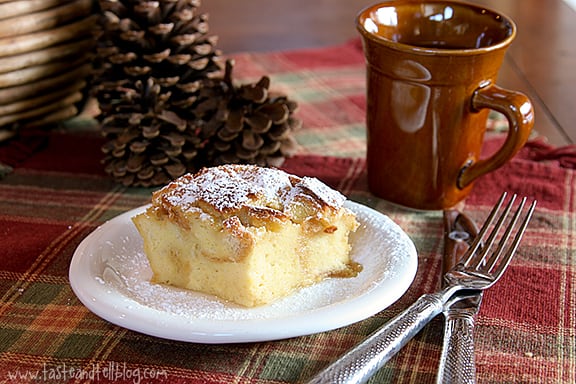 French Toast Souffle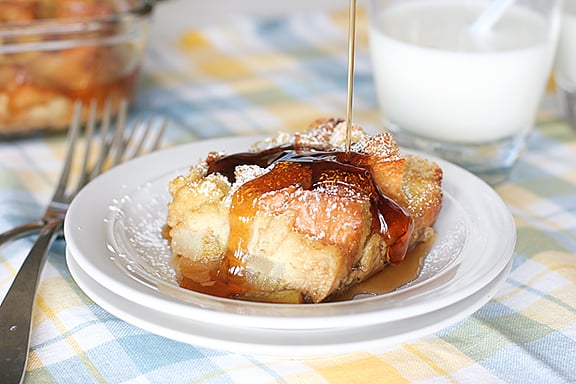 Baked Pear Vanilla French Toast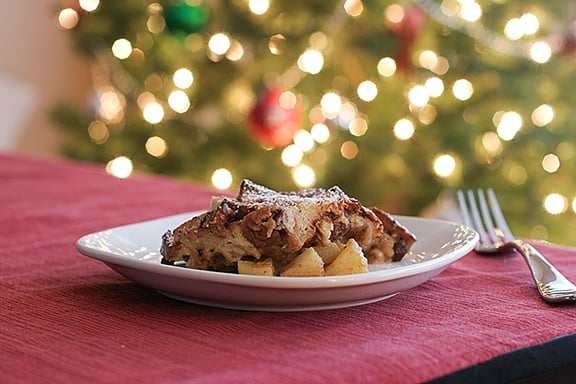 Apple Raisin French Toast Casserole
Around the Web:
California Avocado Breakfast Casserole from Dine and Dish
Make Ahead Breakfast Casserole from Fifteen Spatulas
Ham and Cheese Breakfast Casserole from FoodieCrush
I am in a working relationship with the National Egg Board, and this post has been sponsored. I'm so glad to be able to work with companies and organizations that I truly believe in. Thank you for supporting them, too.

2.2K Flares
2.2K Flares
×