I am drawn towards foods that are out of the ordinary.  Of course, I love the traditional foods, and probably make more of those on a regular basis, but throw in a different ingredient or something unexpected, and it really intrigues me.  Like this candy, for instance.  One of the base ingredients is a potato.  Yep, potato in candy!
There is a theory that this candy came about from trying to use up left-over mashed potatoes.  That's my kind of leftovers!  But really, it's a pretty clever ingredient.  It helps to bind everything together, and the taste is so mild that you would never even guess that it is in there.
I did have a little bit of trouble with this recipe – but I think I know what I did wrong.  I started out by peeling and cutting up my potato.  I cut the chunks quite small, hoping to cut down on the cooking time.  But when I went to start adding in the confectioners' sugar, I just kept adding and adding and it wasn't coming together.  It was just liquid.  I only made a half batch and ended up adding 2 whole cups of extra sugar.  I kept thinking that something had to be wrong with the recipe.  But then I went and re-read the recipe – it says "cooked, peeled and cut into pieces", which means to cook it, then peel it, then cut it into pieces.  I did it completely backwards, and I think that I ended up adding in lots of extra water from boiling the potato in chunks.  This – ladies and gentlemen – is why you should always follow the instructions!
Besides that one hiccup, everything went well.  These are super sweet.  In fact, when I tried just the dough, I was afraid they were going to be just too sweet.  But when you add on the peanut butter, it really cuts back on the sweetness and it's a tasty little candy.  I still wouldn't suggest eating more than 1 or 2 pieces, but they are definitely different and fun!
Recipe Rating:  7.5 out of 10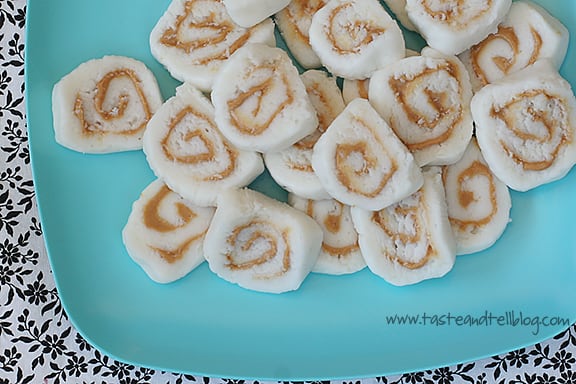 Potato Pinwheels
from Field Guide to Candy
makes about 30 candies
1 small potato (about 5 ounces), cooked, peeled and cut into pieces
1 teaspoon vanilla extract
1 pound confectioners' sugar, sifted
1 cup creamy peanut butter
Using a stand mixer or food processor, combine the potato pieces until they are thoroughly mashed.
Add the vanilla extract and mix in.
Add the confectioners' sugar, 1 cup at a time, mixing well after each addition. The mixture may appear to liquefy, but should come together if you keep mixing. Add more confectioners' sugar if it seems too soft.
Turn the dough out onto a piece of plastic wrap and wrap well. Refrigerate for 1 hour, or until it has firmed up.
Place a sheet of waxed paper on the counter. Roll the dough out into a square that is about 1/4″ thick. Spread the peanut butter on the dough.
Using the waxed paper to help, roll the dough up like a jelly roll. Wrap the whole roll in plastic wrap and refrigerate overnight.
Slice into rounds to serve.