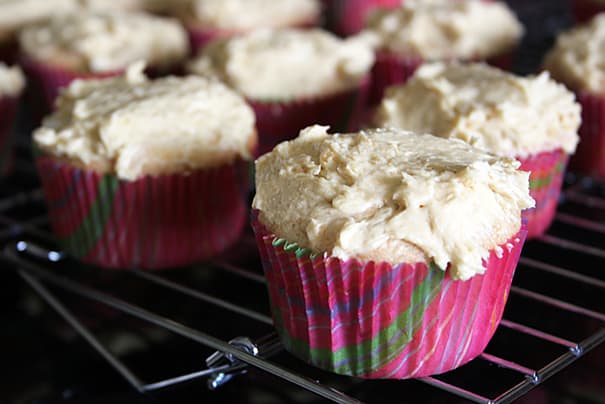 I feel like I'm cheating or something. I do realize that Valentine's Day is only a few days away, and that I should be posting about delicious chocolate or other Valentine's treats like this or this. But I'm not. Needless to say, I haven't baked anything in the last few weeks. I wanted to post about something sweet today, so into the archives of photos I went, and there was no chocolate to be found – at least nothing worthy of this special day of love.
So these may not be worthy to serve on Valentine's Day, but my special Valentine sure did love these when I made them. But you really can't go wrong with bananas and caramel!! They reminded me a lot of a "fancier" banana bread – the banana flavor comes through well in the cupcake, and the frosting is very buttery, so it made me think of a slice of banana bread with a nice slather of butter on top. I wish the caramel would have come through a little better, but it was still there in the background.
Another great way to use up those browning bananas!!
Caramel Banana Cupcakes
from Every Day with Rachael Ray September 2008
makes 18 cupcakes
3 sticks (12 ounces) unsalted butter, at room temperature
1 1/4 cups granulated sugar
1 cup ripe mashed banana
1 1/2 teaspoons baking powder
3/4 teaspoon salt
1 3/4 cups flour
1/2 cup plus 2 tablespoons whole milk
3 large eggs, separated
One 5.5 ounce bag soft caramels (such as Werther's Original Chewy)
1/4 cup confectioners sugar
Preheat the oven to 350°. Line 18 cups of 2 standard 12-cup muffin pans with baking liners. In a large bowl, beat 1 stick butter with 1 cup granulated sugar until fluffy, about 4 minutes. Add 3/4 cup bananas, the baking powder and 1/2 teaspoon salt and beat until smooth. Stir in 1 cup flour. Mix in 6 tablespoons milk and the remaining 3/4 cup flour until smooth.
Using an electric mixer, beat the egg whites at medium speed until soft peaks form. Gradually mix in the remaining 1/4 cup granulated sugar at high speed until stiff and glossy. Fold the egg whites into the batter until no streaks remain.
Spoon the batter into the prepared muffin pans, filling each liner three-quarters full. Cut 9 caramels in half, and submerge one piece in each muffin cup of batter. Bake until the cupcakes are springy to the touch, about 25 minutes. Let cool.
Meanwhile, in a small, heavy saucepan, cook the remaining caramels, 1/4 cup milk, 1/4 cup banana and 1/4 teaspoon salt over medium heat, stirring, until the caramels are melted.
Using the electric mixer, beat the egg yolks and confectioners' sugar until thick, about 3 minutes. Slowly beat in the caramel mixture; transfer the mixture to the saucepan. Cook over medium-low heat, stirring constantly for about 1 minute. Transfer to a bowl and refrigerate until cool.
Using the electric mixer, beat the remaining 2 sticks butter at high speed until fluffy, about 5 minutes. With the mixer on low speed, slowly add the cooled caramel mixture, then beat at high speed until fluffy. Spread the frosting onto the cupcakes.
Others Who Have Made This Recipe:
I Like Sprinkles on a Cupcake
Tofu and Cupcakes
Lobster and Fishsticks
All Things Related
Momma's Cafe