Hello, my name is Deborah and I am a butternut squash addict.

Whew – it feels better to get that out!!
Seriously, though.  I don't like the cold.  I don't like the winter.  But what I do like is that I can eat butternut squash all winter long.  It is the one saving grace about summer going away and the cold setting in.
Now that the winter is halfway over, (at least it better be!), I find myself searching for all of those cold-weather recipes that I need to make before the warmth decides to return.  And of course, many of those for me are filled with butternut squash.  Like this recipe.
I could eat meals like this very often.  Pasta.  Cheese.  Butternut squash.  Does it get any better?
And even if you aren't a butternut squash fiend like I am, you will want this recipe because it's easy.  And fast, if you roast the squash ahead of time.  And cheesy.  Who doesn't like cheesy?


An easy, meat-free pasta dish made with butternut squash and cheese.
Ingredients
1 (2 lb) butternut squash, halved, seeds removed
1 tablespoon extra virgin olive oil
1 (12 oz) box bowtie pasta
2 tablespoons butter
2 tablespoons flour
2 cups milk
pinch nutmeg
pinch cinnamon
5-6 sage leaves, sliced
1 cup grated cheddar cheese
1 cup Parmesan cheese
Instructions
Preheat oven to 400F.
Place the squash halves on a baking sheet. Drizzle with the olive oil and season with salt and pepper. Place cut side down on the baking sheet and roast until tender, about one hour. Remove and let cool.
Once the squash is cool enough to handle, scoop out the flesh and process until smooth in a food processor. Set aside.
Bring a large pot of salted water to a boil. Cook pasta until al dente; drain and return to the pot.
Meanwhile, in a medium skillet, melt the butter. Whisk in the flour and cook for 1 minute. Slowly whisk in the milk and cook, stirring, until thickened. Add in the squash puree, nutmeg, cinnamon and sage leaves. Season to taste with salt and pepper.
Add the sauce into the pot with the pasta and stir to coat. Transfer the mixture to a baking dish and top with both cheeses. Bake until the cheese is browned and bubbly, about 10-15 minutes.
-------------------------
slightly adapted from The Rachael Ray Show
http://www.tasteandtellblog.com/butternut-bowties/
Recipe from www.tasteandtellblog.com
Proof of my butternut squash addiction: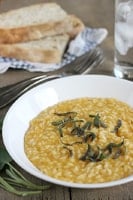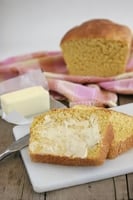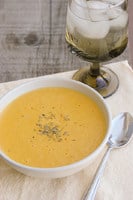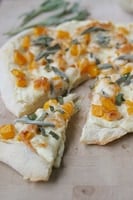 Butternut Squash and Sage Pizza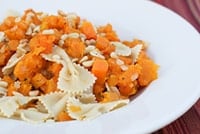 Pasta with Squash, Brown Butter and Rosemary
Around the Web:
Roasted Butternut Squash with Moroccan Spices from Kalyn's Kitchen
Baked Butternut Squash Chips with Sage from The Partial Ingredients
Butternut Squash Custard from BetsyLife