A basic enchilada recipe with homemade enchilada sauce.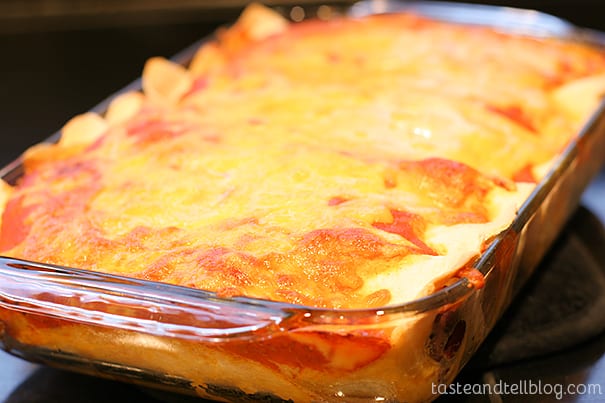 I haven't done a "Bad Photo Sunday" in quite awhile, but this one is bringing it back!! I actually wouldn't have even bothered posting about these enchiladas, but they make me one cookbook closer to completing my Cookbook Project, and I didn't want to have to scramble to make another recipe from this cookbook.
These enchiladas require you to make your own enchilada sauce. This was the first time I have ever done this – I usually used the canned stuff – and I probably won't try it again, at least from this recipe. It wasn't that it was bad, but it just wasn't good enough for the effort. We love enchiladas in every shape and form at our house, so these definitely were good enough to eat for dinner, but I do think there are better recipes out there.
Now only 4 more cookbooks to go to complete my goal for the year!!

Enchiladas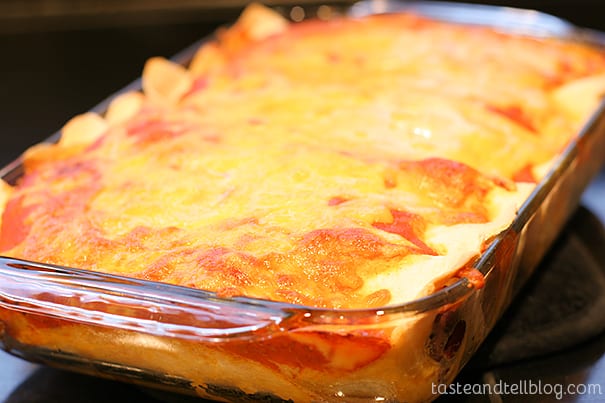 A basic enchilada recipe with homemade enchilada sauce.
Ingredients
12 flour tortillas

Meat Filling

1 pound ground beef
1 clove garlic, finely chopped
2 teaspoons salt
1 tablespoon chili powder
1 can (15 oz) kidney beans, undrained

Enchilada Sauce

3 tablespoons olive oil
1 clove garlic, minced
1/2 cup chopped onion
1/4 cup chopped green pepper
1 can (2 lb. 3 oz.) Italian tomatoes, undrained
1 can (6 oz) tomato paste
3/4 cup beef broth
1 can (4 oz) canned chopped green chilies
dash ground cumin
1/2 teaspoon salt
1/8 teaspoon pepper
Instructions
1 cup grated cheddar cheese
Prepare the meat filling: In a medium skillet, brown the ground beef over medium heat. Add garlic, salt and chili powder. Cook until beef is thoroughly cooked. Stir in the kidney beans, and remove from heat.
Make the enchilada sauce: Heat oil in a pan over medium heat. When hot, add garlic, onion and green pepper and cook until tender, about 5 minutes. Stir in the undrained tomatoes and tomato paste and stir well. Bring mixture to a boil. Add beef broth, the chilies, cumin, salt and pepper. Simmer mixture uncovered, stirring occasionally until slightly thickened. If desired, run tomato mixture through a blender or food processor and process until smooth.
To assemble: Preheat oven to 350F. Place 1/3 cup of meat filling in the center of each tortilla; roll up. Arrange, seam side down, in a 13×9 inch baking dish. Pour the enchilada sauce over the tortillas; sprinkle the top with grated cheese. Bake for 25 minutes.
Notes
http://www.tasteandtellblog.com/bad-photo-sunday-enchiladas/
Recipe from www.tasteandtellblog.com