Cheddar Cornmeal Icebox Crackers – homemade crackers made with cheddar cheese and cornmeal with a spicy kick from cayenne pepper.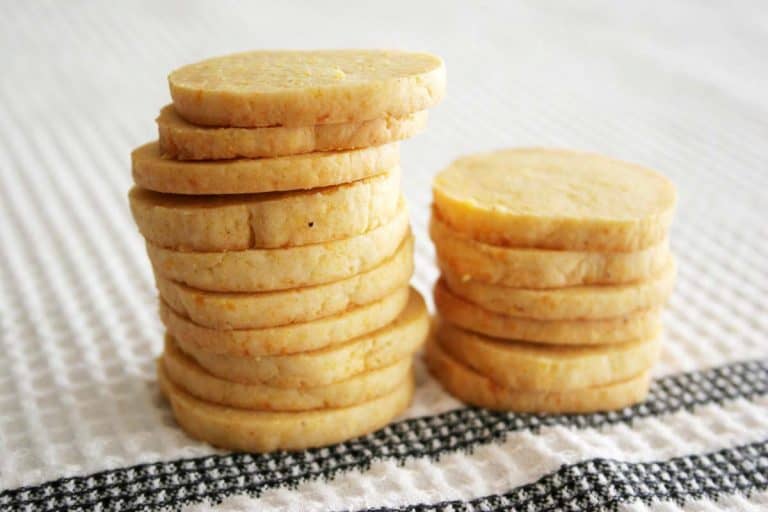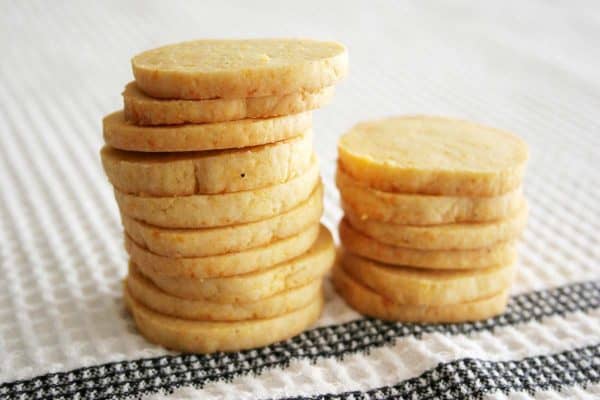 Last month, I sat down in front of my cookbooks to choose a Cookbook of the Month. I had this cookbook – Martha Stewart's Hors d'oeuvres Handbook chosen out, but then I took that trip to Costco and ended up with Giada's book, which took over as the Cookbook of the Month for November. But as I went to choose a book for this month, I decided that it all worked out for the best. There are so many get togethers and parties in the month of December between Christmas and New Years, and we can all use some ideas for appetizers or hors d'oeuvres (which I have the hardest time spelling!) to take to the parties we've been invited to or for the parties which we've planned.
This book has endless ideas, and I can't believe in all the years I've owned it, I've never made anything from it. Granted, we all know I'm not an entertainer, but I've been asked to bring appetizers to plenty of occasions, and for some reason I've never turned to this book. This is all about to change.
The first recipe that I tried was for these Cheddar Cornmeal Icebox Crackers. I was going to post about these yesterday, but I didn't start them until yesterday and they need a full 24 hours to chill before you bake them. So I baked them up this morning to bring them to you today. Crackers might seem like a boring choice, but show me one party where the crackers and dip aren't a huge hit. They might not be as "fancy" as some other appetizers, but they are loved by all!
These crackers are indeed delicious. The cayenne does give a bit of a kick, and the cheddar taste is not too overpowering. Now if only I would have made a dip to go along with them!!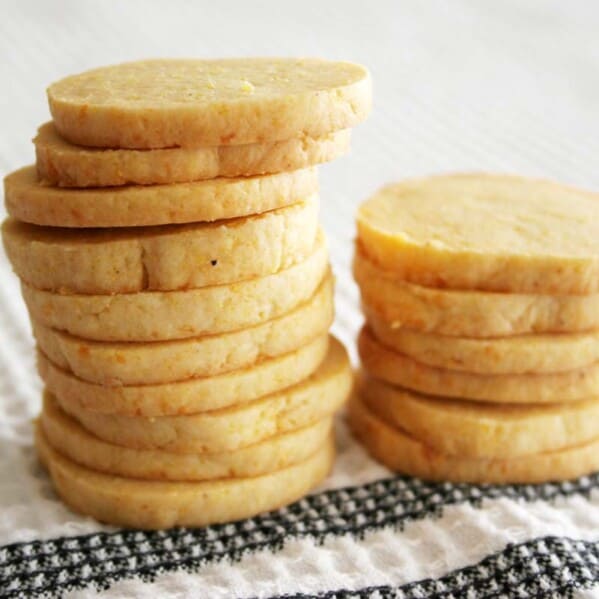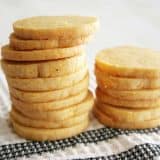 Cheddar Cornmeal Icebox Crackers
---
Author:
Category: Appetizer
Method: Baked
Description
Cheddar Cornmeal Icebox Crackers – homemade crackers made with cheddar cheese and cornmeal with a spicy kick from cayenne pepper.
---
Scale
Ingredients
1 cup all-purpose flour
2 tablespoons yellow cornmeal
1 1/4 teaspoons kosher salt
1/4 teaspoon cayenne pepper
pinch of freshly grated nutmeg
2 tablespoons very cold unsalted butter, cut into small pieces
1 cup finely grated cheddar cheese
1/4 cup plus 1 tablespoon milk
---
Instructions
Combine flour, cornmeal, salt, cayenne, and nutmeg in the bowl of a food processor; pulse to combine.
Add butter; pulse until mixture resembles coarse meal.
Add cheese; pulse until combined.
With machine running, add milk; process until dough comes together and is well combined.
Transfer dough to a work surface. Shape dough into a 2-inch-wide log.
Wrap with plastic wrap, and refrigerate for at least 24 hours.
Heat oven to 325 degrees.
Slice chilled log into 1/4-inch-thick slices.
Transfer slices to a parchment-lined baking sheet.
Bake immediately, rotating sheet once, until crackers are golden brown and firm in the center, 25 to 35 minutes.
Transfer to a rack to cool.
Recipe Notes:
Crackers may be made a day ahead and kept in an airtight container at room temperature.