Spaghetti with Zucchini and Saffron Sauce – a simple pasta dish with fresh zucchini and a saffron infused sauce.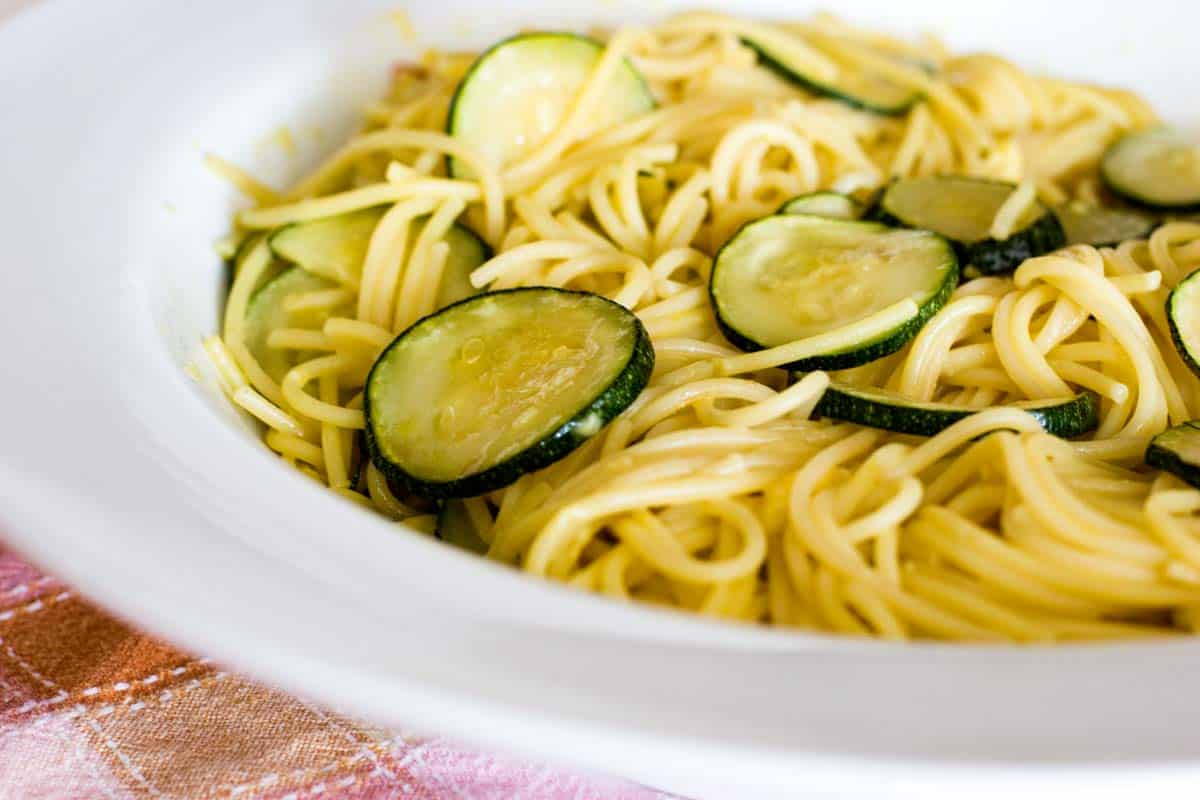 Sorry for the unexpected, week long vacation from my blog here. This last week has been a little bit taxing, and blogging was just not in the cards for me. My husband had a total knee replacement last Monday. We had planned on me being there for the surgery, and we knew he would be in the hospital for a few days after, but I figured I'd be home for several hours each evening and every night with the baby. But it didn't quite work out that way. To make a long story short, he had some serious pain issues and I ended up at the hospital almost 24 hours a day, right there with him for moral support. So obviously, blogging wasn't at the forefront of my mind.
And today is my birthday, (Happy 32nd to me!!), so I'm going to make this quick. I just couldn't go another day without a blog post!!
I actually made this for dinner last night, and was pleasantly surprised at how much I liked it. I mostly chose to make it because I had all the ingredients on hand (thank you zucchini plant that is still producing!) and I didn't want to go grocery shopping. It was super simple, and very delicious. I'd definitely make it again!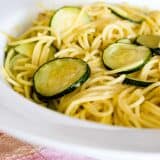 Spaghetti with Zucchini and Saffron Sauce
---
Author:
Prep Time: 15 minutes
Cook Time: 20 minutes
Total Time: 35 minutes
Yield: 4 servings 1x
Category: Main Dish
Method: Stove Top
Cuisine: Italian
Description
A simple pasta dish with fresh zucchini and a saffron infused sauce.
---
Scale
Ingredients
salt
1 pound spaghetti
2 cups chicken stock
2 pinches saffron
1 tablespoon extra-virgin olive oil
3 small or 2 medium zucchini (about 3/4 pound) cut into small cubes or thinly sliced
6 tablespoons butter, cut into 6 pieces
1 cup grated parmigiano-reggiano cheese
---
Instructions
Heat your oven to its lowest setting, then place a large pasta platter or bowl inside to warm. Bring a large pot of water to a boil, salt it, add the pasta and cook until al dente. Drain, reserving a ladleful of the pasta cooking water.
While the pasta is working, in a medium saucepan, bring the chicken stock and saffron to a boil and cook until reduced to about 1 cup, about 10 minutes.
In a medium skillet, heat the olive oil over medium-high heat. Add the zucchini and cook until crisp-tender, about 5 minutes.
Remove the platter from the oven and scatter the butter on it. Add the pasta, zucchini and saffron-infused stock, then add the cheese and toss vigorously for 1 minute to form a yellow, glossy sauce. Add the reserved cooking water as needed if the sauce is too thick.
Recipe Notes: