Cheesy and creamy, these Twice Baked Sweet Potatoes with Cheddar and Canadian Bacon make a great side dish or a filling main dish.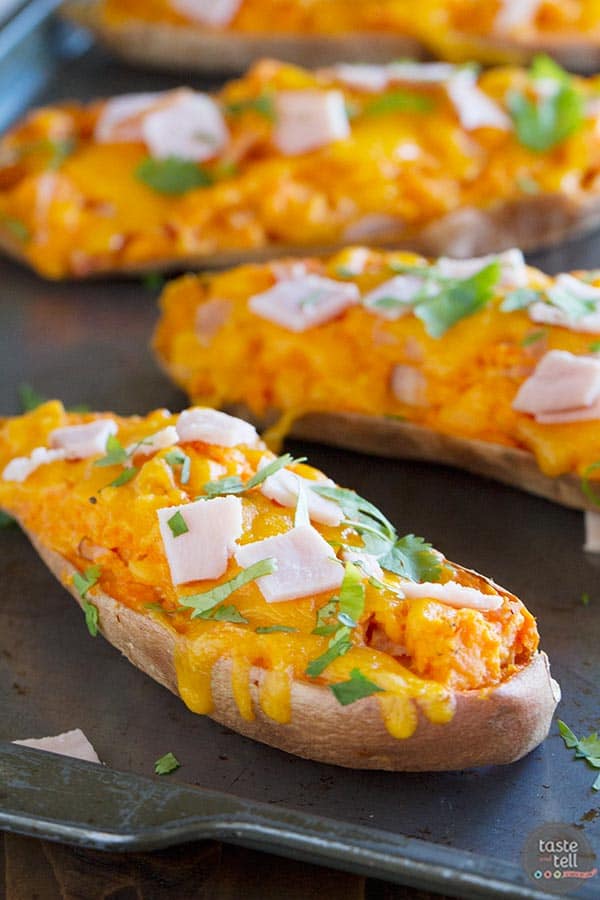 When I was a kid, I wasn't a picky eater, as far as I can remember. I've always been a people pleaser (hello, middle child), so I think I mostly ate everything because I didn't want to cause a stir. Or maybe I really just have loved food all of my life. 🙂
The list was short of what I didn't care for. Oatmeal (the breakfast kind, not the cookie kind 😉 ), cream of wheat, and sweet potatoes.
Now, I will occasionally eat oatmeal, although I have never completely fallen in love with it. I still kind of steer clear of cream of wheat. I think it's a texture thing.
But sweet potatoes?? WHY in the world did I ever believe that I didn't like sweet potatoes??

Seriously – today, they are one of my very favorite foods. I crave them on a regular basis. I think I'd be very sad if they were taken from my life. Honestly devastated.
Luckily, I don't think I have to worry about anyone depriving my life of sweet potatoes any time soon. And it's a good thing, otherwise I'd be missing out on deliciousness like these Twice Baked Sweet Potatoes with Cheddar and Canadian Bacon!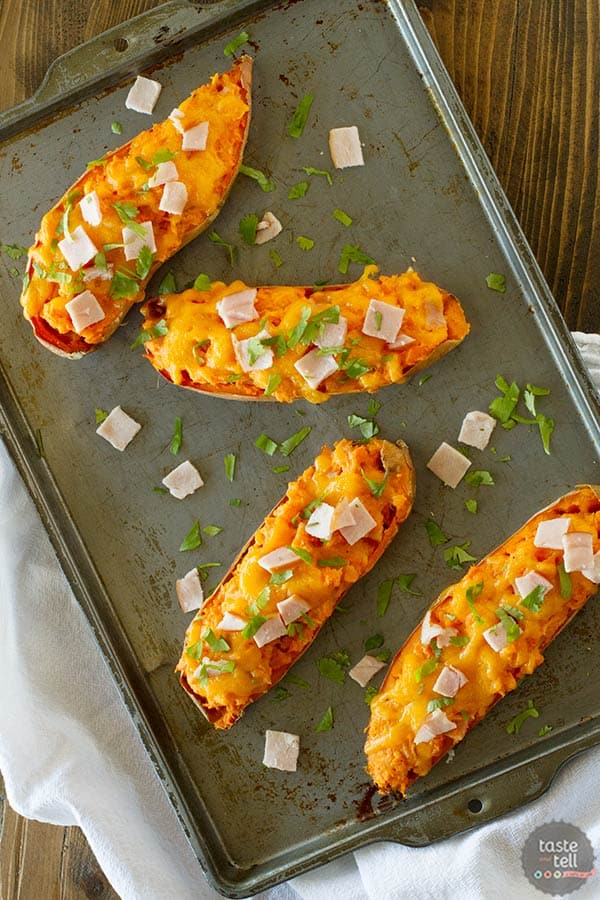 I love regular potatoes almost as much as I love sweet potatoes. And I can never turn down a twice baked potato. So of course, twice baking a sweet potato is a total "duh" for me.
I actually have stuffed sweet potatoes before – with these Twice Baked Buffalo Chicken Sweet Potatoes – and one day, after thinking about those twice baked sweet potatoes, I knew I needed to bake up a new version.
I tried to keep these a little healthier, using yogurt instead of sour cream or cream cheese. And instead of using bacon (which I still think would be awesome in these) I used some Canadian Bacon from my favorite pork company – Jones Dairy Farm. Their Canadian Bacon is certified gluten free with no preservatives or added nitrates. And it is naturally smoked, no liquid smoke here!!
These Twice Baked Sweet Potatoes are great as a side dish, but we really love them as a main dish. A whole potato is super filling (in fact, I'm usually satisfied after just a half) and I love that these are made with better for you ingredients than their cousin, the loaded twice baked potato.
I would happily eat these on a weekly basis!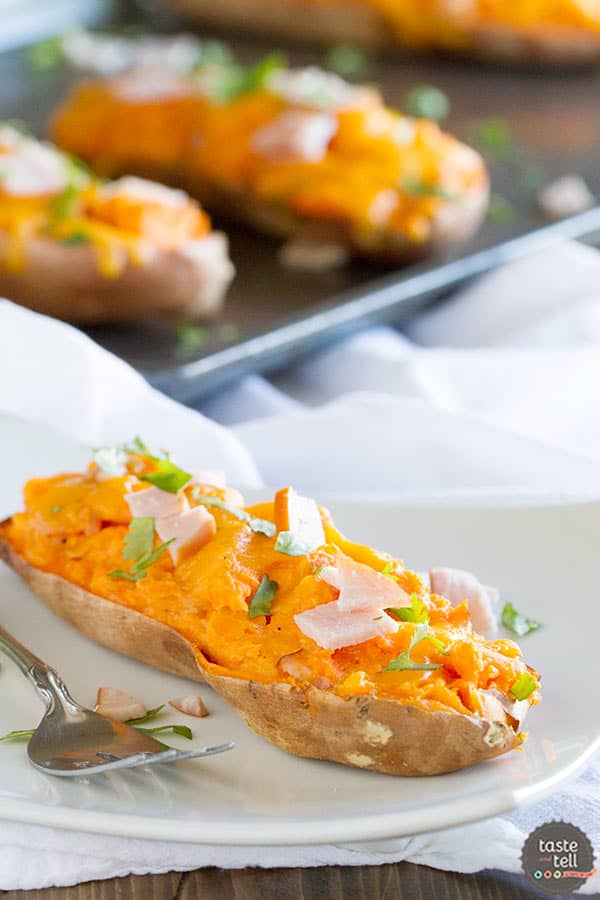 Like what you see here? Make sure you are following Taste and Tell for more great recipes and ideas!!

Facebook ** Pinterest ** Twitter ** Instagram ** Google+
or you can subscribe to my newsletter or Feedly or Bloglovin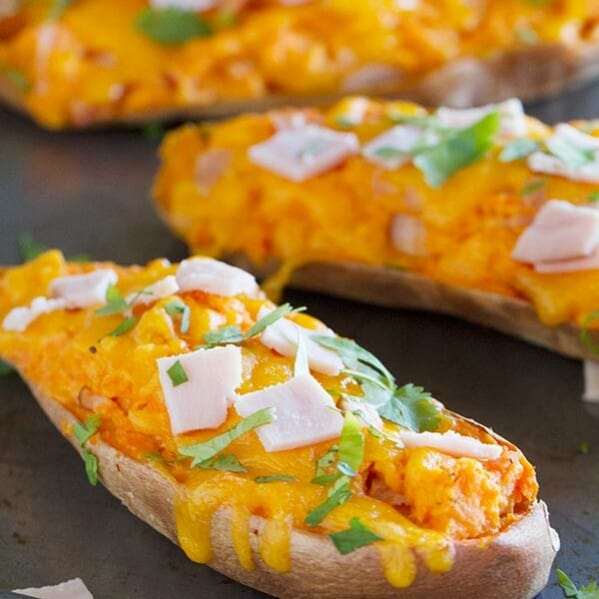 Twice Baked Sweet Potatoes with Cheddar and Canadian Bacon
---
Prep Time: 15 mins
Cook Time: 1 hour 15 mins
Total Time: 1 hour 30 mins
Yield: 4 as a main, 8 as a side 1x
Description
Cheesy and creamy, these Twice Baked Sweet Potatoes with Cheddar and Canadian Bacon make a great side dish or a filling main dish.
---
Scale
Ingredients
4 sweet potatoes (9–10 oz each)
1 1/2 cups Cheddar cheese, divided
1/2 cup plain Greek yogurt
12 oz Jones Dairy Farm Canadian Bacon, chopped, plus more for topping if desired
chopped parsley
---
Instructions
Preheat oven to 400°F. Clean and pierce the potatoes with a fork several times. Bake until soft, about 45-60 minutes. Let stand until cool enough to handle.
Cut the potatoes in half lengthwise and remove the flesh to a bowl, leaving a thin layer around the outside of the potato to keep the shape. Mash the sweet potato flesh. Add in 3/4 cup of the Cheddar cheese and the Greek yogurt. Stir in the chopped Canadian Bacon. Season to taste with salt and pepper.
Add the filling back into the potato skins. Top with the remaining cheese. Return to the oven until heated through and the cheese is melted, 10-15 minutes. Serve topped with chopped parsley and additional Canadian Bacon, if desired.
Don't miss a thing! Follow me on Pinterest to see what I'm pinning!
Visit Taste and Tell's profile on Pinterest.





I am in a working relationship with Jones Dairy Farm, and this post has been sponsored. I'm so glad to be able to work with companies and organizations that I truly believe in. Thank you for supporting them, too.