These Circus Animal Cookie Cupcakes have vanilla cupcakes filled with a circus animal cookie infused cheesecake center, then topped with vanilla buttercream. Top it all off with a circus animal cookie for a fun, playful and delicious cupcake!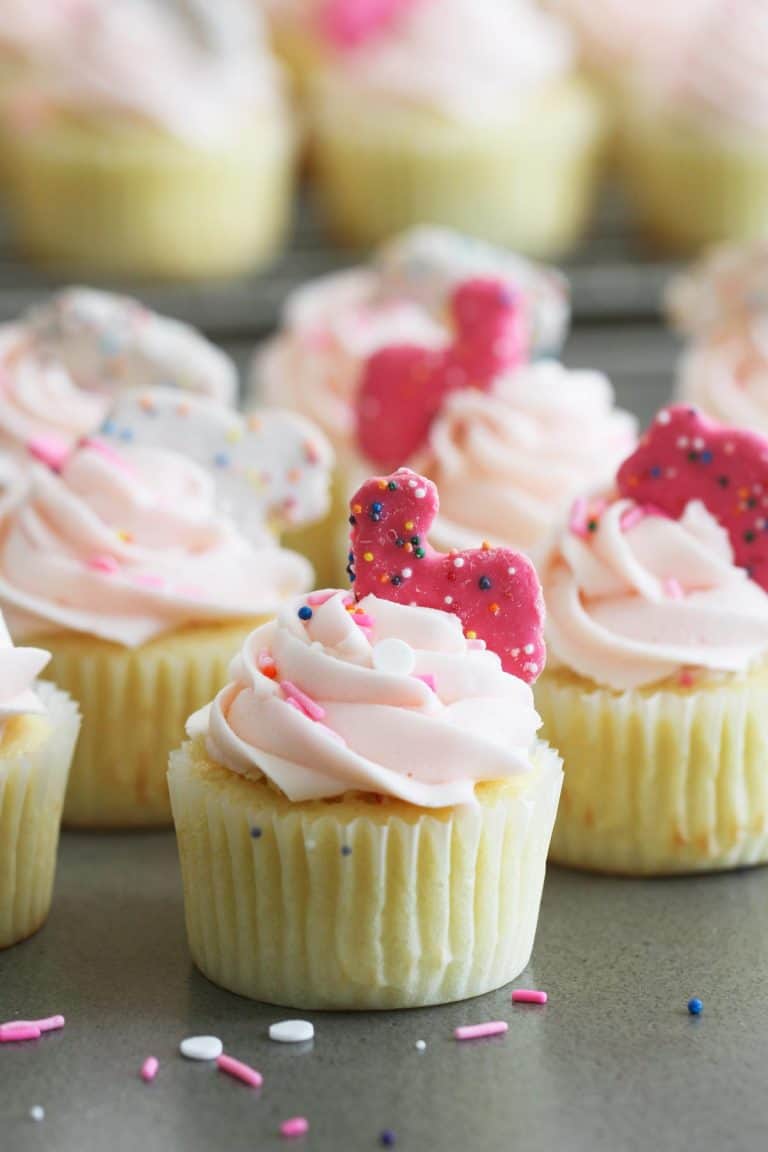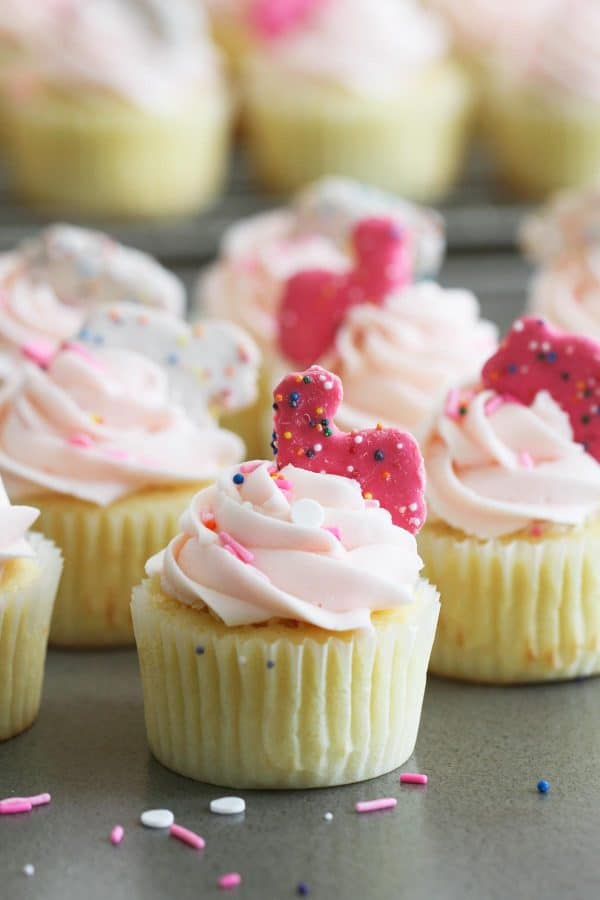 Happy Birthday, Taste and Tell!
Today, we are celebrating a very special day – Taste and Tell is turning 11 years old! The big day was actually yesterday, but as it seems to be with life lately, I'm a little late to the party. But it only matters that I made it here, right?
I can't believe it has been 11 years. That practically makes me a grandma in blogging time! The online world has changed so much in the last 11 years. When I started, it was purely out of the love of food. There were no sponsors, no social media, and you were big time if you could actually pull in $20 a month off of Google ads. Today, I'm blessed to call this my job. But at the core, the thing that brought me here in the first place still remains – the love of food. I don't know what it is about food, but it brings me so much joy to create and to cook and to share. So I am so grateful for this platform where I get to do what I love to do every single day.
There are a lot of things that I have learned in the last 11 years. My cooking skills have improved tremendously, my photography skills have improved just about as much. I knew nothing about the technical part of blogging 11 years ago, and while I still don't claim to know a lot, I know a heck of a lot more than when I started. I have learned that friends made online can be so super amazing, and that there is so much kindness in the world.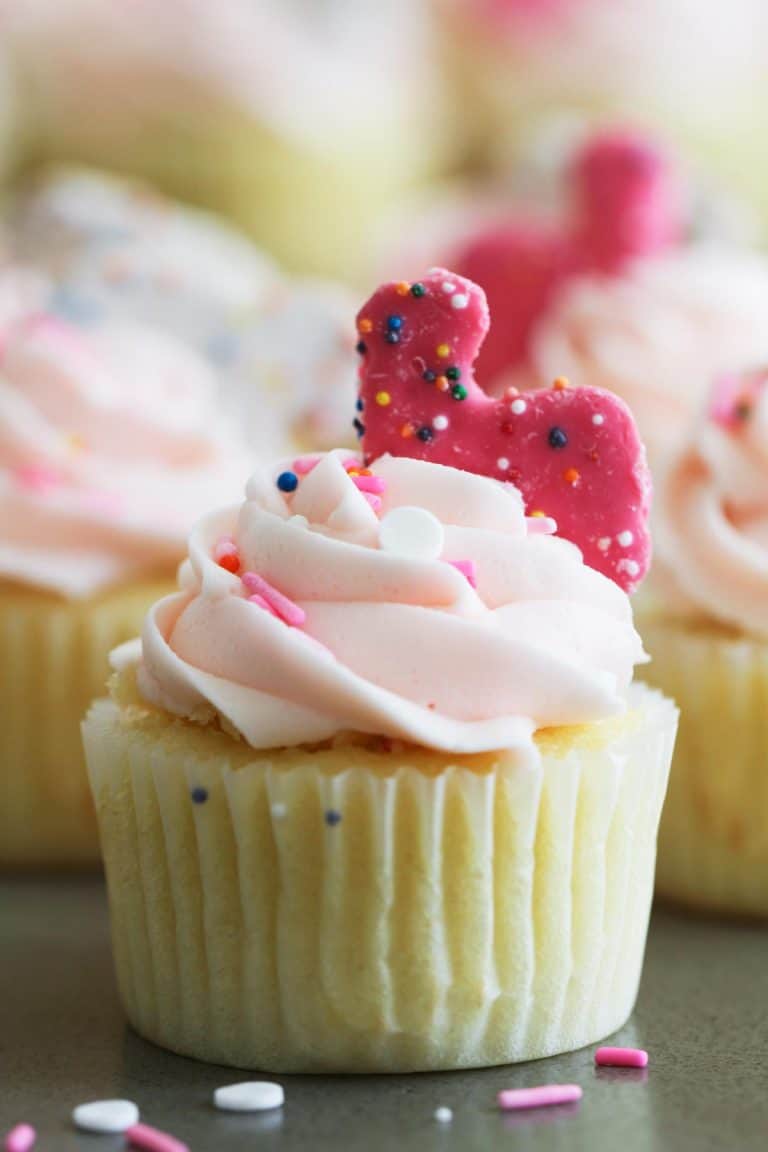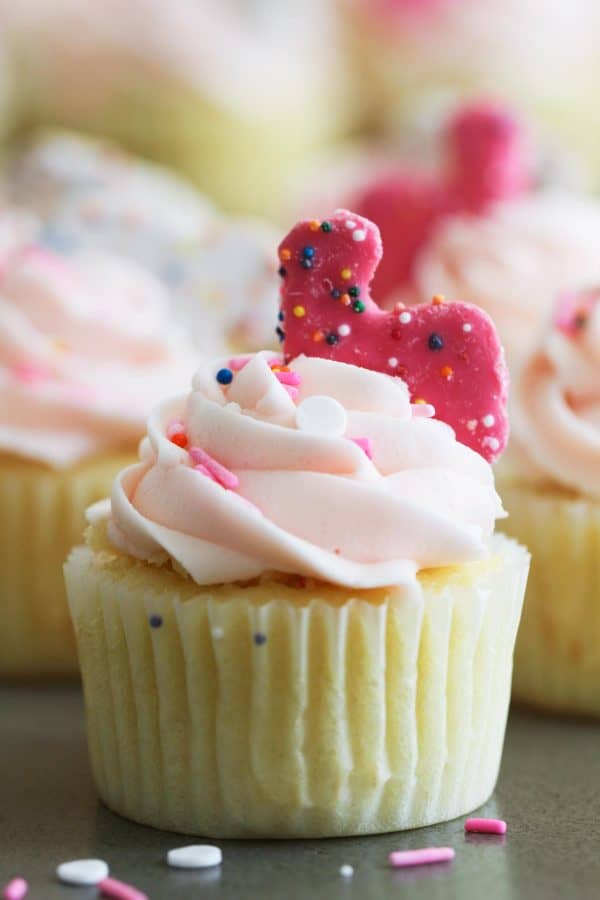 The thing is – I love my little corner of the internet here. I can't imagine not doing this. I have grown and changed in the last 11 years, right along with this blog, and I feel like it is part of me now. And life just wouldn't be the same without it. So thank you for coming back time and time again and for reading. Thank you for cooking from my blog. Thank you for sharing the recipes, and for sharing parts of your lives with me. Thank you for commenting and for following me on social media. And thank you to those of you who silently read. This wouldn't be quite as fun to do without all of you out there reading and following along.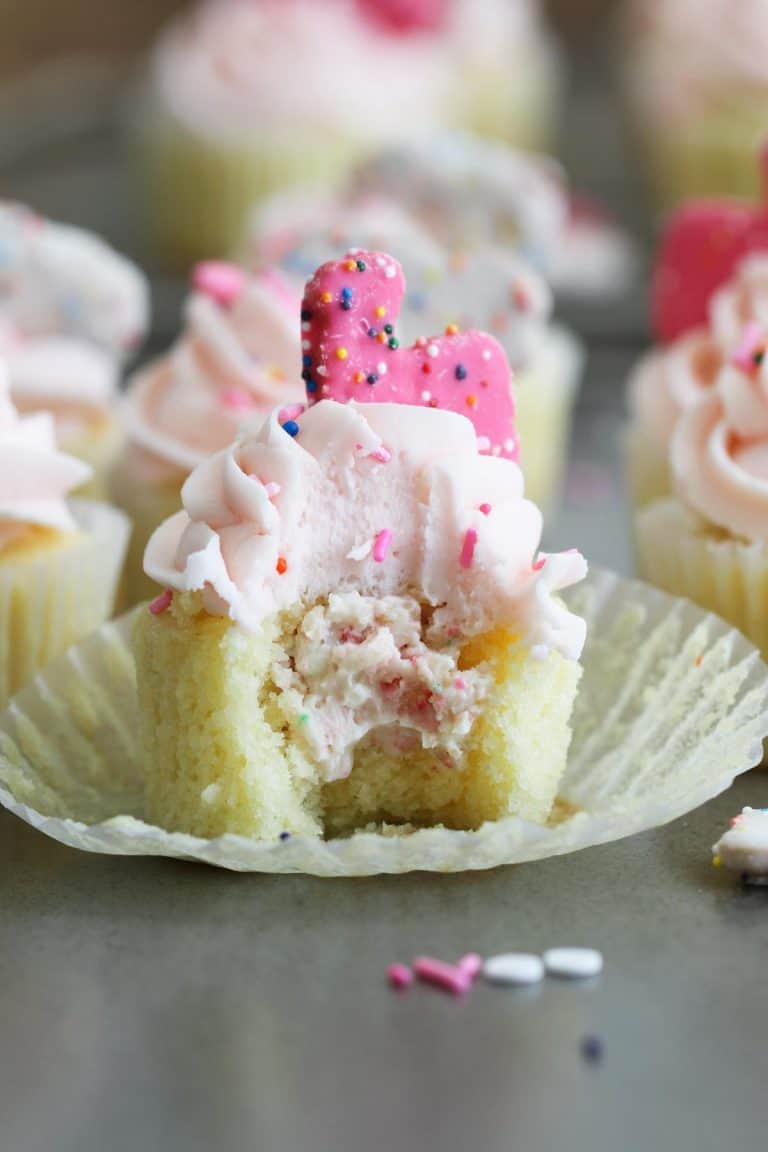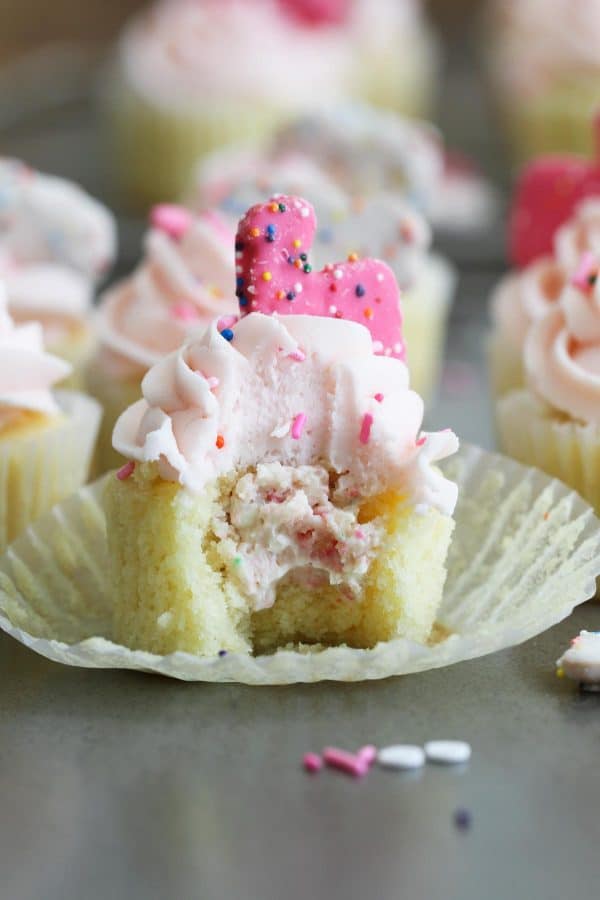 I had to make something to celebrate, and I knew I wanted to make some sort of cupcake recipe. Inspired by a bottle of Sweetapolita sprinkles I had hanging out in my pantry, these Circus Animal Cookie Cupcakes were born. I have been a sucker for Circus Animal Cookies since I was a kid, so I was super excited to create these cupcakes.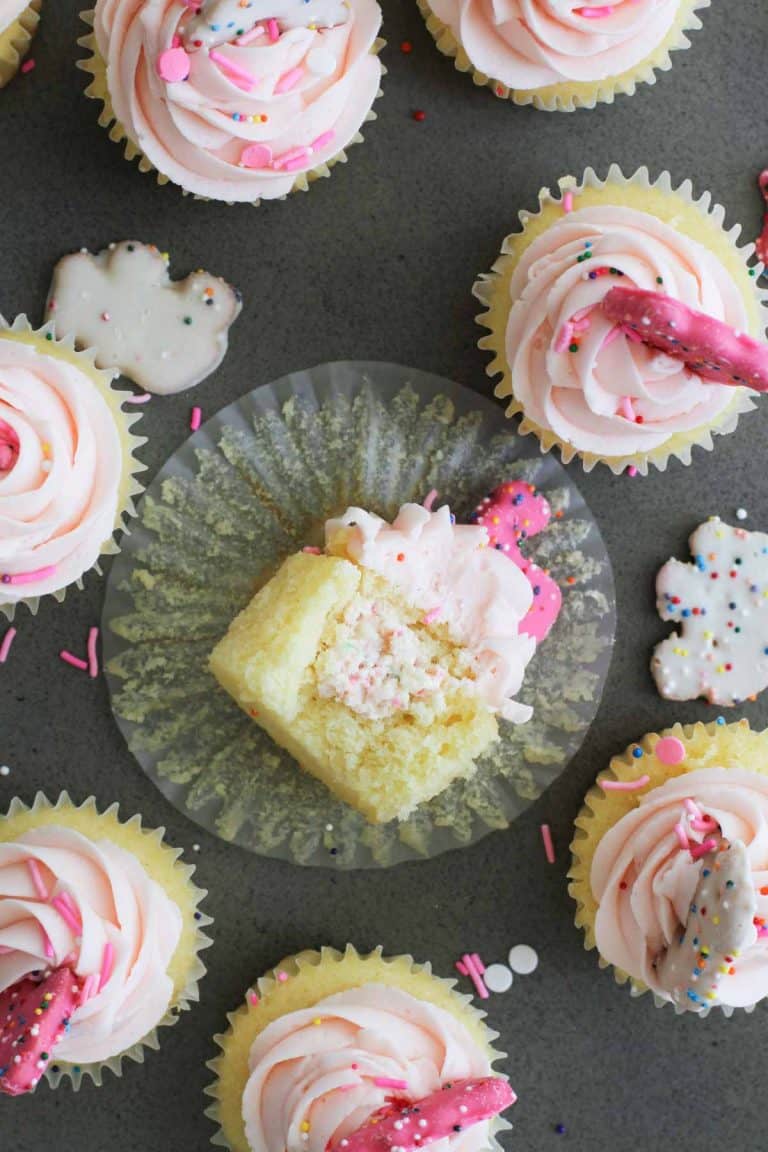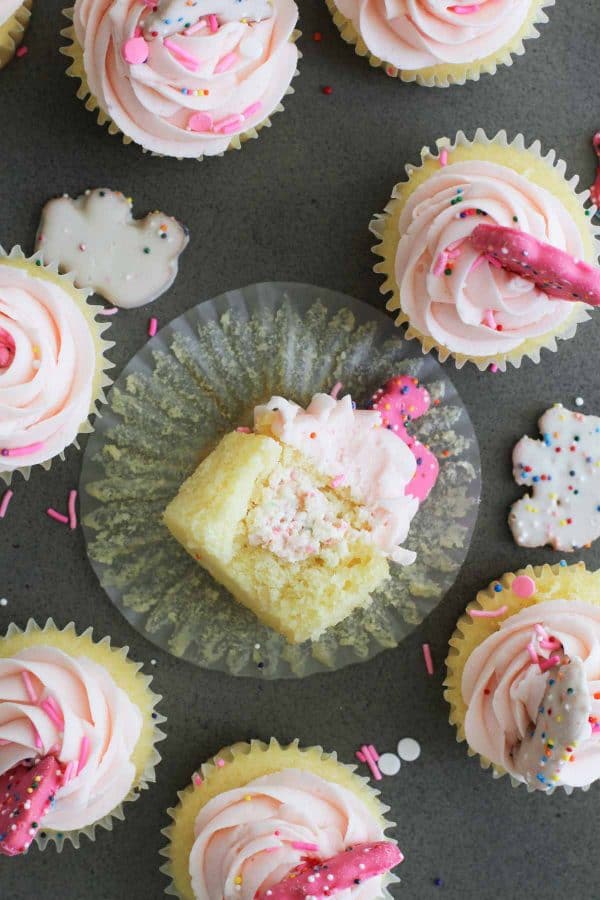 How to make the Circus Animal Cookie Cupcakes
To make the cupcakes, you start with a basic vanilla cupcake. This cupcake recipe is my go-to – I've used it as the base recipe for many cupcake recipes here on Taste and Tell. And I keep going back to it because it is super reliable, super easy, and super delicious.
The filling is a cheesecake inspired filling with crushed cookies in the filling. I wanted there to be more of a cookie aspect besides just topping the cupcake with a cookie, and I'm so glad I added the cookies to the filling. I think it was the perfect addition.
The frosting is a basic buttercream, but that is probably my favorite. This cupcake didn't need anything super fancy, so I think these ended up just right.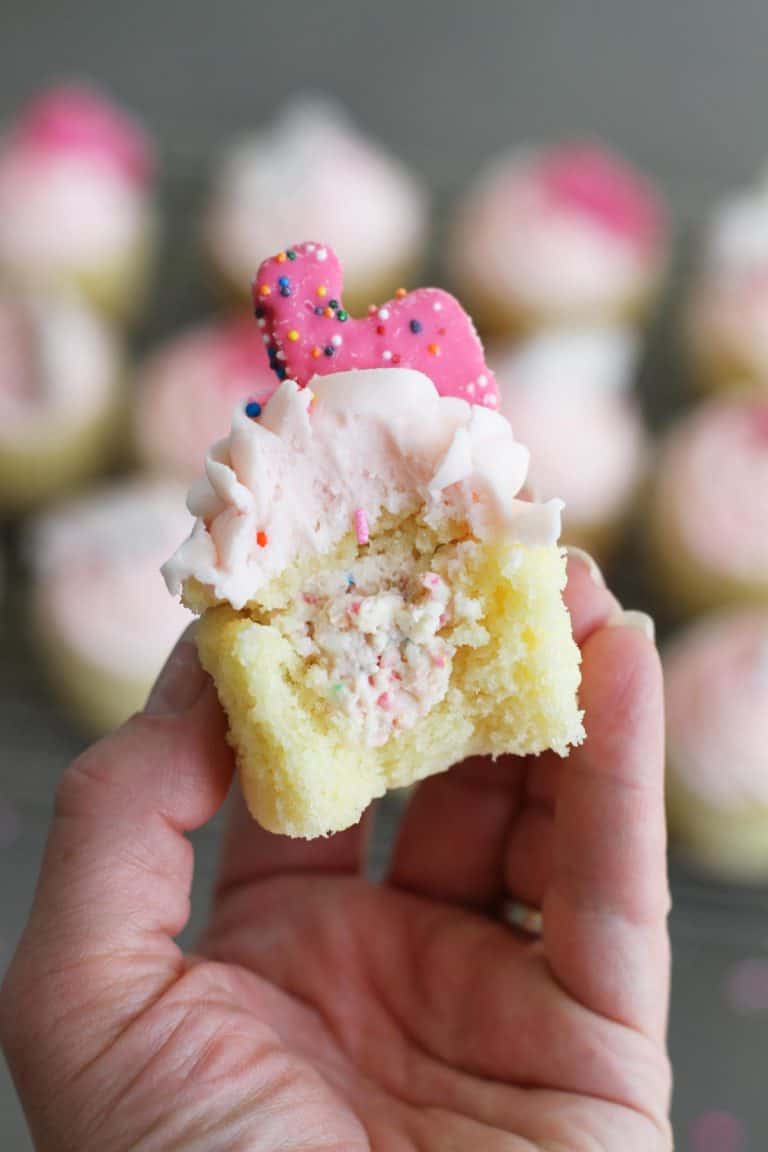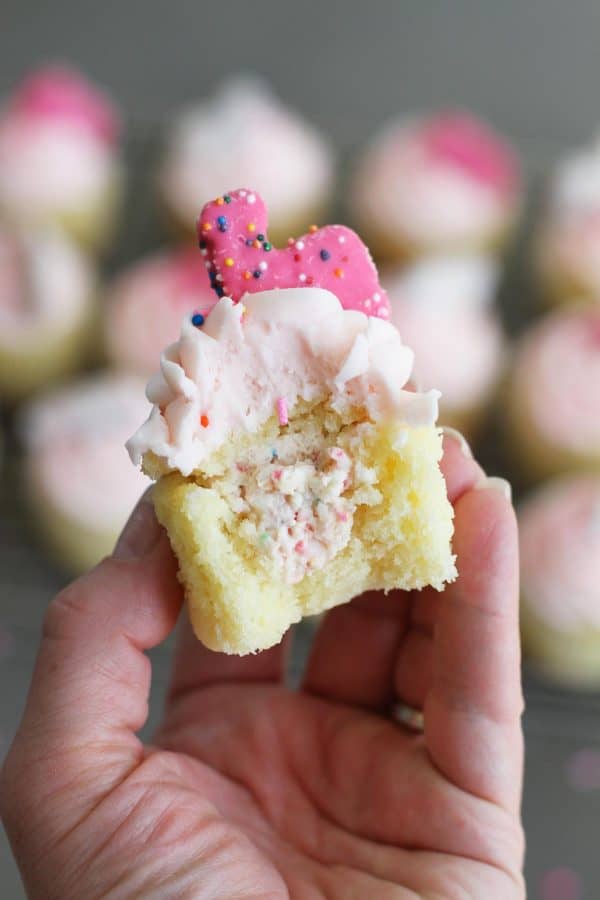 Here's to another 11 years, and more!!
Looking for more celebration cupcake recipes?
Lemon Sunshine Cupcakes
Coconut Cherry Cupcakes
Chocolate Sour Cream Cupcakes with Chocolate Buttercream
Chocolate Cupcakes with Raspberry Filling and Raspberry Chocolate Buttercream
Funfetti Frosting
Like what you see here? Make sure you are following Taste and Tell for more great recipes and ideas!!

Facebook ** Pinterest ** Twitter ** Instagram ** Google+
or you can subscribe to my newsletter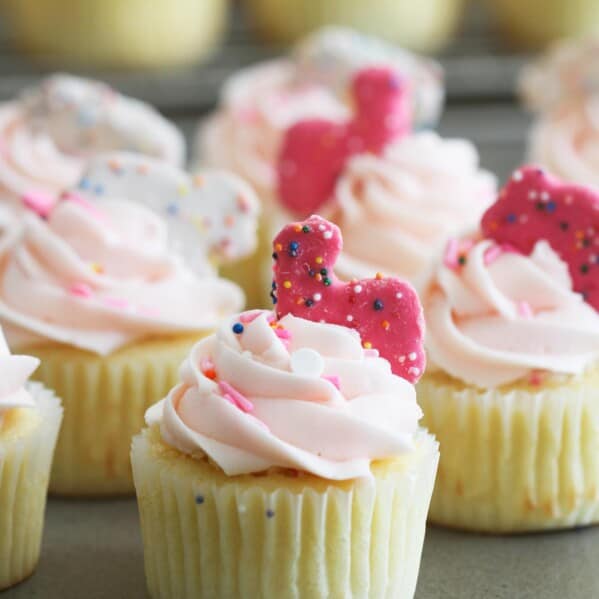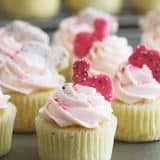 Circus Animal Cookie Cupcakes
---
Author:
Prep Time: 30 mins
Cook Time: 18 mins
Total Time: 48 minutes
Yield: 36 servings 1x
Category: Dessert
Description
These Circus Animal Cookie Cupcakes have vanilla cupcakes filled with a circus animal cookie infused cheesecake center, then topped with vanilla buttercream. Top it all off with a circus animal cookie for a fun, playful and delicious cupcake!
---
Scale
Ingredients
Cupcakes:
3 cups all-purpose flour
2 teaspoons baking powder
1 teaspoon salt
2 cups sugar
1 cup butter, softened
4 eggs
1 teaspoon vanilla extract
2 cups buttermilk
Filling:
1/2 cup heavy whipping cream
1/4 cup powdered sugar
1 teaspoon vanilla extract
4 oz cream cheese, at room temperature
3 oz frosted circus animal cookies, crushed (about 23 cookies)
Frosting:
1 cup butter
5 cups powdered sugar
Pinch of salt
3–4 tablespoons heavy whipping cream
36 frosted circus animal cookies
---
Instructions
To make the cupcakes: Preheat the oven to 350ºF.  Line 36 muffin tins with cupcake liners.
In a medium bowl, combine the flour, baking powder and salt. In a large bowl, cream the sugar and butter together on medium speed. Add in the eggs, one at a time, scraping down the bowl and beating after each addition. Beat in the vanilla. Add 1/3 of the flour mixture and beat to combine. Add 1/2 of the buttermilk and beat, followed by another 1/3 of the flour, the remaining buttermilk, then the remaining flour mixture, beating just until combined.
Divide the batter evenly between the 36 cups, filling each about 2/3 full.
Bake in the preheated oven for 15-18 minutes, or until a toothpick inserted in the middle comes out clean. Remove from the oven and allow the cupcakes to cool for 5 minutes before removing to a cooling rack to cool completely.
To make the filling: Combine the cream, powdered sugar and vanilla in a medium bowl or the bowl of a stand mixer. Beat until stiff peaks form. Add the cream cheese and continue to beat until completely combined.  Stir in the crushed cookies.
To make the buttercream: Beat the butter in the bowl of a stand mixer or in a medium bowl with a hand mixer until light. Slowly add in the powdered sugar, 1/2 cup at a time, beating completely between additions. Once all of the powdered sugar has been added, mix in a pinch of salt. Add in the cream, 1 tablespoon at a time, until you reach your desired consistency.  If desired, add 1-2 drops of red food coloring to color the buttercream pink.
To assemble:  Use a sharp knife to cut a cone out of the center of each cupcake, reserving the cut piece. Fill the center with 1 teaspoon of the filling, the replace the cut out piece back to the cupcake. Repeat with the remaining cupcakes.
Pipe the frosting onto the cupcakes. Top with a frosted circus animal cookie and sprinkles if desired.
Recipe Notes:
Nutrition information provided as an estimate only. Various brands and products can change the counts.
Nutrition
Serving Size: 1 cupcake
Calories: 323
Sugar: 31 g
Sodium: 1170 mg
Fat: 17 g
Saturated Fat: 11 g
Unsaturated Fat: 5 g
Trans Fat: 0 g
Carbohydrates: 42 g
Fiber: 0 g
Protein: 3 g
Cholesterol: 59 mg