Have leftover bananas sitting around? Turn them into this Banana Coffee Cake. And don't skip out on the honey glaze – it totally makes this breakfast cake!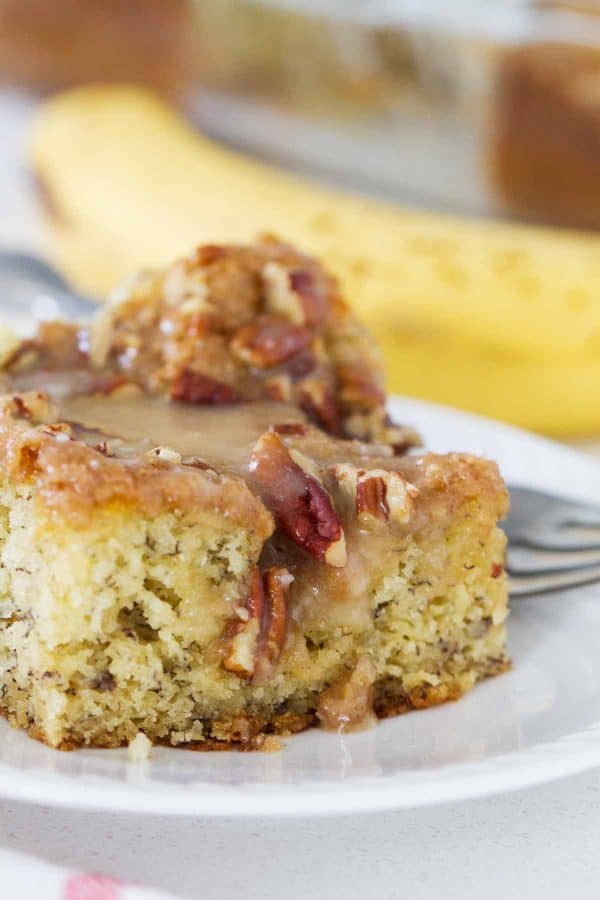 My husband doesn't like banana bread. Such a shame, right? Luckily, the kids all do, so that doesn't stop me from making it, but I've made it my goal to find ways of using those overripe bananas that my husband will actually get behind. Well, I think I've found the answer.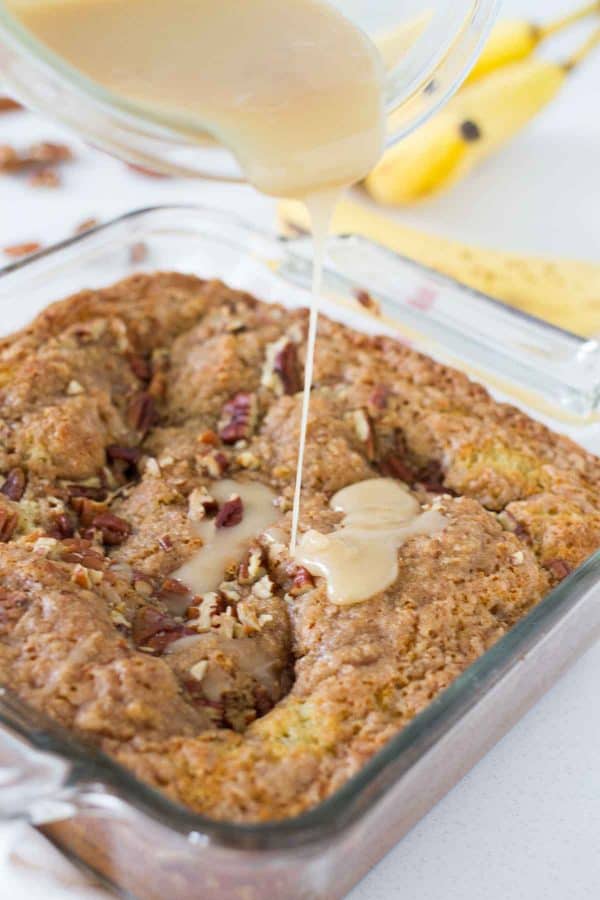 First of all – bananas in the form of cake. Win! Second, cake for breakfast. Double win!! But really, how could you go wrong with this Banana Coffee Cake? This is definitely not a plain jane recipe with nothing going one. You start with a moist cake, full of banana flavor. The sour cream in the cake makes it so that it is not dry in the least. Because no one wants cake that is dry and flavorless.
The cake on its own would be wonderful. But you're going to take it even further. With a streusel topping. If you know me, I'm all about the streusel. In fact, I've been known to double the topping when there is a streusel. I didn't double this one, but it still makes enough to put a generous layer on the cake. On top of the streusel are the pecans. I almost skipped the nuts, because I was feeding this to my family and they aren't always 100% on board with the nuts, but I decided to add them anyway. The nuts totally enhanced this coffee cake. If you can, try not to omit them!
And last, but certainly not least, is the honey glaze. I think I want to drizzle this glaze on absolutely everything. SO good.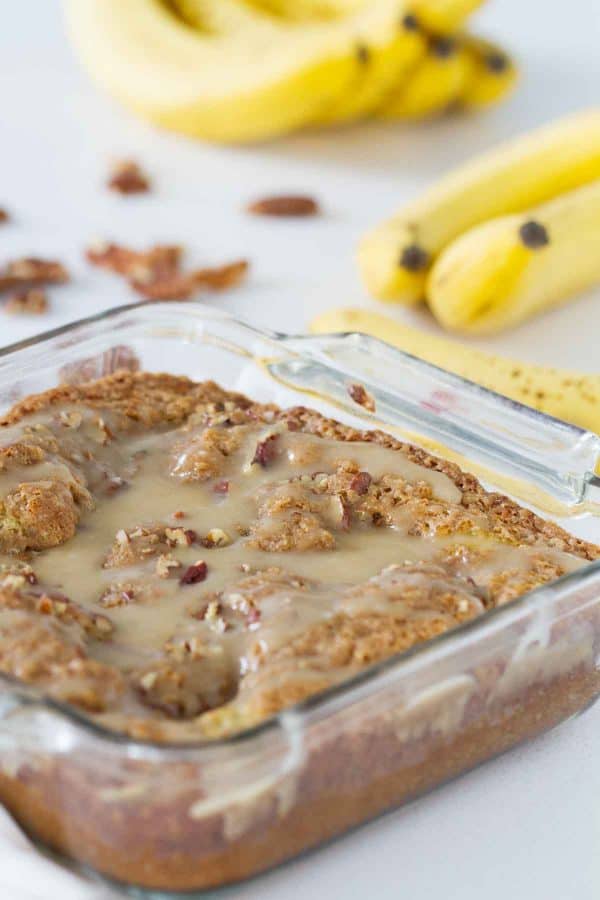 This Banana Coffee Cake recipe comes from a new-ish cookbook to my collection – Big Bad Breakfast. And I'm not going to do a formal review, because I had a few issues with the book and wouldn't feel comfortable suggesting it to all of you. I do love the concept, though – you can never go wrong with breakfast! The author is a chef. I find that often, when cookbooks are written by chefs, the recipes don't convert over very well for the average US kitchen. And I'm guessing that is what has happened with this book. Of the three recipes that I tried, this third recipe is the only one that turned out. The first was a total fail, the second was definitely a fail, but it had some potential. But this third recipe was a success, so I guess the failures that went before are all forgiven now. 🙂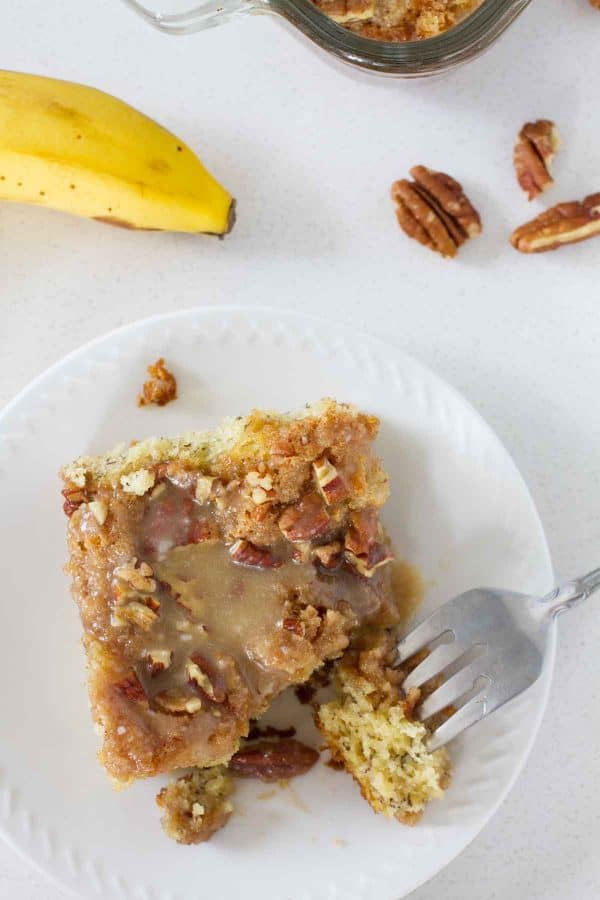 Want more cake for breakfast? Try these Crumb Buns (yes to more streusel!), this Blueberry Lime and Coconut Breakfast Cake (tastes like summer!) or this Sour Cream Coffee Cake (it's a classic!)
Or check out these other breakfast treats from around the web:
Lemon Crumble Breakfast Cake from Saving Room for Dessert
Blueberry Banana Breakfast Cake from The Reluctant Entertainer
Banana Split Coffee Cake from Inside Bru Crew Life
Like what you see here? Make sure you are following Taste and Tell for more recipes and ideas!
Facebook | Pinterest | Instagram | Twitter | Google+ | Weekly Newsletter | Feedly | Bloglovin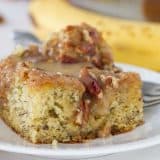 Banana Coffee Cake with Honey Glaze
---
Author:
Prep Time: 10 mins
Cook Time: 35 mins
Total Time: 45 minutes
Yield: 9 servings 1x
Category: Breakfast
Description
Have leftover bananas sitting around? Turn them into this Banana Coffee Cake. And don't skip out on the honey glaze – it totally makes this breakfast cake!
---
Scale
Ingredients
Cake:
1/3 cup granulated sugar
1/4 cup unsalted butter, at room temperature
2 ripe bananas, mashed
1/4 cup sour cream
1 egg
1 1/4 cups all-purpose flour
1 tablespoon baking powder
1/2 teaspoon baking soda
1/4 teaspoon ground nutmeg
1/4 teaspoon salt
1/4 cup milk
Streusel:
1/4 cup all-purpose flour
1/4 cup packed light brown sugar
2 tablespoon granulated sugar
1/2 teaspoon ground cinnamon
3 tablespoons cold unsalted butter, cut into cubes
1/3 cup toasted chopped pecans
Honey Glaze:
1/2 cup powdered sugar
2 tablespoons honey
1 1/2 teaspoons vanilla extract
1 tablespoon milk
1 1/2 tablespoon unsalted butter, melted
---
Instructions
Preheat the oven to 375ºF. Grease an 8-inch square baking dish. Set aside.
Combine the sugar and butter in a large bowl and cream with an electric mixer until light and fluffy, about 5 minutes.  Beat in the bananas, sour cream, and egg.  Mix until thoroughly combined.
In another bowl, stir together the flour, baking powder, baking soda, nutmeg and salt.  Add the dry ingredients into the banana mixture, then add the milk.   Beat until completely combined.  Pour the batter into the reserved dish.
In another bowl, combine the flour, both sugars, and the cinnamon.  Add the butter – using a pastry cutter, fork, or your fingertips, cut the butter into the mixture until coarse crumbs form.  Sprinkle the topping over the batter, then sprinkle the pecans on top.
Bake until the cake is golden brown, about 35 minutes.
While the cake is cooking, make the glaze.  In a small bowl, whisk together the powdered sugar, honey, vanilla, milk and melted butter.
Drizzle the cake with the glaze, then let it cool for 10 minutes before cutting into squares.
Coffee cake with last up to 2 days covered.
Nutrition
Serving Size: 1 piece
Calories: 494
SHOP THIS POST!
Don't miss a thing! Follow me on Pinterest to see what I'm pinning!
Visit Taste and Tell's profile on Pinterest.


I received this book from Blogging for Books for this review, but all opinions are my own. This post contains affiliate links. If you purchase an item from Amazon from the link Taste and Tell receives a small commission. Thank you for supporting Taste and Tell through your purchases!