Light and fluffy and perfect for the holiday season, these Cranberry Cinnamon Rolls are filled with a cranberry filling and topped with a delicious and unique frosting.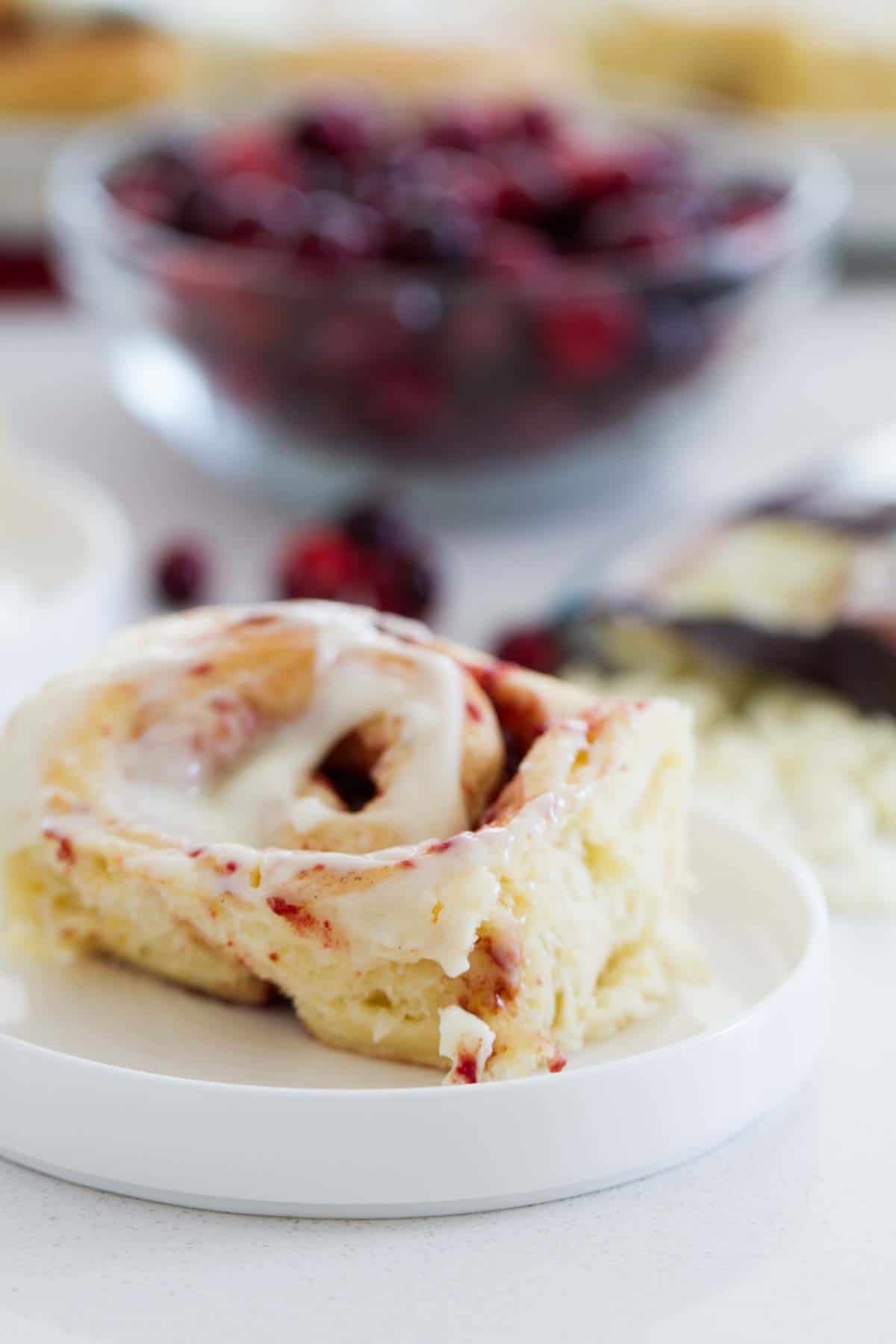 This post has been sponsored by The Hershey Company, but all opinions are my own. Thank you for supporting me and the companies I partner with.
There is just something about the holiday season. The lights, the songs, the smell of balsam wafting through the air – I just can't help but walk around with a smile on my face and a skip in my step. I have to listen to Christmas music every chance I get, and I want to add peppermint to everything.
And of course – you cannot forget all of the holiday baking.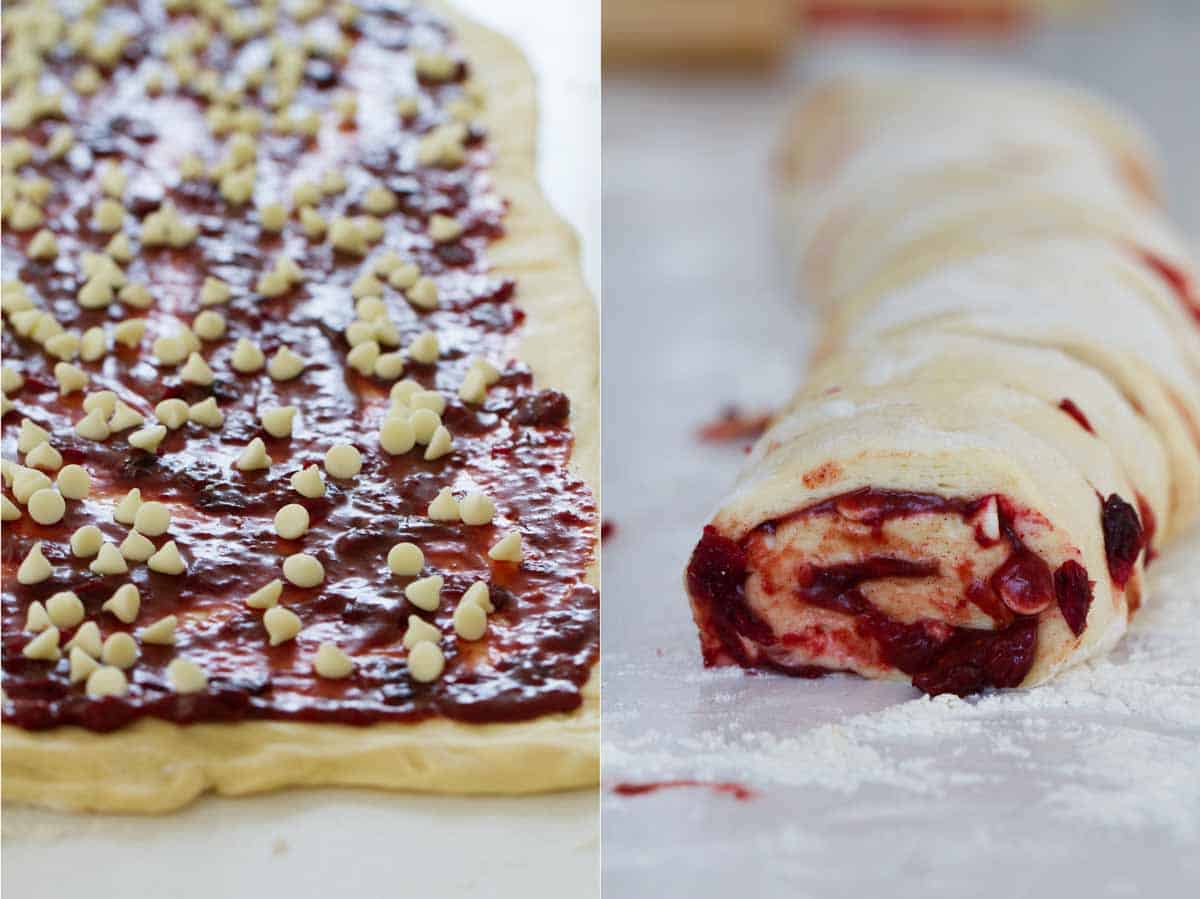 Growing up, I can remember it was all about the homemade neighbor gifts. My mom would make her homemade chocolates. We would get cookies and popcorn. And we had one neighbor that would always bring a pan of homemade cinnamon rolls. So now, all of these years later, I still will often associate cinnamon rolls with Christmas, just because they were part of my childhood Christmas.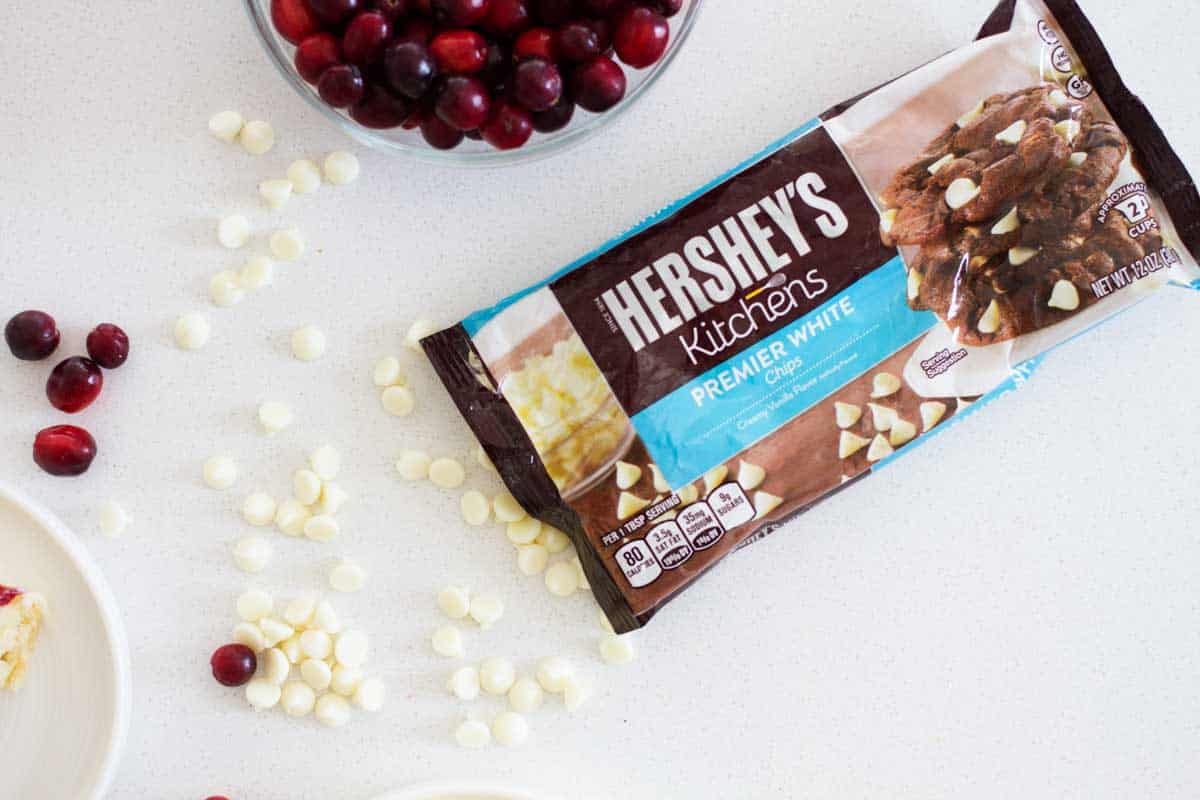 Now that I'm older, with a family of my own, we have started with our own traditions. I feel like we add on something each year, and this year, I want one of those traditions to incorporate the hand delivering of neighbor treats like I remember as a child. Since we moved this year, and are in a brand new neighborhood, I feel like this holiday season is the perfect time to begin!
And I am seriously considering giving out these Cranberry White Chocolate Cinnamon Rolls as our neighbor gift.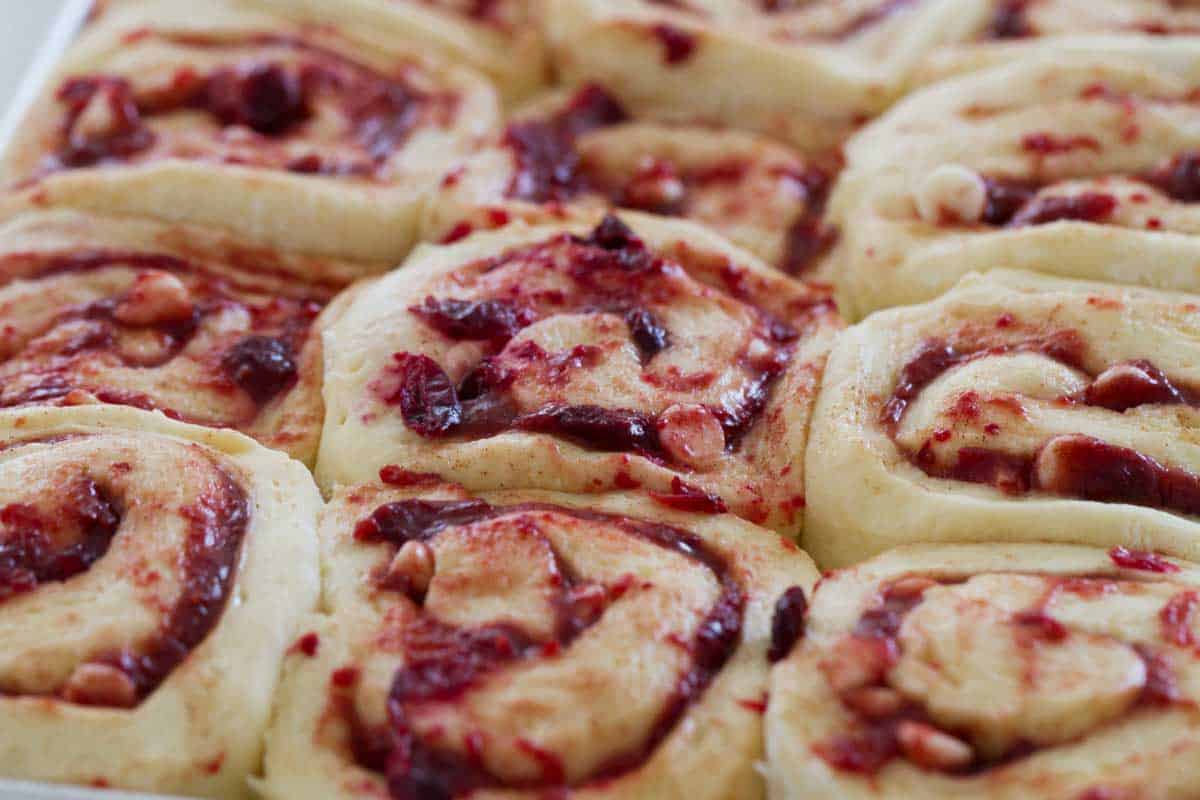 Now, I have no problem with regular cinnamon rolls. In fact, cinnamon rolls are one of my very favorite things. But when the holiday season is upon us, we have to give them a holiday twist, right? Especially if we are giving them as part of a Christmas gift.
I love peppermint, and I love eggnog, but I am especially obsessed with cranberry during the holiday baking and cooking season. Every year when I see the fresh cranberries pop up in the grocery store, I get giddy and I grab a big bag.
This year, I turned those fresh cranberries into these irresistible Cranberry Cinnamon Rolls.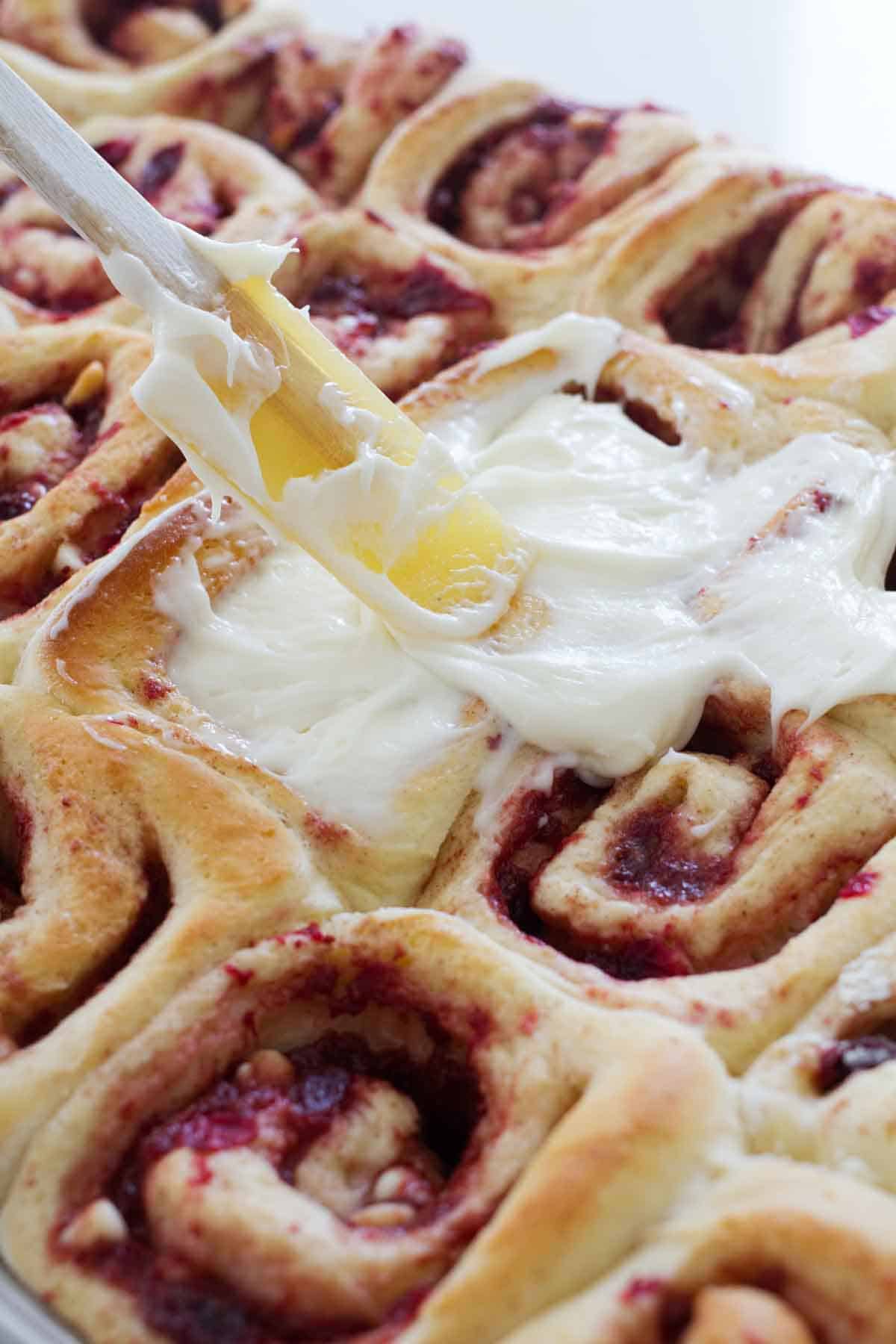 These rolls are holiday perfection. A soft dough with a cranberry white chip center. Topped off with a white chip glaze. Really – can you beat that??
And I love that besides the fresh cranberries, I can simply reach into my pantry to make these. They take all of your basic baking ingredients – flour, sugar, yeast, etc. I always have a basket full of my favorite baking chips, including a variety from HERSHEY'S Kitchens, such as the HERSHEY'S Kitchens Premier White Chips that I use in this recipe. So often, recipes combine cranberry and orange, but after looking at a bag of these chips, I knew I had to do a cranberry white chip combination.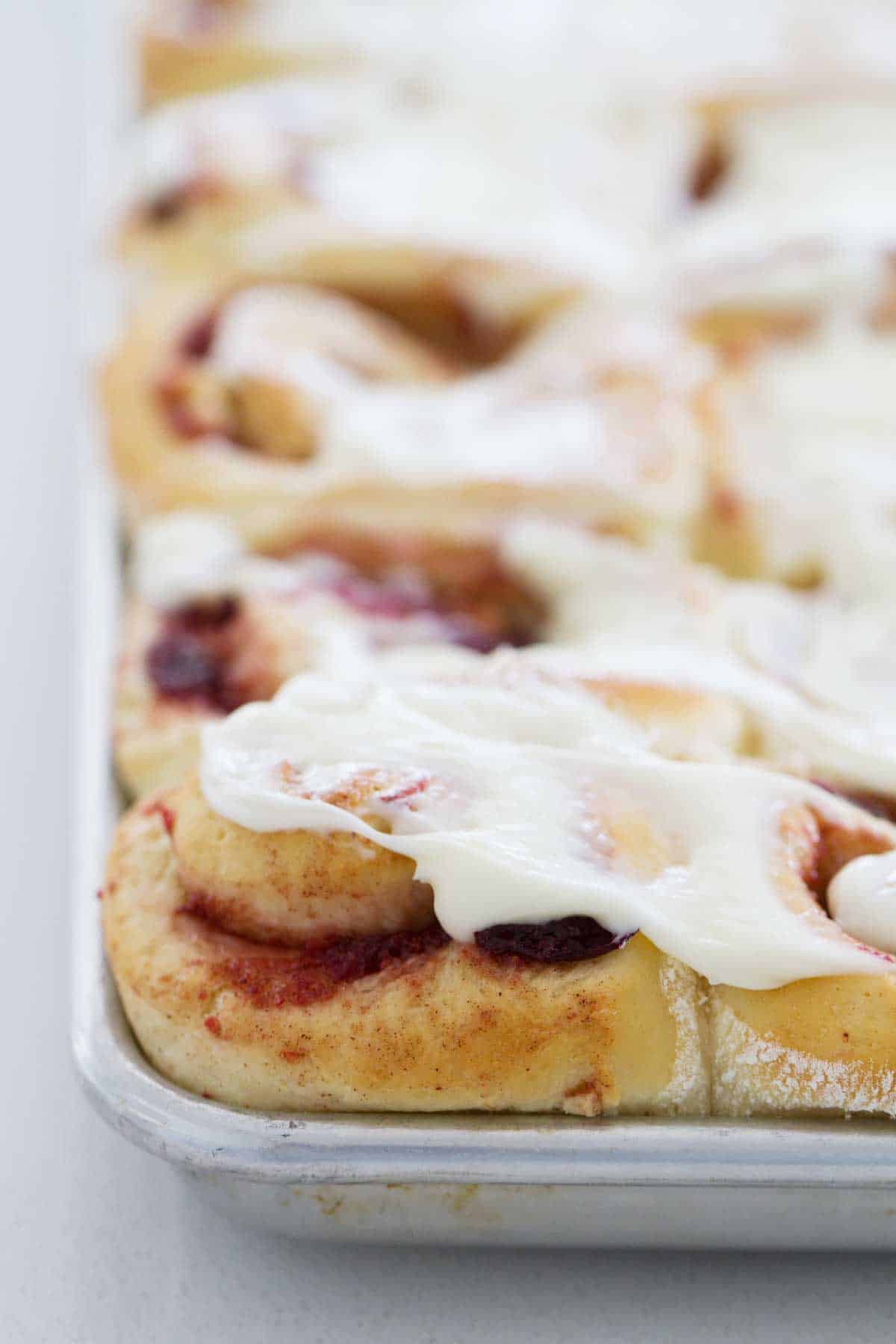 The filling for these Cranberry Cinnamon Rolls is probably my favorite. Fresh cranberries and cooked down and then spread over a homemade cinnamon roll dough. Then at the last minute, I decided to throw in the HERSHEY'S Kitchens Premier White Chips, because why not, right? Once the rolls are baked, they get an easy frosting that only takes minutes to put together.
I'm excited to be starting a neighborhood gift tradition with my children, and will be even more excited if it includes a big batch of these rolls!
Thank you for supporting this post that is sponsored by The Hershey Company. For more tips on how to make this recipe a success, check out the tricks I wrote at the bottom of this blog.
Tips for Success:
I used all-purpose flour for the rolls, but for a sturdier, chewier roll, you can use bread flour.
Can't find any fresh cranberries at your grocery store? Look for frozen first, or you can substitute in another kind of berry. Remember, though, other berries are much sweeter, so you'll need to cut way back on the sugar.
Having good yeast is a very important step. If the yeast mixture does not become foamy, discard and start with a new yeast.
Make them ahead! You can make the rolls up to the point where you place them on a baking sheet, and cover them and refrigerate them until you are ready to bake – you can even do this the night before!
You can also make them ahead and freeze them! Make them to the same point as above, then cover in plastic wrap and foil and freeze until you are ready to eat. Let the rolls thaw and rise before baking and frosting.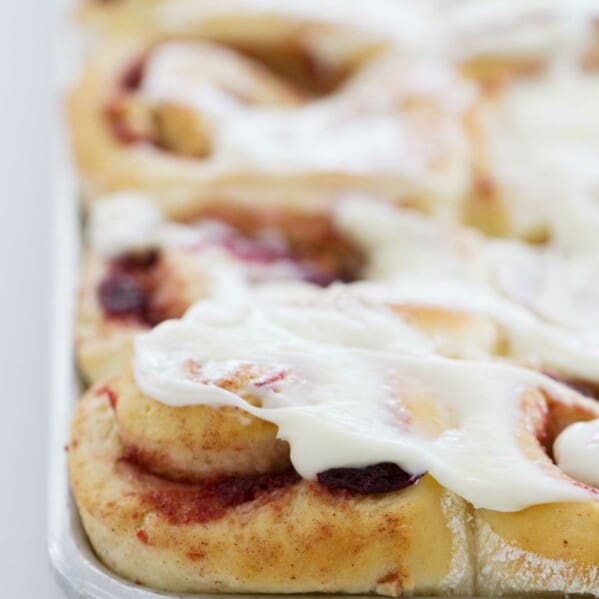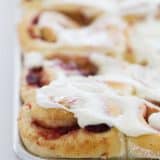 Cranberry Cinnamon Rolls
---
Author:
Prep Time: 45 minutes
Cook Time: 20 minutes
Total Time: 3 hours
Yield: 24 servings 1x
Category: Breakfast
Method: Baked
Cuisine: American
Description
Light and fluffy and perfect for the holiday season, these Cranberry Cinnamon Rolls are filled with a cranberry filling and topped with a delicious and unique frosting.
---
Scale
Ingredients
Rolls:
1/2 cup butter, cut into cubes
2 cups 2% milk
1/2 cup warm water
2 tablespoons active dry yeast
3/4 cup granulated sugar
2 eggs
1 teaspoon salt
6 1/2 – 7 1/2 cups all-purpose flour
Filling:
1/4 cup water
3/4 cup granulated sugar
2 cups fresh cranberries
1/2 cup butter, softened
3/4 cup brown sugar
1 tablespoon cinnamon
Frosting:
4 tablespoons butter
4 oz cream cheese, softened
2–3 tablespoons heavy whipping cream
1 1/2 cups confectioners' sugar
---
Instructions
To make the dough:
Combine the butter and milk in a saucepan and heat over medium heat just until the butter is melted.  Remove from the heat an allow to sit until lukewarm.
Meanwhile, combine the warm water, yeast and 1 teaspoon of the sugar in the bowl of a stand mixer.  Allow to sit until the mixture becomes foamy.
Once the milk mixture has cooled, add it to the yeast mixture along with the rest of the sugar, eggs, and salt. Mix until combined.  Mix in 4 cups of the flour.  Continue to add the flour, 1/2 cup at a time, until the dough is still sticky but able to pull from the sides of the bowl with a spatula.
Transfer the dough to a large greased bowl and turn to coat. Cover and allow to rest until doubled in size, about 1 hour.
To make the filling:
Combine the water and granulated sugar in a saucepan and cook over medium heat until the sugar is dissolved.  Add the cranberries and cook until the cranberries are bursting.  Place a fine mesh sieve over a bowl and place the berries in the sieve. Use a rubber spatula to press down on the berries, draining as much of the liquid as you can.  Discard the liquid or reserve for another use.
In a bowl, combine the butter and the brown sugar and mix to combine.  Add the drained cranberries and the cinnamon and mix thoroughly.
To assemble the rolls:
Pour the dough out onto a lightly floured surface.  Roll the dough into a large rectangle, about 24 inches by 12 inches.  Spread the cranberry mixture evenly over the top of the dough, leaving a 1-inch border.  Sprinkle the white chips evenly over the top. 
Roll the dough from the bottom, making a large 24-inch roll. Cut off the very edges, then cut the dough into 24 rolls.  Transfer to a large half-sheet baking pan that has been spraying with nonstick cooking spray or lined with parchment paper.  Cover and let rise for 30-45 minutes.
Preheat the oven to 350ºF. When the rolls are done rising, bake in the preheated oven for 17-20 minutes, or until the tops are golden brown. Do not overbake.
To make the frosting:
Combine the butter and white chips in a medium microwave safe bowl. Microwave on high for 30 seconds, then stir until the chips are melted and the mixture is well combined. If the chips aren't melting, microwave in 10 second increments.  Add the cream cheese, and beat until combined and smooth.  Add in the powdered sugar slowly, mixing completely.  Add in enough heavy cream until you reach a spreadable frosting consistency.
Spread the frosting on the warm rolls and serve.
Keywords: cranberry cinnamon rolls