Strawberry Colada Macarons – Coconut French macarons are sandwiched with strawberry buttercream in these light meringue cookies.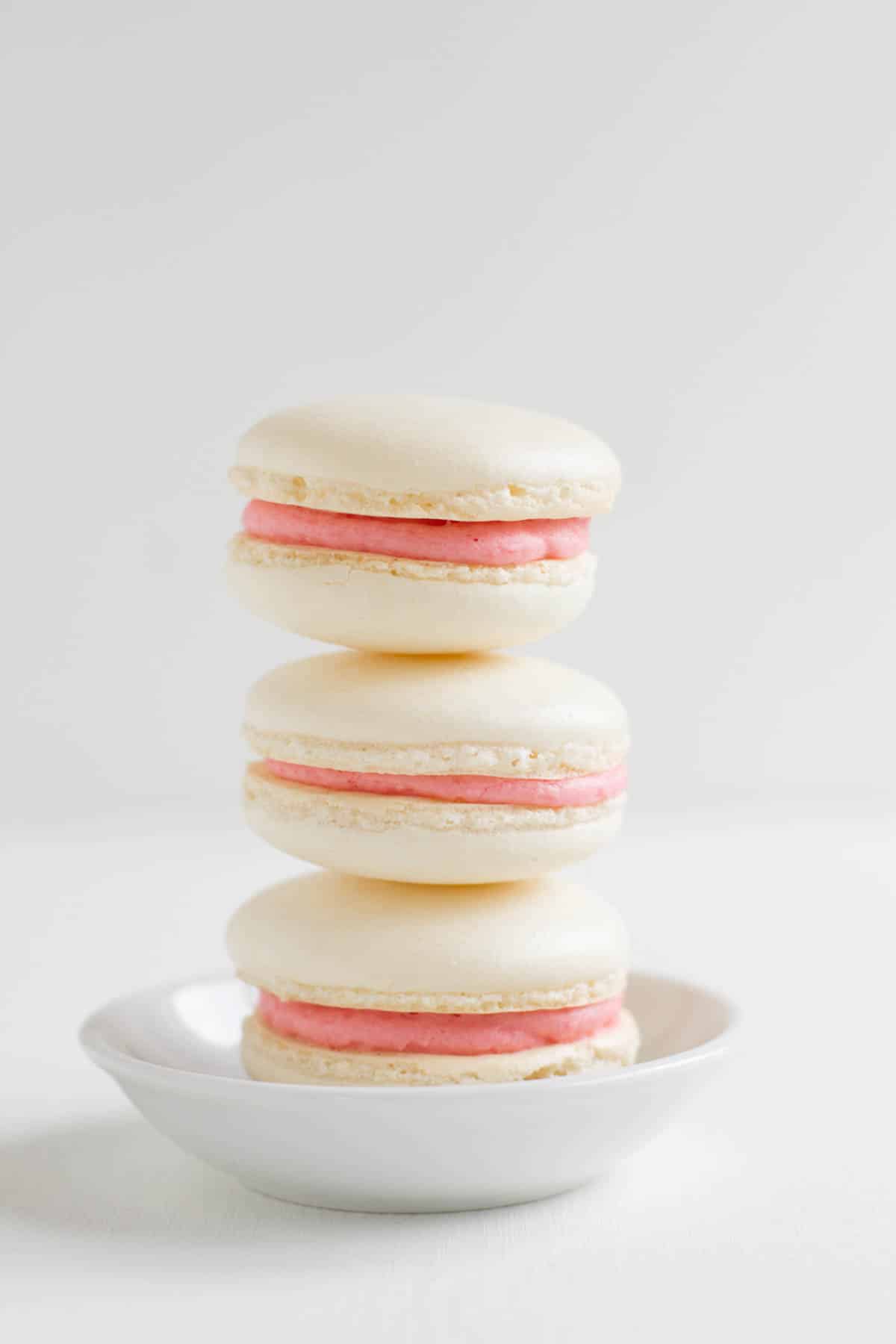 As with most things, my blogging journey has taken many twists and turns over the last 7 years. When I first started, my blog was really just a place where I could review and talk about the recipes that I had made. That's why – if you go through the first few years of my blog, you will find a sprinkling of recipes that I didn't love or that I had problems with.
Today, it's more about bringing you the best of the best. If we didn't love it, it doesn't make it on. There is testing and changing and perfecting.
Somewhere in the beginning/middle years, I decided that I needed to start challenging myself. That's when the Daring Bakers came in – and with a monthly challenge – I was stretched and challenged and learned something new every month. But ever since I stopped those monthly challenges, I haven't been as diligent in trying new things. New recipes? Yes. Working on the skills that I had already tried but needed to perfect? Yes. But branching out and trying something completely new? Not so much.

But that has changed. It all started with an email from Sucré. If you've been to New Orleans, that name will probably be familiar. Hey – even if you haven't been to New Orleans, you'll probably know who they are. I have never been, but have visiting Sucré on my culinary and travel bucket list!! Sucré is a boutique that specializes in macarons. Not macaroons. Macarons. The French meringue cookies that people go crazy over. They emailed me, offering up a chance to go head to head with some of my fellow bloggers, and to make up my own flavor combination for a macaron.
I had never even heard of macarons before I started blogging. A little ways into my blogging adventure, I came across these delicate cookies on Tartelette. I started hearing stories about how difficult and finicky they can be, and to be honest – I was scared from the beginning. Since I had no idea what they even tasted like, Helen from Tartelette graciously agreed to do a little cookie swap with me. I received her cookies in the mail and fell in love.
Since then, macarons have become a little easier to find. I've had good ones, and I've had ones that were not as good. But all of these years, I have been too scared to try them.
Even though my calendar has been overflowing lately, I decided that I needed to take this challenge on. Mostly because I was feeling the need to challenge myself – to try something new. And I'm so glad that I did!!
The biggest thing that I learned was that the reason so many people are scared to make macarons is probably because there is so much information out there, and it can get confusing and overwhelming. I read blog post after blog post, article after article, watched video after video. Everyone claims that their method is the best way, and a lot of the information out there is contradictory.
What I learned is that you have to figure out what works for you. I am not an expert by ANY means. And normally, I probably wouldn't even post these here until I had everything down and perfected, but this post is mostly about the journey. And let's face it – even when a batch of macarons doesn't turn out quite right, they are still delicious!!
Sucré sent me a recipe that was adapted from their recipe for a home cook. I was totally going to use that recipe, but since this was my first try, I was a little scared to go with it as written. I know that especially with macarons, they can be finicky and most people weigh out their ingredients. The recipe that sucre sent me was in volume, not weight. I thought I'd convert it to weight, but there were a lot of conflicting opinions as to how much a cup of almond flour weighs. So needless to say, my first batch was a total flop. (I should have just stuck with the volume measures!!)
But I would not be defeated, so I decided to try a new recipe. A few bloggers had recommended a recipe from BraveTart, and her method seemed the least intimidating of any that I had read.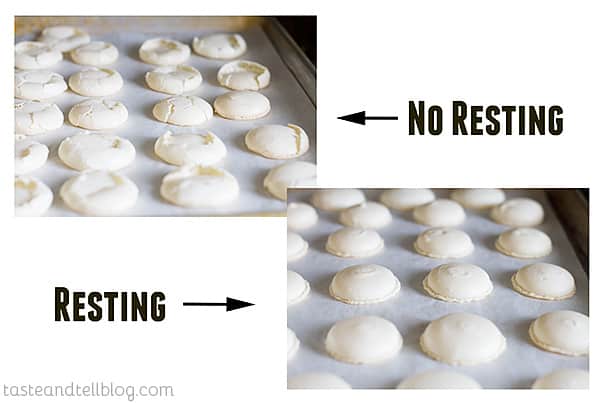 So I set to work. One of the biggest differences that I saw on this method versus the million other recipes I read was that she says that there is no need to "rest" the macarons before baking. Most recipes say to leave the macarons out for 30 minutes to an hour so that a skin can form on the meringue. So I decided to try her method. The batch made enough for 2 baking sheets, and since I never have good luck with baking 2 sheets at the same time, I put the first sheet into the oven and left the second out to rest on the counter.
When I pulled the first tray out, I was so sad because they were all cracked and there were no feet. I put the second tray in anyway, and to my surprise, when I pulled them out, they looked amazing! All of the macarons had smooth tops and feet except one that had slightly cracked. I was so confused as to why the 2 trays were so different, when they came from the same batch of batter.
So I did some more research, and so many things pointed to not resting the macarons. It made sense, since my second try had rested for about 25 minutes before I put it in the oven. So I decided I needed to try it again. A third batch was made, and I did exactly as I did the with the previous batch. Almost the exact same results.
I know several other bloggers have had good luck without resting, but maybe it's an altitude thing, or something else beyond my control, because I think it's pretty apparent that I need to be resting my macarons. Which is fine, because it's only 30 minutes!
I still need a lot of practice. These are definitely not perfect, and they were hollow when they shouldn't have been, but I've caught the macaron bug now. I can't wait to get back into the kitchen to try to figure out what works perfectly for me!!
I decided to go with a coconut flavored shell with a buttercream made with fresh strawberries for the filling. I have already thought of new flavor combinations I want to try, too, but I'm not going to lie – these were pretty amazing!!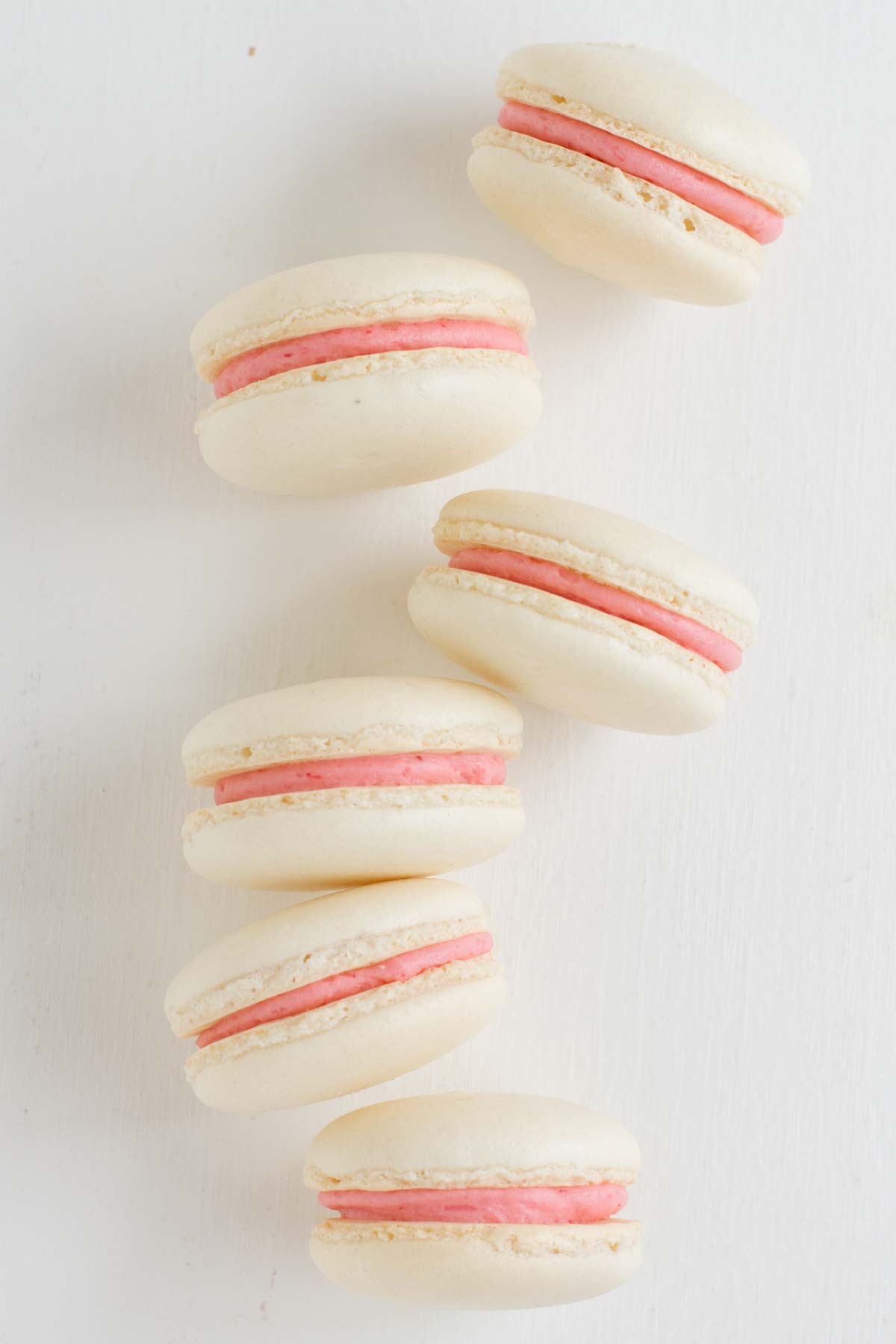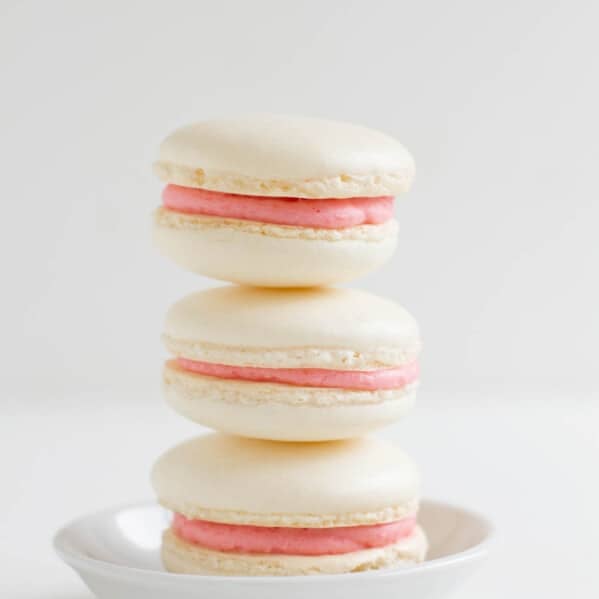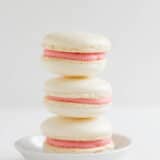 Strawberry Colada Macarons
---
Author:
Prep Time: 30 minutes
Resting Time: 45 minutes
Cook Time: 18 minutes
Total Time: 2 hours
Yield: 20-24 cookies 1x
Category: Dessert
Method: Baked
Cuisine: French
Description
Coconut French macarons are sandwiched with strawberry buttercream in these light meringue cookies.
---
Scale
Ingredients
For the Coconut Macarons
115 grams almond flour
230 grams powdered sugar
144 grams egg whites
72 grams sugar
1/2 teaspoon salt
3/4 teaspoon coconut extract
For the Strawberry Buttercream*
1 heaping cup diced strawberries
1 cup butter, softened
3 1/2 cups powdered sugar
1 teaspoon vanilla
---
Instructions
To make the macarons:
Sift together the almond flour and powdered sugar. (You may have to work at getting all of the almond flour through the sieve. I ended up using a spatula to press it all through.)
Combine the egg whites, sugar and salt in a large bowl (if using a hand mixer) or in the bowl of a stand mixer. Beat on low until the egg whites are frothy. Increase the speed and beat for a few minutes, then turn the speed to high and beat until the whites are very stiff and dry. Add in the coconut extract and beat another minute or so.
Pour the dry ingredients into the egg whites and using a rubber spatula, start folding in the dry ingredients. Keep folding until the mixture starts to come together. When the batter is ready, it will flow together in a lava-like consistency.
Working with half of the batter at a time, transfer it to a pastry bag fitted with a large round tip. Pipe the batter into a parchment lined baking sheet in 1 1/2-inch rounds.
Holding the sides of the pan, tap the pan firmly on the counter, then turn the pan and tap again. (This will help any air bubbles dislodge from the cookies.)
Let the pans sit on the counter for 30-45 minutes.
Meanwhile, preheat the oven to 300F. Bake the macarons for 15-18 minutes, or until you can cleanly peel the macaron away from the paper. Allow to cool completely on the pans.
To make the buttercream:
Place the strawberries in a blender or food processor and process until smooth. Use a sieve to strain out the seeds and place the strawberry puree in a small pan. Bring to a simmer over medium heat, and stirring frequently, cook until it reduces by half. Remove from the heat and cool completely.
Beat the butter until light and fluffy. Add in 1 cup of the powdered sugar and the vanilla and beat on low until combined. Add in 1/3 of the strawberry puree and beat to combine, followed by 1 more cup of powdered sugar. Repeat with another 1/3 of the puree and 1 cup of powdered sugar. Add in the remaining 1/3 of the strawberry puree, beating until combined, and then the remaining 1/2 cup of powdered sugar. Beat until light and fluffy. Add a few drops of red food coloring if desired to enhance the color.
To assemble the macarons:
Take 2 similar sized macarons and pipe or spread some of the buttercream onto the flat side of one of the cookies. Place the flat side of the second cookie down on the buttercream. Repeat with the remaining cookies.
Macarons are best once they have aged at least a day. Store in an airtight container in the fridge. Let them come to room temperature, about 20-30 minutes, before eating. They also freeze very well.
Recipe Notes:
Macaron recipe slightly adapted from BraveTart (no longer online)
*You will probably not need the full amount of buttercream for filling the macarons.
Keywords: macaron, macaron recipe