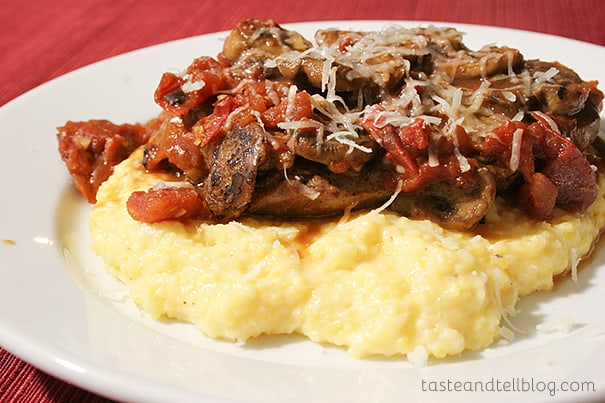 Those of you who are regular readers of my blog know that I love fast, easy recipes – perfect for weeknights. And now that there is a new addition to our family, I think that fast and easy is not only going to make life easier, but it will probably be necessary in order to even get dinner on the table here for the next few months.
This recipe definitely falls into the quick and easy category. Another category I'd throw it into is inexpensive. I will admit that I used cheap steaks for this – and although this would be excellent with a delicious, high quality steak, it was still good with the cheap steak. I guess the tomato-mushroom ragu covered up the fact that I went cheap on the steak!
Serving this steak alone would be great, but I took the suggestion from the magazine and served the steaks over polenta – I made mine cheesy polenta! – and it was a great accompaniment. A tasty, inexpensive meal – all in under half an hour!!
Steaks with Tomato-Mushroom Ragu
from Every Day with Rachael Ray February 2009
2 beef sirloin steaks (about 2 pounds)
salt and pepper
2 tablespoons extra virgin olive oil
one 6-ounce package cremini mushrooms, sliced (I used button because I had some on hand)
3 cloves garlic, smashed and peeled
one 28-ounce can crushed fire-roasted tomatoes
1 teaspoon crushed red pepper
1 tablespoon balsamic vinegar
grated parmesan cheese, for serving
Season the steaks with salt and pepper. In a large skillet, heat 1 tablespoon olive oil over medium-high heat. Add the steaks and cook for 3 to 4 minutes on each side; transfer to a plate.
In the same skillet, add the remaining 1 tablespoon olive oil, the mushrooms and garlic; cook, stirring, for 3 minutes. Stir in the tomatoes, 1/2 cup water and the crushed red pepper; bring to a boil. Lower the heat, cover and simmer, stirring occasionally, for 15 minutes. Stir in the vinegar, then return the steaks to the skillet and cook until heated through. Serve the steaks topped with the tomato ragu and grated cheese.
Others who have made this recipe:
Life's Too Short to Eat Fat Free Cheese