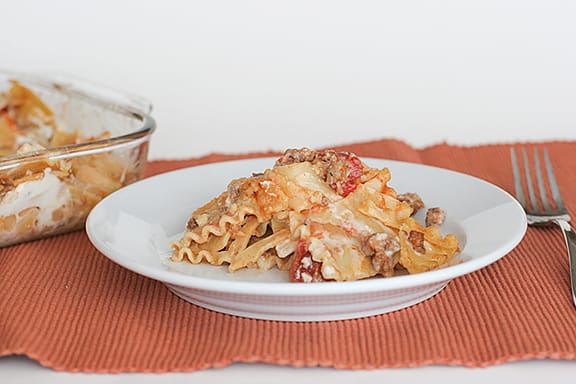 As soon as the weather starts to turn, I immediately start thinking of comfort foods.  Warm soups and stews, homemade casseroles, bread fresh from the oven – and lasagna.  Although I believe lasagna is wonderful year round, I especially crave it on a cold night.  But really, how often do I make it?  Maybe once or twice a year?  But just because it takes so stinkin' long to make!!
So I have to say I was really intrigued when I saw this episode of 30 Minute Meals where Rachael Ray makes her version of 30 minute lasagna.  The "sloppy" part comes because you break the noodles into pieces, and everything gets mixed together – instead of spending forever and a day layering the lasagna.  I was all for trying a 30 minute version that could easily be done on a weeknight!!
The verdict?  I was quite impressed.  Ok, it did take me a little longer than 30 minutes, but then again, I do have a toddler pulling at my leg every 30 seconds.  But it was done in well under an hour.  The only complaint I have about this dish is that I thought there were too many noodles.  I would cut the noodles back by at least 25%.  And this does feed an army.  I halved the original recipe and still could have easily fed 6-8 people.  And just like any other lasagna, the leftovers the next day are even better!!  (Oh, and funny enough, she made a very similar lasagna called "Lazy Lasagna" on her talk show, but it was a spinach/mushroom version.  I'd like to try that, too!)
Sloppy Lasagna
adapted from 30 Minute Meals
serves 6-8
1 pound lasagna noodles *(but see my notes above – I would cut this down next time)
salt
extra virgin olive oil
1/2 pound ground beef
1/2 pound sausage
1 small carrot, finely chopped or grated
2 cloves garlic, finely chopped or grated
1 bay leaf
freshly ground black pepper
1 small pinch ground cinnamon
1 1/2 tablespoons tomato paste
1/2 cup chicken or beef stock
14-oz can diced tomatoes
2 tablespoons butter
2 tablespoons all-purpose butter
1-1/2 cups milk
freshly grated nutmeg, to taste
3/4 cup freshly grated Parmesan
1 cup ricotta cheese
Bring a large pot of water to a boil.  Add salt.  Break lasagna noodles into large pieces and add to the water.  Cook until just shy of al dente.  Drain and set aside.
Meanwhile, in a large skillet, heat the olive oil.  Add the ground beef and sausage and let it cook for 3-4 minutes.  Add in the carrot and onion, and cook until meat is cooked through.  Add in the garlic, bay leaf, salt and pepper to taste and the cinnamon.  Cook for a minute, then stir in the tomato paste.  Cook for another minute, then add in the broth.  Let the liquid reduce down for a minute, then stir in the tomatoes.  Reduce heat and simmer.
While the sauce simmers, in a medium saucepan, melt the butter.  Whisk in the flour and let it cook for a minute. Whisk in the milk and the nutmeg and season with salt and pepper.  Let it cook for a few minutes to thicken, then add in 1/4 cup of the grated Parmesan. Remove from the heat.
Heat the broiler.
Add the meat sauce to the drained pasta and toss together.  Put half of the pasta mixture into a 9×13 baking dish.  Scatter with dollops of the ricotta cheese.  Top with the remaining pasta mixture.  Pour the white sauce over the top, then sprinkle with the remaining Parmesan cheese.  Put under the broiler until browned and bubbly.