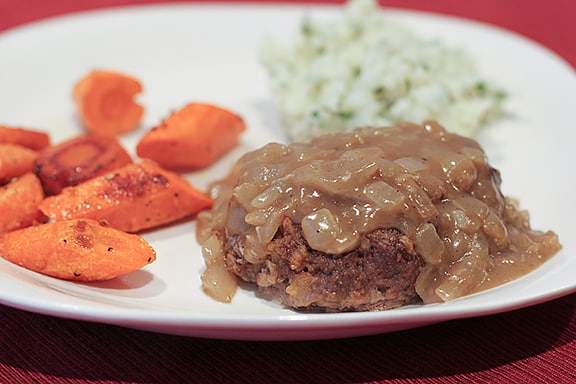 It seems like a lot of the Rachael Ray recipes I have been making lately have all been pasta.  There is a reason for this – I like pasta, and I usually really like RR's pasta recipes!  But I decided to try something different this week, and I went with this Salisbury Steak recipe.
I liked it, but I wouldn't say that I loved it.  You definitely need the gravy, because otherwise, it's a little bland.  I actually ended up liking the leftovers the best – for some reason, it felt like a little more flavor developed overnight.  But the potatoes – I absolutely loved those.  They were the star of the show, and you can barely even see them in the photo!  But that bit of parsnip that is mixed it – it really brings the potatoes to another level.  And adds some great nutrition!  As we were eating dinner, my husband asked what was in the potatoes, because he could tell that there was something different, but it doesn't jump right out at you.  Those potatoes are something I can't wait to make again!
Salisbury Steak with Mashed Potatoes and Parsnips
from 30 Minute Meals
serves 4
total time:  30 minutes
3 large starchy potatoes, peeled and cut into chunks
2 parsnips, peeled and cut into chunks
1/2 cup milk or cream
1/4 cup finely chopped flat-leaf parsley
salt and pepper
ground nutmeg
1 1/2 pounds ground sirloin
3 tablespoons Worcestershire sauce, plus 2 tablespoons for sauce
1 egg
1/2 cup saltine crumbs
3 tablespoons grated onion and juice (grate directly over meat)
1 tablespoon extra virgin olive oil
2 tablespoons butter
2 medium onions, chopped
1 bay leaf
2 cloves garlic, chopped
1 1/2 teaspoons ground or rubbed sage
2 tablespoons all-purpose flour
1 1/2 cups beef stock
Preheat the oven to 425 degrees F.
Put the potatoes and parsnips in large pot, cover with water and bring to a boil over medium heat. Salt the water and cook until tender, 12 to 15 minutes. Drain potatoes and parsnips and return them to the hot pot. Add the milk or cream and mash. Stir in the parsley, and season with salt, pepper and nutmeg to taste.
Meanwhile, put the meat in a bowl and add 3 tablespoons of Worcestershire, the egg, cracker crumbs, grated onion, salt and pepper, to taste. Cover a baking sheet with parchment paper. Mix meat to combine and form into 4 oval shaped loaves, no more than 1 1/2 inches thick and arrange them on a baking sheet. Drizzle with about 1 tablespoon extra-virgin olive oil and bake for 20 minutes.
While meat is in oven, in a medium skillet over medium heat add the butter and melt, then add the onions and bay leaf and season with salt and pepper, to taste. Cook for 15 minutes, then add the garlic and sage and cook for another 3 minutes. Sprinkle in the flour and stir 1 minute, then whisk in the stock, 2 tablespoons Worcestershire and season liberally with black pepper, to taste. Cook for 1 minute to thicken the sauce.
Serve the steaks, on individual plates, whole or sliced with gravy on top, alongside a mound of mashed potatoes and parsnips.