A soft, brown sugar blondie is topped with lots of dulce de leche, white chocolate, and of course, plenty of cinnamon-sugar in these Caramel Snickerdoodle Bars!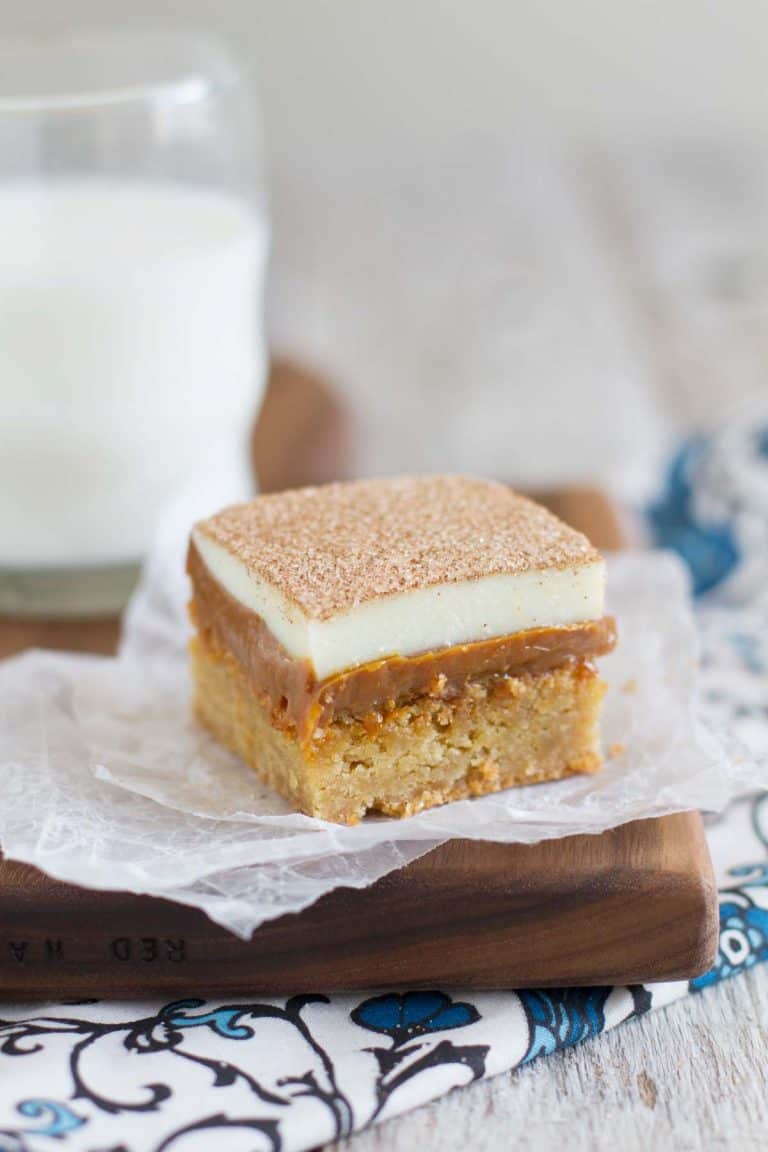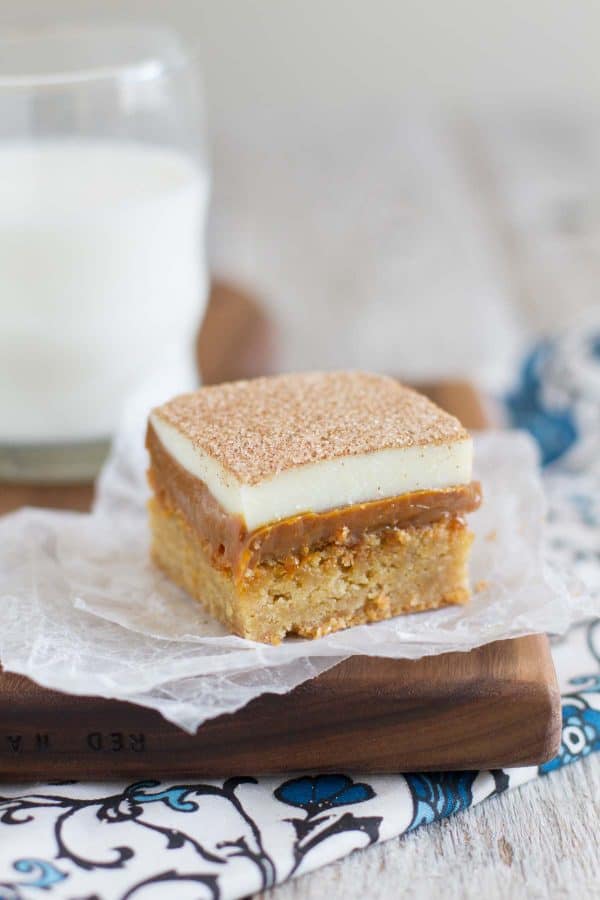 Originally published January 15, 2014. Photos updated and video added May 14, 2018.
I have officially hit that point in the winter where I can only think of springtime and sunshine. I am not a winter person, I much prefer the summer, but I can see the excitement in that first snowfall or the magic of a white Christmas. But it's usually sometime in January that I just have had enough. I was driving down the road yesterday, looking out at all of the bare trees, the crusty, brown snow that covers the ground everywhere you go, and the kids all bundled up as they were getting home from school. And all I wanted was Spring.
Well, I live in Utah, which means I still have months of this weather left. The only thing I could do to console myself was to dream of a tropical vacation, and then make up a batch of these Caramel Snickerdoodle Bars. (I know, I know – they are totally contradicting! ;))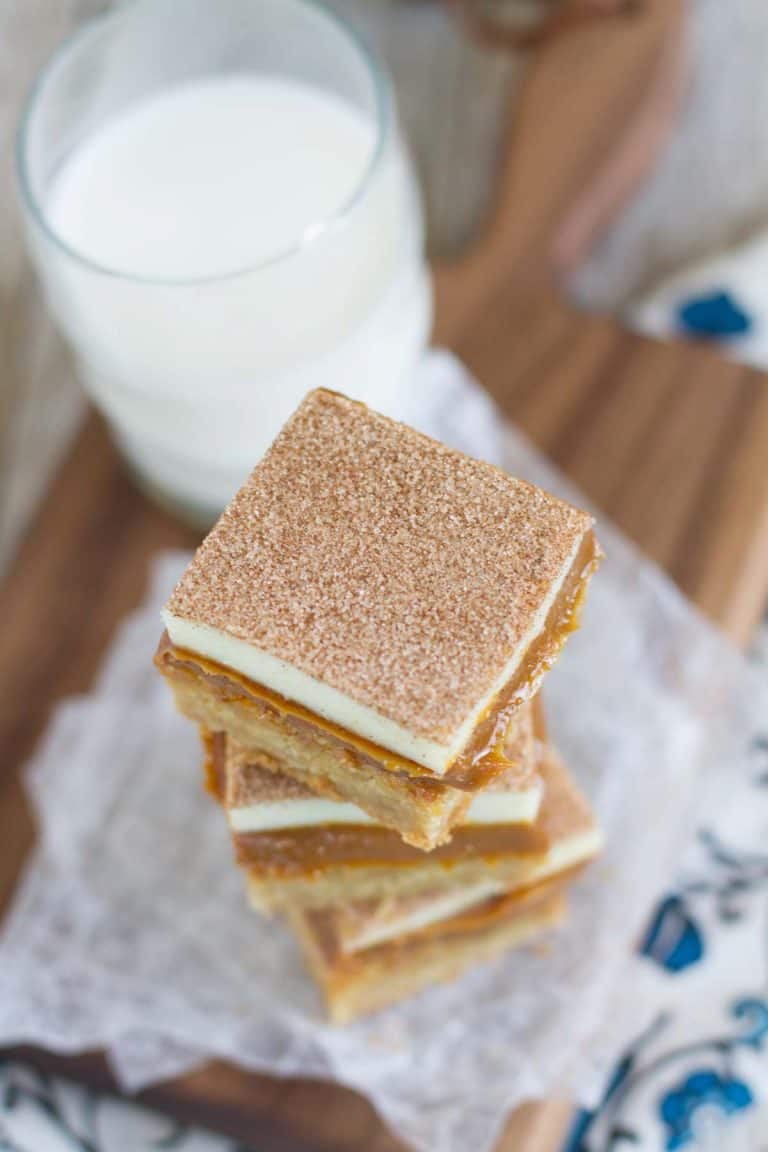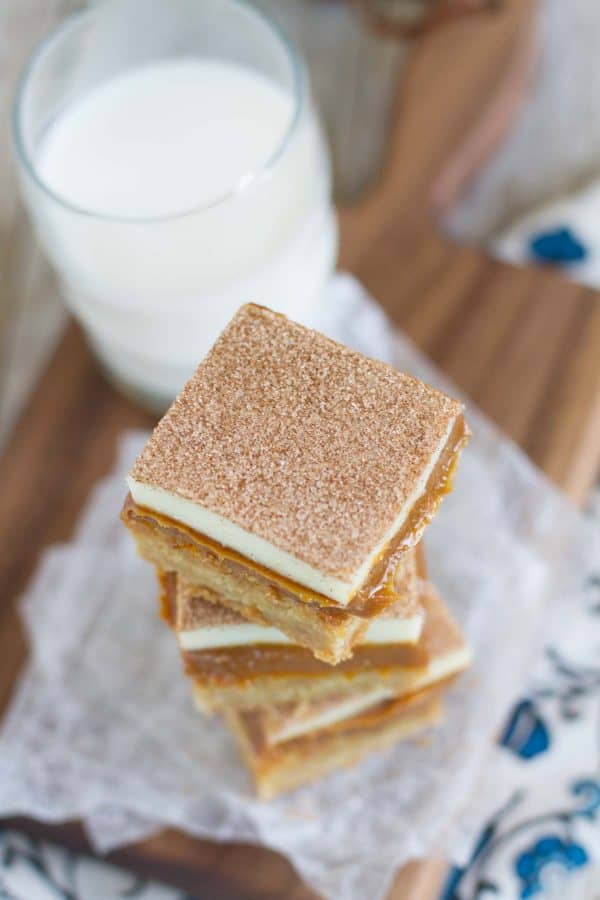 I actually spotted these bars while I was flipping through an issue of Taste of Home when I was at my mom's house last month. I couldn't get them out of my mind. I had actually intended to make them last month for the 24 Days of Christmas, but I ended up with too many ideas, and these got pushed aside.
I'm kind of glad, though, because there were so many sweet recipes posted across the web last month, and these really do deserve a chance to shine on their own. Two things I love – snickerdoodles and caramel – combined into a rich and decadent bar. These are cut pretty small, though, for a good reason. They are very sweet, so a little goes a long way.
If you can't find me, I'll be hiding out, eating Caramel Snickerdoodle Bars and waiting for Springtime!
See how to make these Caramel Snickerdoodle Bars here:
What is Dulce de Leche?
Dulce de Leche is a delicious caramel that is made from slowly cooking sweetened condensed milk. There are several ways that you can make it yourself at home (you can read more about some ways to make Dulce de Leche on this Dulce de Leche Cheesecake post), but I usually just buy it at the grocery store. You can find it in the ethnic aisle, usually by the Mexican foods. It is addictively delicious, and it is the perfect addition to these Caramel Cheesecake Bars!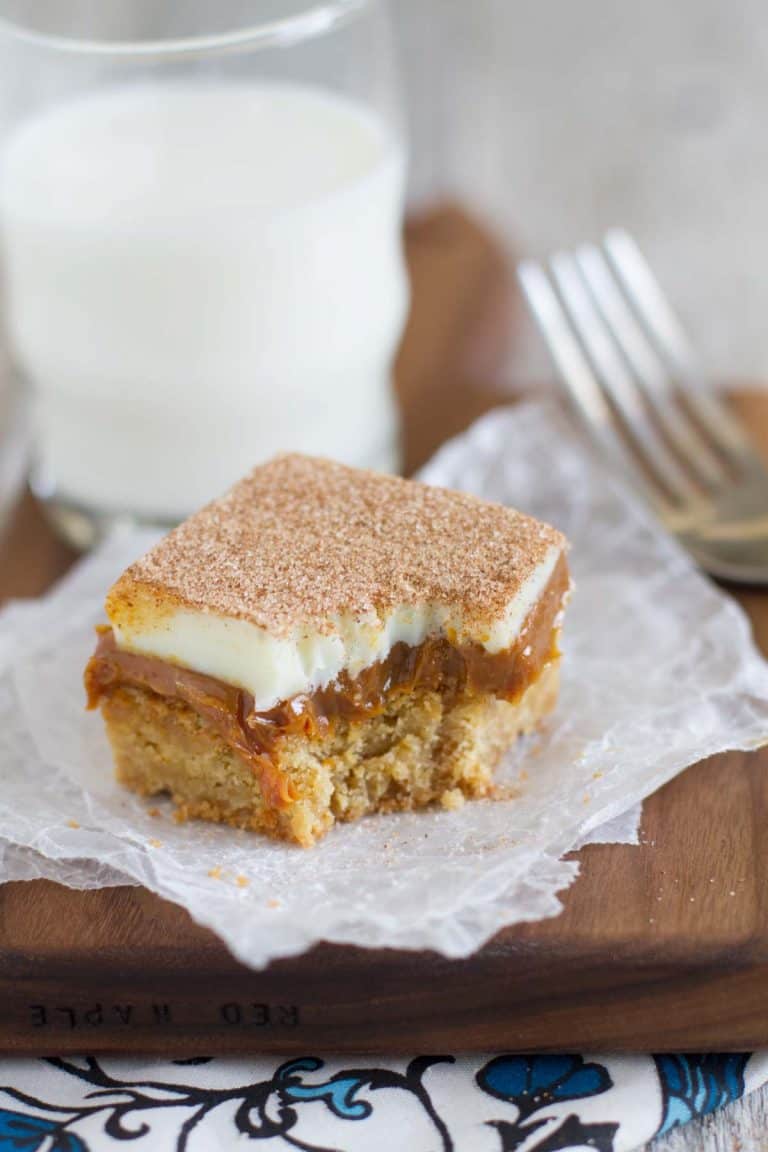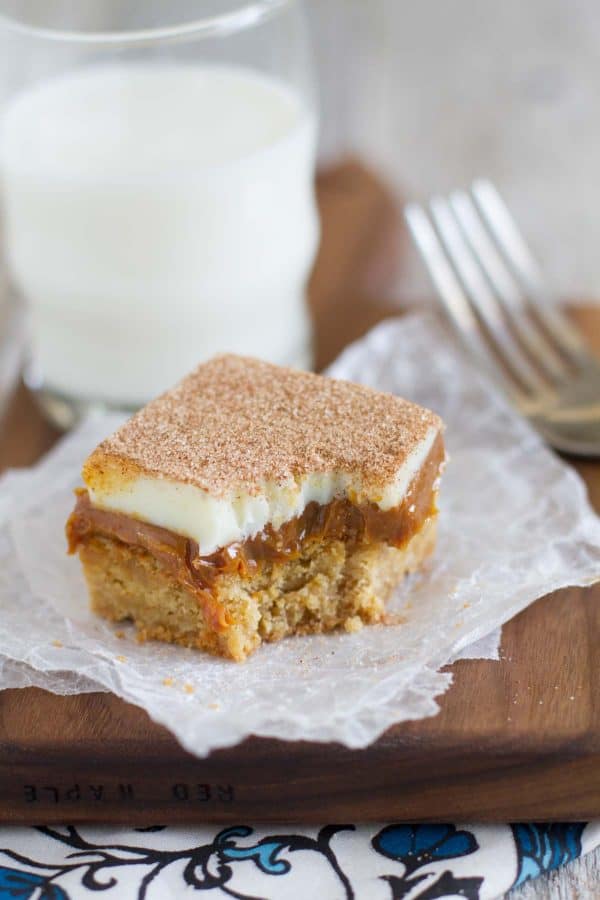 More Snickerdoodle Favorites:
Snickerdoodle Bars
Snickerdoodle Pie
Mrs. Sigg's Snickerdoodles
Snickerdoodle Sandwich Cookies from A Spicy Perspective
Snickerdoodle Biscoff Sandwich Cookies from Eats Well With Others
Like what you see here? Make sure you are following Taste and Tell for more great recipes and ideas!!

Facebook ** Pinterest ** Twitter ** Instagram ** Google+
or you can subscribe to my newsletter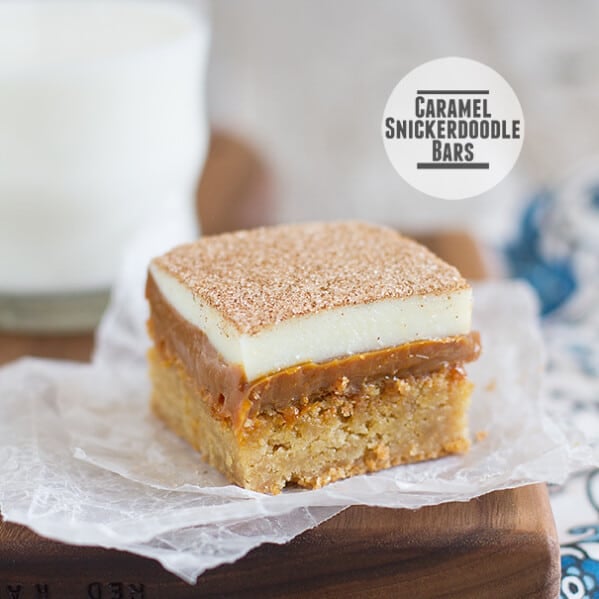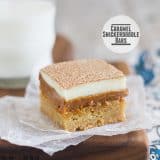 Caramel Snickerdoodle Bars
---
Prep Time: 20 minutes
Cook Time: 30 minutes
Total Time: 1 hour 30 minutes
Yield: 4 dozen bars 1x
Category: Dessert
Method: Bake
Description
A soft, brown sugar blondie is topped with lots of dulce de leche, white chocolate, and of course, plenty of cinnamon-sugar in these Caramel Snickerdoodle Bars!
---
Scale
Ingredients
1 cup butter, softened
2 cups packed light brown sugar
2 eggs
2 teaspoons vanilla extract
2 1/2 cups all-purpose flour
2 teaspoons baking powder
1 teaspoon salt
1/4 cup sugar
3 teaspoons cinnamon
2 cans (13.4 oz each) dulce de leche (not sweetened condensed milk)
12 oz white chocolate chips
1/3 cup heavy whipping cream
1 tablespoon light corn syrup
---
Instructions
Preheat the oven to 350F. Line a 13×9-inch baking dish with parchment paper or foil, extended the paper over the edge by 1 inch.
Cream together the butter and brown sugar until light and fluffy. Mix in the eggs and the vanilla.
Combine the flour, baking powder and salt, then add into the creamed mixture. Mix just until combined. Pat into the bottom of the prepared baking dish.
Combine the sugar and the cinnamon. Sprinkle 2 tablespoons of the cinnamon sugar mixture over the bars.
Bake until the edges are light brown, about 30 minutes. Cool completely.
Open the dulce de leche and place in a microwave safe bowl. Microwave on high for 30-60 seconds, or until it is an easy consistency to spread. Spread evenly over the top of the cooled bars.
In a small saucepan, combine the white chocolate chips, cream and corn syrup. Stir frequently until smooth. Let cool slightly, then carefully and evenly pour over the dulce de leche. Sprinkle the remaining cinnamon sugar evenly over the top.
Cover and refrigerate the bars until the chocolate layer has set up, at least 4 hours. Use the parchment paper to remove from the pan and cut into bars. Refrigerate any leftovers.
Nutrition
Serving Size: 1 bar
Calories: 278
Sugar: 34 g
Sodium: 130 mg
Fat: 11 g
Saturated Fat: 8 g
Unsaturated Fat: 2 g
Trans Fat: 0 g
Carbohydrates: 42 g
Fiber: 2 g
Protein: 3 g
Cholesterol: 34 mg