Photos updated October 2012
Call me crazy, but I love Mondays. Maybe it's because I'm not going into an office and having a whole week of sitting at a desk to look forward to. But there is just something about a Monday that I love. It's a great "start over" day. How many of you have said the popular line – "I'm starting my diet on Monday." I know I've used it a time or two! But no matter how off track I get the week before on anything – from housework to eating to working out – I always feel renewed and refreshed on a Monday.
This meal really has nothing to do with Monday, but it is a great way to start thinking about after the holidays. As much as I am looking forward to Thanksgiving, I am equally looking forward to the days that follow – meaning lots of turkey leftovers!! Although I didn't make these with Thanksgiving turkey leftovers, they would be a great way to use up some of your bird!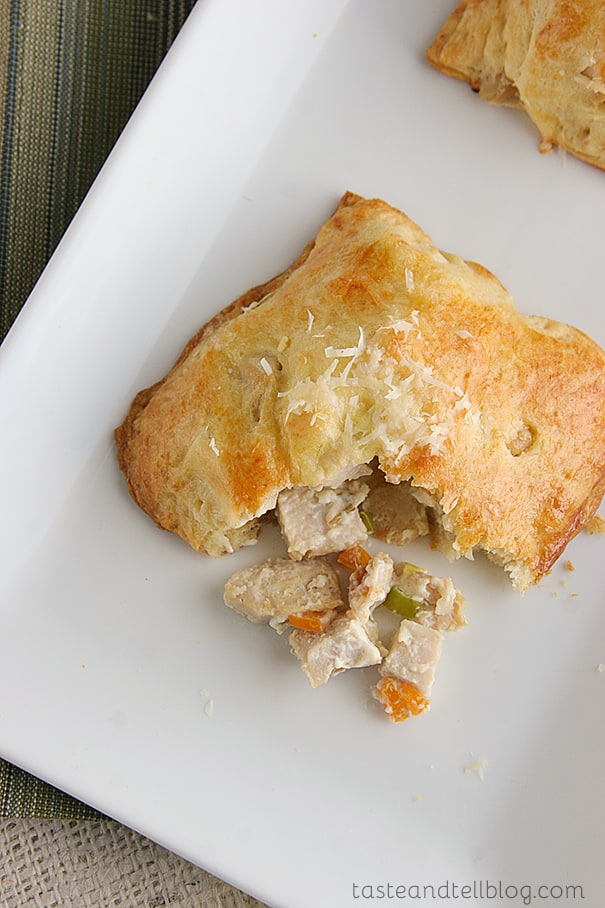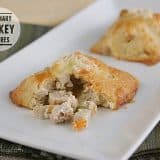 Rosemary Turkey Squares
---
Prep Time: 20 minutes
Cook Time: 20 minutes
Total Time: 40 minutes
Yield: 4-6 servings 1x
Description
A great way to use up leftover turkey! Turkey and rosemary are bundled in crescent rolls for an easy dinner full of flavor.
---
Scale
Ingredients
3 oz. cream cheese, softened
2 tablespoons milk
1 tablespoon butter, melted
2 cups cubed cooked turkey breast
1 teaspoon chopped fresh rosemary or 1/2 teaspoon dried rosemary, crushed
2 tablespoons chopped green onions
2 tablespoons finely chopped red bell pepper
1 can (8 oz.) Pillsbury Crescent Recipe Creations, or 1 can crescent rolls
1 egg, beaten
1 tablespoon grated Parmesan cheese
---
Instructions
Heat oven to 375°F. Grease cookie sheet. In medium bowl, beat cream cheese, milk and softened butter with electric mixer on medium speed until smooth. Stir in turkey, rosemary, green onions and bell pepper.
If using crescent rolls: Unroll dough; press perforations together; cut into 4 rows by 3 rows to make 12 squares. (If using dough sheet: Unroll dough; cut into 4 rows by 3 rows to make 12 squares.)
Spoon about 1/3 cup turkey mixture onto center of each of 6 squares. Top with remaining squares; firmly press edges with fork. Place on cookie sheet.
Brush tops with egg; sprinkle with Parmesan cheese.
Bake 20 to 25 minutes or until golden brown.
—————————–
recipe from Pillsbury