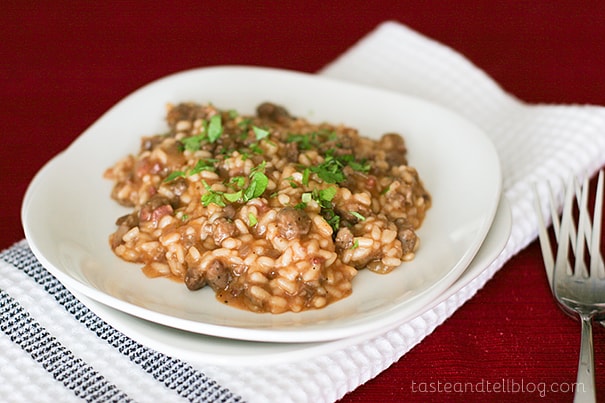 It snowed here today. It always amazes me to get snow in October. I'm not quite ready for it! But it did make me just want to cuddle into the couch, watch movies, and eat lots of comforting food. And that's almost what I did today. I did have to venture out to the mailbox, but that is as far as I made it out of the house!
Speaking of comforting, there really is nothing more comforting than a big bowl full of risotto. I had never even had risotto until I started blogging, and now it is something that I love. If you haven't tried it, or if you are afraid that it's too hard, you really will be surprised at just how easy it is. You won't regret it!
Sausage Risotto
adapted from Biba's Taste of Italy
Serves 4
3 to 4 cups chicken broth
4 tablespoons unsalted butter
1 cup arborio rice
2 tablespoons extra-virgin olive oil
1/2 cup finely minced yellow onion
1/2 lb. sausage, casing removed
2 ounces pancetta, finely minced
1/2 cup red wine
1 tablespoon tomato paste, diluted in 1 cup of the broth
1/3 cup freshly grated Parmigiano-Reggiano
Heat the broth in a medium saucepan; keep warm over low heat.
Melt 3 tablespoons of the butter in a large skillet over medium heat. When the butter begins to foam, add the arborio rice and stir for a minute or two, until the rice is well coated with the butter. Add 2 1/2 cups of the hot broth and bring to a boil. Reduce the heat to medium-low, partially cover, and simmer, stirring occasionally, until the rice has absorbed almost all of the broth and is tender bur still firm to the bite, about 20 minutes. (If the broth absorbed too fast, add a bit more, as necessary.)
Prepare the sauce: heat the oil in a small skillet over medium heat. Add the onions and cook, stirring, until pale yellow and translucent, 6 yo 7 minutes. Add the sausage and pancetta and stir with a large wooden spoon, breaking up the sausage, until the sausage is lightly golden, 2 to 3 minutes. Raise the heat to high and add the wine. Stir until the wine has evaporated. Add the diluted tomato paste mixture, bring to a gentle simmer, and cook over medium-low heat, stirring occasionally, until the sauce has reduced by half and has a medium-thick consistency. Season lightly with salt and pepper.
Add the sauce to the cooked rice and cook and stir over medium heat until the sauce has been almost completely absorbed, 2 to 3 minutes. Taste the rice, which should be tender but still a little firm to the bite. It it seems too firm, add a little more broth and cook a few minutes longer, until most of the liquid has been absorbed. Add the remaining tablespoon of butter and the Parmigiano and stir until the butter is melted and the rice has a moist, creamy consistency. Taste, adjust the seasoning, and serve immediately.