The perfect summertime recipe, these Grilled Roasted Red Peppers Stuffed with Cheese are a great way to change up things on the grill!
If you've got an abundance of peppers on hand, also try these Stuffed Bell Peppers or Sausage and Peppers Pasta!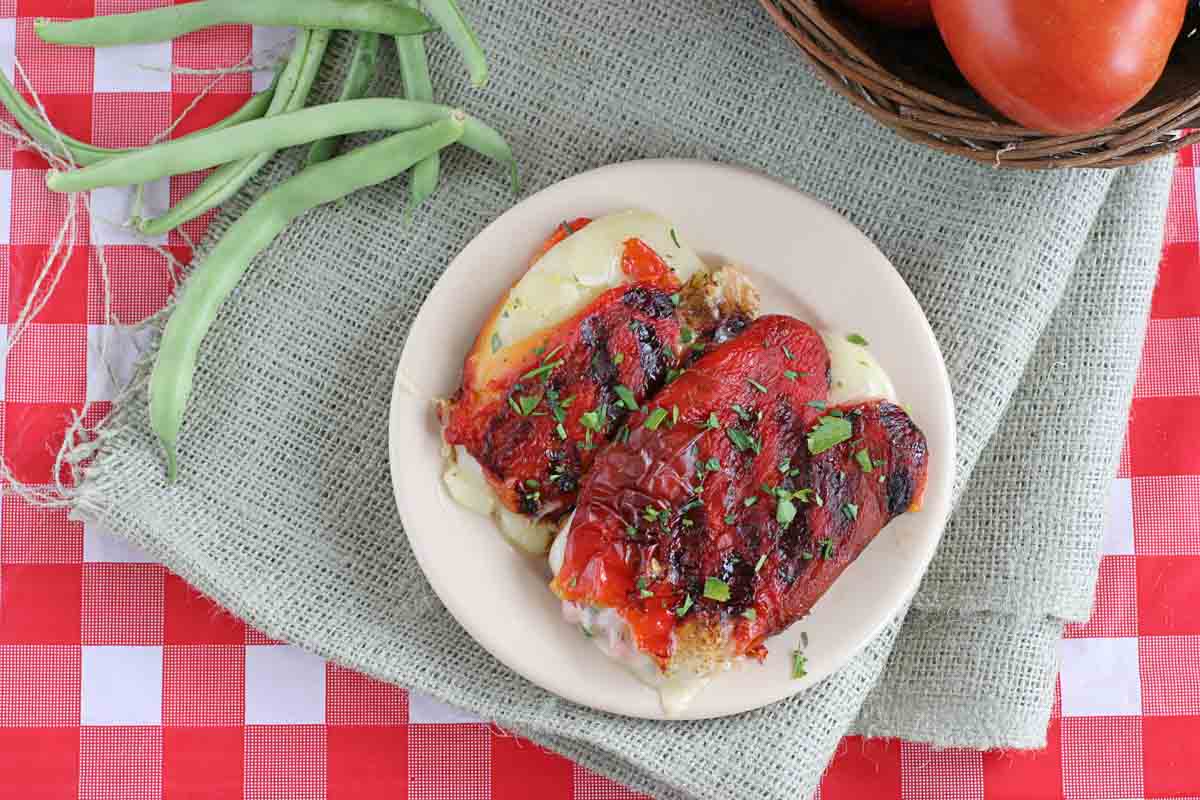 I am kind of in denial about the whole fact that the Labor Day weekend is only 1 week away. Usually, I count down the days until Fall. But this year, I am feeling a little sad about saying goodbye to summer. Maybe it's because it still feels like summer outside, (ok, and I guess technically we still have like 3 weeks left of summer), but I think it's mostly because I just am not ready for the cold weather to come yet. I'm hanging onto warm evenings and fresh produce and flip flops.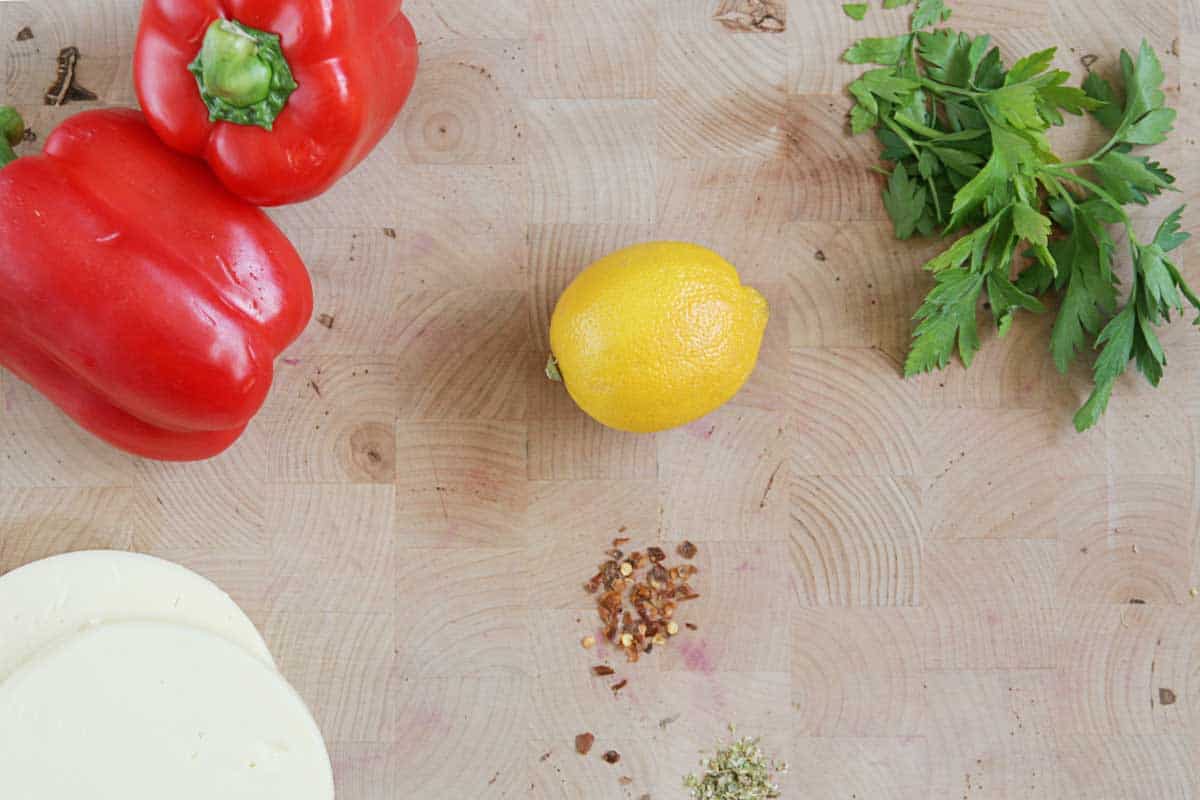 This year, especially, I have been cooking like crazy with all the fresh vegetables that are available right now. It's kind of crazy, because even though we don't have a garden this year, it feels like I am using fresh veggies more this year than ever!! It could be because I've had great neighbors and family sharing their bounty with me, and that that isn't given to me for free is so cheap to buy right now that it's hard not to pass up.
I have actually been saving this recipe for a year now. I have my handy notebook that I write down the titles to all of the Rachael Ray recipes I see on tv that I want to make. I wrote this one down after watching an episode of 30 Minute Meals last summer, and vowed to make it one day. Well, peppers are so cheap now, I just couldn't resist it any longer!! You could actually use jarred roasted red peppers for these, (that might have even been what she used on the episode – I don't remember), but I have a really hard time getting full roasted red peppers out of those jars. They are always just strips or pieces, and you definitely need whole ones for this recipe. They are super easy to roast yourself, and since peppers are so inexpensive right now, they are much cheaper to roast yourself. (If you've never roasted them, do a quick google search and you'll find all sorts of tutorials!)
I knew this was going to be good. But wow. I loved these. Loved them. You had the sweetness from the pepper and the saltiness from the cheese, along with a bit of tang from the lemon. And you can never go wrong with ooey, gooey cheese. I could seriously see myself making these weekly, especially to go with a garden dinner or with a grilled dinner. I made mine on the indoor grill (because it was like a gazillion degrees outside) and I think it worked wonderfully. I only wish I would have made more of them!
This is one recipe you won't regret making. But you will regret it if you save it for next year, because this is one you don't want to miss out on!!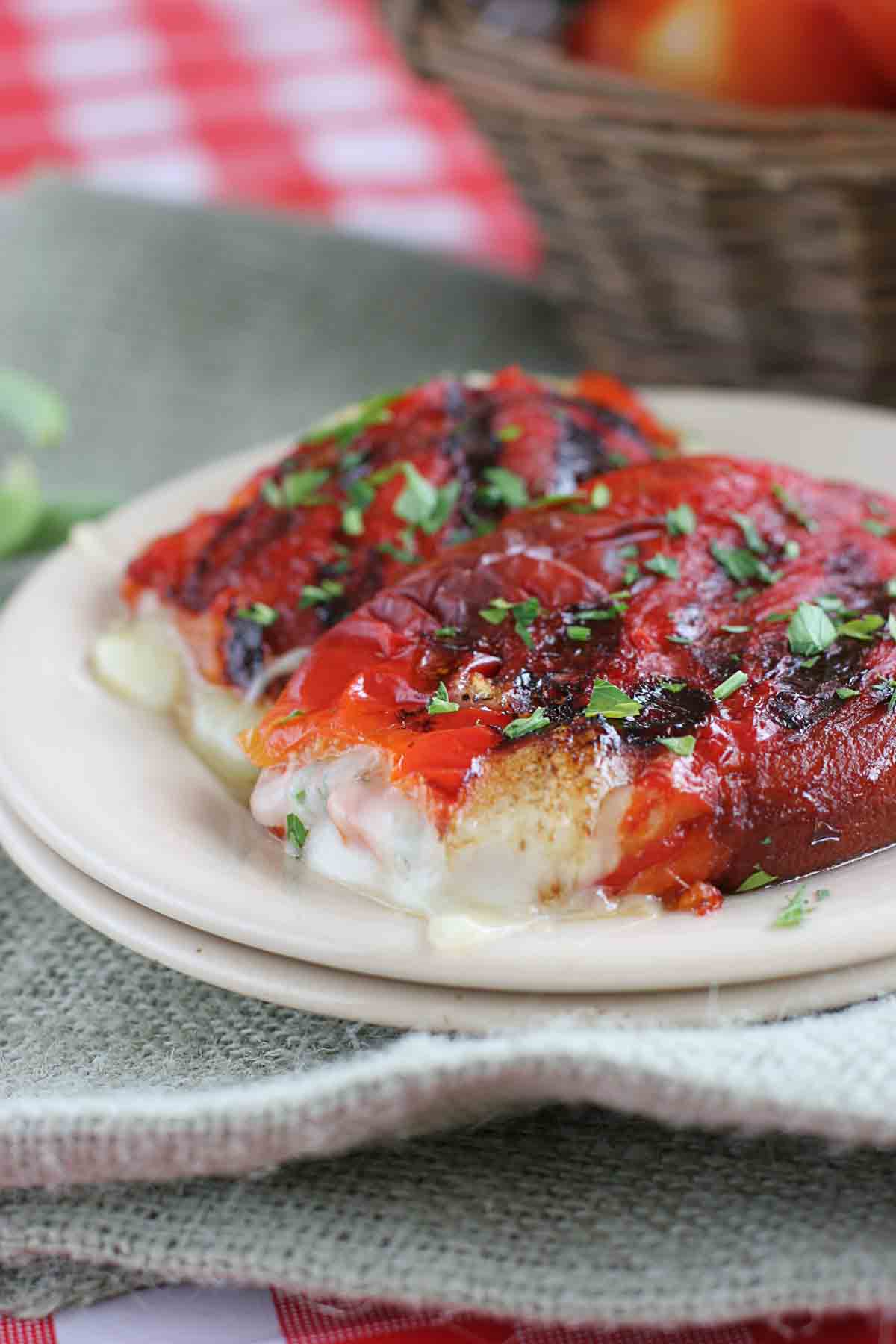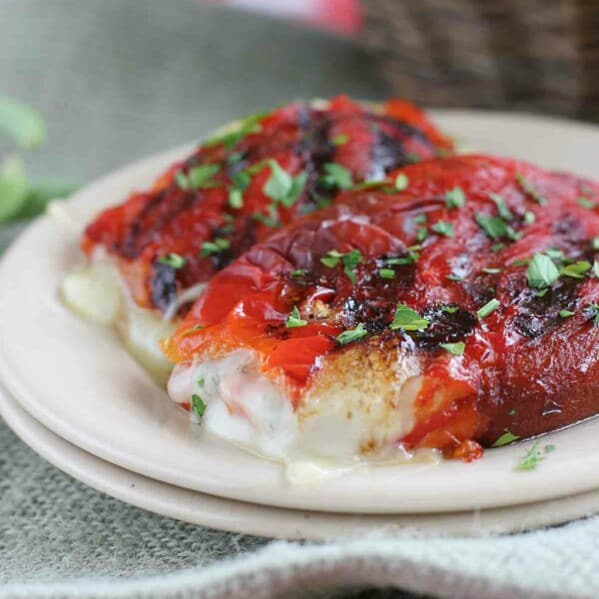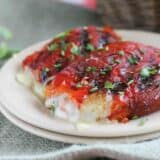 Grilled Roasted Red Peppers Stuffed with Cheese
---
Author:
Prep Time: 10 minutes
Cook Time: 10 minutes
Total Time: 20 minutes
Yield: 4 servings 1x
Category: Side Dish
Method: Grilled
Cuisine: American
Description
The perfect summertime recipe, these Grilled Roasted Red Peppers Stuffed with Cheese are a great way to change up things on the grill!
---
Scale
Ingredients
4 large roasted red peppers, jarred or roasted at home
4 (1-inch) thick slabs provolone cheese, a few inches wide each
1 teaspoon crushed red pepper flakes
a handful of finely chopped flat-leaf parsley
1 teaspoon dried oregano
1 lemon, zested and juiced
extra-virgin olive oil, for drizzling
kitchen twine, cut into 4 (8-inch) lengths, soaked in water
---
Instructions
Put the cheese in a shallow dish and sprinkle with the red pepper flakes, parsley, oregano, lemon zest and juice, and a drizzle of extra-virgin olive oil. Toss to coat the cheese in the marinade.
Slice the peppers open. Wrap 1 piece of cheese inside each pepper. Tie with the twine to make a bundle.
Heat a grill pan or outdoor grill over medium. Grill the peppers until they are evenly charred and the cheese is browning at the edged, 8 to 10 minutes. Serve immediately.
Keywords: grilled roasted red peppers