Looking for a super easy appetizer idea? This Feta and Roasted Red Pepper Dip is only 2 ingredients and can be done in 5 minutes!!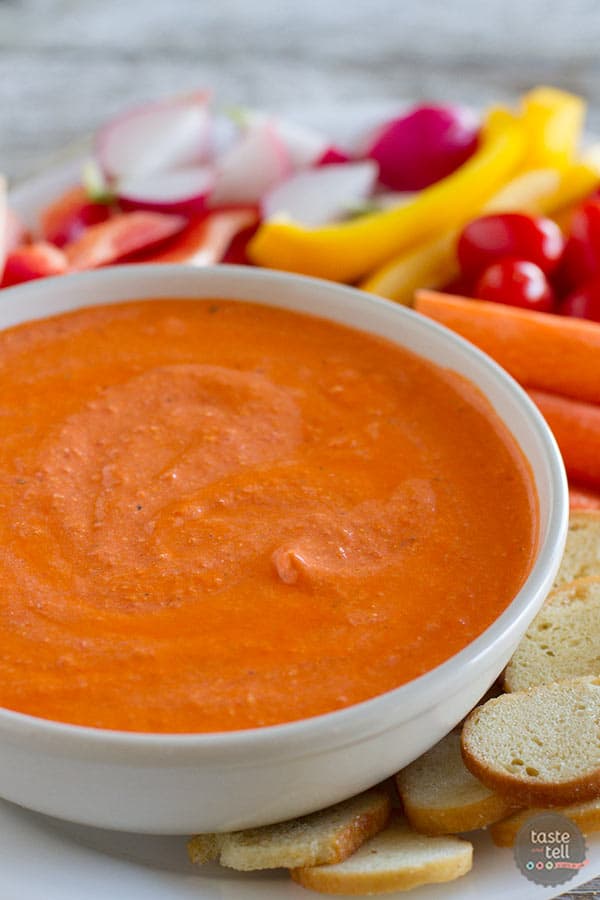 We have made it. The last day of 2014. Seriously – where did the time go? This year has been good to me. I published my first cookbook. I traveled to some great places. And I got to share lots of great recipes with all of you. I'd call it a success!!
And I'm back with one more recipe and cookbook review to finish off the year.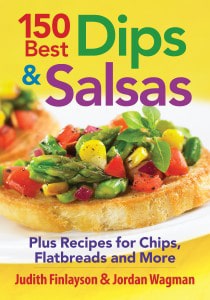 I'm all about dips and salsas. Give me a dip and some chips and I will go. to. town. So this cookbook – 150 Best Dips & Salsas – is my kind of cookbook. Filled with all sorts of savory and sweet recipes perfect for dipping, you are destined to find many recipes you'll fall in love with. And it's not just about the dip, it's also about the dipper. There is a whole chapter dedicated to chips, flatbreads, and other dippers that are perfect for serving alongside the dips in the book.
Here are the details:
Number of photos: some. So, there aren't a lot of pictures in this book. 16 full color pages, to be exact. But I think the number of recipes in this book make up for the lack of photos.
Difficulty level of recipes: easy. It's dips. And salsas. So basically – not rocket science. 🙂 Most of the recipes can be put together in minutes, although some do require some time to sit to let the flavors meld. But they are all simple to put together.
Availability of ingredients: easy. The recipes all have basic ingredients that are available at most grocery stores.
Other recipes I want to make:
Jicama Strawberry Salsa
Avocado Corn Salsa
Bubbling Bacon and Horseradish Dip
Roasted Garlic Sour Cream Dip
Roasted Onion Dip
Buy 150 Best Dips & Salsas on Amazon.
And now this dip!! This Feta and Roasted Red Pepper Dip may be the easiest recipe here on Taste and Tell. Basically you throw 2 ingredients into the food processor, process and it's done!! So if you are looking for an easy appetizer for tonight, this is your answer!! It definitely took more effort to chop up the veggies than it did to make this dip.
For the dip, you will want to make sure you aren't using the feta cheese that is pre-crumbled, as it will be too dry. Get a good quality block of cheese. And you can use jarred roasted red peppers, or you can roast your own. Peppers are really expensive here right now, so I opted to use some jarred that I already had in the fridge. Which also makes this easy. Seriously – 5 minutes and it was done!!
You can serve this Feta and Roasted Red Pepper Dip right away, but I would suggest refrigerating it for a little while to let it thicken up a bit.
Super easy and super delicious!!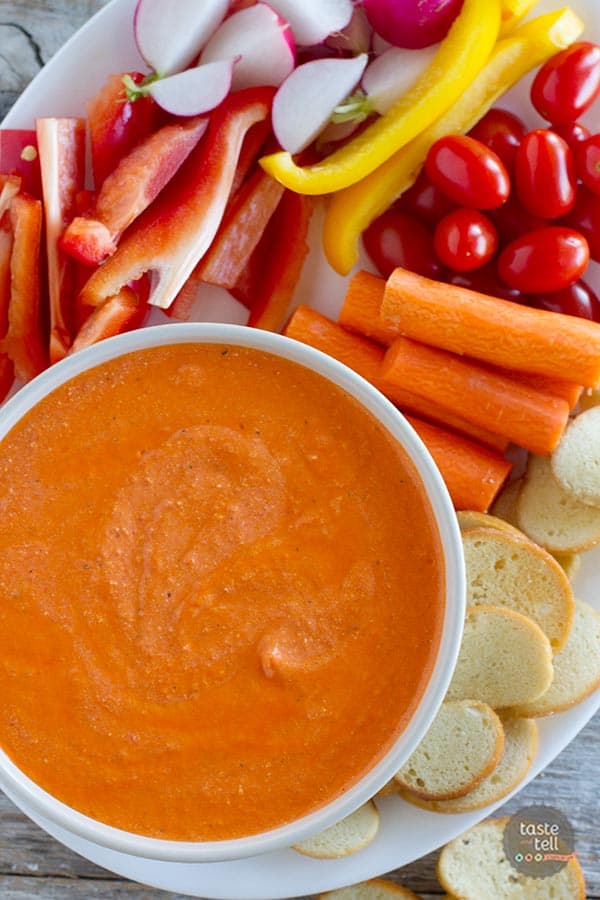 Like what you see here? Make sure you are following Taste and Tell for more great recipes and ideas!!

Facebook ** Pinterest ** Twitter ** Instagram ** Google+
or you can subscribe to my newsletter or Feedly or Bloglovin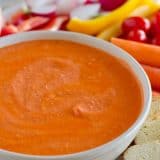 Feta and Roasted Red Pepper Dip
---
Prep Time: 5 mins
Total Time: 5 mins
Yield: 1 3/4 cups 1x
Description
Looking for a super easy appetizer idea? This Feta and Roasted Red Pepper Dip is only 2 ingredients and can be done in 5 minutes!!
---
Scale
Ingredients
8 oz feta cheese*
2 roasted red peppers, homemade or store bought
assorted vegetables or crackers, for serving
---
Instructions
Combine the feta and roasted red peppers in a food processor and process until smooth. Refrigerate until ready to serve. (It will thicken up a bit when it is refrigerated.)
Recipe Notes:
source: 150 Best Dips and Salsas
*use a block of full fat feta, not the pre-crumbled kind, otherwise the dip will be too dry. If the dip is dry, add a teaspoon or two of extra-virgin olive oil to bring it all together.
I received this book from the publisher for this review, but all opinions are my own. This post contains affiliate links. If you purchase an item from Amazon from the link Taste and Tell receives a small commission. Thank you for supporting Taste and Tell through your purchases!