So easy and family friendly, this Pumpkin Tiramisu is a fun way to change up your holiday baking. With pumpkin, apple and gingersnap flavors, you can't go wrong!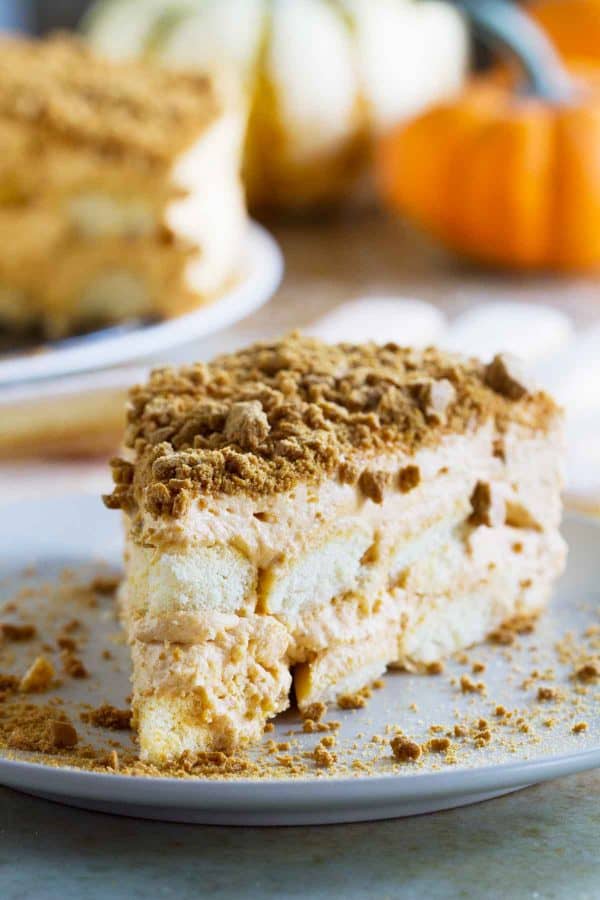 The other day, I was reminiscing about the old blogging days. I was cooking a turkey breast and stuffing, just because I needed the leftovers for a recipe I was working on. And I thought how fun it is, as a food blogger, that many of us get to have 2 Thanksgivings every year. One for recipes and photos, and one on the actual holiday. This is how it goes for most major holidays. But back when I first started blogging, nearly 10! years ago, it wasn't like that at all. I would be posting Thanksgiving recipes for weeks after the actual holiday, as I only blogged what we actually made on Thanksgiving.
Things have definitely changed.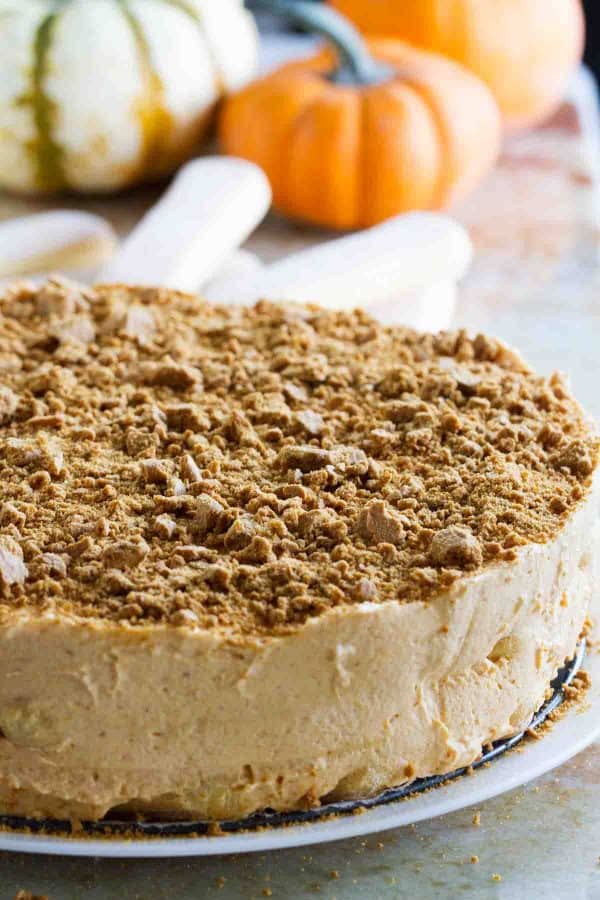 I'm not complaining, (hello, 2 Thanksgiving dinners!!), but it is kind of funny when you worry about posting a pumpkin recipe when it's already the middle of November. Because, yeah – bloggers have been posting pumpkin recipes since about September. I know you all are probably totally over them. But for me, pumpkin goes strong through Thanksgiving, and even shows up sometimes at the Christmas table.
So I'm totally going there today.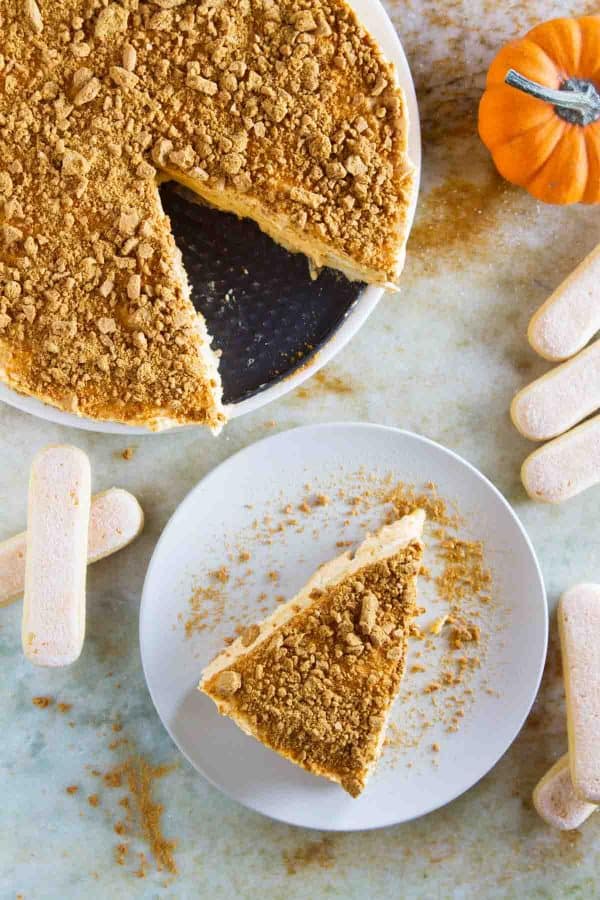 Almost a month ago, I posted a cookbook review of Pumpkin It Up! (as well as a delicious Pumpkin and Butter Pecan Ice Cream Pie), and I mentioned that there were several other recipes I was super eager to try. Well, this Pumpkin Tiramisu Recipe was one of them. I saw it and was totally smitten, and knew I couldn't wait until next year to make it. So while everyone may be getting sick of pumpkin, I'm obviously not. 😉
This Pumpkin Tiramisu Recipe couldn't be any easier. I literally put it together in about 15 minutes. And I think it makes the perfect holiday dessert because it's best when you make it the night before, leaving you time on Thanksgiving to worry about the actual dinner. I actually originally cut into it after it had been in the refrigerator for about 4 hours, and while it was good, the ladyfingers weren't quite soft enough. After a full day in the refrigerator, it was perfect. Just make sure that you don't add the gingersnap crumbs until you are ready to serve.
I know I said I was smitten when I first saw the photos in the book, but I did have some moments of doubt while assembling. I was afraid I wasn't going to love the finished dessert. But I was wrong, and I really, really liked it. It wasn't totally screaming pumpkin. In fact, I was surprised just how much of the apple flavor came through with such a small amount of apple cider. The combination of the pumpkin, apple cider and gingersnaps on top made this the perfect fall dessert. This Pumpkin Tiramisu Recipe belongs on your Thanksgiving table!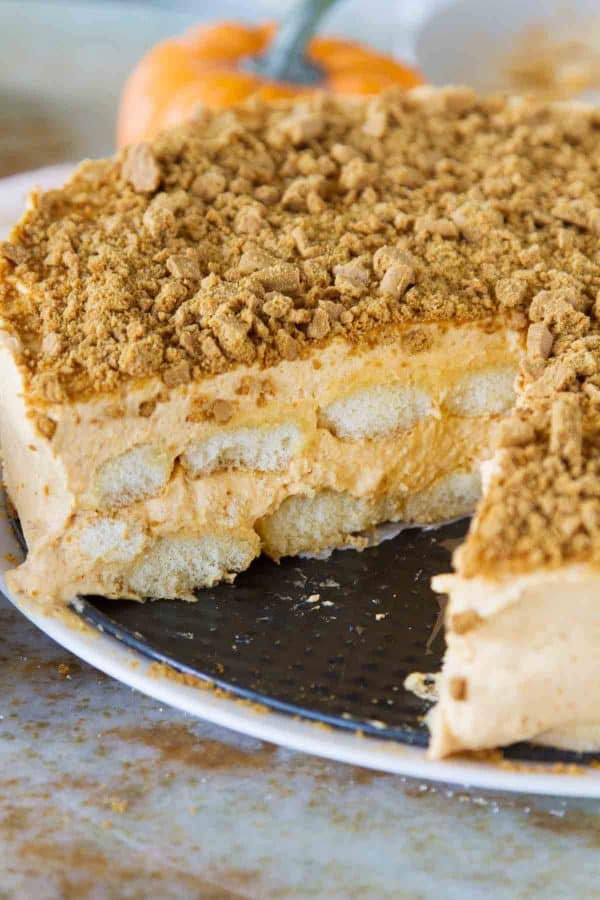 Want more must make pumpkin desserts? Try this Pumpkin and Butter Pecan Ice Cream Pie Recipe, this Pumpkin Pie Cake, or these Pumpkin Angel Food Cupcakes.
Or check out these other pumpkin recipes from around the web: Pumpkin Cream Cheese Swirl Brownies from The Food Charlatan, Pumpkin Chocolate Chip Bars from Two Peas and Their Pod, or this Pumpkin Poundcake with Chocolate Ganache from A Spicy Perspective.
Like what you see here? Make sure you are following Taste and Tell for more recipes and ideas!
Facebook | Pinterest | Instagram | Twitter | Google+ | Weekly Newsletter | Feedly | Bloglovin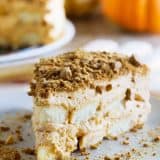 Pumpkin Tiramisu Recipe
---
Author:
Prep Time: 15 mins
Cook Time: 0 mins
Total Time: 15 minutes
Yield: 8 servings 1x
Category: Dessert
Description
So easy and family friendly, this Pumpkin Tiramisu is a fun way to change up your holiday baking. With pumpkin, apple and gingersnap flavors, you can't go wrong!
---
Scale
Ingredients
1 1/2 cups heavy whipping cream
1 cup confectioners' sugar
8 ounces mascarpone cheese, softened
1 (15 oz) can pumpkin puree
3/4 teaspoon pumpkin pie spice
2 (3 oz) packages ladyfingers
4 tablespoons apple cider
crushed gingersnap cookies
---
Instructions
Pour the whipping cream into a large bowl and whip until soft peaks form.  Gradually start adding the sugar and continue to whip until stiff peaks form.  Add the mascarpone, pumpkin and pumpkin pie spice and beat just until smooth.
Take half of the ladyfingers and line the bottom of a 9-inch springform pan with them, breaking them to fit as needed.  Sprinkle 2 tablespoons of the apple cider over the ladyfingers.  Spread half of the pumpkin mixture over the top of the ladyfingers.  Repeat the layers, with the remaining ladyfingers, apple cider and the remaining pumpkin mixture.  Smooth the top of the tiramisu, cover with plastic wrap, and refrigerate for at least 4 hours, but preferably overnight.
To serve, run a knife around the inside edge of the pan.  Release the sides of the springform pan.  Sprinkle the top of the tiramisu with the crushed gingersnaps.
SHOP THIS POST:
Don't miss a thing! Follow me on Pinterest to see what I'm pinning!