A glimpse at the food aboard the Ruby Princess – one of the Princess Cruises ships.



As much as I love the experience of cruising, let's be honest – it's really about the food, right?
I know that there are mixed thoughts out there when it comes to cruises and food. Everyone knows that there is a lot of it, but I've heard more than once that someone was disappointed in the food.
Well, I have to say that Princess does a pretty stellar job when it comes to food.  I think that Princess has the best.  And I'm here today to show you just a glimpse of some of the food you would encounter on the Ruby Princess.
Since I cruised with Princess earlier this year, I kind of knew what to expect this time around.  And let me tell you – I was excited.  Excited that I was going to get to eat some of my favorites, and to try some things that I didn't get to try the first time around.  A lot of the dining experiences were the same on the Ruby Princess as they were on the Regal Princess.
I'll walk you through some of the dining options on the Ruby Princess below.
Dinner Dining:
Since this was a shorter cruise, I didn't even manage to make it into the dining room for one dinner.  It's a tragedy!!  We spent three of the evenings in the different specialty dining experiences, and the last night my sister and I opted for pizza and burgers while we watched a Movie Under the Stars.  But the Ruby Princess has 3 main dining rooms.  You can choose between anytime dining, where you can eat anytime during the dinner hours.  It's more like a regular restaurant where you are able to dine with whoever you wish at any time.  You can make reservations, or you can just walk in and wait for a table.  You also have the option of choosing traditional dining, where you have a set dining time each night and you are at the same table with the same waiter each night.
There are also some specialty restaurants that you can opt to go to, as well.  While I loved everything I ate in the dining room on my last cruise, I still highly recommend the specialty restaurants for a more intimate and upscale experience.  There is a cover charge to eat in the specialty restaurants (usually $20-$25 a person) but I think it is well worth it.
The Crown Grill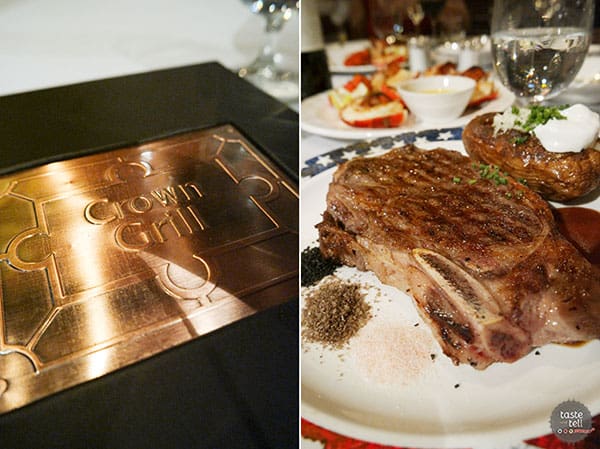 Rib Eye Steak with Gourmet Salts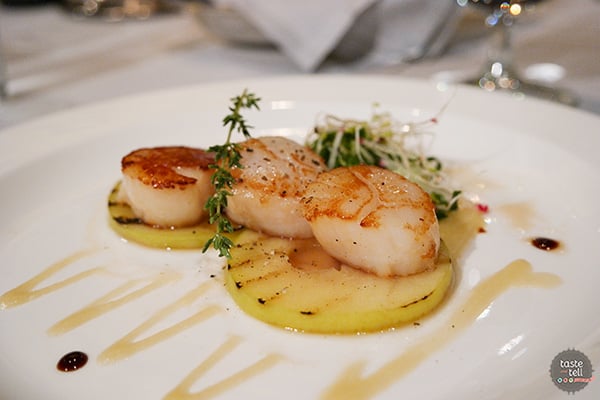 Pan Seared Scallops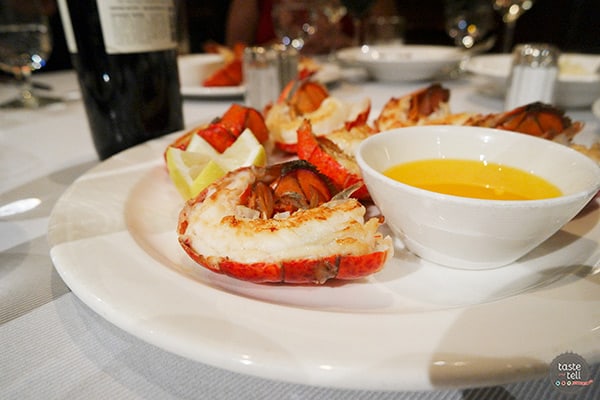 Lobster tails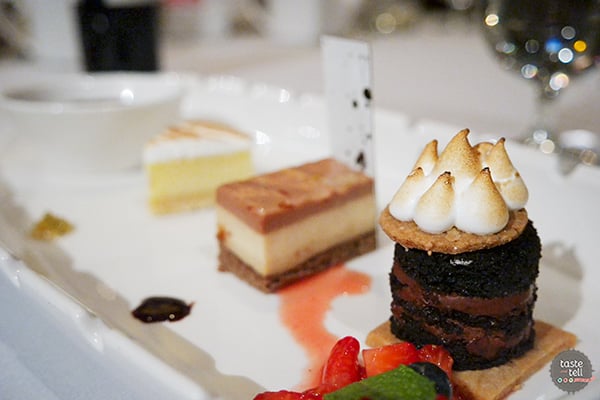 Dessert Sampler – Seven Layer S'mores Stack, Caramel Cheesecake, Lemon Meringue Pudding Tart, Molten Dutch Chocolate Fudge Obsession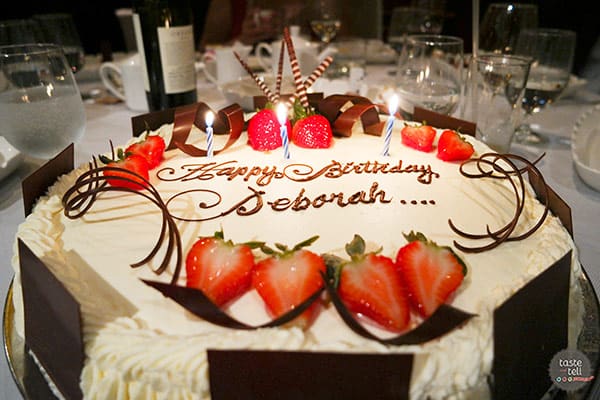 The Crown Grill is Princess' steak and seafood restaurant.  Hand cut aged beef, cooked to order seafood, plus appetizers, salads and desserts that will blow you away.  I was so excited to order the scallops (cooked perfectly!) as well as a beautiful steak.  They also have a variety of specialty salts that are great with your steak.  The dessert was fabulous, but then I was surprised with a birthday cake that ended up being a favorite for everyone.  That cake was one of my favorite things from the cruise, and I keep wishing for one more slice!
Sabatini's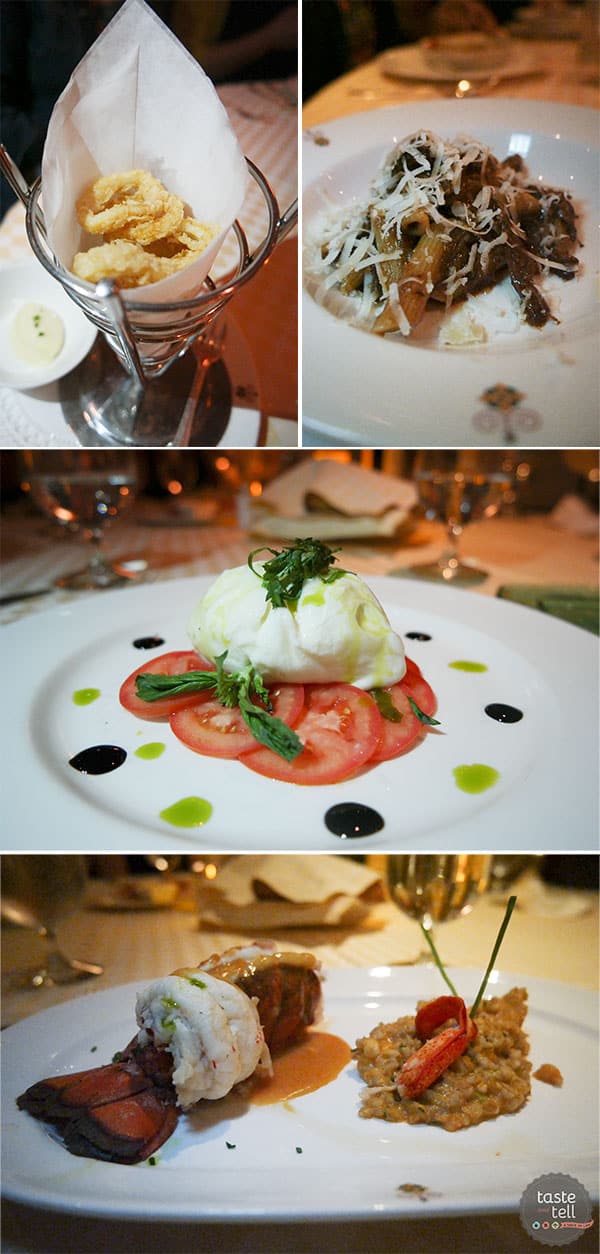 fried calamari, braised short ribs over penne, burrata and tomatoes, lobster three ways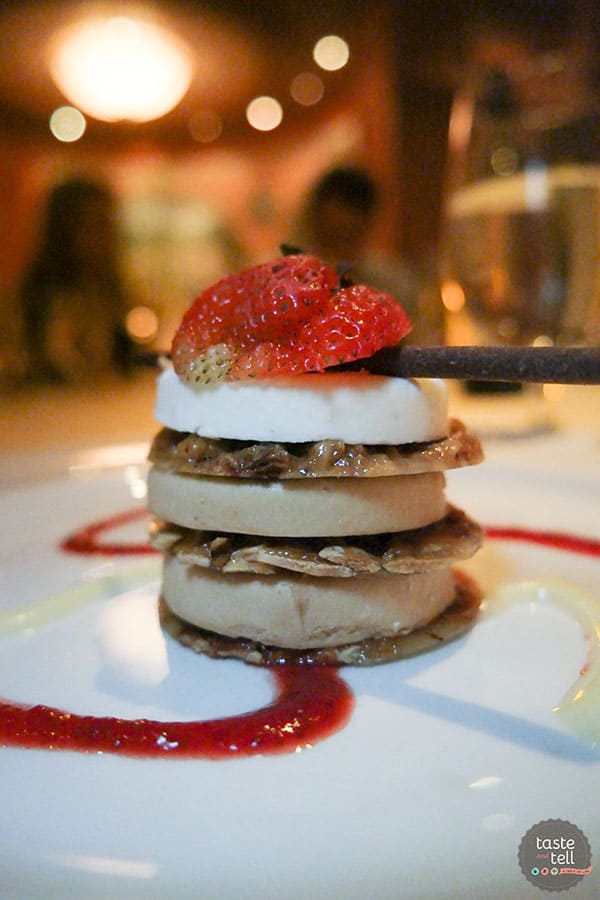 Sinfonia di Sapori: almond, hazelnut and pecan florentine napoleon blancmange, praline mousse and caramel pecan brittle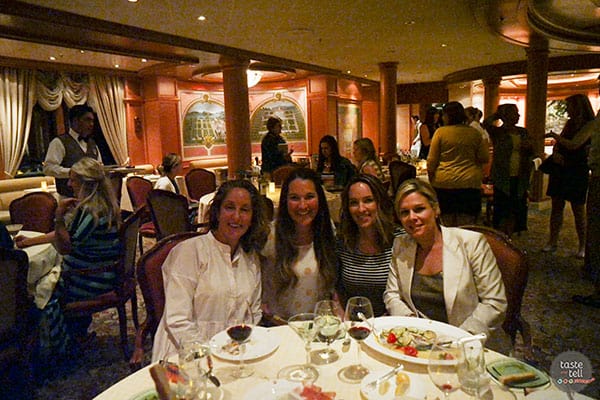 Sabatini's is Princess' Italian restaurant.  Our waiter informed us that this restaurant will be changing soon, so I was glad to have one more chance to eat here.  There are plenty of pastas, seafood and other specialties to choose from.  The burrata salad is one of my favs, and you can't go wrong with lobster three ways!!
I mentioned before that Cat Cora and Suzanne Tracht were guests on the cruise, and although we weren't at the same table, we did all dine at the same time.  It was fun to rub elbows with the them!
The Chef's Table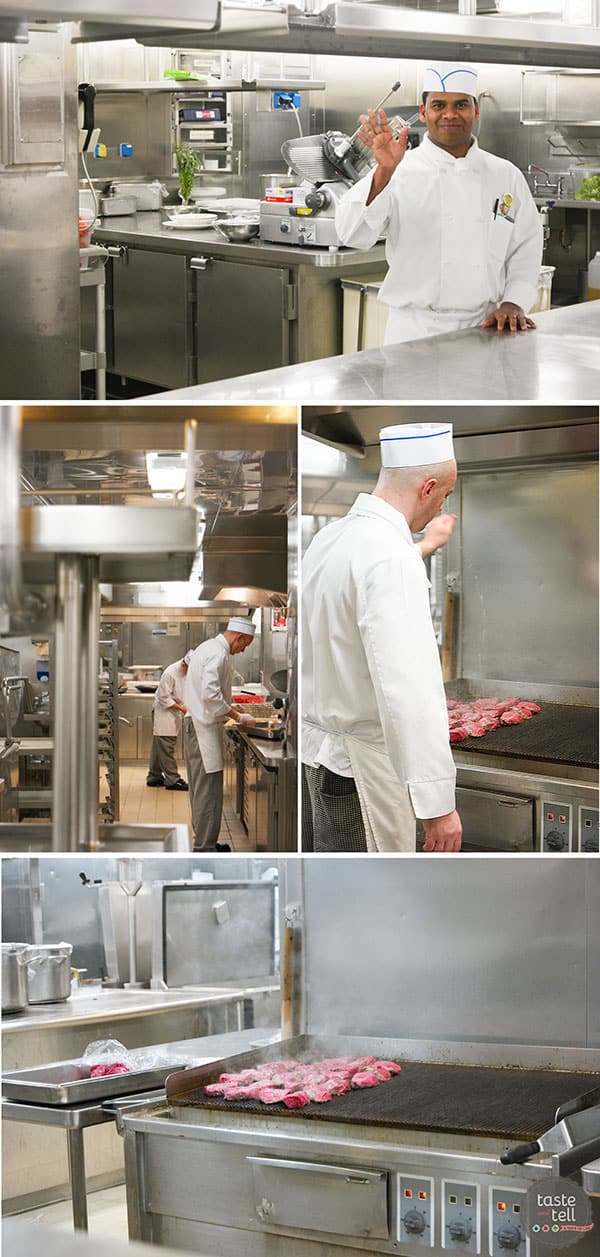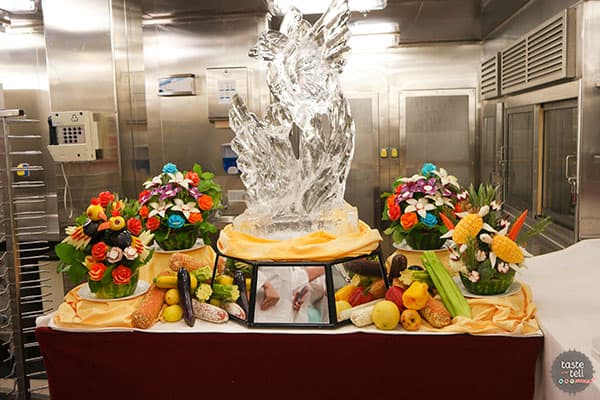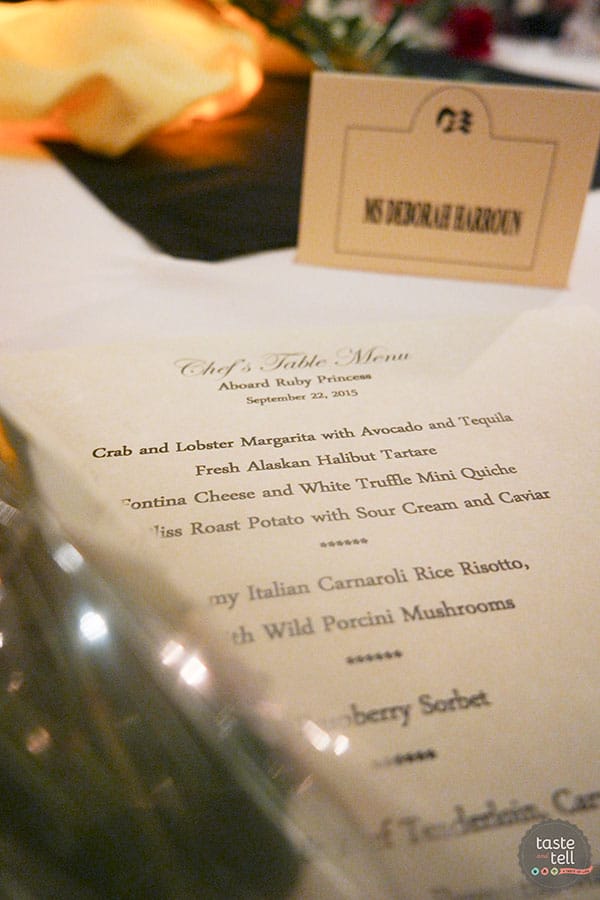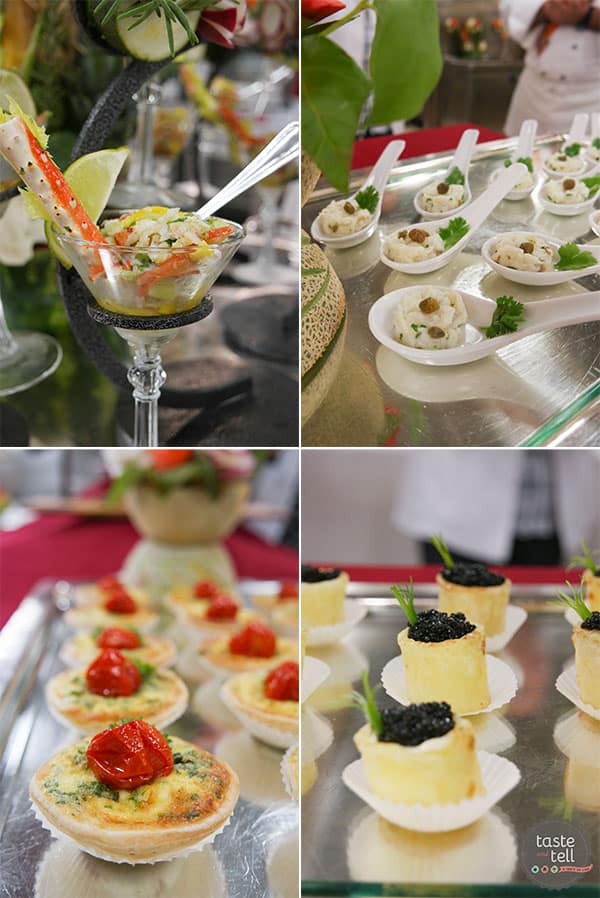 Appetizers – Crab and Lobster Margarita, Fresh Alaskan Halibut Tartare, Fontina Cheese and White Truffle Mini Quiche, Red Bliss Roast Potato with Sour Cream and Caviar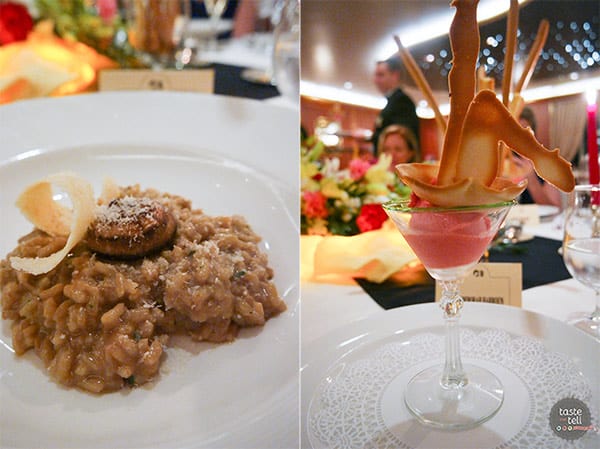 Creamy Italian Carnaroli Rice Risotto with Wild Porcini Mushrooms, Raspberry Sorbet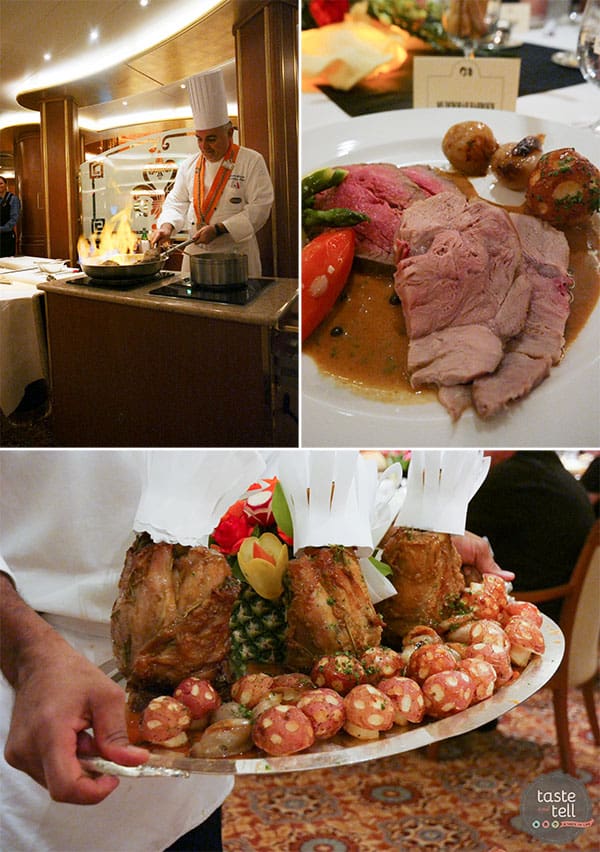 Roast Veal Shank and Beef Tenderloin, Carved Table Side with Peppercorn Sauce and Jus, Market Vegetables, Oven Roasted Potatoes and Caramelized Shallots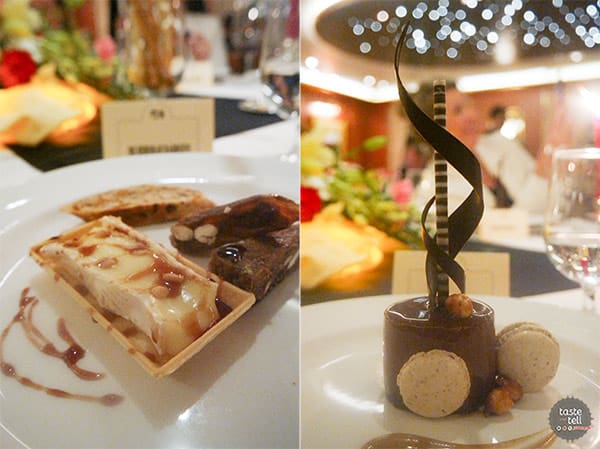 Baked Camembert with Pine Nuts, Chocolate Praline Timbale with Hazelnut Mousse
The Chef's Table was the dining highlight of our earlier cruise, so I was so excited to get to experience it again.  You start with a tour through the galley with the head chef that ends in hors d'oeuvres.  Then you have a special menu that is so good that you want to eat every single bite even though you know you'll be so full after it's all over.  One fun part of this Chef's Table experience was having the chef cook the beef table side.   It was pretty amazing to watch him cook it right before it was sliced and served to us.
The mushroom risotto was pretty much life changing, and the chocolate praline timbale was hands down the best dessert I had on the ship.  It was a meal that I won't soon forget!
The Chef's Table does come at a cost – $95 per person, but it is an experience as well as a meal.  You get to eat dishes that you can't get anywhere else on the ship. That risotto alone was worth it!!
Other dining on the ship:
The food doesn't end there!  There is also the International Cafe – one of my favorites – where you can get salads, sandwiches and pastries around the clock.  (This is also where you can find the donuts in the morning!)  On the Ruby Princess, this is also where you find the gelato.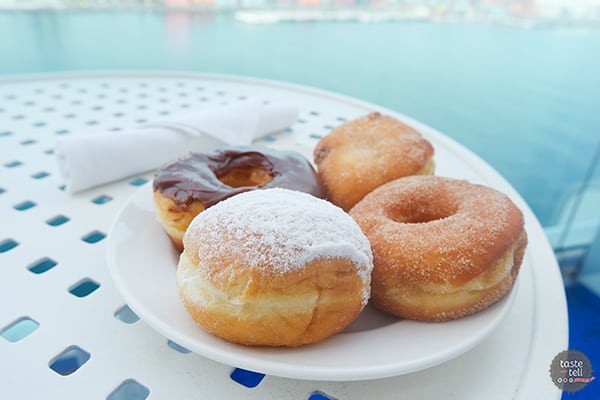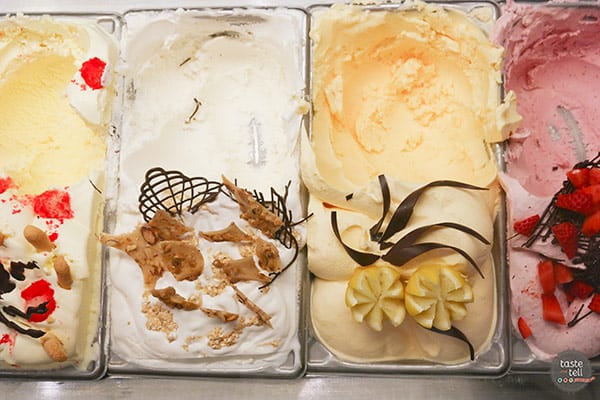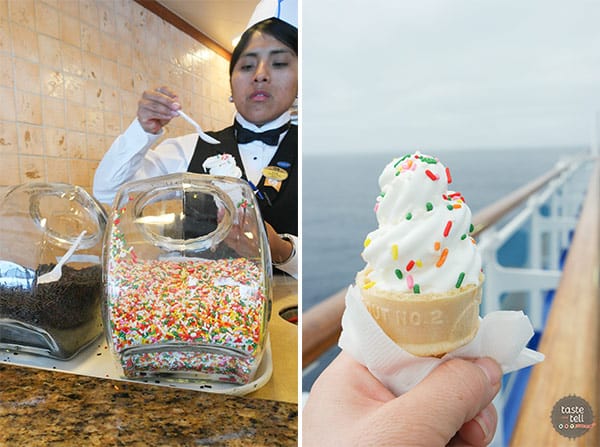 There is also all you can eat soft serve!  One of these little cones is the perfect sweet treat between meals.
You can also visit the dining rooms for breakfast or lunch.  I had only gone through the buffet on our last cruise, so our first morning we decided to go to the dining room for breakfast.  The choices weren't a whole lot different from what they offered in the buffet, but it was nice to sit down at a table and have a quieter morning.
Since this was a culinary cruise, we were able to watch a cooking demo by Cat Cora and Suzanne Tracht on our day at sea.  Let me tell you – I wish I was able to eat the food that they prepared because it smelled amazing!!  They did both have special items that were served in the buffet, as well as desserts (like the tarts pictured below) during the cruise.
I didn't take any photos of the buffet, but it is pretty much open for one meal or another all day long.  There are lots of different regional favorites offered as well as your typical breakfast or lunch items like eggs or salads.
If you are wanting something a little more casual, you can order pizza or burgers and hot dogs from the pool side restaurants. This was a great choice for us on the last night when we wanted to take it easy and eat while watching a movie.
You can also order room service 24 hours a day. You'll never be hungry!
And let's not forget the drinks! You all know that I don't drink, but that doesn't mean that I didn't get any special drinks! There is a non-alcoholic section on the drink menu that had some very tasty drinks.  There is also always water and soda.
The food was spectacular, and I felt spoiled having such great food for that week.  I'm looking forward to my next cruise with Princess!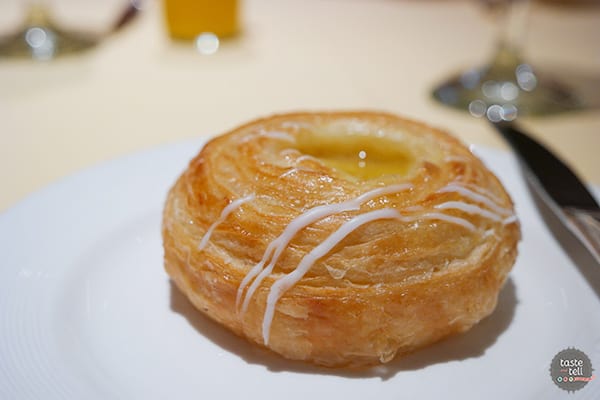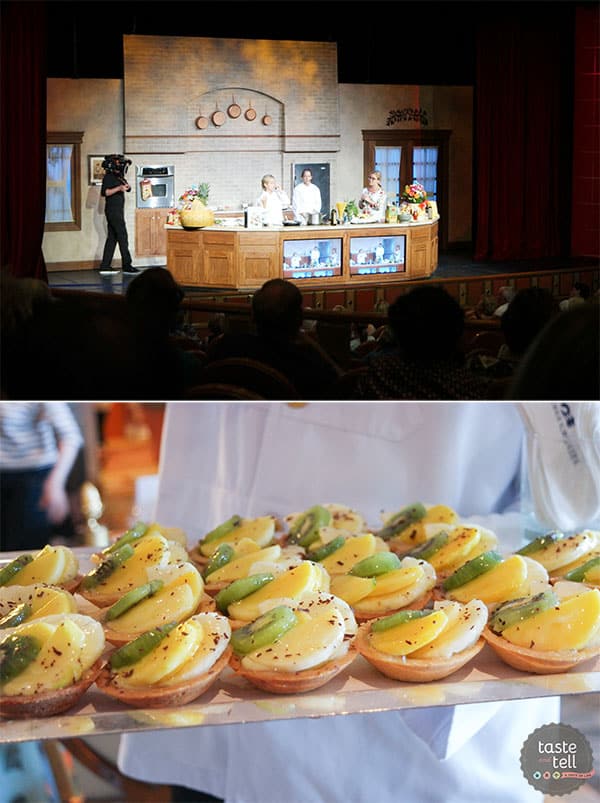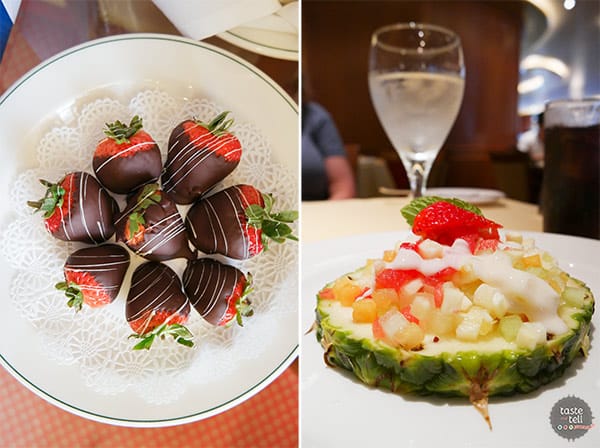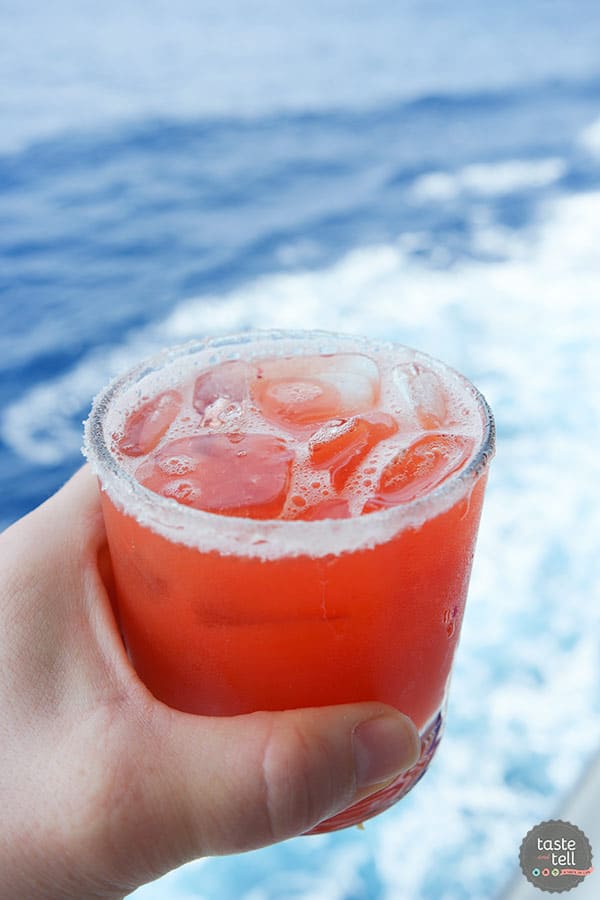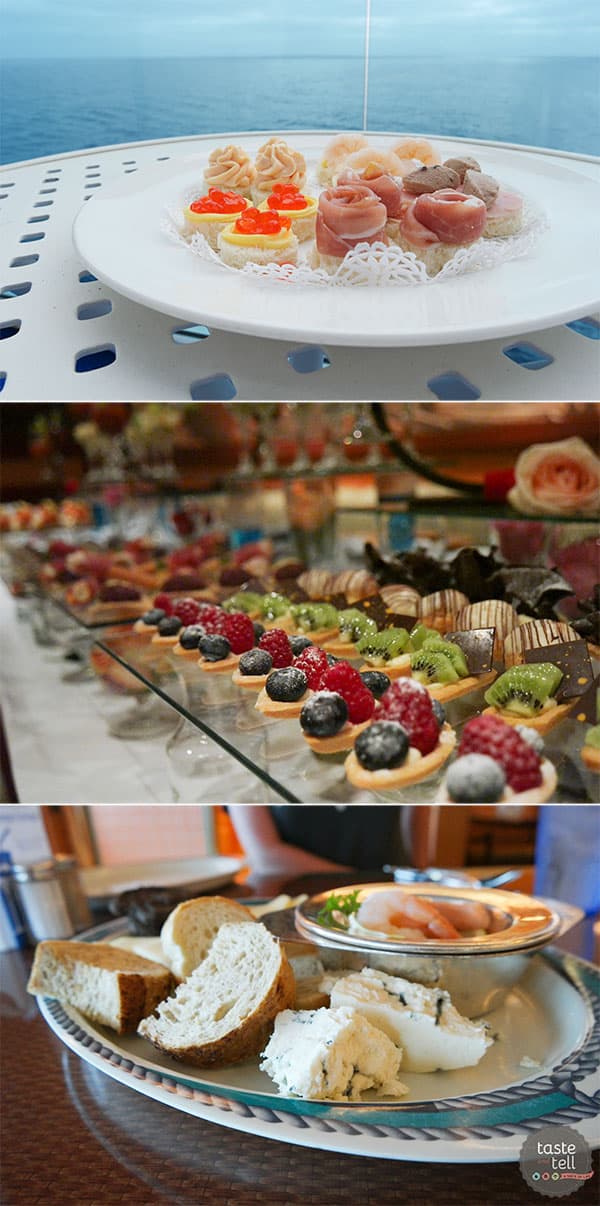 Like what you see here? Make sure you are following Taste and Tell for more recipes and ideas!
Facebook | Pinterest | Instagram | Twitter | Google+ | Weekly Newsletter | Feedly | Bloglovin
Don't miss a thing! Follow me on Pinterest to see what I'm pinning!
Visit Taste and Tell's profile on Pinterest.


This post has been sponsored by Princess Cruises. I'm so glad to be able to work with companies and organizations that I truly believe in. Thank you for supporting them, too.