Fish and Chips takes a new look in these tacos layered with french fries, blackened tilapia, cabbage and a chipotle-lime dressing.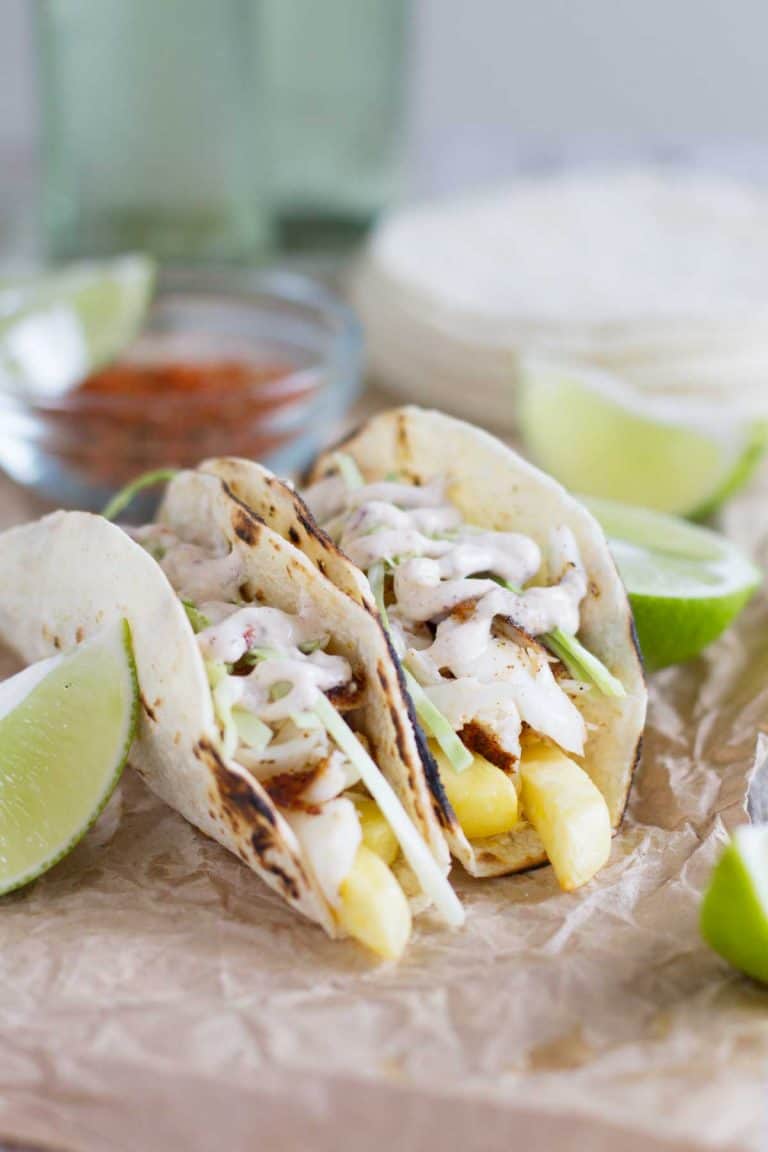 Fish and chips in tacos?? You bet!!
We are at it again. Carrian, Kristy and I are bringing you another blog party with some of our favorite bloggers. This month, we are teaming up with Alexia and talking all about healthy eating choices, specifically using the Alexia Smart Classics products.
I've got a great recipe for you, but make sure you head to the bottom of the post for links to 6 other amazing recipes, as well as a great giveaway!!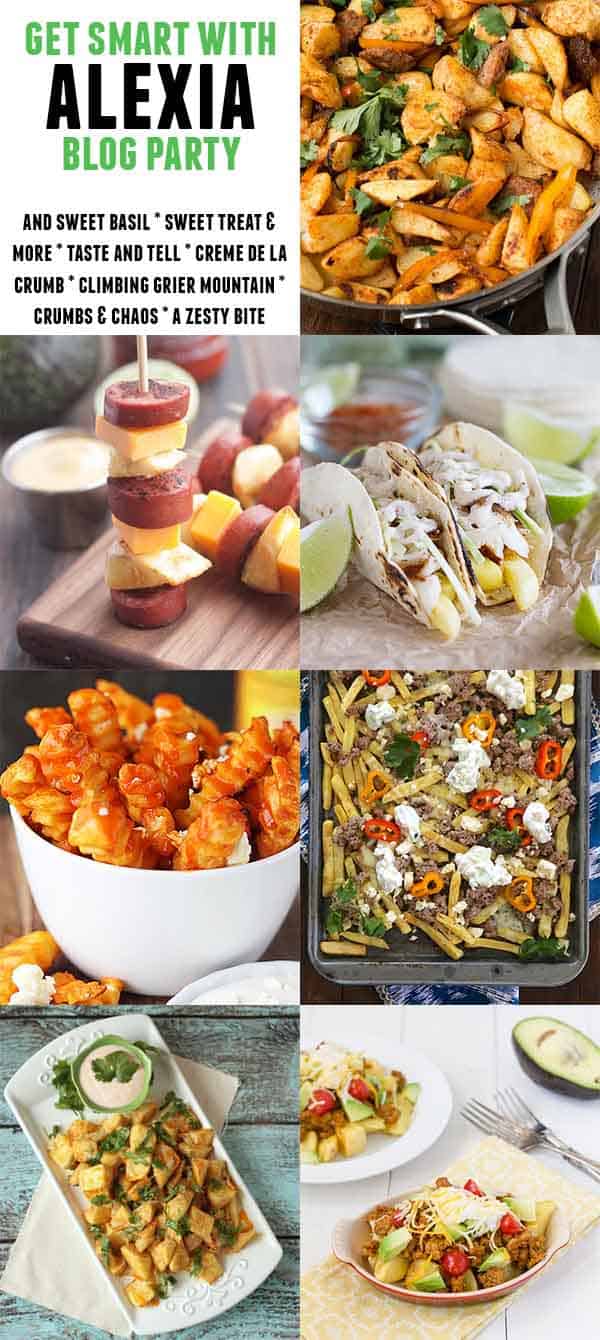 I'll be the first to admit – I'm not always the best at the healthy eating thing. I try to keep things balanced and I try to practice everything in moderation, but I love my burgers, cheesy dishes and desserts. But, I know that healthy eating habits are important – especially to instill in my children.
So when sat down to think about what I wanted to make with Alexia's new line of oven baked fries and potatoes, the first thought that came to my mind was fish and chips. Well, if you've ever had fish and chips (and who hasn't…), you know it's not the healthiest choice out there. But what if I could transform it and turn it into something healthy??
The wheels in my mind were turning, and with the help of a beautiful taco that popped into my mind from Tieghan at Half Baked Harvest, I thought to myself – what if I turned fish and chips into a taco??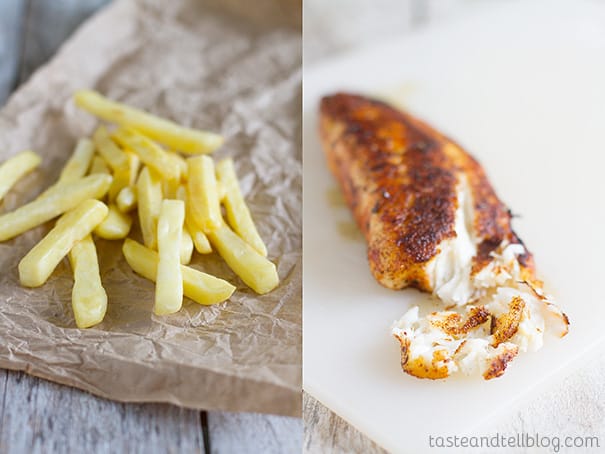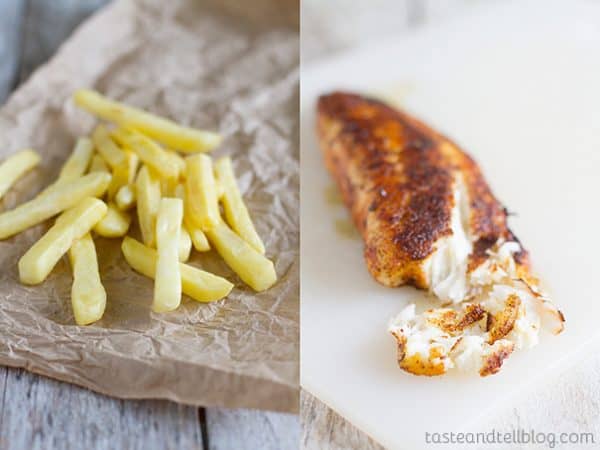 These tacos are ridiculously simple. By the time you have the fries baked, you could have everything else ready. So stick your fries in the oven, pat a simple spice mixture all over your fish, and then cook it up. It literally takes 6 minutes to cook. I charred my tortillas on our gas stove, but if you don't have gas, or if you don't want to go to the trouble, just warm up the tortillas a bit before loading them up with fries, fish, shredded cabbage and a delicious chipotle-lime dressing. These may end up being your new favorite taco recipe!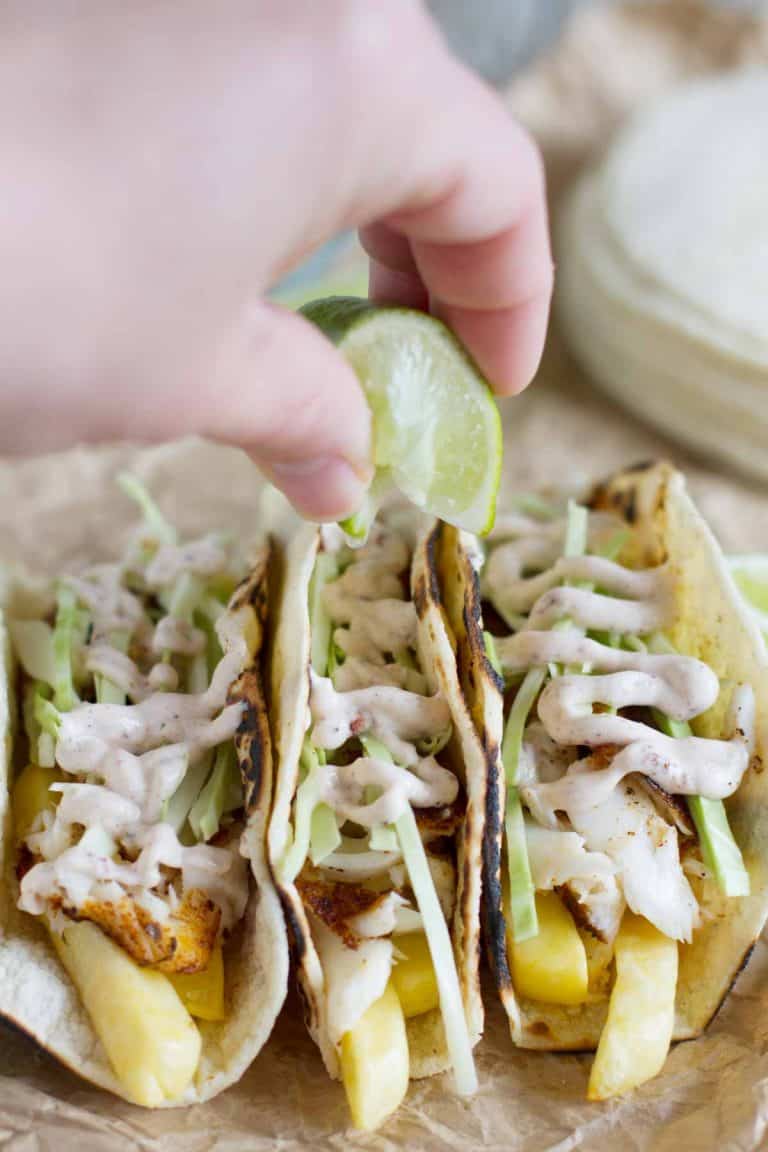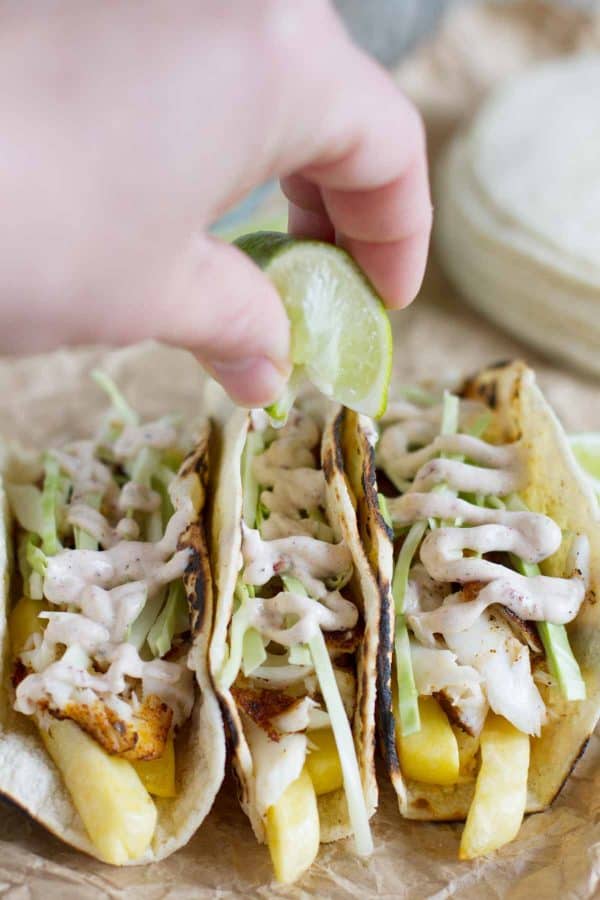 And let's talk fries for a second. My kids love french fries. My husband loves french fries. I love french fries. And now there is a healthier alternative so that you won't feel guilty serving fries with those burgers!! Alexia has a new line of baked potato products, including crinkle cut fries, straight cut fries and tri-cut potatoes. They are 98% fat free and only 100 calories per serving. That's a french fry that will fit in with your new year healthy eating resolutions!! You can find out more on their website, and make sure you follow them on Facebook for updates on all of their products!!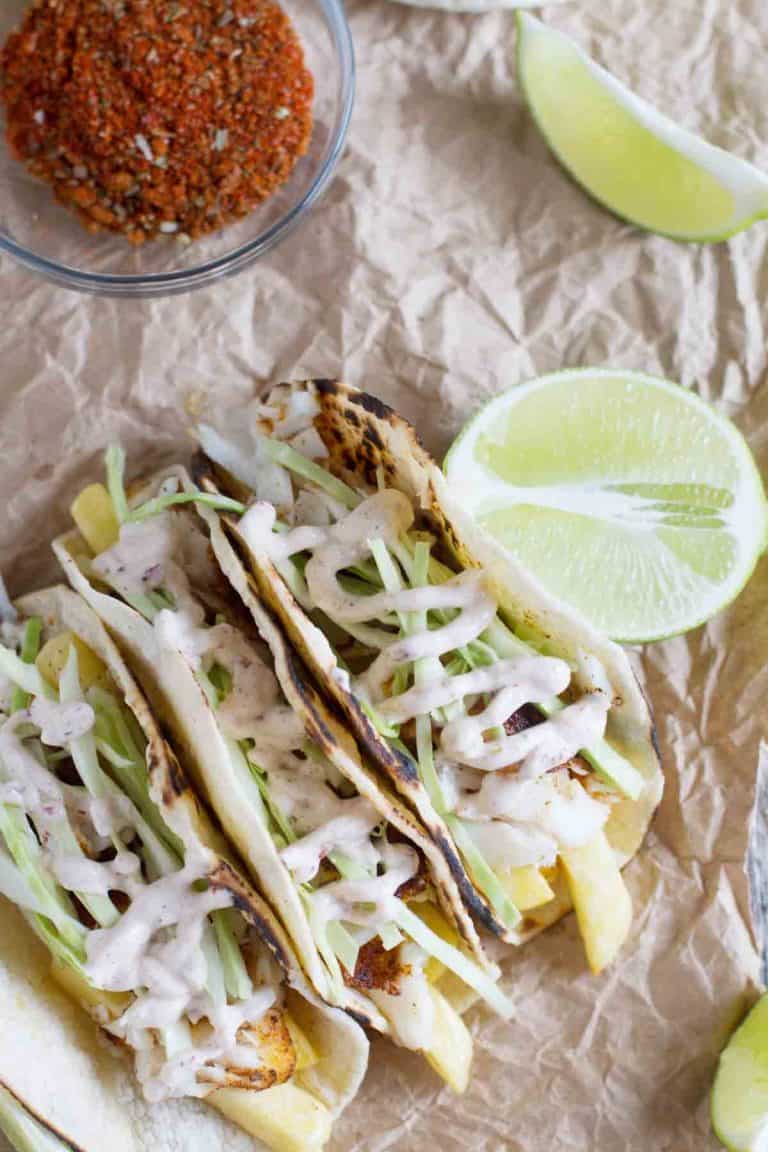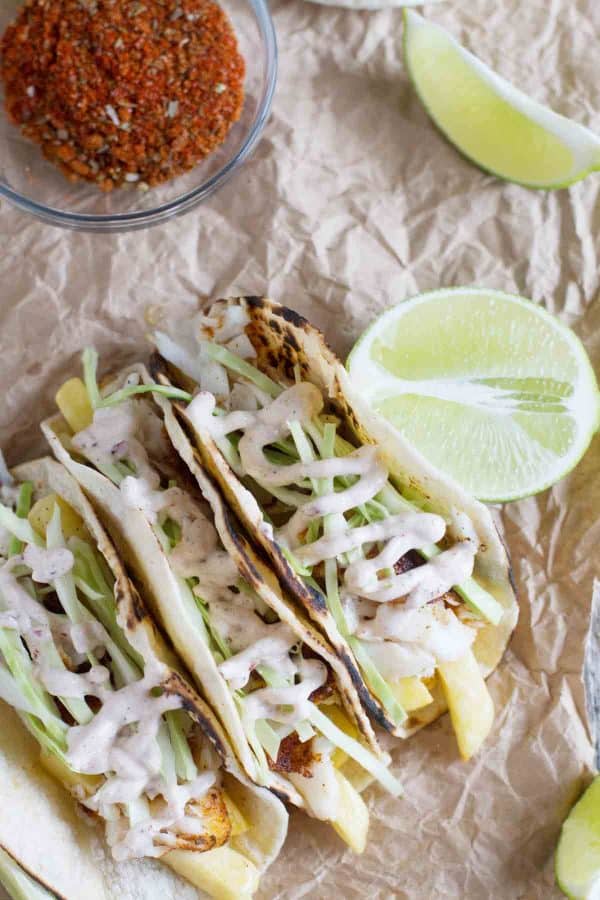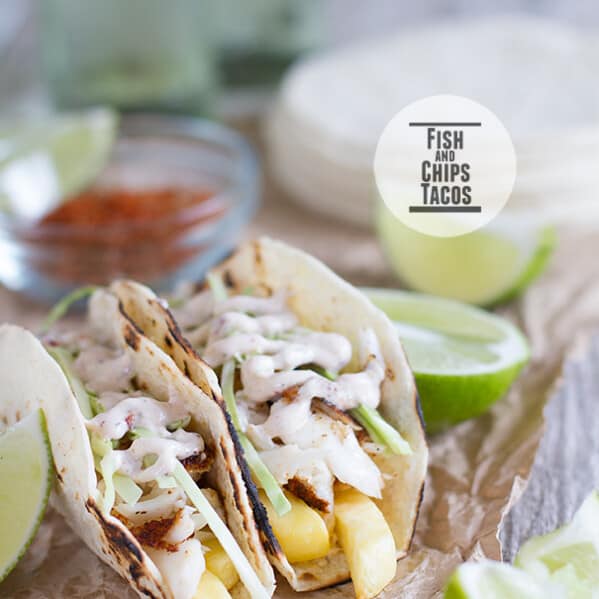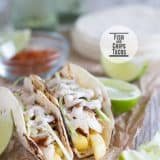 Fish and Chips Tacos
---
Prep Time: 10 minutes
Cook Time: 10 minutes
Total Time: 20 minutes
Yield: 4 servings 1x
Description
Fish and Chips takes a new look in these tacos layered with french fries, blackened tilapia, cabbage and a chipotle-lime dressing.
---
Scale
Ingredients
For the Chipotle-Lime Dressing
8 oz light sour cream
1–2 tablespoons minced chiles in adobo sauce (remove seeds for less heat)
1 tablespoon lime juice
Zest of 1 lime
1/4 teaspoon cumin
1/4 teaspoon chili powder
1/2 teaspoon Old Bay
Salt and pepper, to taste
For the Fish
2 tilapia filets (12–16 oz total)
1 tablespoon paprika
1 1/2 teaspoons brown sugar
1 teaspoon cumin
1 teaspoon oregano
1/2 teaspoon salt
1/4 teaspoon pepper
For the Tacos
---
Instructions
For the Chipotle-Lime Dressing
Mix all ingredients in a small bowl until smooth
For the fish
Heat 1 tablespoon of vegetable oil in a cast iron skillet over medium high heat. Cook the fish for 3 minutes on each side, or until desired doneness. Let rest for a few minutes, then break up using a fork.
If desired, heat tortillas over an open flame until charred.
In each tortilla, layer 4 Alexia fries and some of the fish, then top with shredded cabbage and the Chipotle-Lime Dressing.
Recipe Notes:
Chipotle-Lime Dressing recipe adapted from Allrecipes
For more great recipes using the Smart Classics line from Alexia, check out all of these posts from my blogging friends. These girls know how to come up with some crazy fun and delicious food!!
Turkey Mexican Bowl from A Zesty Bite
Simple Southwest Potatoes from Crumbs and Chaos
Loaded Greek Baked Fries from Climbing Grier Mountain
Skinny Buffalo Crinkle Fries from Creme de la Crumb
Sausage and Potato Skewers from Sweet Treats and More
5 Ingredient Steak Hash