This knock-off from a popular restaurant chain will satisfy any sweet cornbread lovers.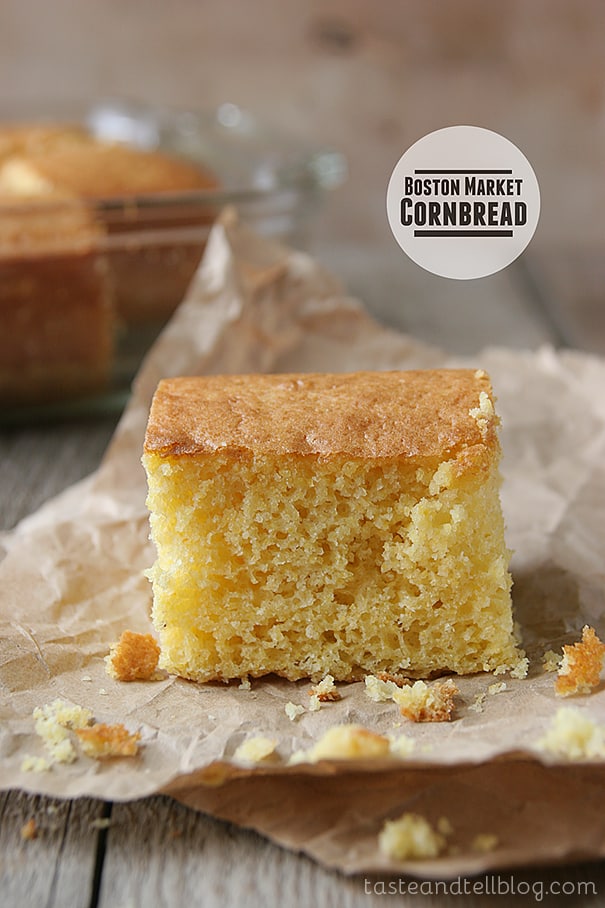 I think cornbread is one of those things that will start a debate depending on where you are.  Kind of like chili.  Beans or no beans?  I know some people are very passionate about their chili, and usually for those people, it can only be one way or the other.
I have found that cornbread often falls into the same debates.  Sweet or not sweet.
When it comes to cornbread and chili, I'll admit that I don't draw a line either way.  I like chili with beans, and without beans.  And I like cornbread both sweet and not sweet.  Although I would say that I tend to lean towards the sweet side.  But really, I just love bread so much that I'll take it any way I can get it!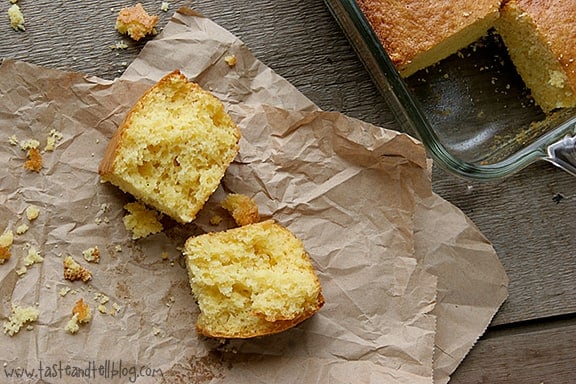 I mention this, because if you don't like your cornbread sweet, turn away now.  This cornbread defnitely leans towards the sweet side.  So sweet, in fact, that some people might even think it's cake instead of cornbread!  (Well, technically, it kind of is…)
I heard of this cornbread recipe forever ago, and have always wanted to try it.  It is a knock-off of the cornbread at Boston Market.  I've been to Boston Market, but it's probably been 10 years, so honestly, I don't remember their cornbread.  But everyone raves about it.  If you have ever been, and you love that cornbread, you won't believe how easy it is to make at home.
2 Corn bread mixes.  Cake mix.  Ingredients called for on the boxes.  Bake, and you are done.  See – I told you it is easy!!  Sweet?  Definitely.  Delicious?  Definitely.  Easy?  Definitely.  This is pretty much a fool-proof recipe.  And hey – any excuse to eat cake with dinner is a good one, right?
Like what you see here? Make sure you are following Taste and Tell for more great recipes and ideas!!

Facebook ** Pinterest ** Twitter ** Instagram ** Google+
or you can subscribe to my newsletter or Feedly or Bloglovin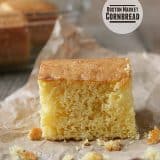 Boston Market Cornbread
---
Prep Time: 5 minutes
Cook Time: 30 minutes
Total Time: 35 minutes
Yield: 15-18 servings 1x
Description
This knock-off from a popular restaurant chain will satisfy any sweet cornbread lovers.
---
Scale
Ingredients
2 (8.5-oz) boxes Jiffy cornbread mix
1 (18.5-oz) box yellow cake mix
5 eggs
2/3 cup milk
1 cup water
1/2 cup vegetable oil
---
Instructions
Preheat the oven to 350F. Spray a 9×13-inch baking dish with cooking spray. Set aside.
In a large bowl, mix all ingredients until combined. Pour into the prepared baking dish. Bake in the preheated oven for 30 minutes, or until a tester inserted in the center comes out clean.