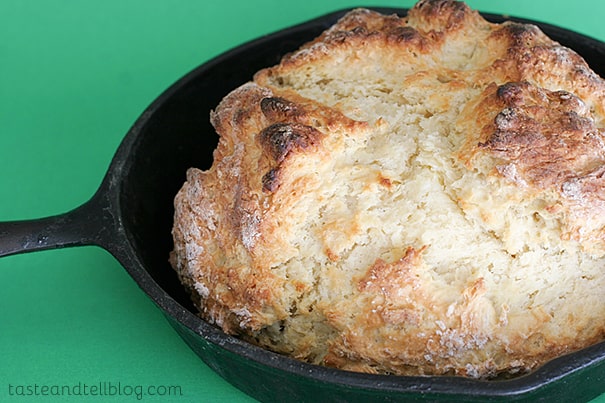 **Also seen at Cafe Zupas**
Even though I'm not Irish, I still love learning about the different foods associated with St. Patrick's Day and Ireland. Irish stew, boxty, coddle, soda bread – all things that don't usually grace my dinner table, but now that St. Patrick's day is near, it's a great time to experiment!
As I was looking up recipes for Irish soda bread, I found many variations. Some had raisins, and some had whole wheat flour, but this one I was able to whip up with pantry staples that I usually have on hand. It was super easy, fast and delicious! This would be a great companion to a good stew to see us through the last days of winter!
Irish Soda Bread
4 to 4 1/2 cups flour
2 tablespoons sugar
1 teaspoon salt
1 teaspoon baking soda
4 tablespooons butter
1 egg, lightly beaten
2 cups buttermilk
Preheat the oven to 425F. Sift together the dry ingredients. Using a pastry cutter, cut in the butter until only small bits remain.
Make a well in the center of the flour mixture. Add in the egg and the buttermilk and mix with a wooden spoon until it is too stiff to stir. Flour your hands and mix the dough by hand just long enough to form a ball. Add more flour if the dough is too sticky, but don't overmix the dough.
Transfer the dough to a cast iron skillet, and score the top of the dough in an "X" shape with a serrated knife. Bake for 35-45 minutes, or until the bread is golden and sounds hollow when you tap the bottom. Serve bread warm or at room temperature.
**If the top is getting too dark, tent with aluminum foil.