S'mores without the campfire! These Peanut Butter S'mores have a graham cracker crust, lots of marshmallow, rich chocolate and a peanut butter drizzle – all served in a jar.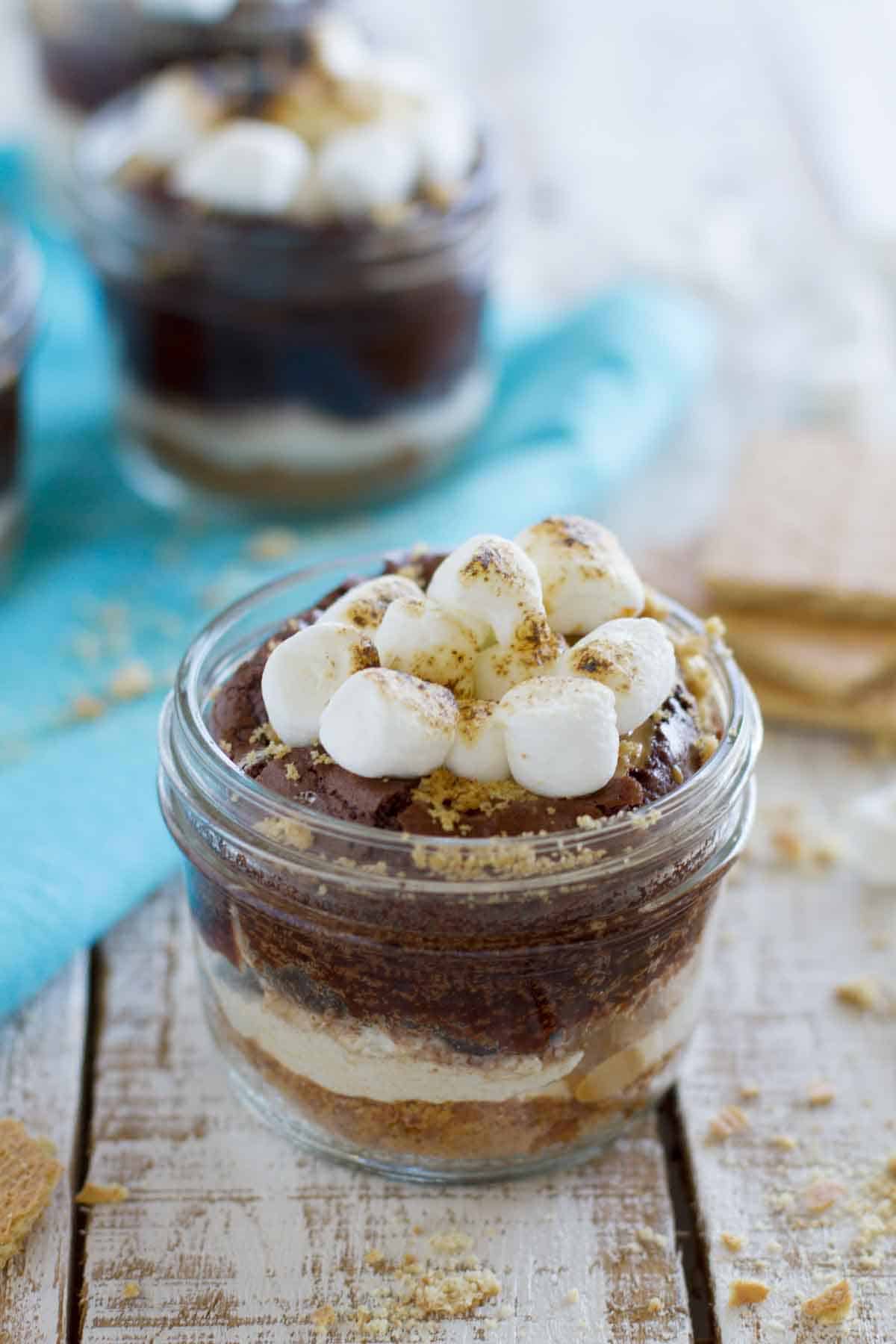 Who is starting school this week, or has already started?
I'm a newbie to this whole school thing. Well, this being a mom to someone in school thing. My oldest is going into Kindergarten this year, and I feel like I totally don't know what to expect. I think I'm more nervous for everything than my daughter is.
I'm one of those people that gets so caught up in everything that is going on in life that sometimes I miss the details. I totally knew that school started this week. So I was prepared. And then I found out on Friday that while school does start this week, the kindergarten classes don't start for another week.
Yeah – I'm that mom that would have totally sent her daughter on the school bus a week before she was actually supposed to be there.

But the good news is that we have another week of summer!! The reality is that I will continue to celebrate summer until at least Labor Day, but having no school means some extra fun times.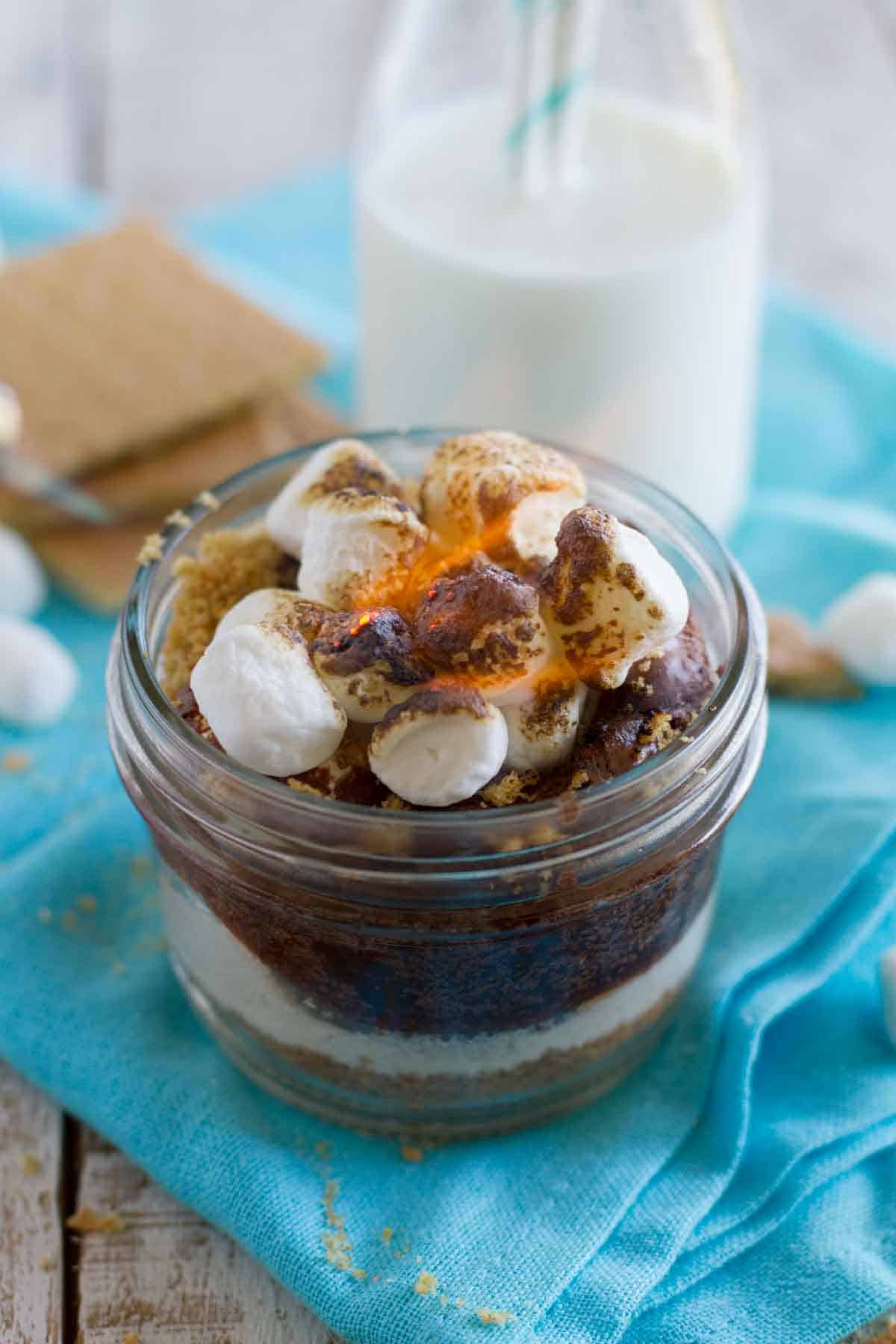 One thing we haven't done yet this summer is to have s'mores in the backyard. I actually bought ingredients several weeks ago, but for one reason or another, they never happened. But you don't have to have a backyard fire pit – or even a backyard for that matter – to enjoy s'mores.
Because today, I've got you covered with Peanut Butter S'mores in a Jar.
This dessert right here is one that will make your summer. All of the flavors of s'mores – plus added peanut butter – right in an easy to eat jar. No campfire needed.
I actually tried to make these using a homemade brownie recipe and they were a complete disaster. They completely overflowed and were not cooked through. It was a delicious mistake, but it was definitely not the best way to make them. The second time I went to make them, I was going to try a different homemade brownie recipe, but then decided to just stick with the recipe and use a boxed mix. And honestly – if you serve these to guests, they will never know that the brownie portion came from a box. These were amazing. I almost skipped the peanut butter, but that little bit of peanut butter totally made these. So I would definitely recommend keeping the peanut butter.
These would also be perfect for summer entertaining. Individual portions are always a good thing, and the jars make them feel a little bit special.
I'm thinking these Peanut Butter S'mores in a Jar are the perfect summer dessert. And the perfect dessert to celebrate (almost) going back to school!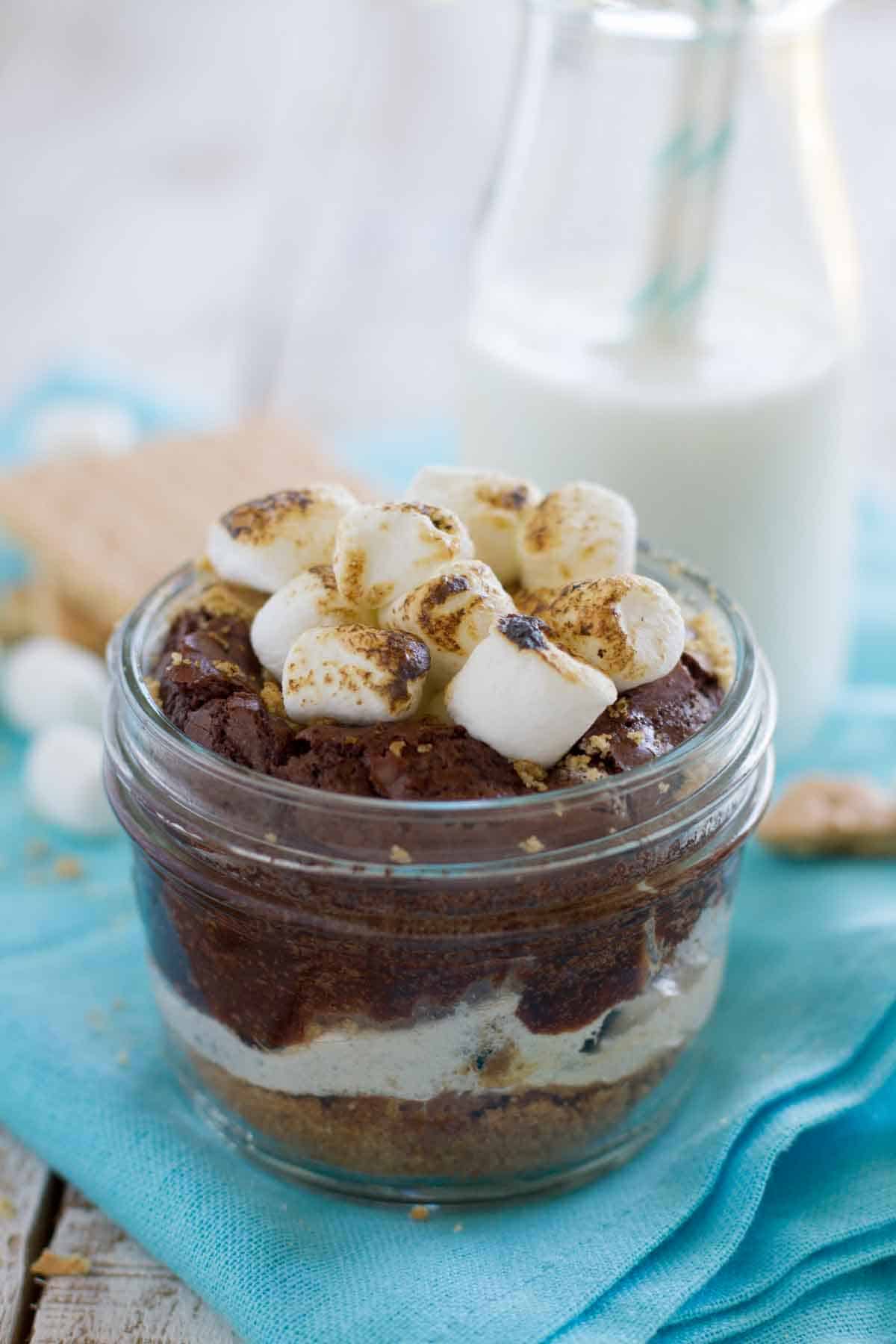 More Twists on the S'more:
S'mores PancakesS'mores Muffins
S'mores Cheese Ball
S'mores Pancakes
Indoor S'mores
S'mores Molten Lava Cakes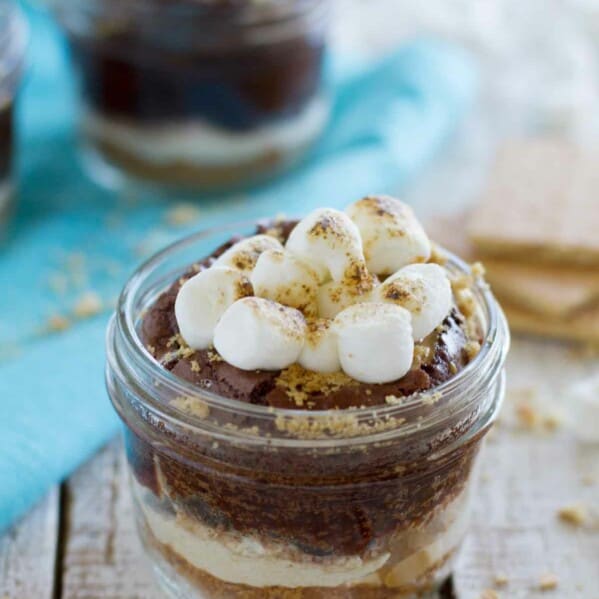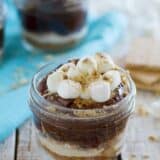 Peanut Butter S'mores In a Jar
---
Author:
Prep Time: 15 minutes
Cook Time: 30 minutes
Total Time: 50 minutes
Yield: 8 servings 1x
Category: Dessert
Method: Baked
Cuisine: American
Description
S'mores without the campfire! These Peanut Butter S'mores have a graham cracker crust, lots of marshmallow, rich chocolate and a peanut butter drizzle – all served in a jar.
---
Scale
Ingredients
1 sleeve graham crackers (9 whole crackers), finely crushed
3 tablespoons butter, melted
1 teaspoon sugar
1 (7 oz) container marshmallow creme
1 box (18 oz) brownie mix, plus ingredients called for on the box
4 tablespoons creamy peanut butter
3 cups miniature marshmallows
---
Instructions
Preheat the oven to 325F. Place 8 (8 oz) jars on a baking sheet.
In a bowl, combine the graham cracker crumbs, butter and sugar. Reserve about 1/4 cup of the crumbs, and divide the rest of the crumbs evenly between the 8 jars. Use a spoon or a spice jar to flatten the crumbs into the bottom of the jars.
Place a large spoonful of the marshmallow creme in each jar over the crust, dividing it equally between the 8 jars. (I microwaved the creme for about 8 seconds to loosen it up a bit.) The creme should spread to the edge of the jars while you make the brownie batter, but if it doesn't, use the back of a spoon that has been sprayed with nonstick cooking spray to spread the creme.
Prepare the brownie batter according to the package directions. Divide the batter evenly between the 8 jars. Place in the oven and bake until the brownie layer is cooked through, about 30 minutes. The marshmallow may puff up in the center or along the sides of the jar. The brownies may also fall a bit after baking.
Remove from the oven and allow to cool slightly. Place the peanut butter in a small bowl and microwave for 30 seconds. Drizzle 1/2 tablespoon of peanut butter over the top of each jar. Sprinkle the reserved graham cracker crumbs on top. Top each with about 1/3 cup of miniature marshmallows. Use a kitchen torch to char the marshmallows. Alternately, place the jars under the broiler until the marshmallows are browned.
Serve warm.
Recipe Notes:
For the brownie mix, I used a Ghiradelli double chocolate brownie mix. I would highly recommend it.
adapted from Family Circle August 2014
Keywords: peanut butter s'mores