Creamy and rich, this Peanut Butter Brownie Trifle is filled with brownies, pudding, and lots of peanut butter cups.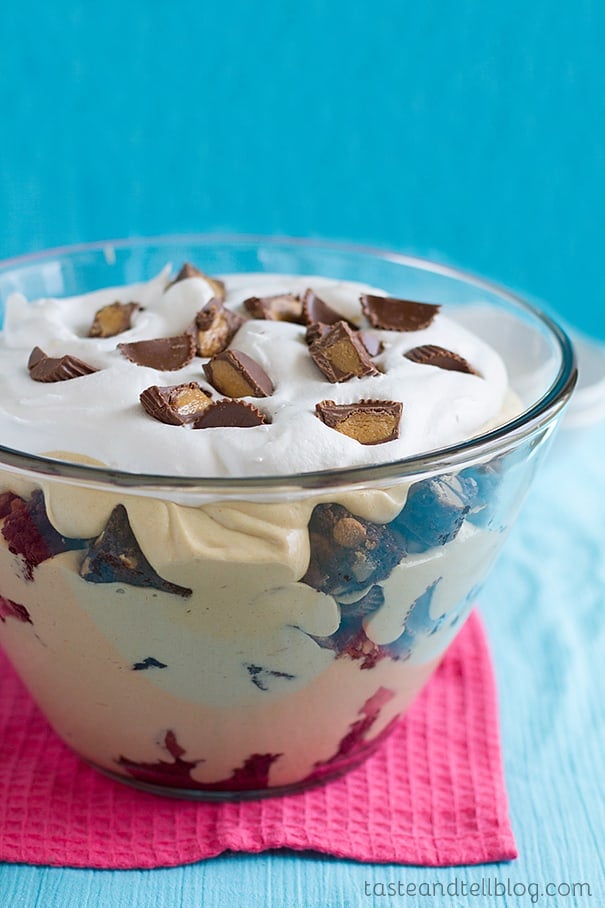 So let's just jump to the nitty gritty here. Usually when I cook and when I bake, it's more about the journey than the destination. Sure, I love to eat. It's the reward at the end of the road. But I love cooking. I love the process.
So over the past few years, I have turned more and more to cooking and baking from scratch. Sure, I have my convenience products because I am a busy mom after all, but when I feel like baking a cake, it's not usually from a box. Because I enjoy the process, and there isn't as much of a process when I'm starting from a box.
But…
That being said, sometimes you just need a dessert. Sometimes you are so dead tired that you don't want to think about it, but whether it's for a neighborhood potluck or family dinner, you need dessert. And you don't want to deal with it.

You could run to the grocery store and buy something pre-made, or hit up a local bakery. Or you could start from a box.
This recipe not only uses a brownie mix, but also pudding mix and frozen whipped topping. It's a convenience product lover's dream!! 🙂
But guess what? This dessert was inhaled. I took it to a family picnic, and the kids were helping themselves to dessert before they even ate dinner. (I think they mostly wanted to pick out the peanut butter cups!!)
So if you are looking for a no-brainer dessert, I'm here for you today. It's a great recipe to have in your back pocket for busy days, or lazy summer days. And really – as long as it makes the people you are serving happy, that's all that matters, right?
Like what you see here? Make sure you are following Taste and Tell for more great recipes and ideas!!

Facebook ** Pinterest ** Twitter ** Instagram ** Google+
or you can subscribe to my newsletter or Feedly or Bloglovin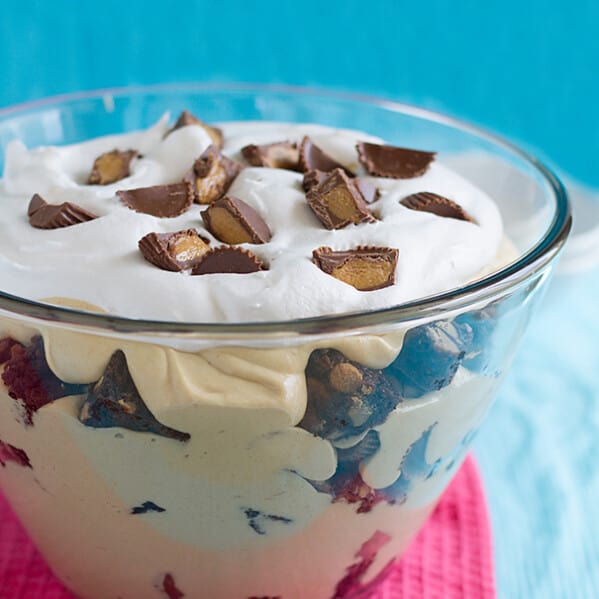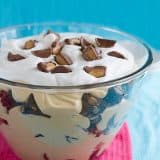 Peanut Butter Brownie Trifle
---
Prep Time: 15 minutes
Cook Time: 25 minutes
Total Time: 1 hour 15 minutes
Yield: 20 servings 1x
Description
Creamy and rich, this Peanut Butter Trifle is filled with brownies, pudding, and lots of peanut butter cups.
---
Scale
Ingredients
1 box fudge brownie mix (13×9-inch pan size), plus the ingredients required on the box
1 package (10 oz) peanut butter chips
26 oz miniature peanut butter cups
4 cups cold milk
2 packages (5.1 oz each) instant vanilla pudding mix
1 cup creamy peanut butter
4 teaspoons vanilla extract
16 oz frozen whipped topping, thawed (such as Cool Whip)
---
Instructions
Preheat the oven to 350°F. Prepare the brownie mix according to the package. Stir in the peanut butter chips. Pour into a greased 9×13-inch baking dish and bake for 20-25 minutes, or until a tester inserted in the center comes out clean. Cool completely, then cut into 3/4 inch squares.
Cut the peanut butter cups in half. Reserve 1/3 to 1/2 cup for garnish.
In a large bowl, combine the milk and the pudding mix. Beat for 2 minutes – it should be thick. Add in the peanut butter and vanilla and mix to combine. Fold in 3/4 of the whipped topping.
Put 1/3 of the brownie pieces in the bottom of a 4 to 5 quart bowl. Top with 1/3 of the peanut butter cups, then 1/3 of the pudding mixture. Repeat the layers 2 more times. Cover the top with the remaining whipped topping, then garnish with the reserved peanut butter cups. Refrigerate until chilled.
Chocolate and peanut butter lovers will go crazy for this creamy, rich trifle that is perfect for a crowd.