French bread is topped with cooked sausage, portobello mushrooms and cheese in this easy French bread pizza recipe.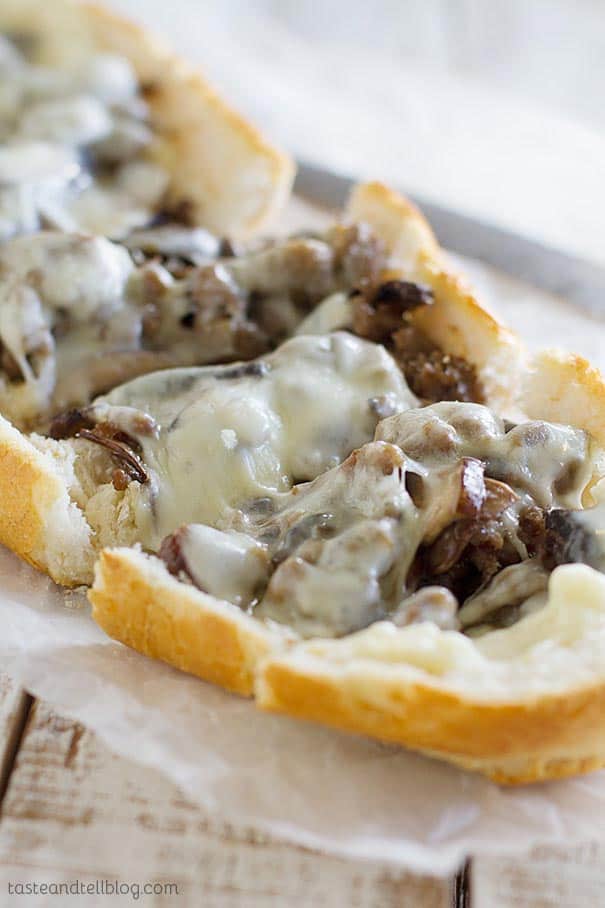 Originally posted August 7, 2007 – Over the years, French bread pizza has become a favorite for us. This recipe is one of the earliest versions that I made, and I still love it today. We've changed the recipe just a bit over the years (the recipe below reflects my changes). This is a super easy weeknight recipe, or a great way to change up pizza night. The filling is hearty and filling and even though it is only a few ingredients, the flavor is awesome. Definitely one of our favorites!
I have been a bit absent from my own blog the last week. I spent the weekend in New Mexico for a family reunion, and the few days before that getting things ready for the trip. When I got back on Sunday night, we were too tired to do anything, and after we unpacked the truck, we spent the evening lounging around. When I checked my reader on Monday morning, I was not very surprised to see that I had over 200 updates that I needed to read. Overwhelming!! Thank goodness my work is slow right now and I need something to pass the time while I am there – I made it through over 100 of them yesterday and have been trying to tackle the rest today.

Also overwhelming is the amount of recipes I have saved since discovering food blogs. I have mentioned this before, but I have a lot of recipes to try!! I decided that I need to try to make one recipe a week from this list that I have been adding to daily. So this recipe is one of those saved recipes.






I knew I wanted to make this the minute I read the recipe's title. I remember it being a huge treat growing up if we got the frozen Stouffer's French Bread Pizza. I have also seen Rachael Ray make quite a few versions of these pizzas on her show. So when I saw Amy's recipe for Portobello and Sausage French Bread Pizza, I was sold.
I followed Amy's ingredients exactly, only changing up the preparation by one step. Instead of toasting the cut bread, I did mine Rachael Ray style – basically just pulling out all of the extra bread in the middle, making a sort of "bowl" for the filling. This worked perfectly, and I was able to have a good amount of filling for each serving.
When I told my husband what I was making for dinner, he kind of acted like he wasn't going to be eating that night. But after he tried it, he was sold as well!! They are a lot like the frozen version you can find, but a bit more sophisticated and a lot tastier!! It was so easy as well, and was ready and on the table in no time at all.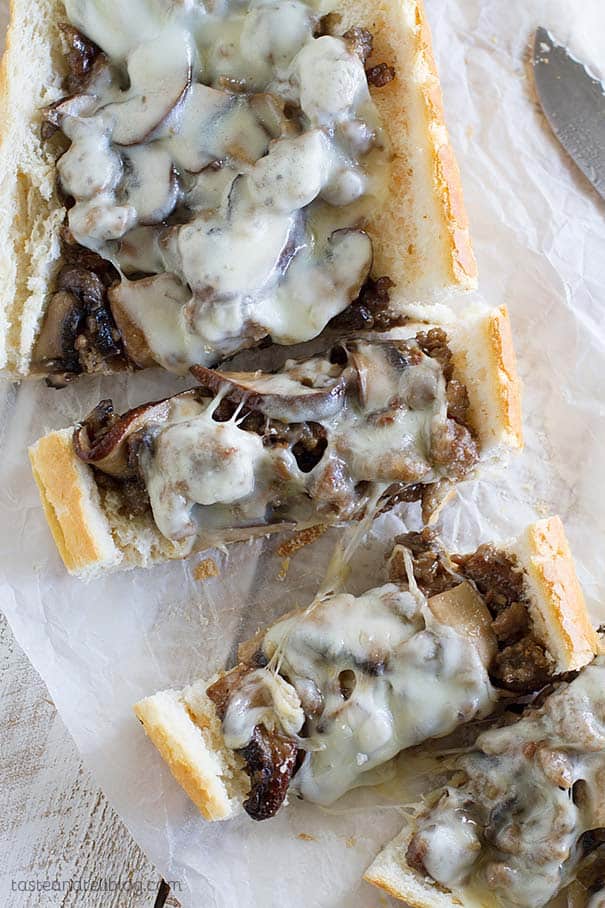 Like what you see here? Make sure you are following Taste and Tell for more great recipes and ideas!!

Facebook ** Pinterest ** Twitter ** Instagram ** Google+
or you can subscribe to my newsletter or Feedly or Bloglovin


Recipe Updated August 2014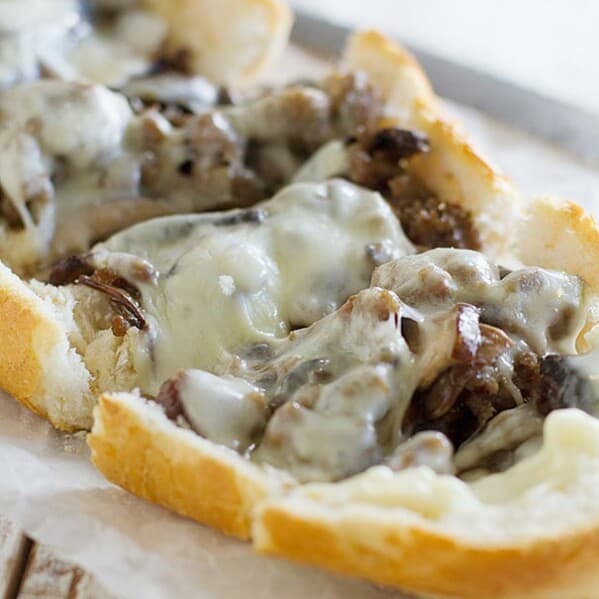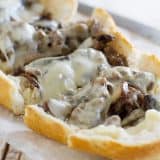 French Bread Pizza with Sausage and Portobello Mushrooms
---
Prep Time: 15 mins
Cook Time: 25 mins
Total Time: 40 mins
Yield: 6 servings 1x
Description
French bread is topped with cooked sausage, portobello mushrooms and cheese in this easy French bread pizza recipe.
---
Scale
Ingredients
1 (16 oz) loaf French Bread
16–18 oz Sweet Italian Sausage
1 tablespoon flour
1/4 cup beef broth
2 large portobello mushrooms (about 6 oz each)
1/2 cup Parmesan cheese
8 slices (6-8 oz) sliced Provolone cheese
---
Instructions
Preheat the oven to 400F.
Slice the bread in half lengthwise using a serrated knife. Carefully pull out the insides of the bread, making sure not to go all of the way through. (This will make a sort of "boat" to hold the filling.)
Place the bread, cut side up, on a baking sheet. Toast in the oven for about 5 minutes. Meanwhile, cut each mushroom in half and then thinly slice.
Place a large skillet over medium heat. Remove the sausage from the casings and add to the skillet. Cook until no longer pink, breaking the sausage up as it cooks, about 5 minutes. Sprinkle the flour over the sausage and cook, stirring, for another minute. Add the broth and the mushrooms. Cook, stirring frequently, until the mushrooms have softened, another 5-10 minutes. Remove the pan from the heat and stir in the Parmesan cheese.
Divide the mixture evenly between the two bread halves and spread from end to end. Top each piece with 4 slices of cheese. Place back in the oven until the cheese is melted, about 5 minutes.
Remove from the oven and cut into slices to serve.