Spinach and artichokes meet the tuna melt with these easy, weeknight sandwiches.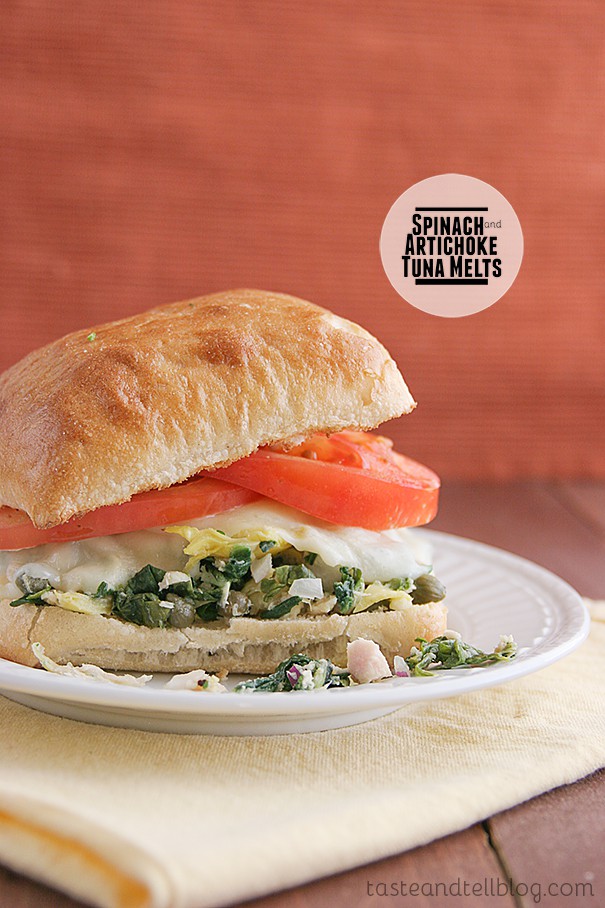 Do you know what I miss?  I remember the days when we would spend about $50 a week on groceries.  Granted, there were only 2 of us back then, but I feel like every week our grocery bill keeps getting higher and higher.
I don't know why, but I'm not normally drawn to recipes with tuna fish.  It's sad, because I do like a good tuna fish sandwich.  But in over 5 years of recipes here on Taste and Tell, I can only find 3 times that I've made a tuna fish based recipe.  I'm starting to think that this needs to change, because you know what is pretty inexpensive?  Canned tuna!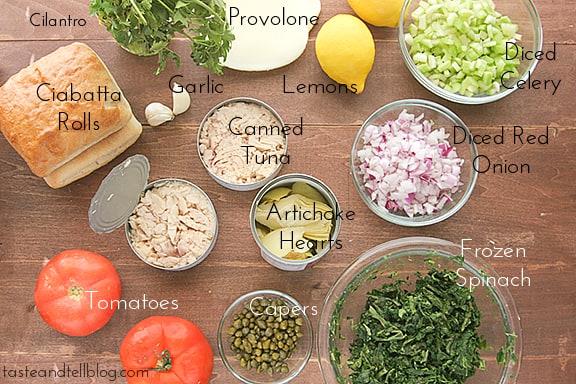 I actually am on a "clean out the freezer" kick right now, and for some reason, I found several bags of frozen spinach hiding in there.  So I basically killed two birds with one stone with this recipe – used up some of that spinach, and added an inexpensive protein to our dinner!  I really wasn't in the mood for this the night we had them for dinner, (you never know with pregnancy!), but I still ate a sandwich and actually really liked it.  More than I thought I would.  These aren't your typical tuna sandwiches.  The filling is a lot lighter without a mayo-based sauce.  But there is still lots of flavor there.
This recipe does make enough to feed a small army – just warning you.  The original recipe says that it feeds 4, but that would have been 4 humongous sandwiches!!  We had plenty of leftovers, but that's ok, because they made great sandwiches for lunch the next day!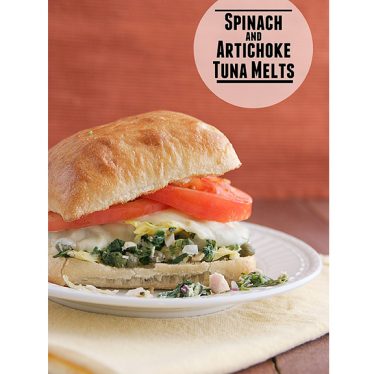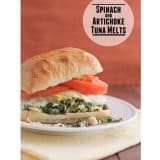 Spinach and Artichoke Tuna Melts
---
Prep Time: 15 minutes
Cook Time: 5 minutes
Total Time: 20 minutes
Yield: 6-8 servings 1x
Description
Spinach and artichokes meet the tuna melt with these easy, weeknight sandwiches.
---
Scale
Ingredients
2 cans (5 oz each) tuna, drained and flaked
1 can (14 oz) artichoke hearts, drained adn chopped
10 oz. frozen spinach, thawed and squeezed dry
1 1/2 lemons, juiced
1/2 red onion, finely chopped
2 ribs celery, chopped
1/4 cup extra virgin olive oil
1/4 cup chopped fresh parsley
3 tablespoons capers, drained
2 cloves garlic, grated or finely chopped
pepper
6–8 ciabatta rolls
6–8 slices provolone cheese
sliced tomatoes, for topping
---
Instructions
Preheat the broiler.
In a large bowl, combine the tuna, artichoke hearts, spinach, lemon juice, chopped red onion, chopped celery, extra virgin olive oil, chopped parsley, capers and garlic. Season with pepper.
Split the ciabatta rolls. Place the bottom halves on a baking sheet and add the tuna mixture to the bread. Top with the cheese. Place the bread tops on the baking sheet. Place under the broiler until the cheese is melted and the tops are toasted.
Top the sandwiches with the sliced tomato and the bread tops and serve.
——————
slightly adapted from Every Day with Rachael Ray May 2012
More twists on the classic tuna sandwich:
Tuscan Tuna and White Bean Sandwiches from Spache the Spatula
Pesto Tuna Salad with Sun Dried Tomatoes from The Curvy Carrot
French-Style Tuna Melts from Taste and Tell
Tuna Salad Lettuce Wraps with Capers and Tomatoes from Kalyn's Kitchen
Tarragon and Shallot Tuna Salad Sandwich with Avocado from Natalie's Daily Crave