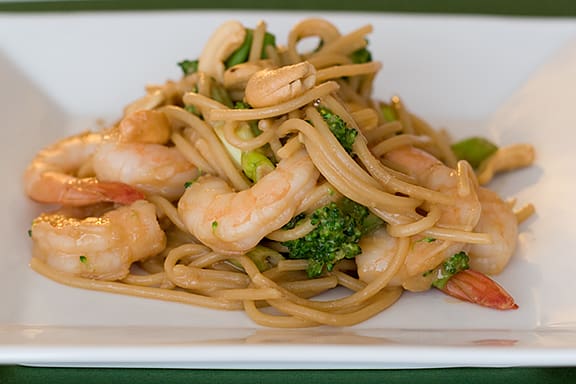 Usually, when I am planning my meals, I'll plan 3 meals at a time. First, I'll chose a recipe from the Cookbook of the Month. Then, I will usually choose a recipe from a magazine that I haven't made anything from yet. Then third, I like to grab a cookbook off of my shelf and choose a recipe from the cookbook. Well, this particular time, the cookbook that I chose was not inspiring me. I went through it's pages, and nothing jumped out at me. I almost put it back on the shelf and went to chose a new one, but I decided to try out this Thai Shrimp and Noodles.
I don't know why I chose this recipe. My husband doesn't really like Thai food. And he doesn't like savory foods with peanut butter in them. But for some reason, this is the only one I wanted to try from the cookbook that day. And guess what – I loved this recipe! I was the only one eating that night, but I didn't care, because this really was so delicious. I really think my husband missed out on this one. I actually think that he would have liked it if he would have tried it, but it was just more for me!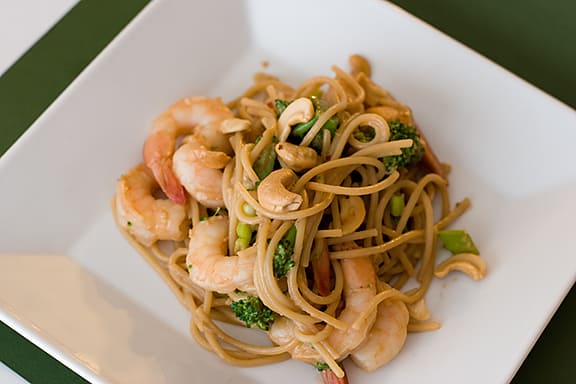 Thai Shrimp and Noodles
adapted from Our Best Recipes
Serves 6
total time: 40 minutes
2 pounds fresh or frozen shrimp, peeled and deveined
8 ounces dried spaghetti, broken into pieces
5 cups broccoli florets (about 12 oz.)
1/3 cup creamy peanut butter
1/4 cup soy sauce
3 tablespoons rice vinegar
2 tablespoons sesame oil
1 tablespoon chile oil*
1 tablespoon fresh grated ginger
3 cloves garlic, minced
4 green onions, chopped
1/3 cup cashews or almonds
In a Dutch oven, bring a large amount of water to boiling. Add the spaghetti and cook for 4 minutes. Add the broccoli and cook for an additional 2 minutes. Add the shrimp and cook for 2 to 3 more minutes or until shrimp is opaque and the spaghetti is done.
Meanwhile, in a small bowl, stir together the peanut butter and soy sauce. Stir in the vinegar, sesame oil, chile oil, ginger and garlic. Drain the spaghetti mixture and return to the Dutch oven. Add the peanut butter mixture, green onions and nuts. Toss gently to coat.
*If you can't find or don't have chile oil, you can substitute 1 tablespoon cooking oil plus a dash of bottled hot sauce.