Chicken doesn't have to be boring – this Cheddar and Bacon Stuffed Chicken is not only stuffed with goodness, but then it is coated in a crispy corn flake coating and baked.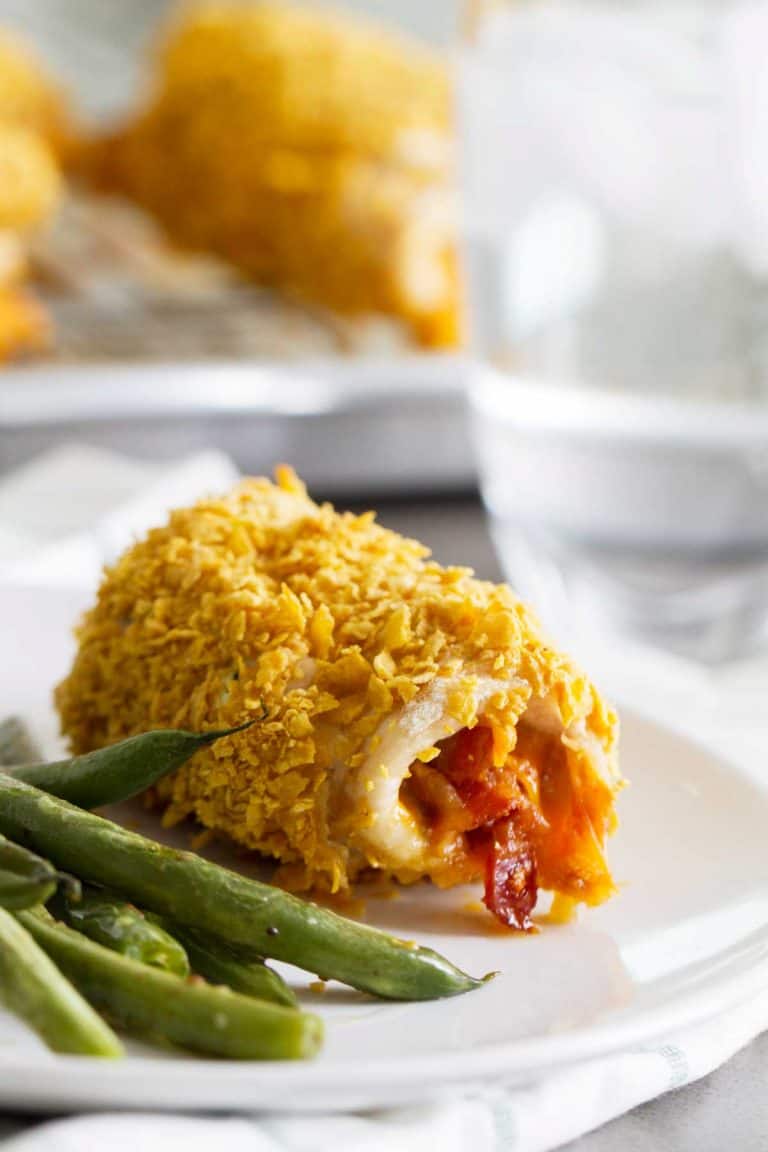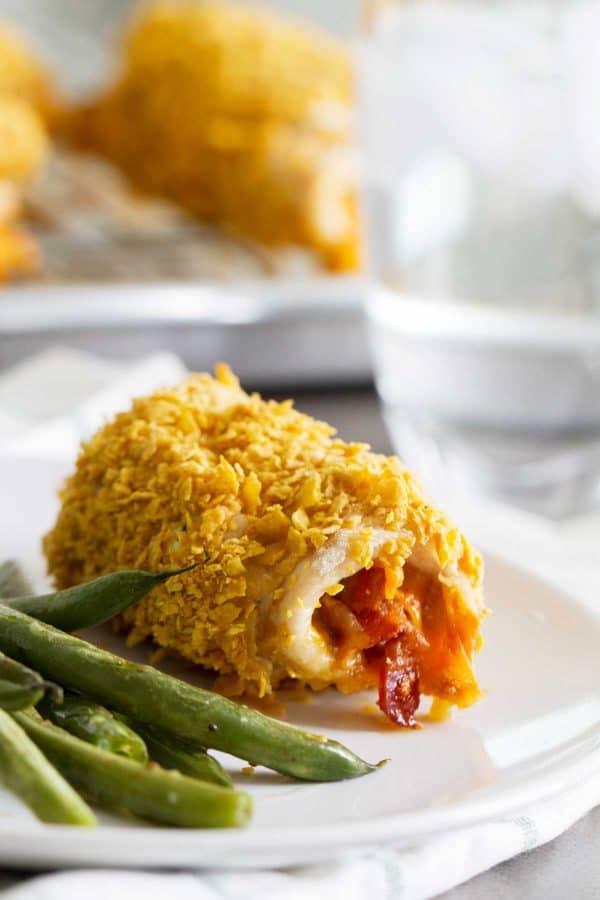 Photos Updated April 2017
Update 2017 – this chicken is definitely easier to make (and eat!) when you use a meat mallet to pound out the chicken. They are pretty inexpensive, and I've used mine so many times over the years. I definitely think it's a great tool to have in your kitchen!
My favorite room in my house is my kitchen. It's not a huge house, but my kitchen is fairly large. But I have to admit that I often find myself daydreaming about my dream kitchen. It will be huge. With plenty of storage. And a ginormous refrigerator. But for now, I feel lucky for what I do have.
Even though my kitchen isn't tiny, I do find that I've had to stop buying different kitchen tools and accessories. There's just not enough room. So when I come across something that I'd like to have, I have to remember that not everything is a "need" and I only have so much room. But there are a few items that I'm learning really are kitchen essentials. One item I'd adding to that list that I now need to get is a meat mallet.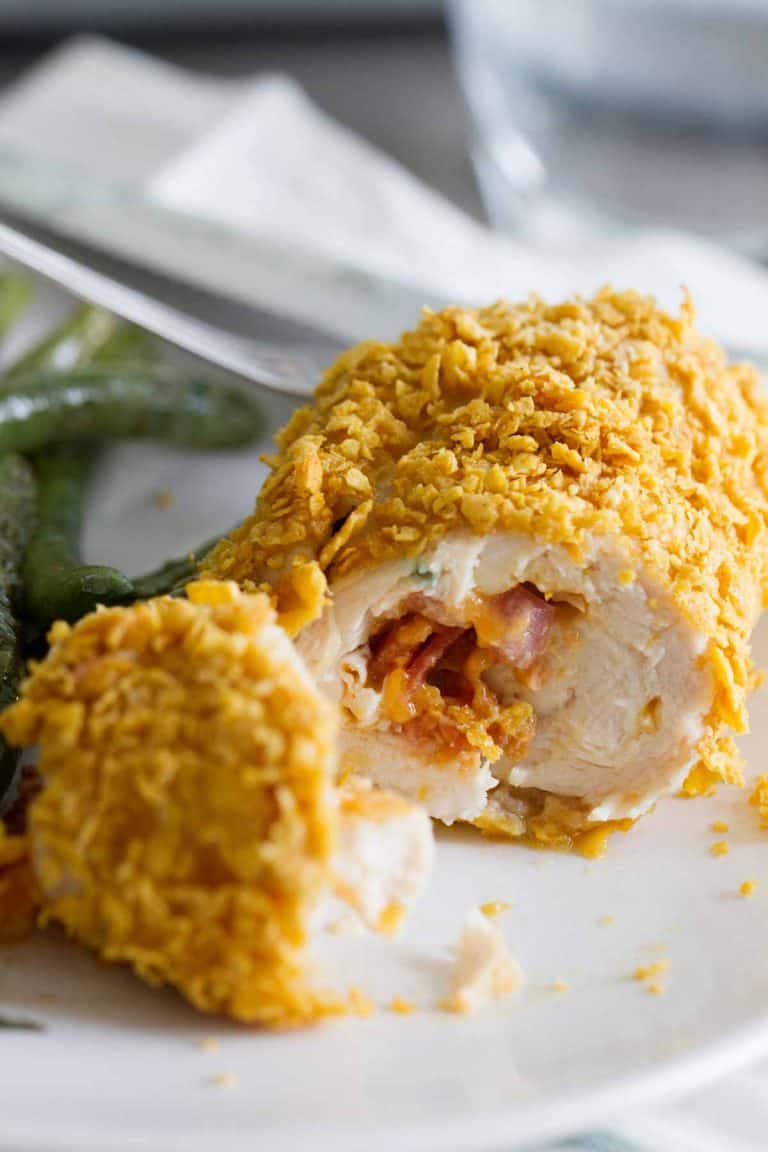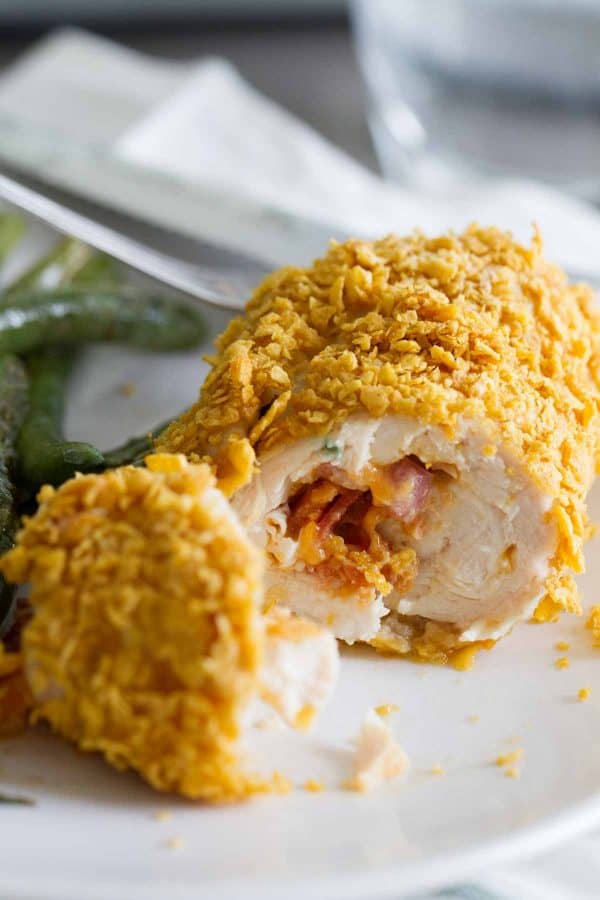 I've had this chicken recipe bookmarked to make for awhile now. And when I finally got around to making it, I figured I'd just use a heavy pan to pound the chicken thin. Let's just say that this method is not my favorite. It just didn't seem to work for me. You can tell by the picture – I just couldn't get the chicken flat enough, or even enough. So yes – a meat mallet is going on my need list and I will make the room for it!
Regardless of how thick the chicken was, this is an easy and tasty way to serve up chicken. Of course – it has bacon and cheese in it!! I definitely think these would be better with the chicken being pounded thin, but it still worked this way!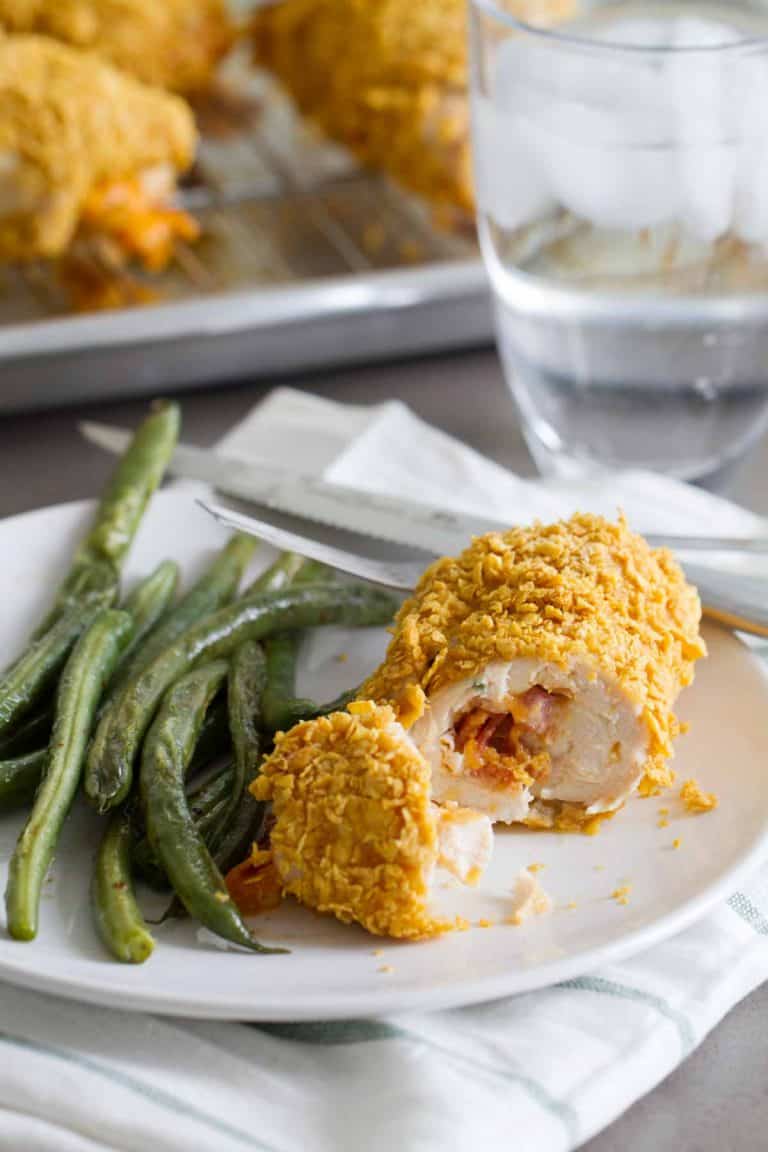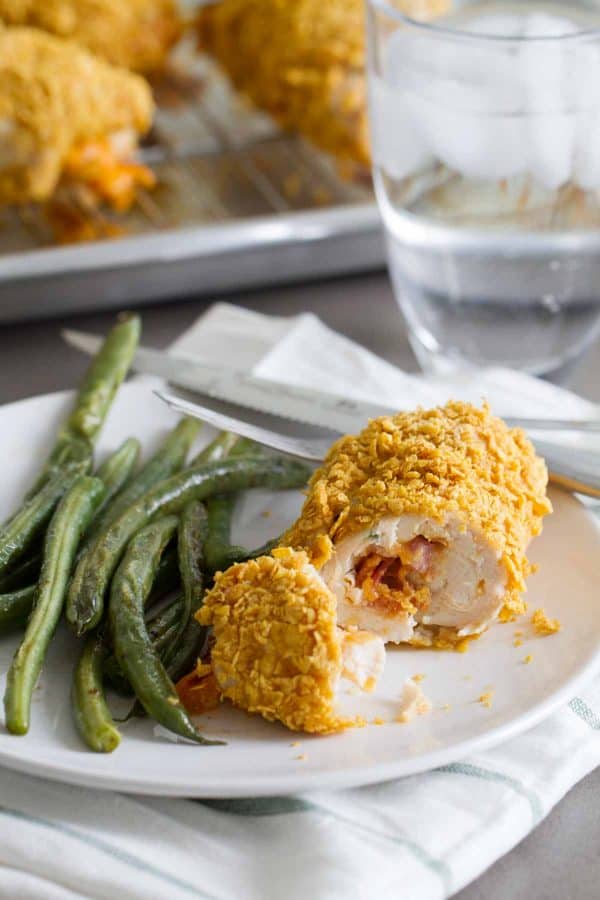 What to Serve with this Cheddar and Bacon Stuffed Chicken:
Sauteed Green Beans with Cherry Tomatoes
Scalloped Corn and Broccoli
Easy Dinner Rolls
For More Chicken Dinner Ideas, Check out these recipes:
Pressure Cooker Honey Garlic Chicken
Easy Lemon Chicken with Butternut Squash
Chicken with Tomato Parmesan Sauce
Like what you see here? Make sure you are following Taste and Tell for more great recipes and ideas!!

Facebook ** Pinterest ** Twitter ** Instagram ** Google+
or you can subscribe to my newsletter
How to Make Cheddar and Bacon Stuffed Chicken: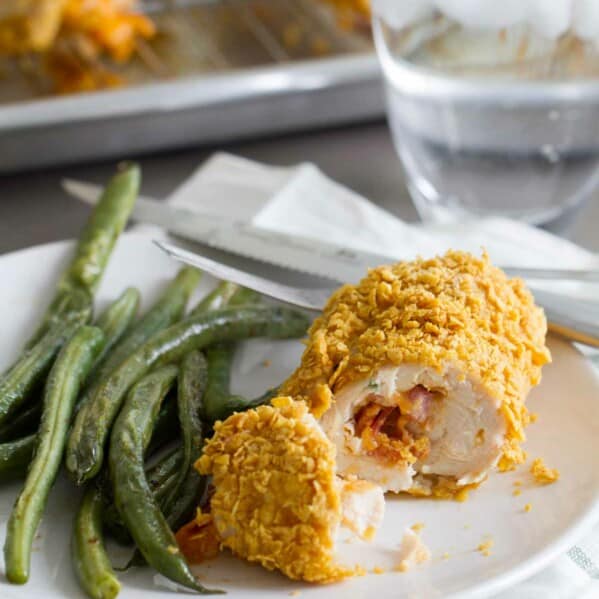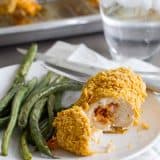 Cheddar and Bacon Stuffed Chicken
---
Author:
Prep Time: 15 mins
Cook Time: 40 mins
Total Time: 55 minutes
Yield: 4 servings 1x
Category: Main Dish
Description
Chicken doesn't have to be boring – this Cheddar and Bacon Stuffed Chicken is not only stuffed with goodness, but then it is coated in a crispy corn flake coating and baked.
---
Scale
Ingredients
3/4 cup shredded cheddar cheese
4 slices bacon, cooked and chopped
2 tablespoons finely chopped onion
1 teaspoon hot sauce
2 boneless, skinless chicken breasts (about 12 oz each)
2 tablespoons all-purpose flour
1/2 teaspoon seasoned salt
1 egg, beaten
2 cups corn flakes, crushed
1 teaspoon dried thyme leaves
---
Instructions
Preheat the oven to 350ºF. Place a cooling rack on a baking sheet. Set aside.
Combine the cheese, bacon, onion and hot sauce in a small bowl. Set aside.
Cut each of the chicken breasts in half lengthwise, turning them into 4 thinner pieces.  Working with one piece at a time, place a piece of plastic wrap over the top and pound the chicken to an even 1/4-inch thickness with a meat mallet.  Place 1/4 of the cheese mixture on the chicken breast, then roll it up. Secure with a toothpick. Repeat with the remaining chicken and filling.
Combine the flour and seasoned salt in a small bowl. Place the egg in a second bowl, and the cornflakes and thyme in a third bowl. Dip each chicken breast in the flour mixture, followed by the egg and then into the cornflakes. Place on the cooking rack. 
Bake in the preheated oven for 35-40 minutes, or until the internal temperature of the chicken is 165ºF.
Remove the toothpicks and serve warm.
Nutrition
Calories: 375
Sugar: 2 g
Sodium: 975 mg
Fat: 17 g
Saturated Fat: 8 g
Unsaturated Fat: 7 g
Trans Fat: 0 g
Carbohydrates: 17 g
Fiber: 1 g
Protein: 41 g
Cholesterol: 184 mg
SHOP THIS POST:
Don't miss a thing! Follow me on Pinterest to see what I'm pinning!