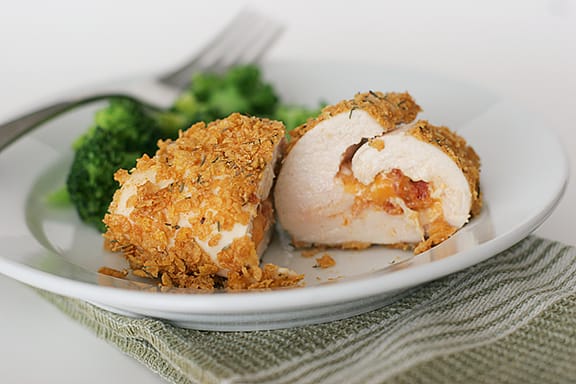 My favorite room in my house is my kitchen. It's not a huge house, but my kitchen is fairly large. But I have to admit that I often find myself daydreaming about my dream kitchen. It will be huge. With plenty of storage. And a ginormous refrigerator. But for now, I feel lucky for what I do have.
Even though my kitchen isn't tiny, I do find that I've had to stop buying different kitchen tools and accessories. There's just not enough room. So when I come across something that I'd like to have, I have to remember that not everything is a "need" and I only have so much room. But there are a few items that I'm learning really are kitchen essentials. One item I'd adding to that list that I now need to get is a meat mallet.
I've had this chicken recipe bookmarked to make for awhile now. And when I finally got around to making it, I figured I'd just use a heavy pan to pound the chicken thin. Let's just say that this method is not my favorite. It just didn't seem to work for me. You can tell by the picture – I just couldn't get the chicken flat enough, or even enough. So yes – a meat mallet is going on my need list and I will make the room for it!
Regardless of how thick the chicken was, this is an easy and tasty way to serve up chicken. Of course – it has bacon and cheese in it!! I definitely think these would be better with the chicken being pounded thin, but it still worked this way!
New Year Chicken
adapted from the Great American Cookbook
serves 4
prep time: 15 minutes
cook time: 35-40 minutes
3/4 cup shredded Cheddar Cheese
4 strips bacon, cooked and finely chopped
2 tablespoons finely chopped onion
1 teaspoon hot pepper sauce
2 boneless skinless chicken breasts, halved
2 tablespoons all-purpose flour
1/2 teaspoon seasoned salt
1 egg, beaten
2 cups corn flakes, crushed to 3/4 cup
1 teaspoon dried thyme leaves
Preheat the oven to 350F.
In a small bowl, combine the cheese, cooked bacon, onion and hot pepper sauce. Set aside.
Pound the chicken breasts to 1/4-inch thickness with a meat mallet. Spread 1/4 cup of the cheese mixture onto each chicken breast. Roll up the chicken, securing the ends with toothpicks.
In a shallow bowl, combine the flour and the seasoned salt. Place the egg in another shallow bowl, and mix the corn flakes and thyme in a 3rd shallow bowl. Dip each chicken breast in the flour mixture, then the egg, followed by the corn flake mixture. Place on a cooling rack set over a baking sheet. Repeat with each chicken breast.
Bake in the preheated oven for 35-40 minutes, or until the internal temperature of the chicken is 165F. Remove toothpicks before serving.