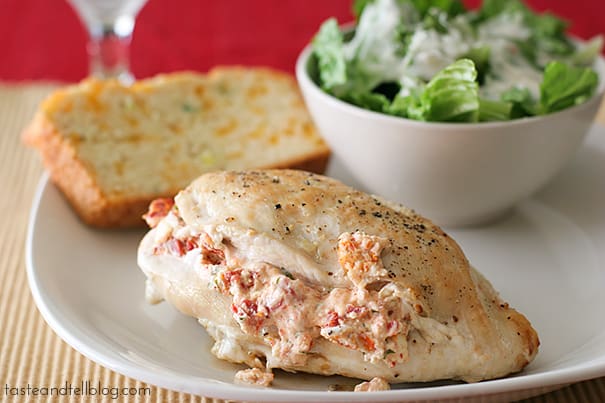 How many of you use a reader to keep up on your favorite blogs? If you do, have you ever noticed how sometimes, a blog's updates will just stop showing up, for no reason at all?? I'm just wondering if anyone knows why this happens. I've had a few blogs that I've had to go back into and re-subscribe, just to get them to work again. And I had a comment on my blog a little while back when a reader said that my posts weren't showing up on her reader. I haven't changed anything. Weird…
Well, even though sometimes technology doesn't work, this meal does. It's a great way to fancy up some boring chicken breasts. But then again, stuff anything with cheese and I'm usually a happy girl! And you'll notice the Peppery Cheese Bread that I posted about the other day making another showing here. Delicious!
Feta-Stuffed Chicken Breasts
---
Total Time: 30 minutes
Yield: 4 servings 1x
Description
These aren't your ordinary chicken breasts! Chicken gets stuffed with feta, sun-dried tomatoes and basil in this easy dinner idea.
---
Scale
Ingredients
1 tablespoon snipped dried tomatoes (not oil-packed)
boiling water
4 skinless, boneless chicken breast halves (about 1 1/4 pounds)
1/4 cup crumbled feta cheese
2 tablespoons softened cream cheese
1/2 teaspoon dried basil, crushed
1/2 teaspoon ground black pepper
1 teaspoon olive oil
---
Instructions
Preheat oven to 350F.
Place tomatoes in a small bowl. Cover with boiling water. Let stand for 10 minutes. Drain and pat dry; set aside. Meanwhile, using a sharp knife, cut a pocket in each chicken breast by cutting horizontally through the thickest portion to, but not through, the opposite side; set aside.
In a small bowl, combine feta, cream cheese, basil, and tomatoes. Spoon about 1 rounded tablespoon into each chicken pocket. If necessary, secure openings with wooden toothpicks. Sprinkle chicken with salt and pepper.
In a large oven-proof skillet, heat oil over medium-high heat. Add chicken, cook until browned, flip over, and cook on second side until browned. Move skillet to the preheated oven and bake until chicken is no longer pink and registers 170F on an instant read thermometer, about 25 minutes.
—————–
adapted from Family Circle Quick and Easy Cooking