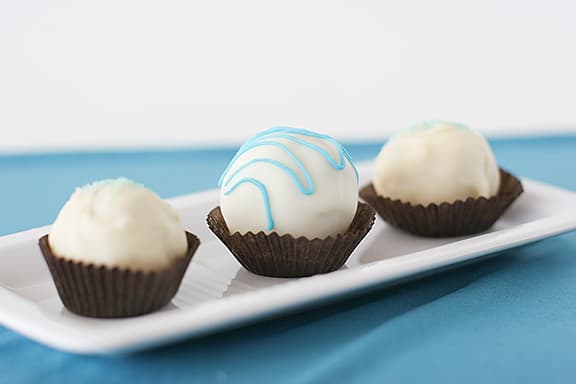 Let me just start off by saying what an awesome family I have. Yes – I'm going to take a moment to brag. We blessed Easton at our church yesterday, and I'm so lucky to have so much amazing family that came to support us. And even more, we all went back to my house after church for lunch, and even though I originally planned to supply most of the lunch, they all pitched in and we had a delicious lunch. I love spending time with my family, and I'm so grateful that we all live so close together.
One of my contributions to the meal were these cake truffles. I spotted these truffles online a couple of weeks ago, and I haven't been able to get them out of my mind since. I love cake balls as much as anyone else out there, but I think it's more of a novelty – because they are just so sweet that I can barely get through one. What I was drawn to with these, though, is that they don't use frosting as the binder like most cake balls do. They use coconut milk and a little sweetened condensed milk – which totally cuts back on the sweetness. I loved these so much more than the typical cake balls, which was actually quite dangerous because I ended up eating about a hundred of these. Which I guess proves that I loved them!!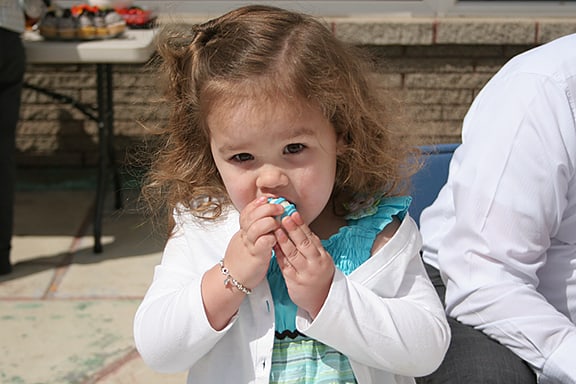 Someone else loved them, too!!
Are you a cake ball fan?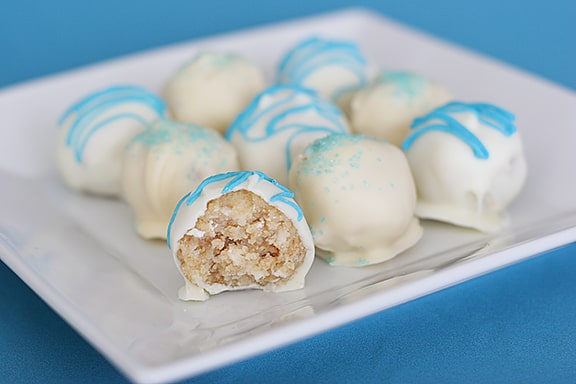 Coconut Cake Truffles
from Confessions of a Cookbook Queen
white cake, baked in a 9×13 pan, cooled
3/4 cup coconut milk
1/4 cup sweetened condensed milk
1 cup sweetened coconut
candy melts or white chocolate
Cover a large baking sheet with parchment paper or waxed paper. Set aside.
In a large bowl, crumble the baked cake. Add in the coconut milk, sweetened condensed milk and coconut. Using your hands, combine all the ingredients. Form the mixture into balls and place on the prepared baking sheet. Refrigerate for at least 1 hour.
Melt the candy melts or white chocolate. Dip the balls in the coating and return to the tray to harden. Refrigerate until ready to serve. (These taste best after being refrigerated overnight!)