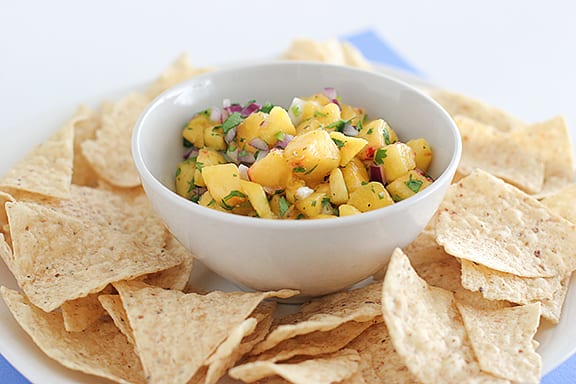 Let me start off by saying that my favorite seasons are fall and spring. Maybe it's lack of extreme weather. Maybe it's the promise of change in the air. Or maybe it's a mix of many different things. I always look forward to the change of seasons, and I'm usually the first one to want to jump out of summer or winter, right into fall or spring.
But for some reason, I find myself hanging onto every last day of summer this year. I see other bloggers embracing the warmth and comfort of fall foods, but I just can't seem to let go of summer this year. Especially the flavors of summer.
So since there is technically a little over a week left of summer, I'm going to give one last hurrah to summer foods here on Taste and Tell before I jump into pumpkin bread and comforting stews. Peaches, tomatoes, pesto – I'm not ready to let you go just yet!!
First up is this delicious salsa. Last week, Maria at Two Peas and Their Pod posted this recipe for Peach Salsa. The minute she mentioned it, I couldn't get it out of my mind. And any of you that have been pregnant or have dealt with someone that has been pregnant, you know that when a craving hits, you'd better satisfy it!! It may have taken me a few days, but I finally had my craving satisfied.
My plan was to buy a big box of peaches this weekend and go crazy. But then my husband came home Friday afternoon with a huge bag of nectarines from his parent's tree. No need to buy a big box of peaches when you have delicious nectarines for free! These nectarines were just perfect. Nice and juicy and delicious. You should have seen how fast Abbi was putting them down! Since peaches and nectarines are so similar, I knew that Maria's recipe would be perfect with nectarines.
I made up a batch for lunch yesterday, and I'll admit that I ate it all myself – all in one sitting. Granted, I did make half a batch, but still – this stuff is good!! I love salsas made with fruit, and this was sooo good.
Nectarine Salsa
slightly adapted from Two Peas and Their Pod
Makes 2 cups of salsa
6-8 nectarines (or 4 large peaches), peeled, pitted and diced
1/2 red onion, diced
1-2 jalepenos, diced
1/2 bunch of cilantro, chopped
juice of 1 large lime
salt and pepper to taste
In a large bowl, combine all ingredients and season to taste with salt and pepper.
Eat with tortilla chips or serve along side chicken or fish.