A hybrid brownie/cupcake with chopped Diamond hazelnuts throughout is topped with a luscious chocolate hazelnut buttercream.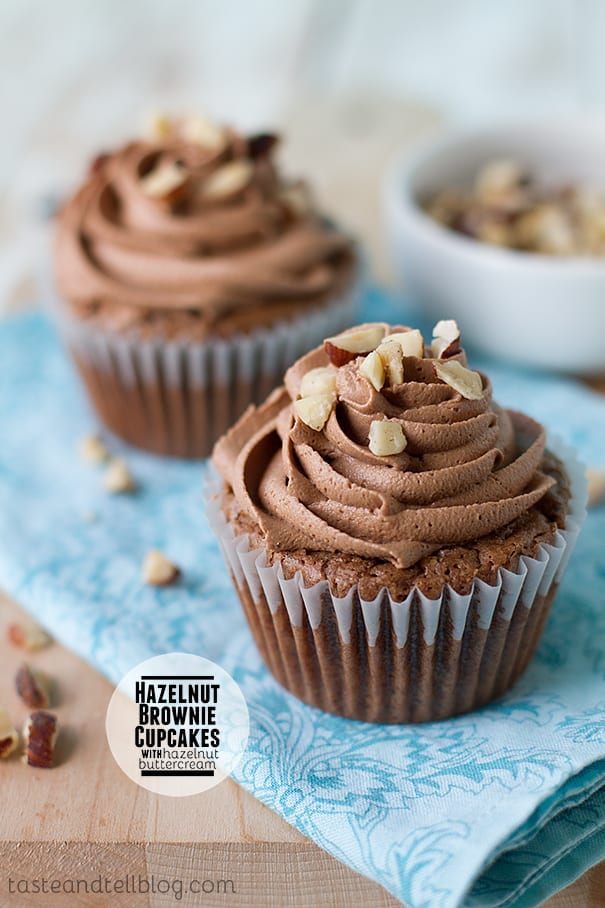 This post has been sponsored by Diamond Nuts.
I often have food cravings. It's an occupational hazard when you deal with food all day long. But even though I get cravings, they aren't usually the "I need this right this very minute or I will go crazy" kind of cravings.
But the other day, I wanted brownies. I really wanted brownies.
But I felt like baking, and well – with brownies, it's just stir and dump and bake. I wanted something more than that.
Enter brownie cupcakes. Ok, so these aren't a whole lot more than stir and dump and bake, but at least you get to pipe on some pretty frosting.

These are a hybrid of a cupcake and a brownie, so you get the best of both worlds. They are denser than cupcakes, but not quite as dense as a brownie. It's the perfect compromise for when you can't decide between cupcakes and brownies. Fold in some Diamond hazelnuts for a little bit of crunch, and it's a little bit of chocolate bliss.
One thing is for sure, though. This buttercream – WOW. This recipe makes enough for you to pipe a generous amount on each cupcake, plus enough to squeeze some directly into your mouth. Not that I would know, or anything…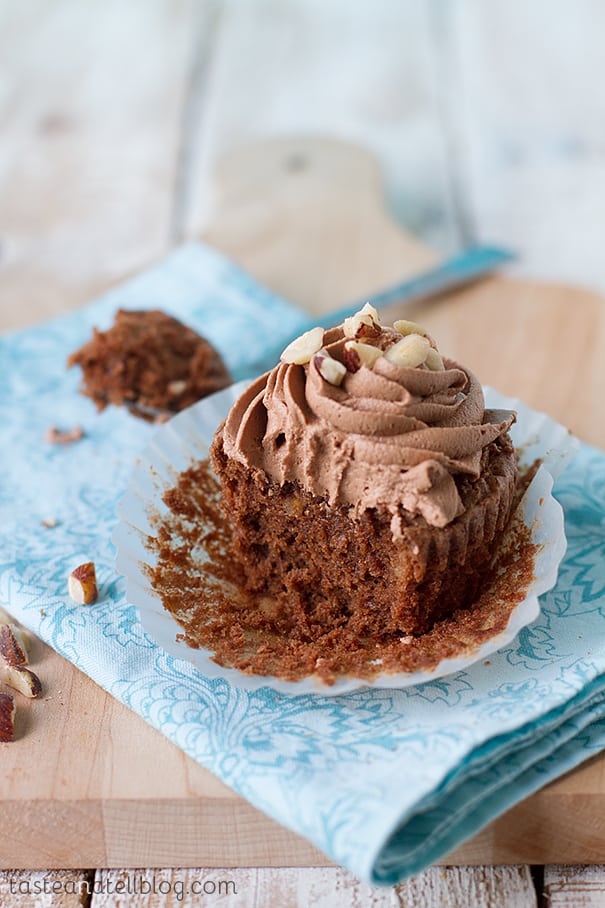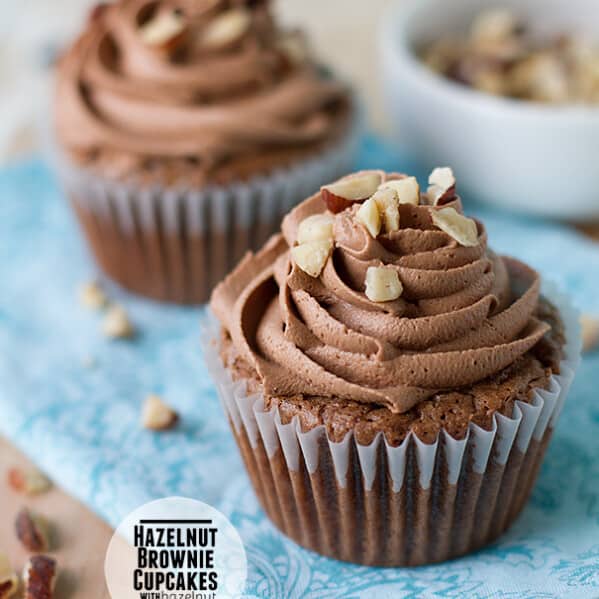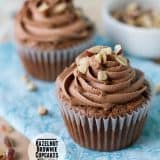 Hazelnut Brownie Cupcakes with Hazelnut Buttercream
---
Prep Time: 20 minutes
Cook Time: 25 minutes
Total Time: 1 hour 10 minutes
Yield: 12 cupcakes 1x
Description
A hybrid brownie/cupcake with chopped Diamond hazelnuts throughout is topped with a luscious chocolate hazelnut buttercream.
---
Scale
Ingredients
For the Cupcakes:
3/4 cup chocolate chips
3/4 cup butter
3 eggs
3/4 cup sugar
1 teaspoon vanilla extract
1/2 teaspoon salt
3/4 cup flour
1/2 cup chopped Diamond hazelnuts
For the Buttercream:
1/2 cup butter
1/2 cup chocolate hazelnut spread
1 1/4 cups powdered sugar
1/2 teaspoon vanilla
1/8 teaspoon salt
milk, as needed
chopped Diamond hazelnuts, for topping
---
Instructions
To make the cupcakes:
Preheat the oven to 350F. Line 12 muffin tins with paper liners.
In a microwave safe bowl (or in a small saucepan over medium heat), melt the chocolate chips and butter together.
In another bowl, whisk together the eggs and the sugar. Stir in the chocolate mixture and the vanilla. Fold in the flour and then the hazelnuts.
Divide the mixture evenly between the 12 muffin tins. Bake in the preheated oven until a tester inserted in the center comes out clean, 20-25 minutes. Cool completely.
To make the buttercream:
In the bowl of a stand mixer, beat the butter and hazelnut spread together until smooth. Add in the powdered sugar, vanilla and salt and continue to beat until light and fluffy, 3-5 minutes. Add milk as needed to thin out the buttercream to reach your desired consistency.
Pipe the buttercream onto the cupcakes and top with chopped hazelnuts.
Other Brownie Favorites:
Around the Web:
Decadent Frosted Brownies from Dine and Dish
Triple Chocolate Brownies from Completely Delicious
Sinfully Rich Brownies from Sweet Treats and More
I am in a working relationship with Diamond Nuts, and this post has been sponsored. I'm so glad to be able to work with companies and organizations that I truly believe in. Thank you for supporting them, too.