Rich, chocolate brownies are topped with marshmallows, nuts and a thick chocolate frosting in these Rocky Road Brownies.
I like chocolate. I really do. But it's no secret that I'll usually take something lemon or fruity before I go for the chocolate.
But I do like chocolate.
Sadly, though, in the last 6 1/2 years of blogging, I've only collected a small handful of brownie recipes. I decided that this really is a travesty, and that I need to do something about that.
So today, I bring you brownies.
But not just any brownies. Rocky Road Brownies. These are straight from my childhood. They were one of my mom's specialties growing up, and are still one of my favorites today. I have come to realize that you just can't beat the foods from your childhood!!
These start with a rich, chocolate brownie that is pretty perfect all on it's own. But then you top them with marshmallows and nuts and a warm chocolate frosting that gets poured over the top of everything. The frosting will set up perfectly if you are patient, but as you can kind of tell from the photograph, I wasn't being very patient. In fact, I have very little patience when it comes to these brownies!! But don't worry – they still taste phenomenal, they are just a little bit messier when they haven't set up yet!!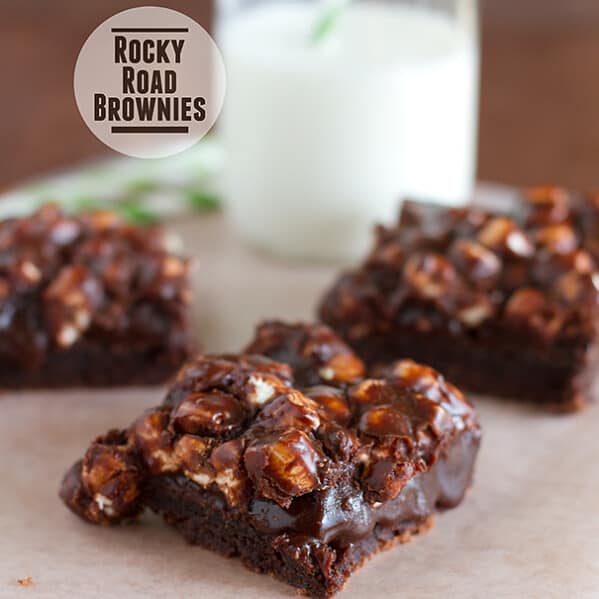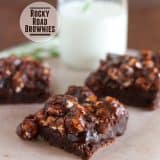 Rocky Road Brownies
---
Prep Time: 20 minutes
Cook Time: 30 minutes
Total Time: 1 hour 30 minutes
Yield: 24 servings 1x
Description
Rich, chocolate brownies are topped with marshmallows, nuts and a thick chocolate frosting in these Rocky Road Brownies.
---
Scale
Ingredients
Brownies
1/2 cup butter
3 oz unsweetened chocolate
4 eggs
1/4 teaspoon salt
2 cups sugar
1 teaspoon vanilla
1 cup flour
1 cup chopped pecans (optional)
Frosting
6 tablespoons unsweetened cocoa powder
2 tablespoons vegetable shortening
1/2 cup butter
6 tablespoons evaporated milk
1 teaspoon vanilla
3 1/2 cups powdered sugar
1/2 cup nuts, coarsely chopped
1 cup mini marshmallows
---
Instructions
For the brownies:
Preheat oven to 350F. Grease a 9×13-inch baking dish.
In a small saucepan, melt the butter. Add the chocolate and cook until the chocolate has melted.
In a separate bowl, beat the eggs until they are light and foamy. Add the salt, sugar and vanilla to the eggs. Stir in the chocolate mixture, then gently fold in the flour and pecans, being careful to not overmix. Pour into the prepared baking dish and bake until set, about 25 minutes. Cool completely.
For the frosting:
In a saucepan over medium heat, melt together the cocoa, shortening and butter, stirring frequently. Add in the evaporated milk and vanilla. Put the powdered sugar in a bowl, then pour the chocolate mixture over it and mix to combine. Stir in the nuts.
Sprinkle the marshmallows over the top of the cooled brownies. Quickly pour the warm chocolate frosting over the top. (The frosting will thicken as it cools.) Allow to cool completely before cutting.
More brownie recipes: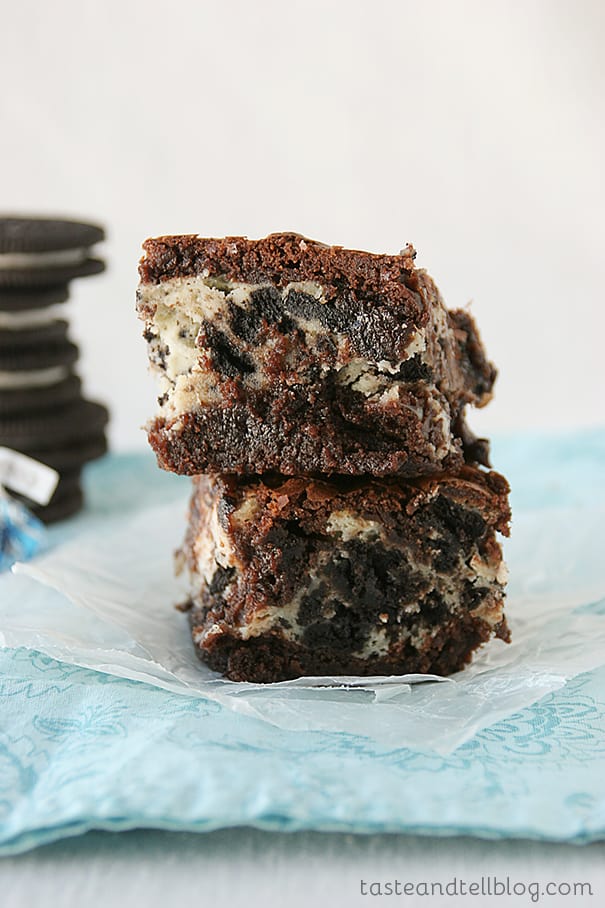 Cookies and Cream Cheese Brownies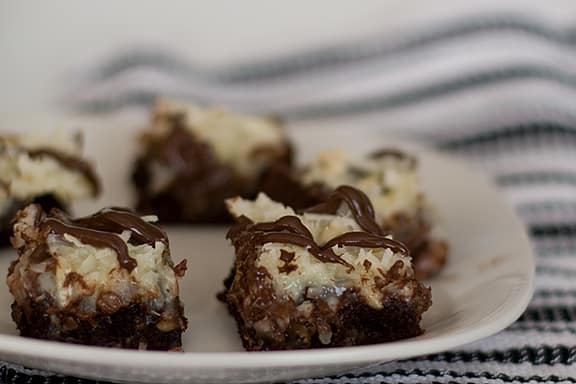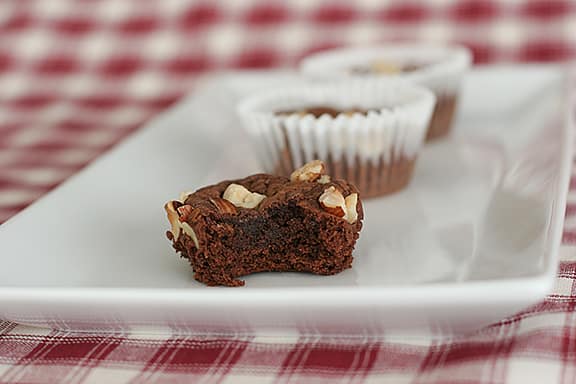 Around the Web:
S'mores Brownies from The Recipe Critic
Peanut Butter Butterfinger Brownies from Picky Palate
Fudgy Milky Way Brownies from A Pumpkin and a Princess