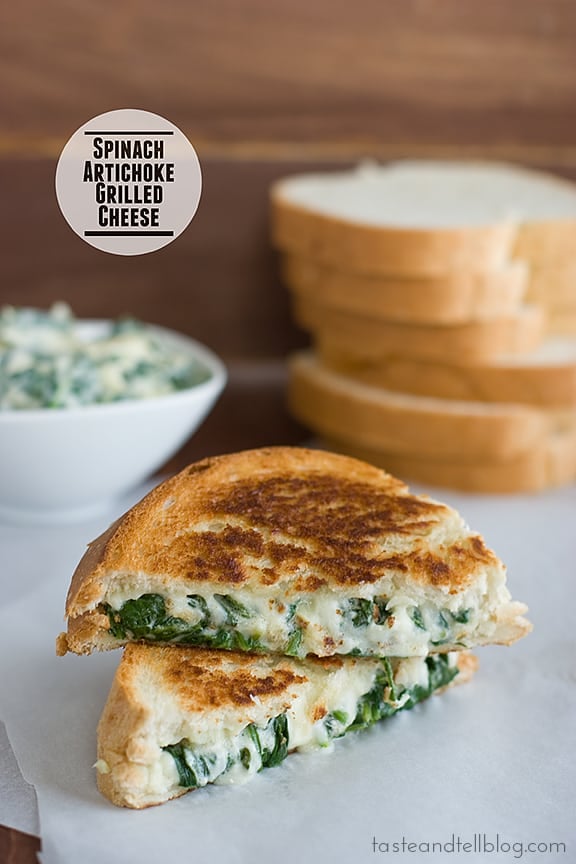 Someone please tell me that the calendar is wrong and that it isn't already the last week of April. Because, seriously. It can't be.
I can't believe it's the end of National Grilled Cheese Month, and I haven't even shared one single grilled cheese sandwich this month. It's a travesty.
Thank goodness we still have a few days left, and I've got 2 grilled cheese sandwich recipes up my sleeve. I almost forgot about them, because I created them a little while back for Grate. Pair. Share. – an amazing online magazine put out by my friends at the Wisconsin Milk Marketing Board. This sandwich, along with another that I will share with you tomorrow, are in this online issue that is stuffed full of amazing grilled cheese sandwiches. Seriously – the creativity is off the charts.
And this sandwich – well, I could probably eat it every day and still get excited about it. It really was the perfect combination of flavors. Kind of like spinach artichoke dip, but warmed in between two slices of buttered, toasted bread. Pure heaven, I tell ya.
So excuse me while I go off and make myself a sandwich for lunch. Grilled. With cheese. All in the name of celebrating!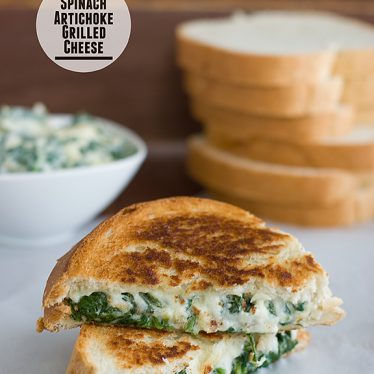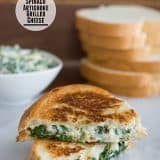 Spinach Artichoke Grilled Cheese
---
Prep Time: 10 minutes
Cook Time: 15 minutes
Total Time: 25 minutes
Yield: 4 servings 1x
Description
Spinach artichoke dip meets grilled cheese sandwich in this tasty, gooey lunchtime recipe.
---
Scale
Ingredients
2 tablespoons extra-virgin olive oil
2 cloves garlic, peeled and smashed
6 oz baby spinach (about 4 cups)
Dash of freshly grated nutmeg
Salt and pepper
3 tablespoons sour cream
1/2 cup chopped artichoke hearts
8 slices white bread
2 tablespoons softened butter
1 cup Wisconsin Monterey Jack cheese, grated
---
Instructions
Heat the olive oil in a large skillet over medium-low heat. Add the garlic and cook for a minute or two to let the oil infuse with the garlic. Remove garlic and discard.
Add the spinach to the olive oil and cook until it is wilted down. Add in the nutmeg and season to taste with salt and pepper. When the spinach is wilted down, stir in the sour cream and the artichoke hearts.
Butter one side of each of the slices of bread. Place 4 slices, butter side down, on a griddle. Place 1/8 of a cup of the cheese on each slice. Divide the spinach mixture evenly between the 4 slices of bread, then top with an additional 1/8 cup of cheese. Place the remaining 4 slices of bread on top, butter side out.
Grill until golden brown on each side, about 3-5 minutes. Let cool for a couple of minutes before serving.