A great way to get your veggies in, this Veggie Quesadilla is a great way to clean out the veggie drawer to make a lunch or dinner that won't leave you missing the meat!
I love oven roasted veggies! If you are a fan, you also need to try this Crostata with Oven Roasted Vegetables or this Roasted Chicken and Vegetables.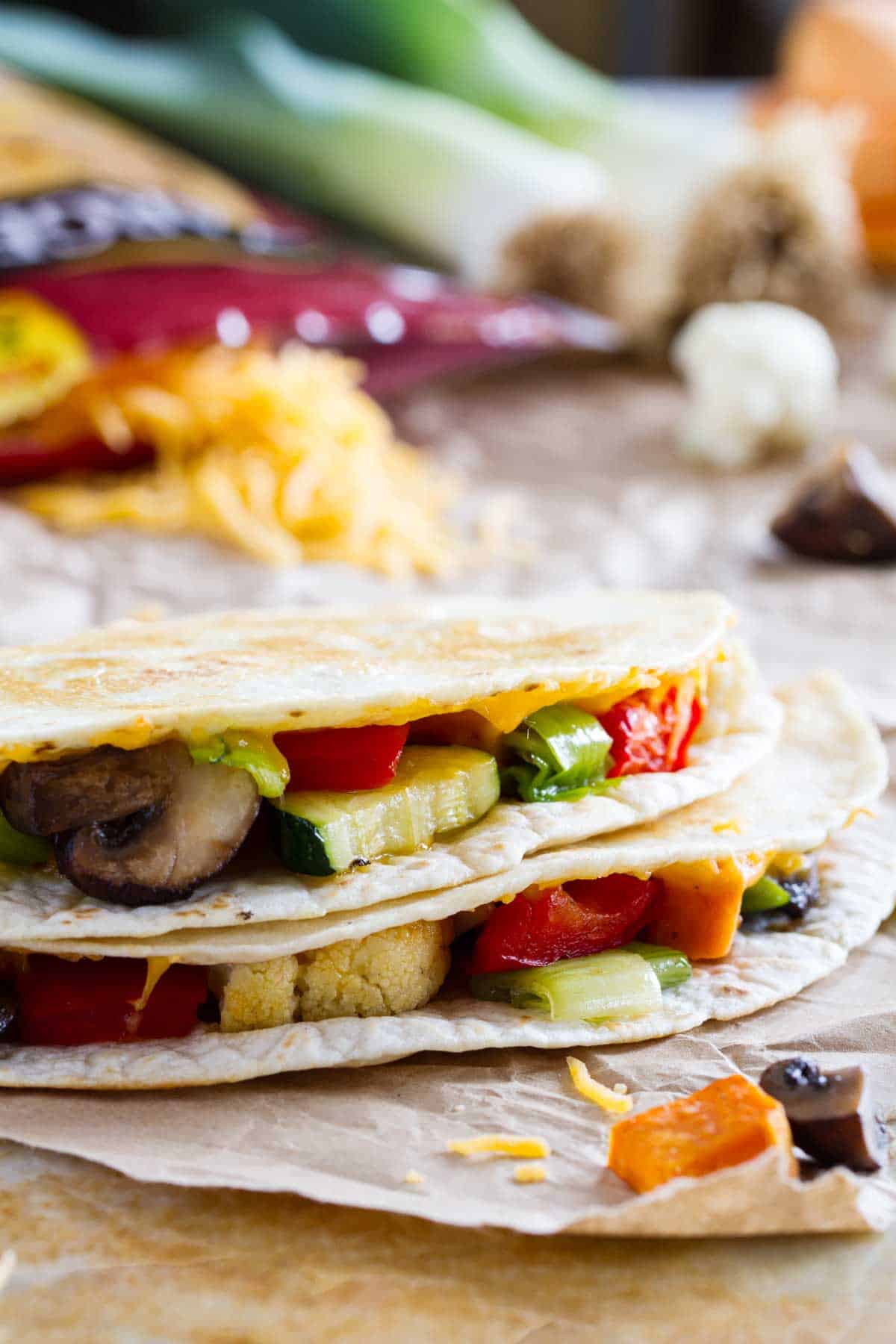 The perfect comfort food for Meatless Monday, this Veggie Quesadilla is so full of flavor.
One of my favorite things about this recipe is that you can really use whatever vegetables you have on hand. They are a great way to clean out your veggie drawer! I used a mix of leeks, sweet potatoes, cauliflower, mushrooms, bell pepper, and zucchini. You can really as many or as few as you'd like – or add in some of your other favorites!
I'd definitely eat this Veggie Quesadilla any day or night!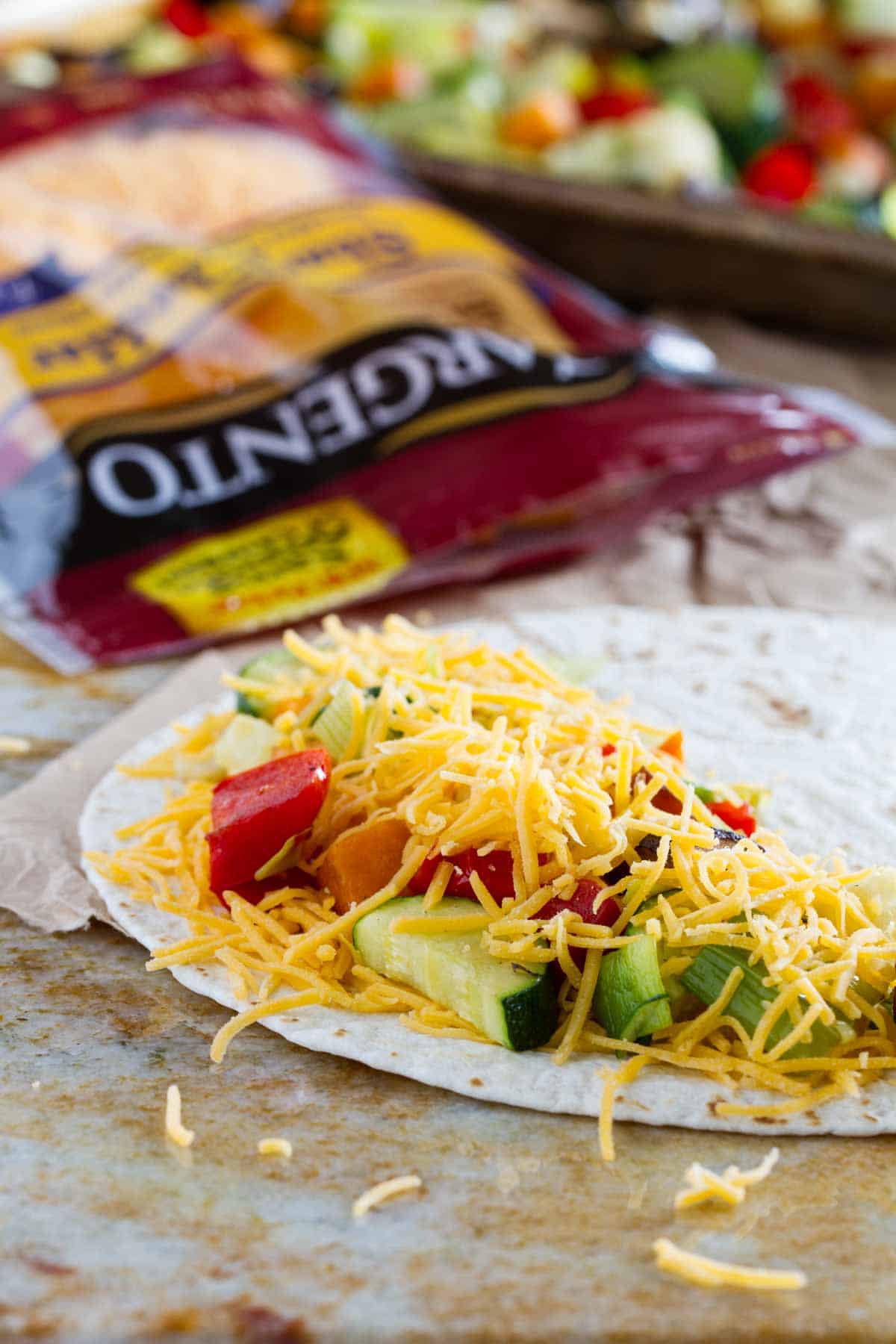 How to Make a Veggie Quesadilla
If you are using leeks, you will first want to blanch them in boiling water. If you are not using leeks, you can skip this step.
When roasting your veggies, you want to do them in intervals, since not all of the vegetables will roast in the same amount of time. Start with the veggies that take the longest to cook, like the sweet potatoes. I add in different vegetables every 5 minutes, finishing with the vegetables that cook the fastest.
Once the vegetables are roasted, it is as simple as adding cheese and some of the vegetables to the tortillas, then cooking the quesadillas until they are golden and the cheese is melted.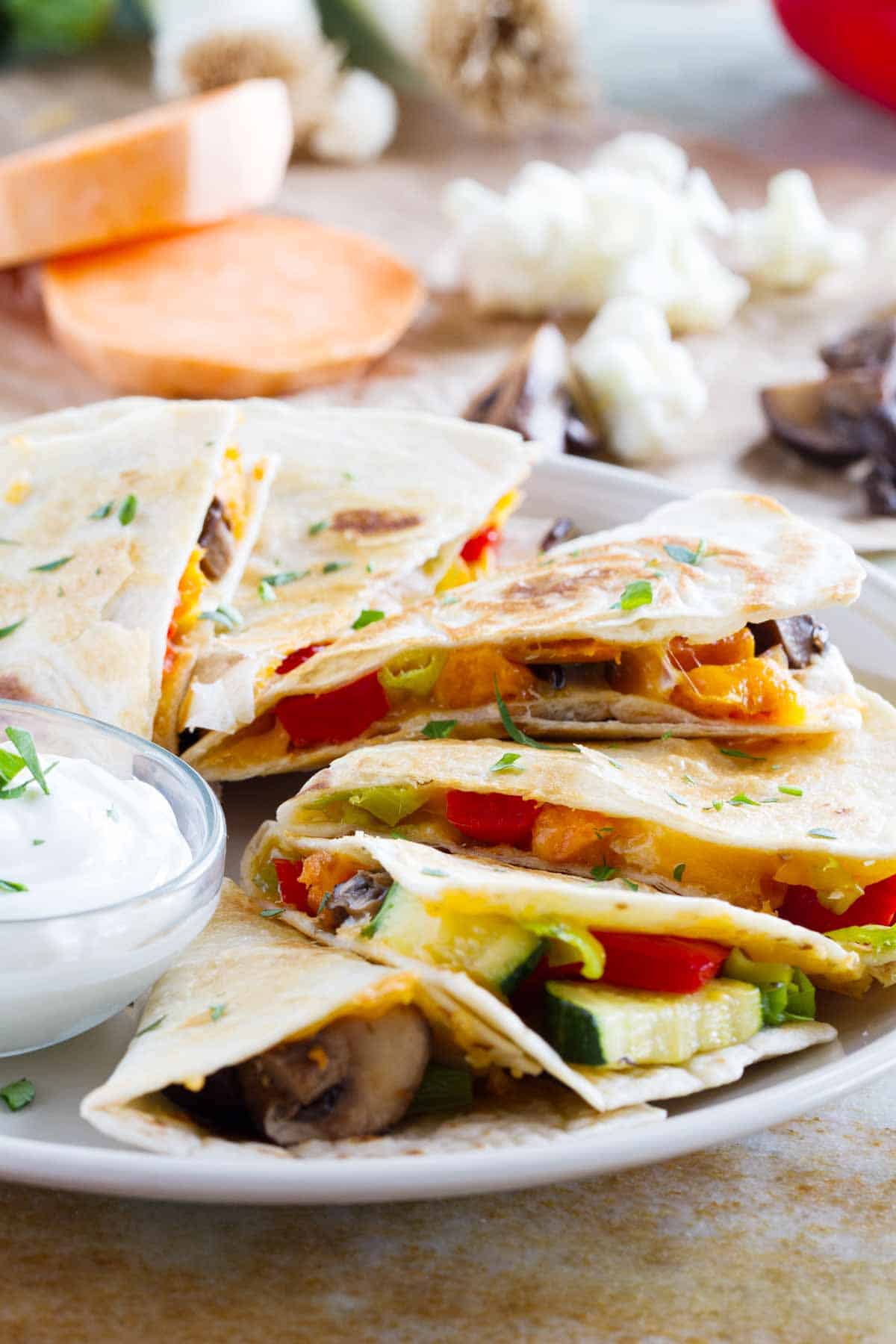 More Quesadilla Recipes
Shrimp Quesadilla with Chorizo
Chipotle Beef Quesadillas
Chicken Quesadilla with Refried Beans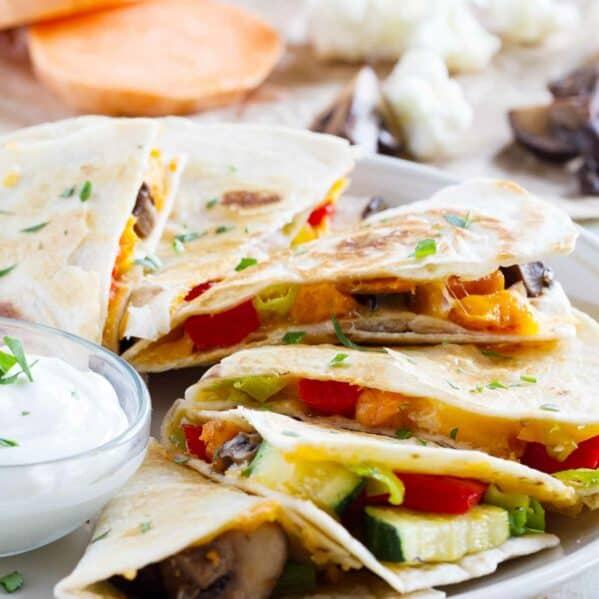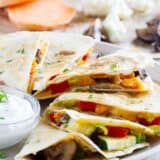 Veggie Quesadilla
---
Author:
Prep Time: 15 minutes
Cook Time: 35 minutes
Total Time: 50 minutes
Yield: 4 servings, 2 quesadillas each 1x
Category: Main Dish
Method: Baked
Cuisine: American
Description
A great way to get your veggies in, this Veggie Quesadilla is a great way to clean out the veggie drawer to make a lunch or dinner that won't leave you missing the meat!
---
Scale
Ingredients
2 leeks
2 tablespoons olive oil
2 cups diced sweet potatoes (about 8 oz)
2 cups small cauliflower florets (about 6 oz)
8 oz cremini mushrooms, cut into quarters
1/2 large red bell pepper, diced (about 4 oz)
1 medium zucchini, cut into bite sized pieces (about 6 oz)
8 tortillas
1 package (8 oz) Fine Cut Sharp Cheddar Cheese
---
Instructions
Bring a large pot of water to a boil. Trim away the green part of the leeks as well as the root ends. Slice the leeks in half lengthwise, then cut into half moons. Drop the leeks into the boiling water and boil for about 30 seconds. Remove with a slotted spoon to a paper towel lined plate. Dry as much as possible with paper towels. Set aside.
Preheat the oven to 400ºF.
Place the sweet potatoes in a large bowl and drizzle with about 1/2 tablespoon olive oil. Spread on a baking sheet and place in the oven. Bake for 5 minutes. Meanwhile, place the cauliflower in the same bowl and drizzle with another 1/2 tablespoon oil. After the sweet potatoes have been roasting for 5 minutes, add the cauliflower and return to the oven for another 5 minutes. Combine the mushrooms and bell pepper in the bowl and drizzle with 1/2 tablespoon of oil. Add to the baking sheet and cook another 5 minutes. Combine the zucchini and blanched leeks in the bowl, drizzle with the last 1/2 tablespoon of oil and add to the baking sheet, stirring to combine. Bake another 5 minutes, or until all of the vegetables are roasted and tender.
Lay your tortillas out, and spread 1/2 oz of the shredded cheese on half of each of the tortillas. Top with about 1/2 cup of the roasted veggie mixture, then another 1/2 oz of cheese. Fold the tortilla in half.
Heat a large skillet over medium heat and spray with nonstick cooking spray. Working in batches, place 2 (or more if they fit in your skillet) of the filled tortillas in the skillet. Cook until both sides are browned and the cheese is melted.
Let cool for a minute or two before cutting into wedges and serving.
Keywords: quesadilla recipe, veggie quesadilla