A great way to get your veggies in, these Roasted Veggie Quesadillas are a great way to clean out the veggie drawer to make a lunch or dinner that won't leave you missing the meat!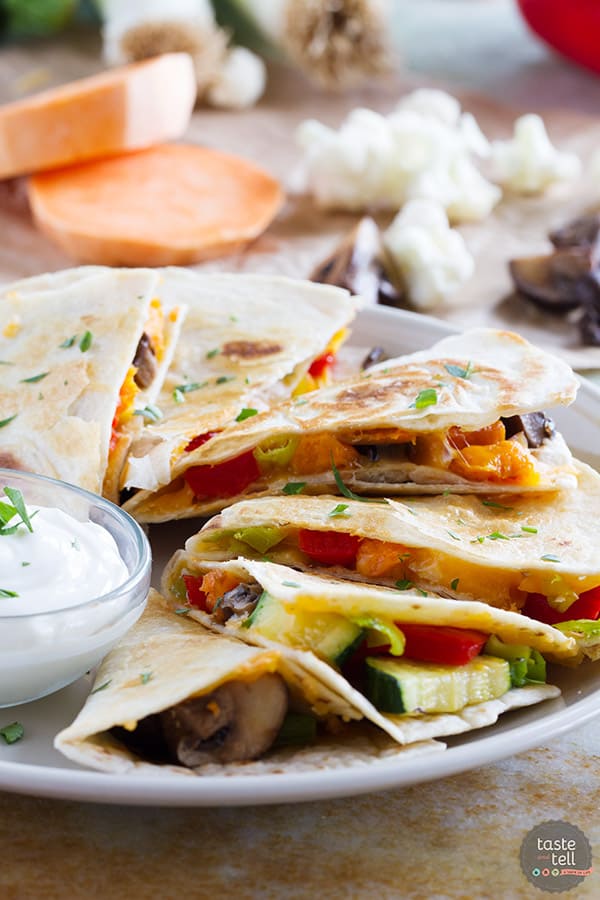 I was talking with a girl at the hospital the other day about being a blogger. She mentioned that she enjoyed cooking, but couldn't just look in her cupboard or fridge and come up with a meal from what she had on hand.
It made me think back about when I very first started blogging, almost 9 years ago. While I did love cooking back then, and while I may have been a decent cook, I was a total recipe follower. To the T. I didn't have a lot of confidence to swap in ingredients, or to come up with my own recipe.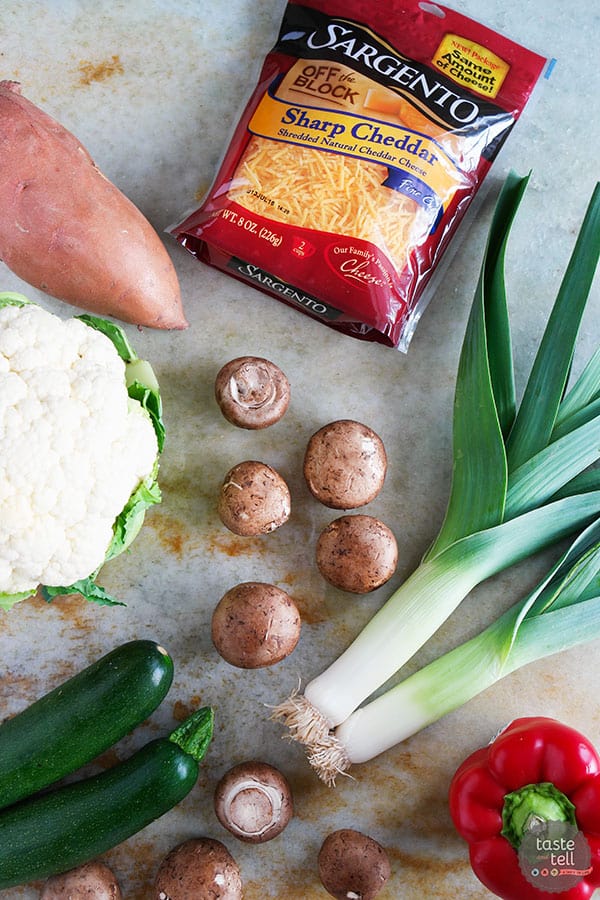 Well, I've come a long way in the last 9 years. I think you can find the proof of that in the posts on this blog. I never would have believed that I could come up with my own recipe ideas and execute them back then. But now, inspiration seems to run wild.
But I will still fully admit that I am not good without planning. I must write out a rough idea of what I'm making, and pull the ingredients from that list. I have never been very good at going to the refrigerator and just making something out of nothing. Maybe 9 years from now I'll be saying something differently, but it is still a bit challenging for me.
But I am never one to turn down a challenge. So when my friends at Sargento® came to me, challenging me to come up with a dish for the Chopped At Home Challenge, I knew I had to do it.
If you remember, last year, I participated in a similar challenge, making a Cheesy Bacon and Kale Crostini Recipe that I still dream about to this day. This time around, the ingredients were a little different. Crimini mushrooms, leeks, cauliflower, and Sargento Off the Block Fine Cut Sharp Cheddar Cheese.
While I normally can come up with all kinds of recipe ideas, for some reason, this one stumped me. Maybe it's because of everything going on right now, but I was at a loss. So what does one do when they need some inspiration? I texted my mom, sisters and sister in law, of course!! Let me tell you, I think I'll turn the responsibility of coming up with recipe ideas over to them now, because they were all so full of ideas. But the thing that stuck with me the most was to roast the vegetables. I wasn't sure it would work at first, because while I thought I had roasted every veggie out there, I wasn't actually sure how well leeks would do roasted. But you never know until you try, right?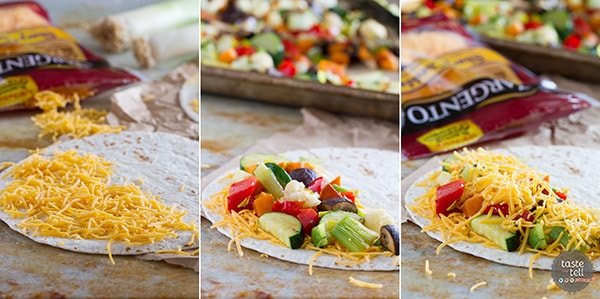 That is when these Roasted Veggie Quesadillas were born. The perfect comfort food for Meatless Monday, these quesadillas are so full of flavor. I added in some extra veggies beyond the leeks, mushrooms and cauliflower, so these would be a great way to clear out that veggie drawer. (And ps – roasted leeks are delicious. I did blanch them first before roasting them, but they are definitely roast-able!) I'd definitely eat these Roasted Veggie Quesadillas any day or night!
Now it's your turn!! You can submit your own recipe from this Chopped At Home Challenge to FoodNetwork.com/ChoppedChallenge for the chance to win $5,000 and a trip to New York City to compete in a televised Chopped cooking challenge for a $10,000 grand prize. Pretty sweet, right?
Sargento cheese is available in 30 versatile varieties, unique blends and distinct cuts. And Sargento Cheese is always cut from blocks of 100% real cheese.
For more inspiration, check out the Sargento Pinterest page Pinterest.com/sargentocheese/ or visit www.sargento.com/Shredded for more information.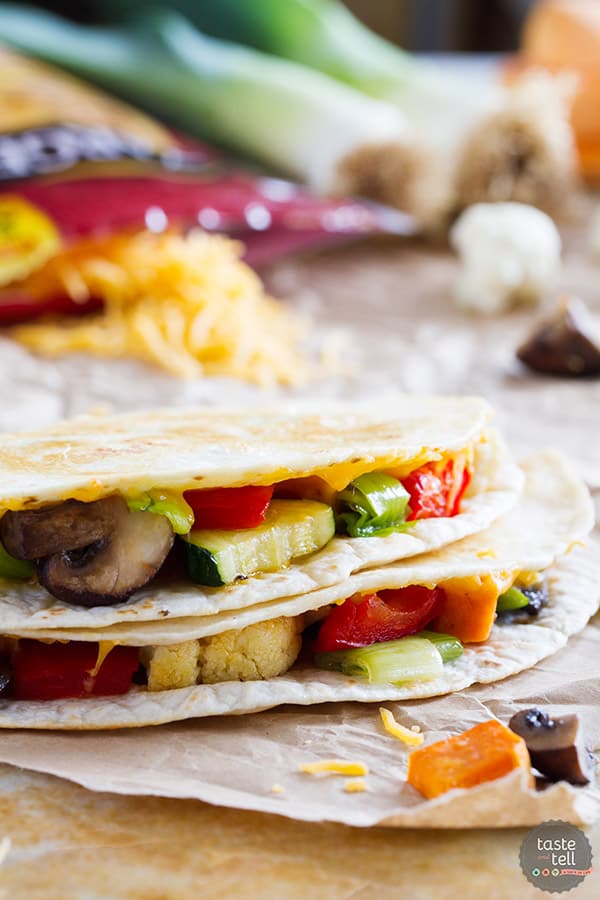 Like what you see here? Make sure you are following Taste and Tell for more recipes and ideas!
Facebook | Pinterest | Instagram | Twitter | Google+ | Weekly Newsletter | Feedly | Bloglovin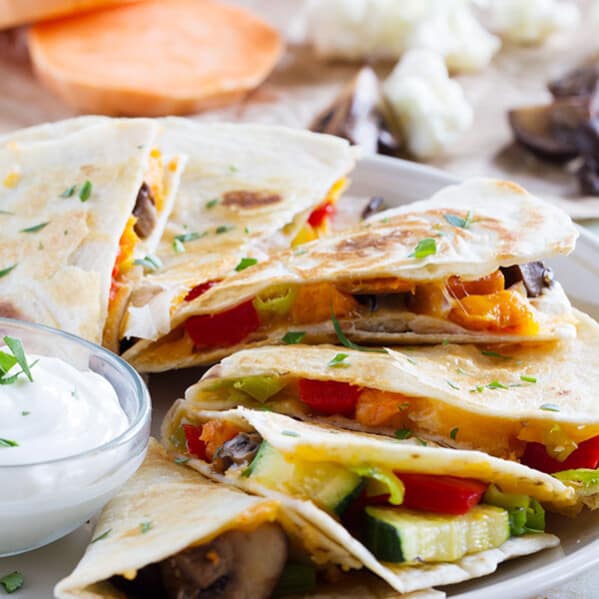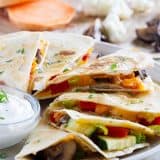 Roasted Veggie Quesadillas
---
Author:
Prep Time: 15 mins
Cook Time: 35 mins
Total Time: 50 mins
Yield: 4 servings, 2 quesadillas each 1x
Description
A great way to get your veggies in, these Roasted Veggie Quesadillas are a great way to clean out the veggie drawer to make a lunch or dinner that won't leave you missing the meat!
---
Scale
Ingredients
2 leeks
2 tablespoons olive oil
2 cups diced sweet potatoes (about 8 oz)
2 cups small cauliflower florets (about 6 oz)
8 oz cremini mushrooms, cut into quarters
1/2 large red bell pepper, diced (about 4 oz)
1 medium zucchini, cut into bite sized pieces (about 6 oz)
8 tortillas
1 package (8 oz) Sargento Off the Block Fine Cut Sharp Cheddar Cheese
---
Instructions
Bring a large pot of water to a boil. Trim away the green part of the leeks as well as the root ends. Slice the leeks in half lengthwise, then cut into half moons. Drop the leeks into the boiling water and boil for about 30 seconds. Remove with a slotted spoon to a paper towel lined plate. Dry as much as possible with paper towels. Set aside.
Preheat the oven to 400ºF.
Place the sweet potatoes in a large bowl and drizzle with about 1/2 tablespoon olive oil. Spread on a baking sheet and place in the oven. Bake for 5 minutes. Meanwhile, place the cauliflower in the same bowl and drizzle with another 1/2 tablespoon oil. After the sweet potatoes have been roasting for 5 minutes, add the cauliflower and return to the oven for another 5 minutes. Combine the mushrooms and bell pepper in the bowl and drizzle with 1/2 tablespoon of oil. Add to the baking sheet and cook another 5 minutes. Combine the zucchini and blanched leeks in the bowl, drizzle with the last 1/2 tablespoon of oil and add to the baking sheet, stirring to combine. Bake another 5 minutes, or until all of the vegetables are roasted and tender.
Lay your tortillas out, and spread 1/2 oz of the shredded cheese on half of each of the tortillas. Top with about 1/2 cup of the roasted veggie mixture, then another 1/2 oz of cheese. Fold the tortilla in half.
Heat a large skillet over medium heat and spray with nonstick cooking spray. Working in batches, place 2 (or more if they fit in your skillet) of the filled tortillas in the skillet. Cook until both sides are browned and the cheese is melted.
Let cool for a minute or two before cutting into wedges and serving.
This is a sponsored conversation written by me on behalf of Sargento. The opinions and text are all mine.